Fam, we know you've been waiting for two years, and we know you've been waiting patiently. We know this because a ton of you have asked us everyday in IG comments and tweets. And frankly, it's been annoying AF.
Well guess what? You annoyed us so much that you actually incited some change in our generous lil hearts. We are not sorry it took this long, but we've got some big news for you because we love you:
😈 The Hundreds' Warehouse Sale is BACK! 😈And we're coming at you with deals up to 75% OFF for one weekend only. We've got nothing but fresh new product for you and exclusive collaboration pieces, too. Entry is free but requires ONE CANNED FOOD DONATION. Give back and get some amazing returns.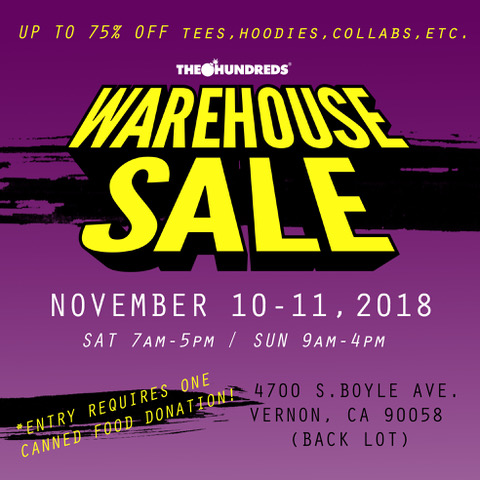 PRO TIP: Share this flyer on your Instagram and tag @thehundreds and #TheHundredsWarehouseSale to possibly win a chance to skip that long ass line! We can't guarantee it, but just try it, and if it doesn't work out, make a big scene at the sale and let them know that we told you to do this! Blame it on us!
Give the gift of The Hundreds to your bestest buds for the holidays and shop early, because it's first come first serve until everything runs out. And you know there's psychos in there that camp out and wait up to 12 hours the night before to get there early. Have you seen our recap videos?! The real question is: Will you be that psycho this year?
See you there! Address: 4700 S. Boyle Ave.