We could tell you something like:
Sole Classics is a distinguished independent Midwest sneaker and streetwear boutique, founded in 2006.
Or we could tell you about our The Hundreds X Sole Classics collaboration:
We've had a longstanding relationship with Sole Classics stretching back to 2010. The Hundreds X Sole Classics is inspired by Sole Classics' roots in the Midwest, with its rich industry heartland history, its steel mills, and how its story overlaps with The Hundreds' streetwear origins, anchored in West Coast workwear. Our collaboration is made up of a heavy-duty workwear duck canvas coveralls and a workwear button-up jacket (both with a corduroy collar and diamond-quilted satin lining), a knit beanie with a collaborative leather patch, and two graphic T-shirts with a design referencing the Midwest's steel industry and Los Angeles's film industry.
It's available tomorrow at The Hundreds and Sole Classics locations and online shops.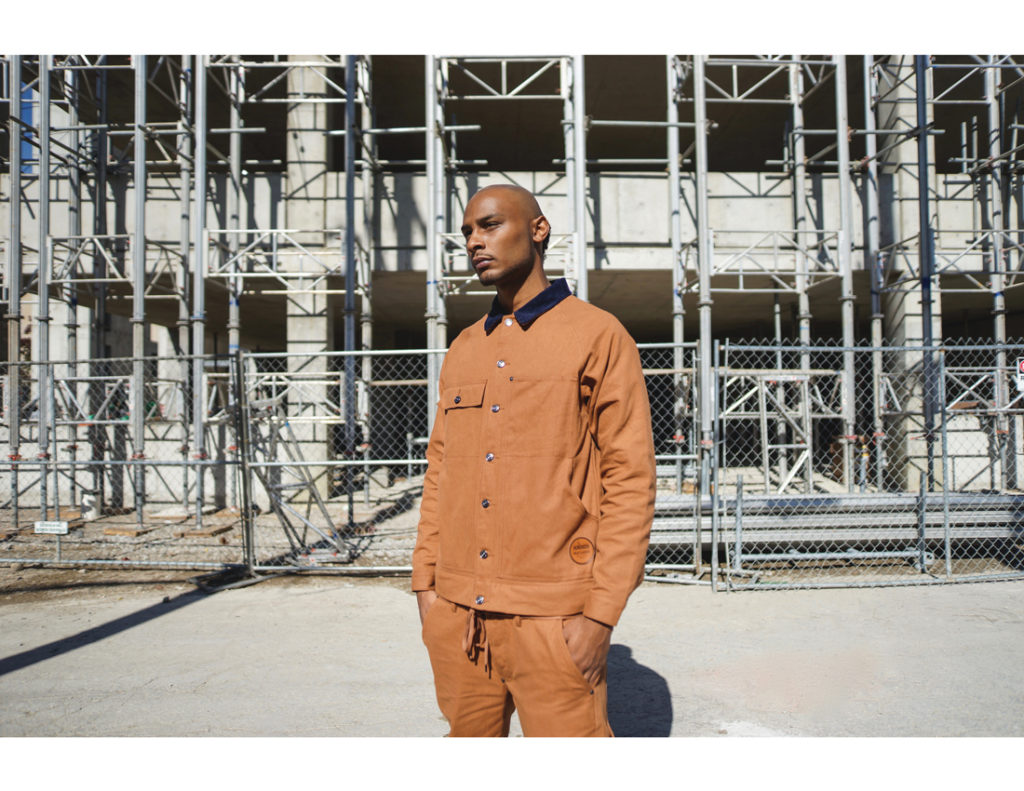 But we want to tell you about Dionte.
We want to tell you what sets Sole Classics distinctively apart from the rest, and why this collaboration is so special to us. We realize these words of convincing are overused—"apart from the rest," "special"—but we were quietly inspired by Dionte Johnson's story and we feel compelled to share.
Sole Classics owner Dionte Johnson has been intent on representing the culture of Columbus, Ohio, the city where he was born and raised, since he bought the shop from the original owners in 2010.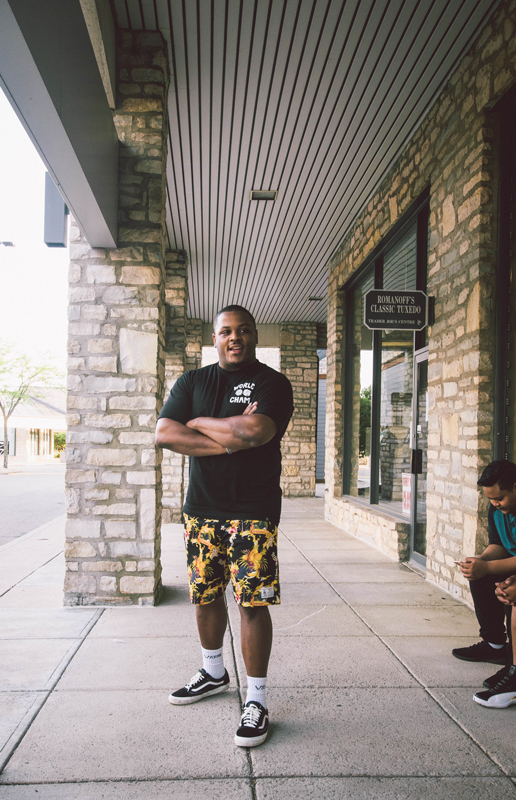 Dionte Johnson, owner of Sole Classics.
Before Sole Classics, football was Dionte's life. He'd been pursuing a career in professional football and was a captain and fullback at Ohio State for 3 years before he was a promising NFL rookie, soon signed by the Arizona Cardinals before he says, "I ended up getting hurt." An unfortunate ankle injury released him from the team before the season started.
While recovering from his injuries and re-examining his options and future after having what felt like such a clear-cut plan, he heard from a friend at a local Columbus bar that one of his favorite sneaker shops Sole Classics was being sold. Other than football being his main focus in life up until that point, he was very passionate about streetwear and sneakers. He remembers in '08 seeing a fellow Cardinals teammate getting flowed The Hundreds product and trying to reach out to us get some too, to no avail. He laughs about that to this day, seeing that Sole Classics today has a 7-year deep relationship with The Hundreds.
"I know what got me into sneakers; I know what got me into streetwear: it was the storytelling."
He reminisced about his time working at his dad's friend's clothing shop Big Daddy's Boutique at 14, sweeping floors; he remembered how he somehow convinced his elders as a teen to stock Platinum Fubu and Sean John—the happiness he'd feel when a customer walked out in a new fit he was able to help put together from brands he liked. "All my memories of retail," Dionte says, "are very personal."
So when he heard about Sole Classics going up for sale—especially after a few failed job prospects and interviews—he thought maybe this was something he could pursue. He'd expand the store and add apparel from streetwear brands he loved, and be one of the first shops to inform the local community of Columbus on this thriving new global culture that inspired him. He was 23.
Shoe release for the @SoleClassics Vans. They did the best product release marketing I've seen in years. pic.twitter.com/qGGadhx4AL

— Web Smith (@web) January 31, 2015