We could tell you something like:
Sole Classics is a distinguished independent Midwest sneaker and streetwear boutique, founded in 2006.
Or we could tell you about our The Hundreds X Sole Classics collaboration:
We've had a longstanding relationship with Sole Classics stretching back to 2010. The Hundreds X Sole Classics is inspired by Sole Classics' roots in the Midwest, with its rich industry heartland history, its steel mills, and how its story overlaps with The Hundreds' streetwear origins, anchored in West Coast workwear. Our collaboration is made up of a heavy-duty workwear duck canvas coveralls and a workwear button-up jacket (both with a corduroy collar and diamond-quilted satin lining), a knit beanie with a collaborative leather patch, and two graphic T-shirts with a design referencing the Midwest's steel industry and Los Angeles's film industry.
It's available tomorrow at The Hundreds and Sole Classics locations and online shops.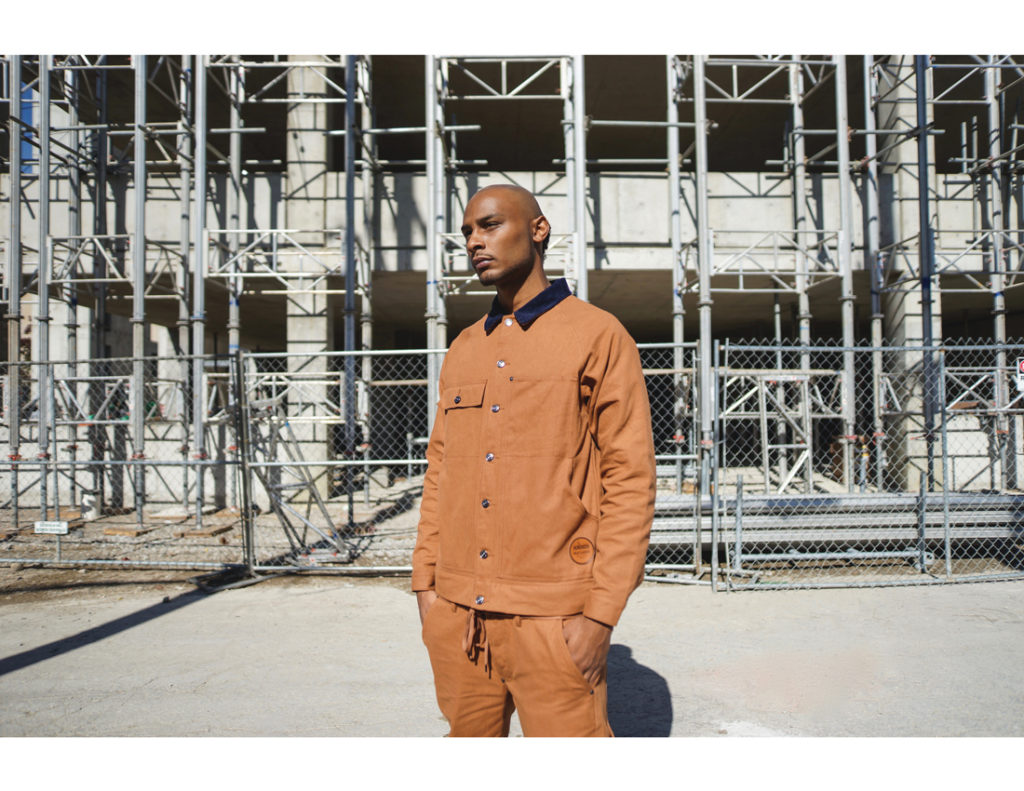 But we want to tell you about Dionte.
We want to tell you what sets Sole Classics distinctively apart from the rest, and why this collaboration is so special to us. We realize these words of convincing are overused—"apart from the rest," "special"—but we were quietly inspired by Dionte Johnson's story and we feel compelled to share.
Sole Classics owner Dionte Johnson has been intent on representing the culture of Columbus, Ohio, the city where he was born and raised, since he bought the shop from the original owners in 2010.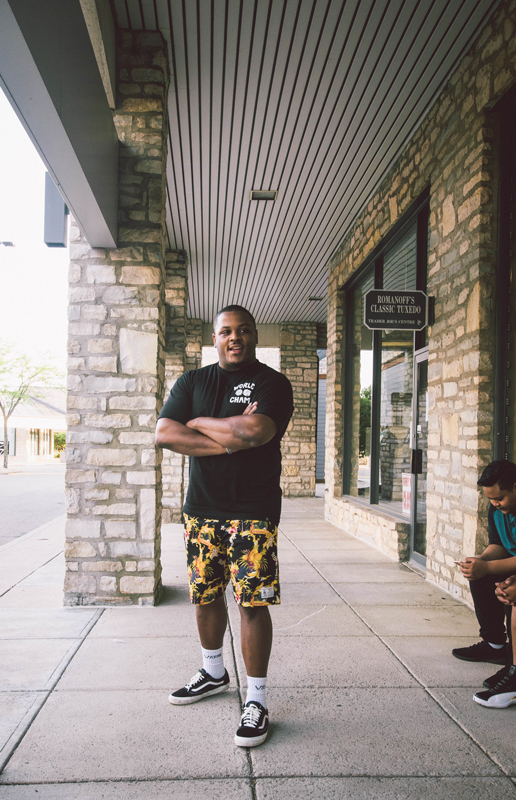 Dionte Johnson, owner of Sole Classics.
Before Sole Classics, football was Dionte's life. He'd been pursuing a career in professional football and was a captain and fullback at Ohio State for 3 years before he was a promising NFL rookie, soon signed by the Arizona Cardinals before he says, "I ended up getting hurt." An unfortunate ankle injury released him from the team before the season started.
While recovering from his injuries and re-examining his options and future after having what felt like such a clear-cut plan, he heard from a friend at a local Columbus bar that one of his favorite sneaker shops Sole Classics was being sold. Other than football being his main focus in life up until that point, he was very passionate about streetwear and sneakers. He remembers in '08 seeing a fellow Cardinals teammate getting flowed The Hundreds product and trying to reach out to us get some too, to no avail. He laughs about that to this day, seeing that Sole Classics today has a 7-year deep relationship with The Hundreds.
"I know what got me into sneakers; I know what got me into streetwear: it was the storytelling."
He reminisced about his time working at his dad's friend's clothing shop Big Daddy's Boutique at 14, sweeping floors; he remembered how he somehow convinced his elders as a teen to stock Platinum Fubu and Sean John—the happiness he'd feel when a customer walked out in a new fit he was able to help put together from brands he liked. "All my memories of retail," Dionte says, "are very personal."
So when he heard about Sole Classics going up for sale—especially after a few failed job prospects and interviews—he thought maybe this was something he could pursue. He'd expand the store and add apparel from streetwear brands he loved, and be one of the first shops to inform the local community of Columbus on this thriving new global culture that inspired him. He was 23.
Shoe release for the @SoleClassics Vans. They did the best product release marketing I've seen in years. pic.twitter.com/qGGadhx4AL

— Web Smith (@web) January 31, 2015
To do a complete 180 and make plans to acquire a sneaker boutique at 23 with no credit obviously isn't an easy task (maybe if your parents are loaded). Dionte had a handful of unsuccessful attempts to get bank loans from Chase, another local bank, etc. Plan A failed. Onto plan B: "I wrote up a business plan." He hit up friends who had since gone pro in football to ask for small loans. To this day, Dionte expresses gratitude that his friends trusted him, and that he was able to pay them all back and cement that sense of shared mutual respect. "I was glad I came across as a good person, and that we had that relationship," he says.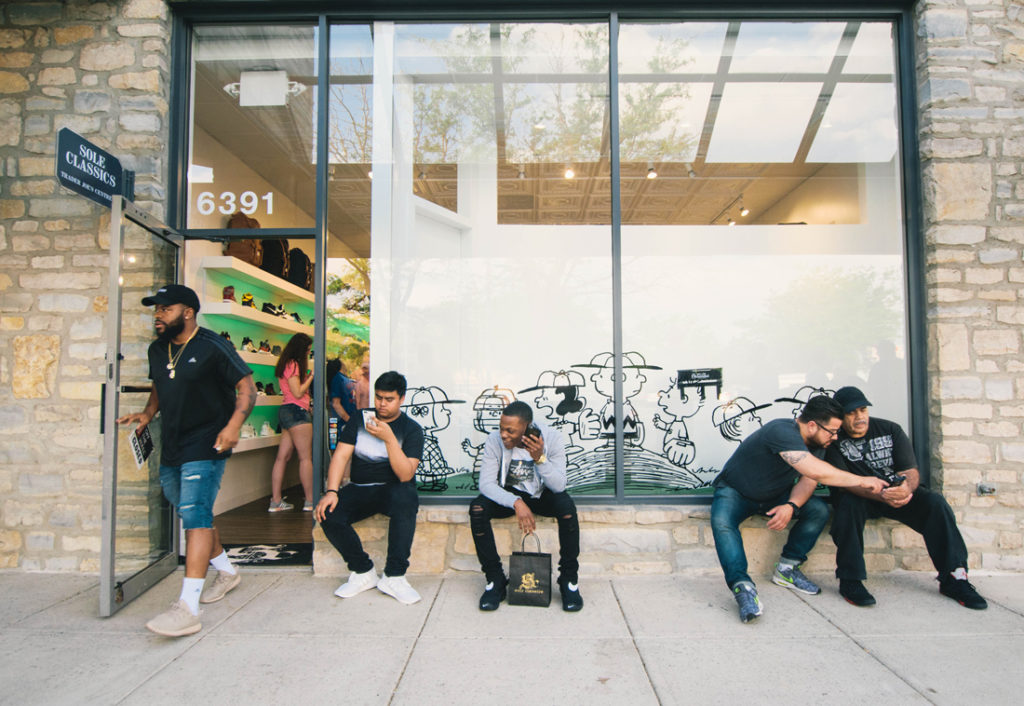 Let's take a break for a frame tale about football.
Us in editorial staff at The Hundreds admittedly didn't know what a fullback was before talking to Dionte, but after a few conversations with co-workers about the position, we became fascinated, and read up on how Ohio State is known for, among many other things, their legendary football coach Woody Hayes, who coined the term "three yards and a cloud of dust" to describe their offensive strategy—a "crunching, frontal assault of muscle against muscle, bone upon bone, will against will."
This encapsulates the fullback's role, who Hayes especially valued: unglamorous, utilitarian, raw support for the team in weight and muscle. In a Bleacher Report article examining if fullbacks are a dying breed, writer Mike Freeman wrote, "There are many other positions in football where the collisions and violence are extreme, but fullback might be the most brutal of them all, because so many of their blocks are at or near full speed." The New York Times reported similarly, quoting Vonta Leach, former fullback for the Baltimore Ravens: "Nobody ever grows up wanting to be a fullback... Not everyone can do this."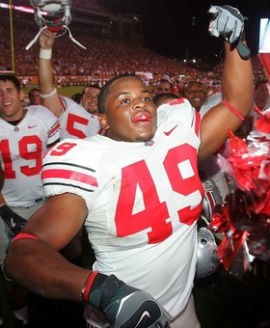 We write this all because we feel it's a reflection on Dionte, his personality, will, and integrity. He told Eleven Warriors in an interview in 2012, two years after he bought Sole Classics, "My main goal is to be able to inspire more local brands to come forth, but not make money the priority. I want to see people in Columbus take the same pride and diligence in their projects as a major brand would. Secondly, I would like to employ more people."
He's a team player, who cares about his city, and he always has been. He took a hit, but he found ways to charge forward and push through. To this day, while juggling work between Sole Classics' two locations (a new location in Dublin, Ohio, opened its doors in 2016) and being a father of three, Dionte continues to coach high school football weekly at his alma mater, Eastmoor Academy. "I started coaching after I bought Sole Classics," he explains. "Every year there's a new group of kids and it becomes more and more fun."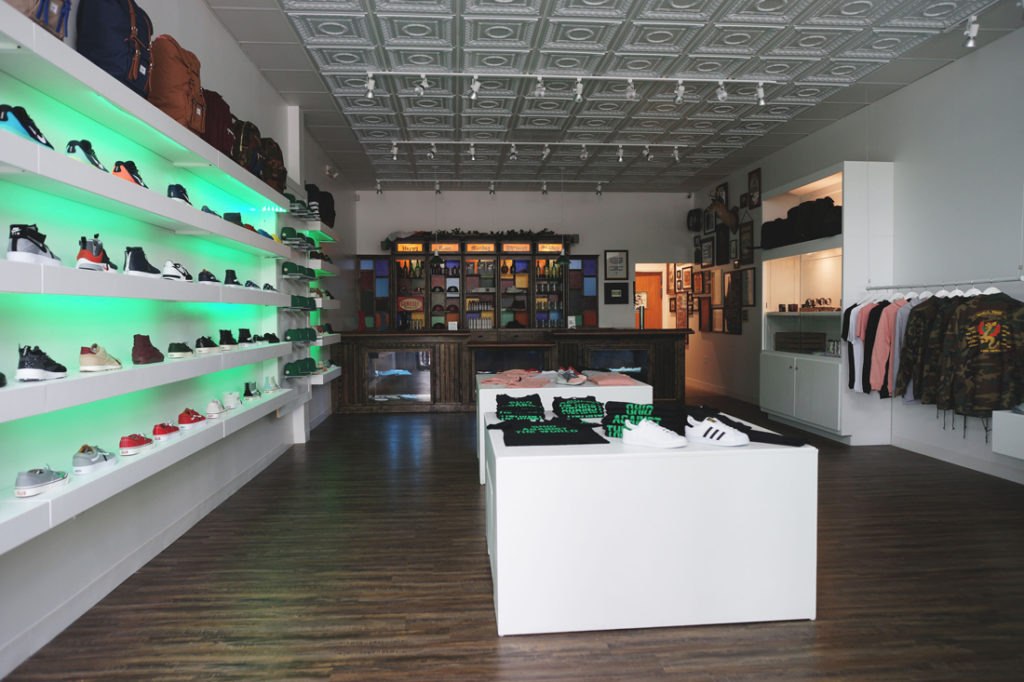 It's always been about the storytelling.
As for his interest in streetwear and his plans to expand Sole Classics' apparel selection, Dionte says, "I know what got me into sneakers; I know what got me into streetwear: it was the storytelling. The same way I got into The Hundreds is the same way I gravitated towards any brand I liked growing up—the authenticity behind it."
One of the first brands Dionte made sure to stock at Sole Classics was The Hundreds. "No matter what changes in the industry," he says, "The Hundreds has always remained true to its original story: the people." He began to say "the community," but hesitated, knowing how often the term gets thrown around, especially in streetwear, to describe a mutual interest that may lack real heart and instead be centered on hype.
"We're in such a dead age. Everything feels like white noise before it blossoms. There's a lot of static," says Dionte. "The Hundreds is a good representation of the Sole Classics story. We stay true to what we do. All our stories have gravitated towards things authentic to what we represent here in Columbus, what we try to embody."
Sole Classics has garnered press for unique projects that disrupt what we're used to with sneaker releases. They held a surprise free Yeezy giveaway dinner for their most loyal customers; it was an unprecedented event that felt so opposite of the hype and lines we associate with the idea of 'the drop.' Sneaker blogs nationwide like Footwear News and Sole Collector reported on Sole Classics' ingenious way to poke fun at the common practice of retailers unfairly "backdoor selling" coveted releases to friends and resellers before everyone else gets a chance to buy. It's a part of a domino effect of greed that has made it such a struggle in 2017 to get your hands on limited-edition sneakers when the scene is rampant with resellers trying to make a quick buck. So for the "Chocolate" Adidas Yeezy 750 Boost release, Sole Classics set up a literal "backdoor" for loyal customers to purchase the Yeezys. Even customers who weren't able to get their hands on a pair were appreciative for the innovative experience.
"In the bando lookin out the peep hole" @SoleClassics X Yeezy release pic.twitter.com/awR41LgSg0

— Lil Ugly Dude (@dezarnez) October 15, 2016
Sick that I wasn't able to cop a pair of Yeezys…AGAIN…but shout out to @SoleClassics for being innovative and fair ever time they drop

— Jonathan Sinclair (@angryjonny83) October 15, 2016
"We have to do three times as much to get our point across," says Dionte, aware of the setbacks of having a shop in a city not usually acknowledged as a sneaker/streetwear "destination" like LA or NYC or Chicago. "To let people know we're capable of doing these types of things."
"This is what made me want to carry streetwear brands, and before that, wear it and love it," Dionte reflects. "There's a story I want to connect with—I was able to feel what was going on in LA, in New York. Now I want to show people what we have to offer in Ohio." With our The Hundreds X Sole Classics collaboration, he brought this same mindset to the project: "Here in Ohio, we have a long, rich history of industry. With this project, we wanted to capture the story of what made the Midwest the Midwest."
I see @SoleClassics brought fun back to shoe releases… only the real survive…

— Roach G (@ImJuss_G) October 15, 2016
Beyond streetwear and sneakers, Dionte reminds us of the importance of giving back and being an active participant in your community—what it means to represent where you came from, and pay it forward. To tell stories. Like Bobby Hundreds asked in his recent Instagram posts in the aftermath of ComplexCon 2017: after the hype inevitably fades, and the resellers retire, and the dust settles, what will we learn from all this?
That we do it all for "the Love and the Lore." Thanks for reminding us, Dionte.
***