I am not too sure where to start with this post, so please bear with me if this seems scattered at all. You see, I have been riding a wave of emotions since last week. Maybe even longer, but they have all collectively come together as of late. Last Thursday someone who was very dear to me passed away after a vigilant battle with cancer. His name was Christian Mann. You may not know who he is, but I am going to attempt to give you some insight into who he was and what he meant to me. Aside from being like a father to me, he was also someone I respected, looked up to, and loved very deeply. There are very few moments in your life that you can pinpoint that change your life forever. Mine was back in the summer of 2001 when I met Christian. I was running a skateboard camp for kids in Northridge for the summer. One day Mr. Mann rolls through to enlist his three sons (Kurt, Joey, and Chandler) into my camp. They were 12, 11, and 8 at the time and as passionate about skateboarding as a group of kids can be at their age. I loved it.
From conversations with their dad over the course of their class, he and I started a friendship. A friendship that was unexpected but nonetheless one of the most important moments of my life. After the camp ended, we continued to hang out. Whether it be myself taking his boys out street skating or joining them for dinner, we had some good times. I learned shortly after that he happened to own a adult film company at the time. Now I had always imagined people who worked in the adult industry to be sleazy, greasy, and wearing cheap clothes. Christian on the other hand defied all ideas I may have had. He was articulate, well put-together, intelligent, and nice.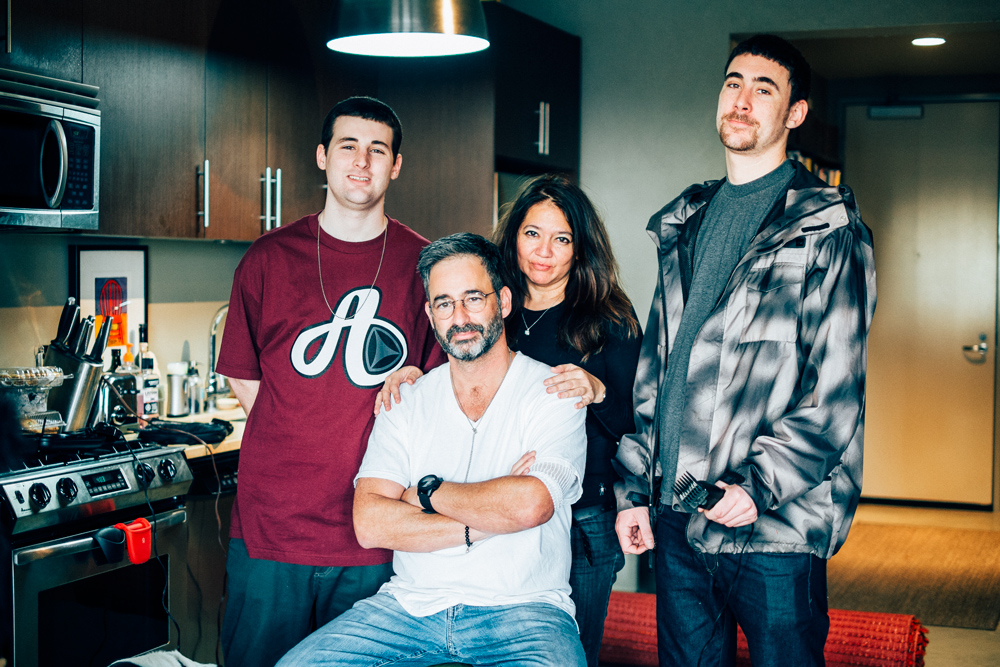 Group shot with Kurt, Christian, his wife Melissa, and Joey, prior to the haircut Christian wanted to have before chemotherapy.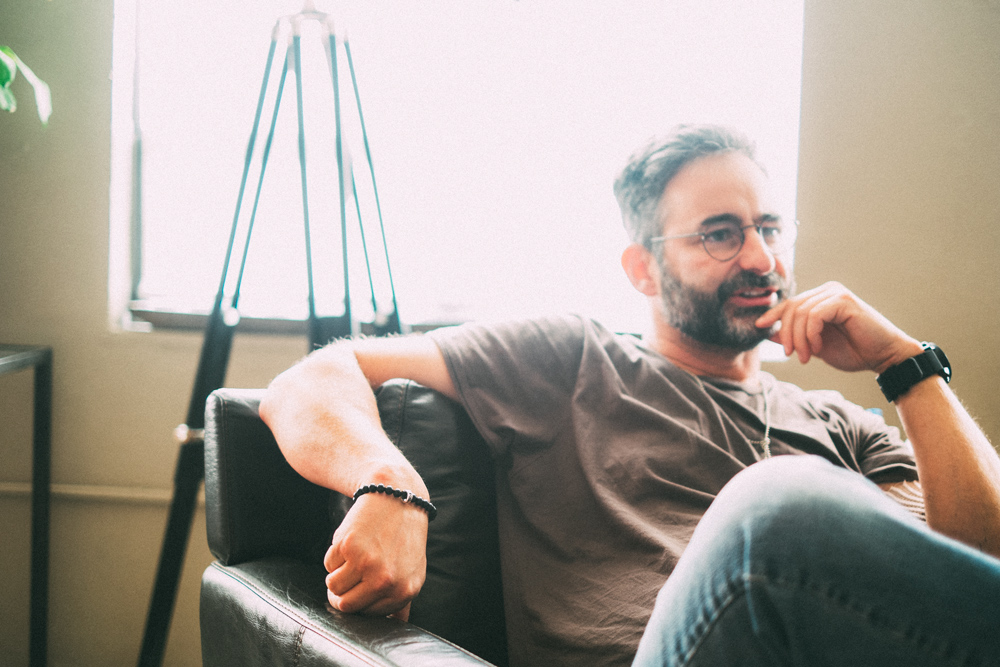 Christian talking over the hair cut with his boys.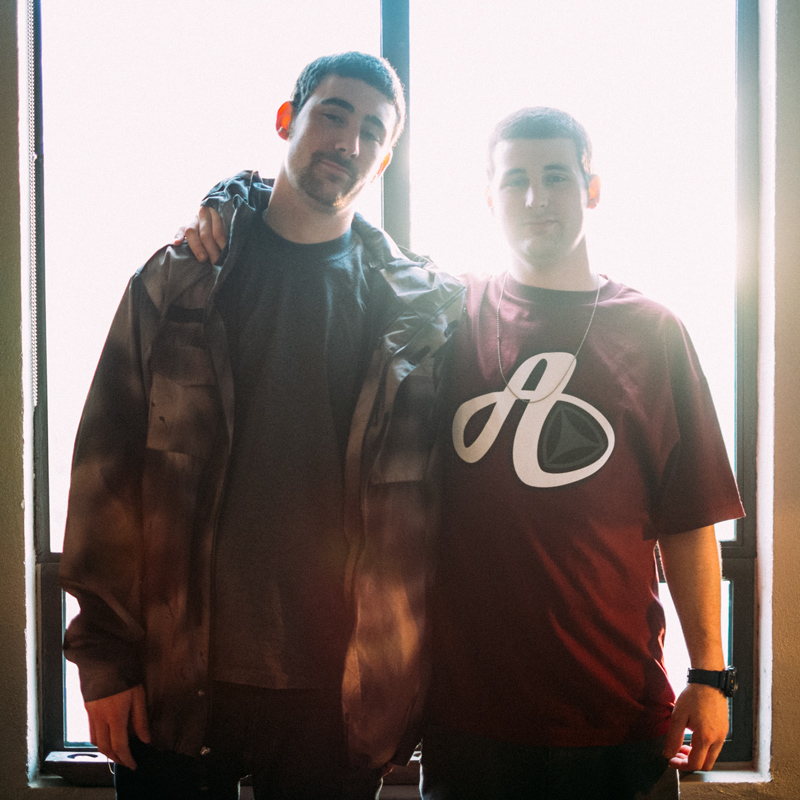 Brothers for life. Joey and Kurt Mann.
At that moment, I was at somewhat of a crossroads of my own life. I was 21 at the time and had been skateboarding for the past 9 years. To say I loved it was a understatement. But at the same time I was starting to feel the reality of life setting in. My dream, much like every young person chasing what they loved, was to be able to do it as a living. I saw the younger generation of guys progressing at an accelerating rate. This also served as a wake up call. I had some sponsors at the time, done a couple of tours as well as some contest but nothing major. That harsh idea of what was I going to do with my life would sink in at times. Till one day I took a chance and asked Christian if he had any job openings. Not sure what compelled me to do it exactly, but I think it was how he presented himself. Regardless of the business background he was from, he showcased a different character. Lucky for me, he was completely thrilled and open to the idea of giving me a job. Looking back on that moment now, it was a turning point for me. It didn't happen overnight, but I can safely say I am not sure I would even be where I am at today had he not been open to the idea of hiring a 21-year-old with no real workplace experience to his company.
So I started in September of that year for him. My days would be split up from working with him as a personal assistant half of the day and the other half working with another person who would become a dear friend, Maricela. I would batch scan film negatives and retouch them for their website (yes, this was pre-digitial SLR cameras). But being his personal assistant, my duties ran across the board for him. Whether it be running errands, bringing him food, or just about any task you can think of. In hindsight, all of these things taught me a lot about life. Now, he didn't order me around like some tyrant. Rather, when he had a moment, we would talk about life and he would attempt to instill into me values and morals. Most of which I still hold true to this day. He showed me the value of responsibility and accountability. He taught me to treat EVERYONE with respect. From the guy packing boxes in the warehouse to the CEO of a company. Treat everyone with respect. He also told me a very key rule in business: "You don't get what you deserve, you get what you negotiate."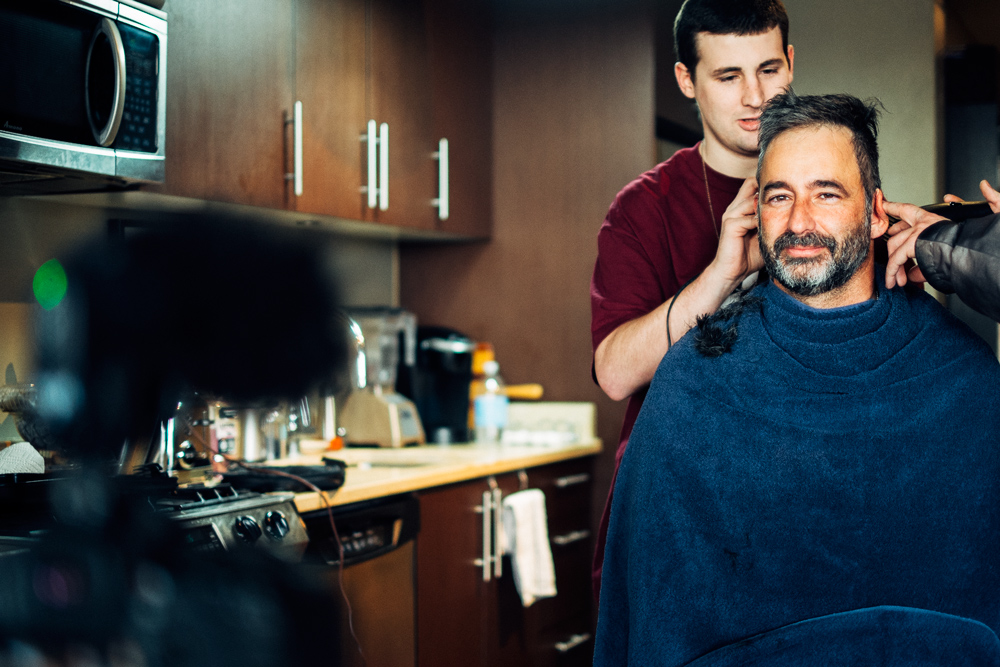 Let it begin.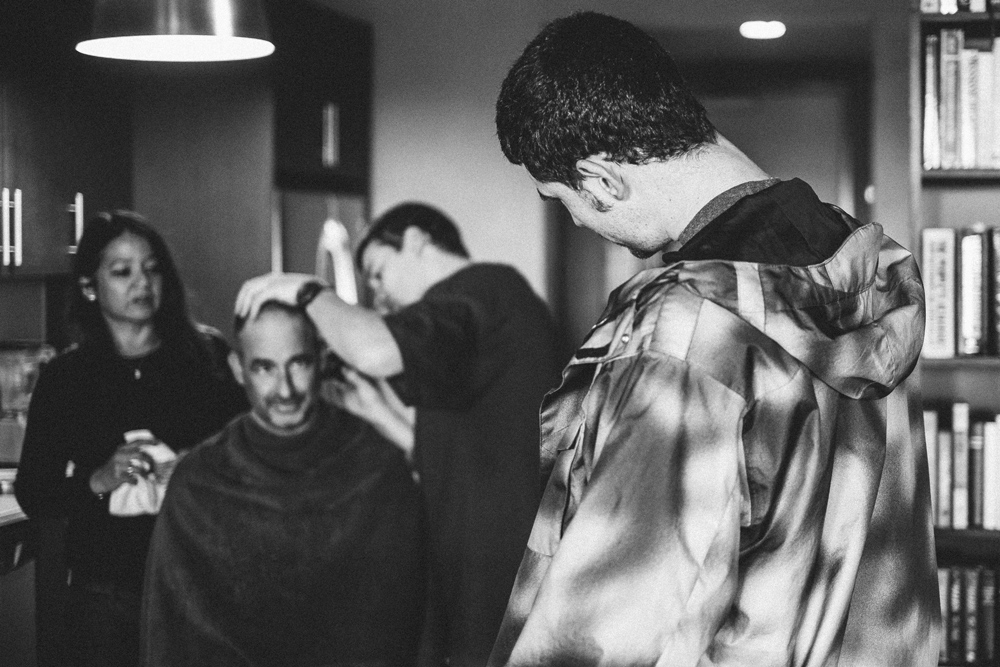 Christian and Joey having a moment.
After a couple of months of working with him, he approached me with a project he had in mind. He was interested in creating a adult video themed around skateboarding. He approached me about it regarding my background, saying he wanted it to be fun and have a real vibe to it. He didn't want to make something cheesy that would be laughed at by the skate community. Seeing as that is where I came from, he asked if I could get involved with on the production end so that it would have some sort of authentic feel to it. Being 21 at the time and feeling adventurous, I agreed, and by the end of spring I had produced my first adult movie titled Skate Trixxx. The project was a success, getting picked up to air on Playboy as well as getting tons of notoriety and becoming a bit of a cult classic with skateboarders. I mean, former pro skateboarder Pancho Moler even did a scene with his then-girlfriend as well, shooting on location at Skate Lab in Simi Valley.
From there, I got involved on the production end for his company. Producing one more movie before getting a chance at directing. See he knew I had some experience doing videography work with skateboarding that he thought it would be interesting to see what I produced for him as a director. Which in hindsight most people would see as crazy. Giving a 22-year-old with not much – if any – directing/producing experience with 20k plus budgets to work with, in hopes he brings you back a product you can sell and hopefully break even. Not many people would even do such a thing. But that was Christian. When he believed in you, he BELIEVED in you. Now this is a crucial moment that plays a huge role in leading to where I am now. Since I was doing these movies for him, I used to have to hire a photographer to shoot all the photos for said productions. Since my early days of skateboarding, I always had an interest in photography. I think it was the way skate photos from the '90s captured such raw energy from a subculture at the time that no one cared for.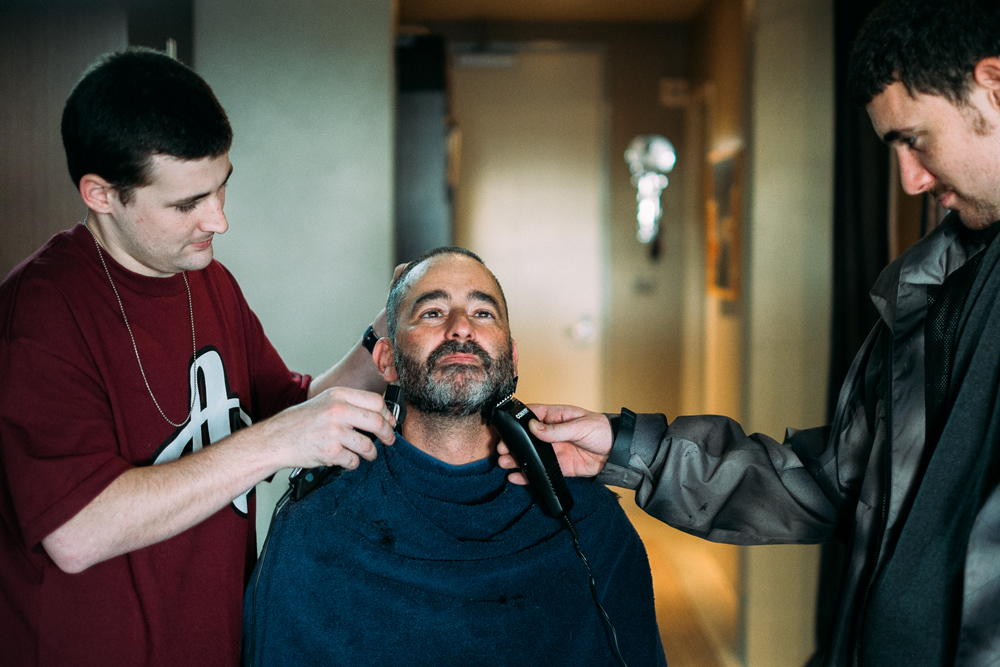 Getting trimmed up by his boys.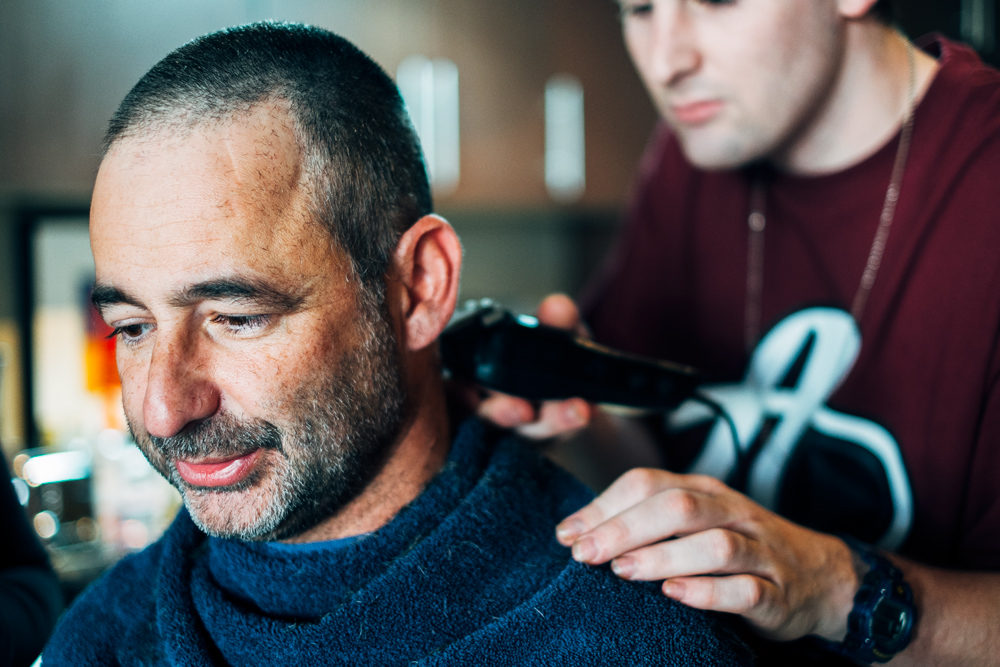 The only problem was that sometimes, when hiring a photographer, their schedules can differ a lot from your own. Getting frustrated by this, I went to Christian and suggested the idea of me doing the video and photos for these movies. I had saved up enough money and wanted to learn photography. I told him, "You can pay me a cheaper rate to do these photos." To my surprise, he was game for it. Again, not many people would entrust such a thing into someone who had little to no experience. I mean I did take a photography class one semester in high school.
Once I got the okay from him, I ran out and picked myself up a Canon EOS film SLR with a 24-70mm zoom lens and a on-camera flash. I was on my way to learning photography. But what started out as more of a work necessity grew into a realization over the next few years. I had fun with photography. It gave me the same feeling of excitement I got in skateboarding. Instead of learning a new trick, it would come in the form of taking a new photo, learning a new technique, or simply capturing a moment. One thing I learned from him was invest in yourself. I would spend countless hours in my off time learning a craft. Whether it was video editing or photography, I pushed myself to learn. Not only because it was exciting, but because I never forgot that someone took a chance on me.
Over the next couple of years from this point, I was courted by other companies to go work for them. One of which was Hustler Video in which I was contracted with them for some time. Now, Christian was not upset with me by this choice. Some people would say he had every right to be. For me, I wanted to see if I could make it in this industry on my own. Like a kid running out into the real world, it was a test for myself to see if I could make it. Maybe Christian understood that, but regardless, like a father he supported my decision. Now we wouldn't see each other as much, but he would always make time when we could to catch up. Our paths began to drift but nevertheless, I always kept the same amount of emotions for him and his boys.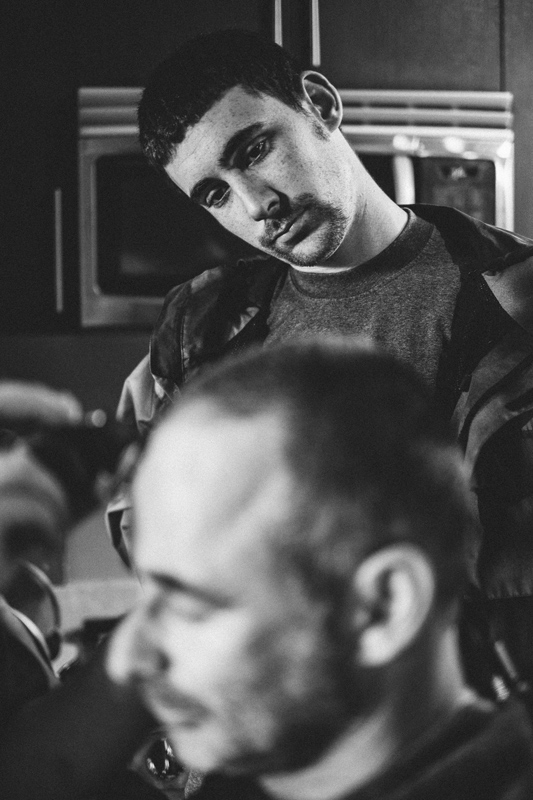 Joey reflecting.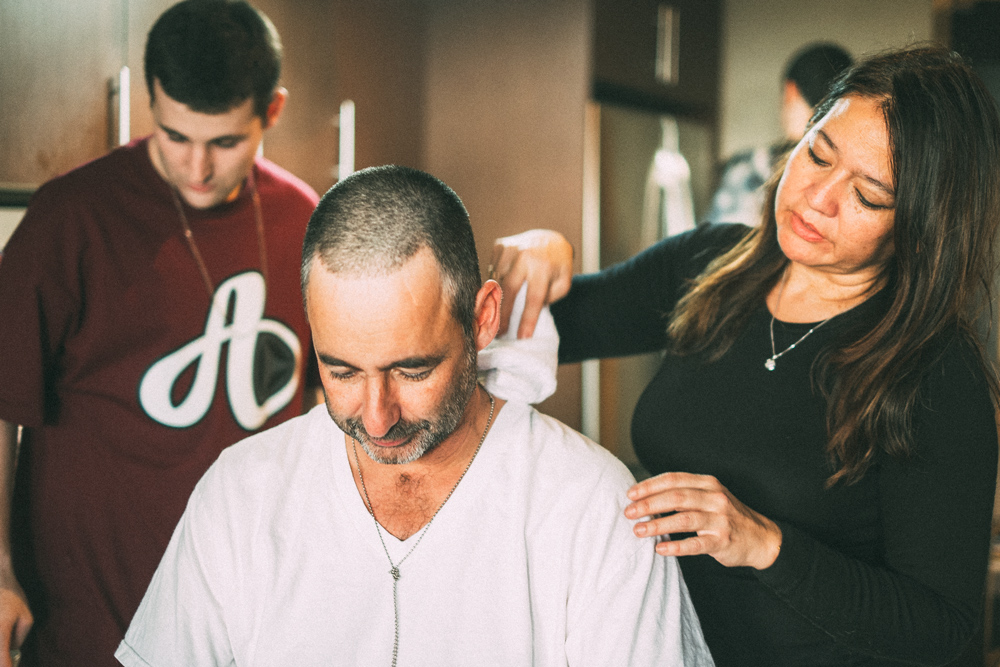 All done.
He would go on to sell his company and become a general manager for one of the best companies in the industry until his passing. I myself felt limited in a ever-changing industry. But I had one thing that made me happy – and that was photography. After feeling frustrated and "over it," I decided to pursue the art of taking pictures after having a falling out with a big adult-based internet company I was working for at the time. With no plan, other than to follow this love and see what happens, I have come to where I am currently at in my life. The happiest I have been in a very long time, with the ability to do what I love my own way on a daily basis; have a brand as a outlet for my work as well as projects for my peers whose work I respect and to just be thankful for life.
Over this time, Christian would express how proud he was of me and my photography. To see what I evolved to as a person and as an artist always made him smile. I have always remembered that one day in the summer of '01. He took a chance on a 21-year-old kid, that without knowing it, would change his life for ever. It turns out he would have another moment that would change everything. Last January, he was diagnosed with cancer. This took me by surprise. As with any father, you assume that they are invincible. Nothing could ever harm them nor hurt them. They will be around in your life forever. Being one to never back down from a fight, Christian was ready to battle this disease head on. Aside from penning a open letter to the industry he had been a part of since he was 18, around this same time he invited me over to his loft in Downtown L.A. Greeted by his wife Melissa and his two oldest sons Kurt and Joey, he explained to me that in the spirit of his battle, he was going to have them buzz his hair off. Rather than lose it during the chemotherapy treatment, he decided he would get rid of it prior and wanted me to be there to photograph the process as well as shoot some photos of him with his boys and his wife.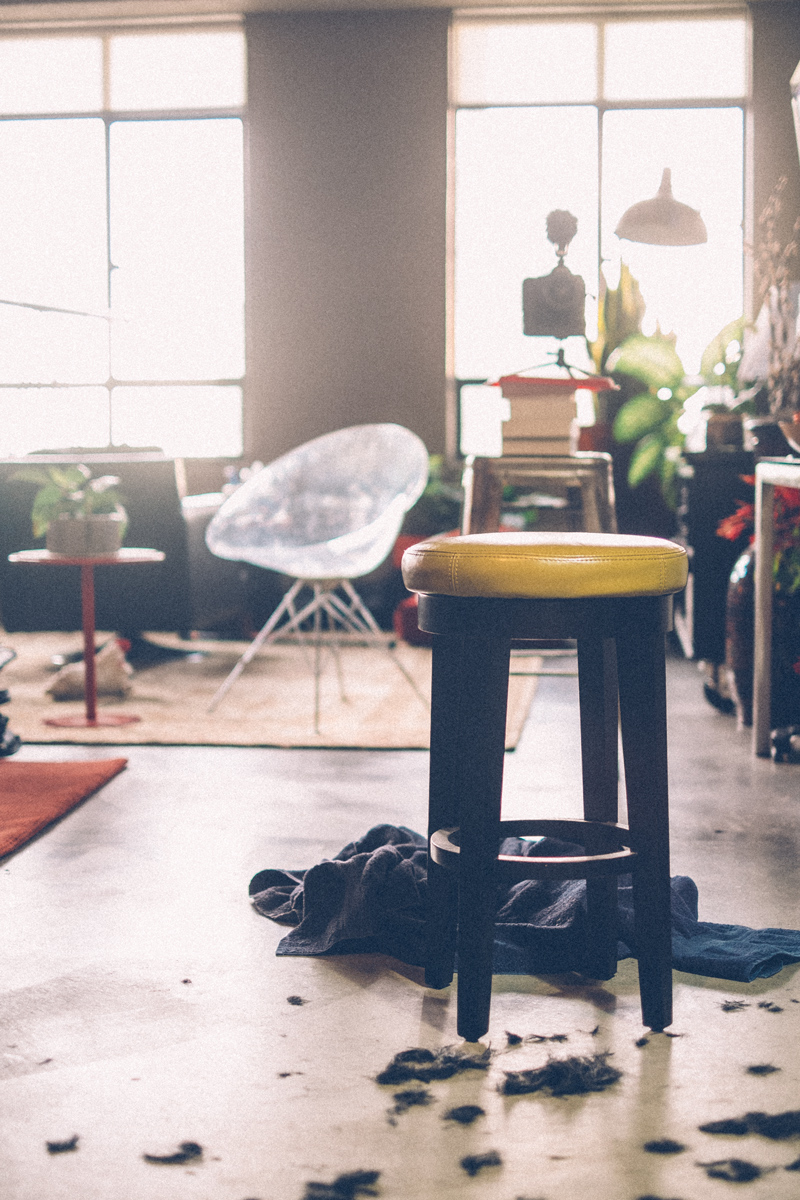 Now, I had shot these pictures, but in the back of my mind, I always felt he was going to beat it. I mean, that is what would happen in the movies right? Dramatic moments but we get the happy ending. I thought that by not focusing on a dramatic moment, if I just sent out positive vibes, he would beat it. I thought one day we would laugh about these photos – how dramatic it was that he was asking me to shoot them. And it appeared that he was on his way to beating this cancer. Despite the painful hospital procedures, he never lost his will. He used to tell me that he would fight the good fight. He did just that till the end.
It was a week prior to me recently flying out to N.Y. for Agenda that I had learned things had gotten quite worse and he was now in hospice. Once I found out this info, I texted his oldest son Kurt. It was near midnight, but I had to find out what was going on. Kurt had confirmed his dad was indeed in hospice. The hospitals had nothing more they could do for him. Rather than be poked and probed with no positive results, he chose to be as comfortable as he could at home for his final days. His wife Melissa and his sister would be there with him everyday till he passed. I was able to come see him on his death bed. Trying to keep light of the situation, we talked about life. We even tried to crack a couple of jokes. The mood of the room was a little numbing. People were coming and going, paying their respects, which showed me how much he meant to a lot of people. In-between the passing of faces, he called me by his bedside. We had exchanged some heartfelt emotions for one another. As cool and collected as I thought I could be, I broke down into tears when he told me how proud he was of what I have achieved. Words that will forever be embedded into my mind. He asked me to "never stop taking photos… never stop creating art."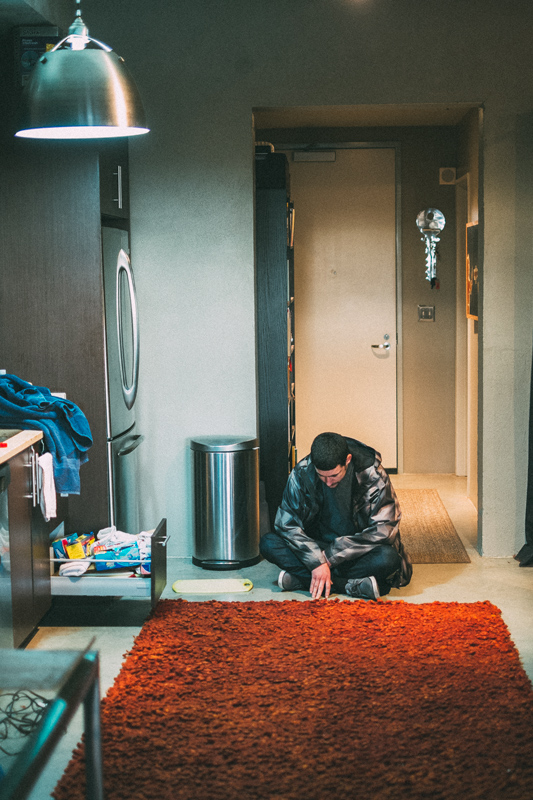 I could tell Joey's heart was weighing heavy this day.
After I was able to pull myself together, his son Kurt and I went to the top of their roof to just talk. The next day I left on a plane for N.Y. I had an uneasy feeling that that was the last time we would talk, but still had hope that some miracle would change all of this. A few days later, I got the message that he was gone. Since then, I have just been trying to make sense of my emotions. Not being one to usually put my personal life out there, I felt this would be a proper platform to showcase my words for him as well as photos from that day of when he was ready to fight cancer.
I miss him dearly. The idea that he will not be in my life anymore is heartbreaking. No matter how much over the past years I would constantly thank him or attribute any of my success or achievements to him – no matter what he would never want to take credit. Rather, he would just tell me, "All I did was give you chance." And he did just that. He gave me chance in a lot of ways that very few people would have. I believe life is all about spotting a chance or an opportunity and doing the best you can with it. Would I be where I am at, had it not been for meeting him? I am not sure. One thing I can say is, I am forever changed by his spirit and outlook towards people and life. Forever changed by the support and unconditional love he showed everyone in his life. And forever changed by his kindness and generosity.
With his parting words on his death bed, rather than drown in a sorry of sad emotions, he again inspired me and motivated me from beyond. The feeling and purpose of when I hold a camera now has a deeper meaning than just my simple love for photography. I will always remember those words when I hear that shutter click. With that, I have to say thank you Christian. You have forever inspired me from the day I met you and will continue to do so in spirit. I hope you are at peace and I know our paths will cross again one day. Till then R.I.P.
::
One of the key things Christian attributed to his success and positive outlook on life was A.A. He wanted me to snap this flick of him and a book he held dearly in his life.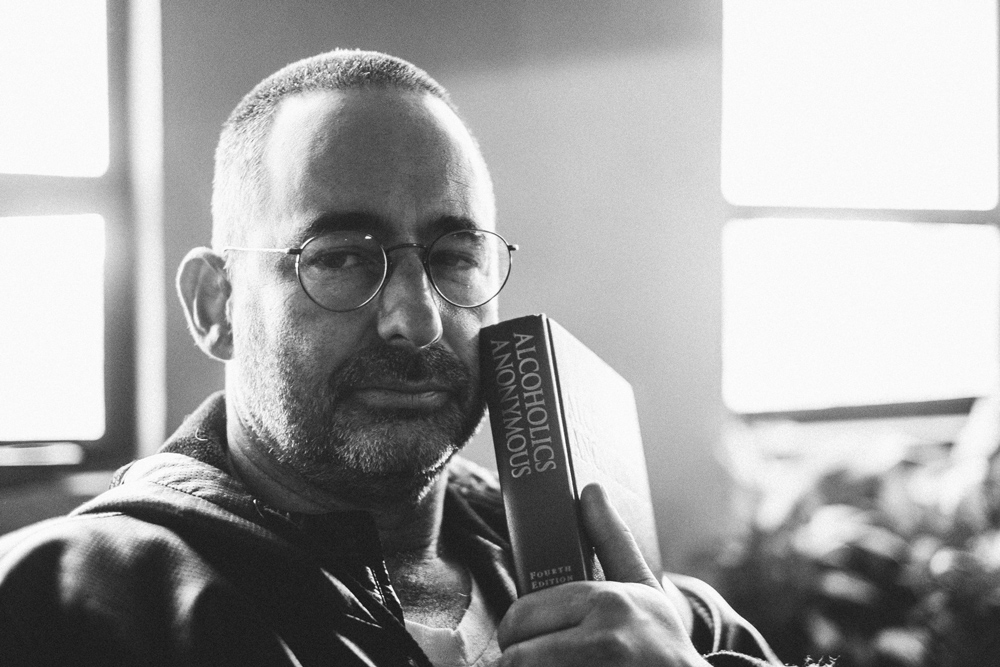 This was another book he was showing me that day. It contained motivational notes by surviving cancer patients who were given a set of boxing gloves for their fight. I always knew Christian was going to have a amazing message after he won.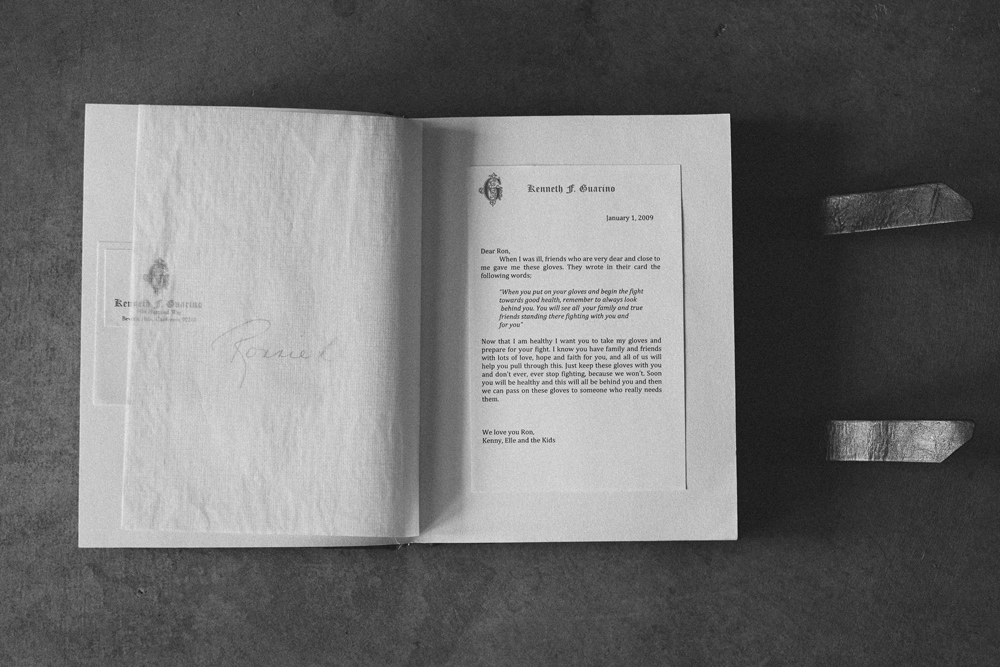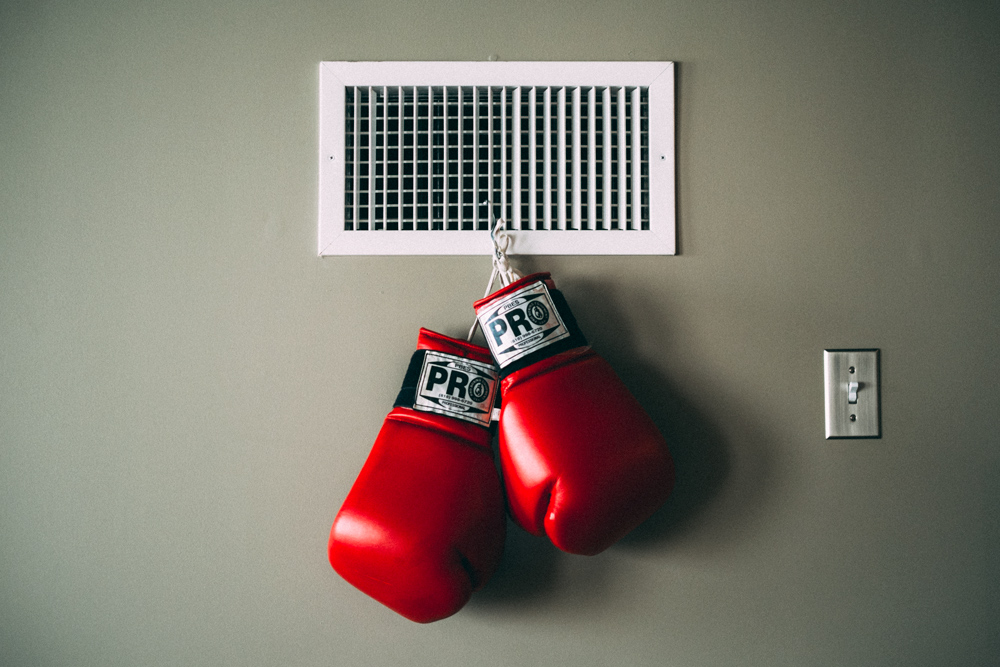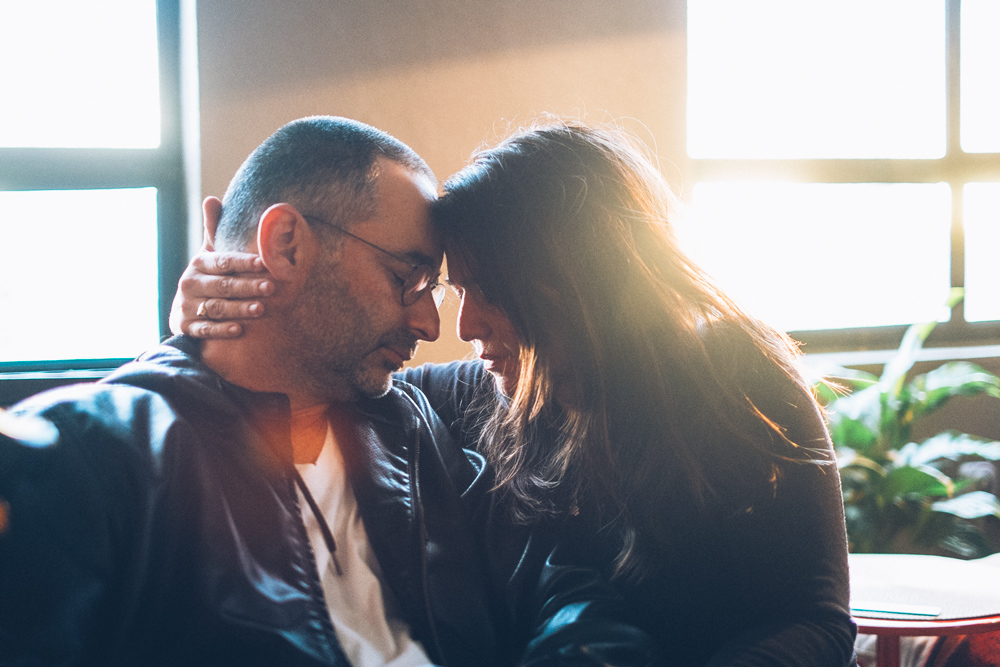 This was the final photo from that day. I was taking pictures of he and his wife Melissa. In between shots they had a intense moment. If I have ever shot a photo that is worth a thousand words, it is this.