Chef Ross Pangilinan's pork cheek adobo, sitting on top of steaming garlic fried rice, smells intoxicating. The meat is fall-apart, melt-in-your-mouth, juicy and succulent, and the rice tastes like a warm childhood memory.
Ross didn't always know he was going to be a chef. Sure, he liked watching cooking shows as a kid, but he also spent a huge portion of his free time skating on the half pipe built in his backyard. "When we had a halfpipe in my backyard, people we didn't know would just come. I'd get home after school and be like, 'Who's going to be in the backyard today?'" Ross said, recalling a time where pro skaters would somehow make their way to his family's house, skating alongside him. Ross was sponsored too, but after years of throwing himself down a flight of stairs, he decided to pursue his other interest: food. And though some might think that skateboarding and cooking are from entirely different sectors, Ross has found common ground between his passions, citing his competitive spirit and individual style as a link between his two hobbies-turned-careers.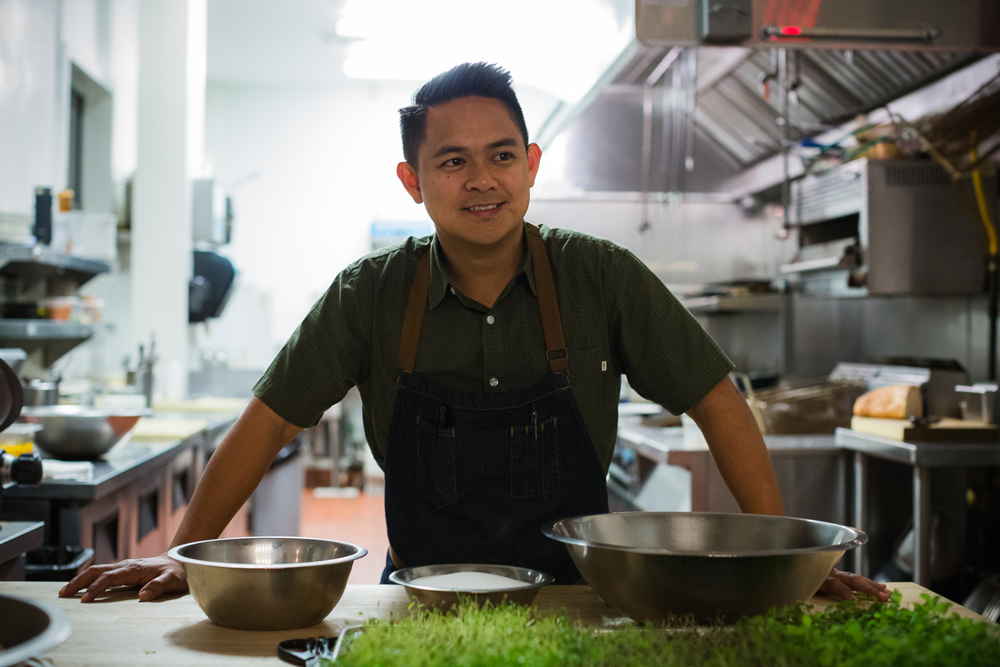 Ross's career began in Southern California at Le Cordon Bleu culinary school, but took him all over the world: Versailles, Northern France, Las Vegas, Los Angeles, Orange County. He's spent equal time in Michelin star restaurants, as a sushi chef, and at local ingredient-conscious ma and pop spots. Most recently—before Mix Mix—was the executive chef at Leatherby's Cafe Rouge, and just last month, he was awarded "Restaurant of the Year" by Orange Coast Magazine. Now, with all that global experience up his sleeve, he is using his unique palette to paint a pretty picture (with food) at his deservedly-celebrated brick and mortar, Mix Mix Kitchen Bar.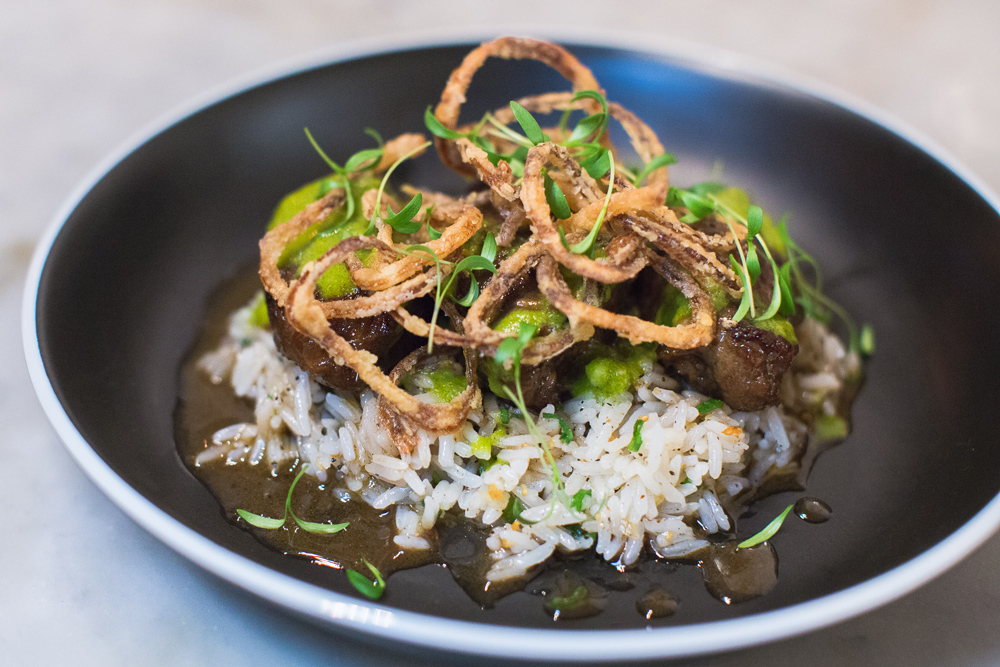 Chef Ross's Pork Cheek Adobo
KAT THOMPSON: How did you conceptualize [Mix Mix] and create this amazing restaurant that ties all these global flavors together?
ROSS PANGILINAN: So, I grew up eating a lot of Asian food; a lot of Filipino food, a lot of Chinese food, all kinds. My dad would always take us out—that was his thing. We didn't play catch in the backyard, we went out to the hole-in-the-wall restaurant or a super high-end fancy steakhouse or restaurant. So all my travels and everything that I've learned working in Italian restaurants, French restaurants, sushi restaurants, [results in] a highlight tape of all of the things that I've loved and I kind of bring it together here.
Your brother told me you used to be an avid skater. Can you tell me a little bit more about that?
I was in middle school and John's friends would drive, so I would start hanging out with them and they would take us skateboarding. Some nights, on weekday nights, we would go to Huntington Skate Park until 2 in the morning, or downtown LA until midnight... So we'd skate a lot, and eventually we'd start filming and then I met one of my best friends who was a sponsored skater and he was like, "Yeah, you got to make a video and send it in." So I got sponsored by Skechers Shoes, Ambiguous Clothes, and Liberty board shop. We had a half pipe in our backyard.
Before Chef Ross's budding culinary career, he was an avid skateboarder (1996-1997) – this is from one of his sponsor me videos
What?! That's so crazy! At what moment did you realize that you wanted to be a chef then? I feel like people would hear that and see that as two separate worlds, and it sounds like that was a big part of you growing up.
My older friends who used to take us skateboarding all the time, they got kind of old and stopped skateboarding and partying came involved. Are you gonna go skate on a Saturday or go drink and mess around? Where are the girls hanging out at? So I kind of started hanging out with different people in high school and drinking and partying and doing stuff you're not supposed to be doing. So I started skateboarding less and less and less, and that's kind of how I stopped. And plus, throwing yourself down ten stairs... if you want to be the best, you got to do [it]. You see someone your age doing a trick down a 13 stair handrail and it's like, "Okay, am I going to do that myself or am I going to do something better than that? How can I compete?" It was always fun, don't get me wrong. I love transition skateboarding and while I was at Leatherby's, I'd take off to the skate park down the street and roll around. That's what's fun. But being competitive, it kind of just died out.
When we had a halfpipe in my backyard, people we didn't know would just come. I'd get home after school and be like, "Who's going to be in the backyard today?" Pro skaters would come by and skate the ramp. We had a good size ramp back there for a year or two, and then neighbors complained and got the city involved and we had to take it down. But those were fun times.
How does skating translate into being a chef? I was trying to think of correlations between the two, and I think there is this sense of innovation, exploration—
It's style too. I had my own style as a skateboarder. If someone does a kickflip down a seven stair, it's like me doing a version of ceviche or adobo. It's going to be different than how the other guy does it. Does that make sense? …And I've always been competitive—not that I'm saying I'm better than this chef or that chef, but more competitive for myself and for my team, always coming in and trying to do better the next day, trying to do better than what we did yesterday.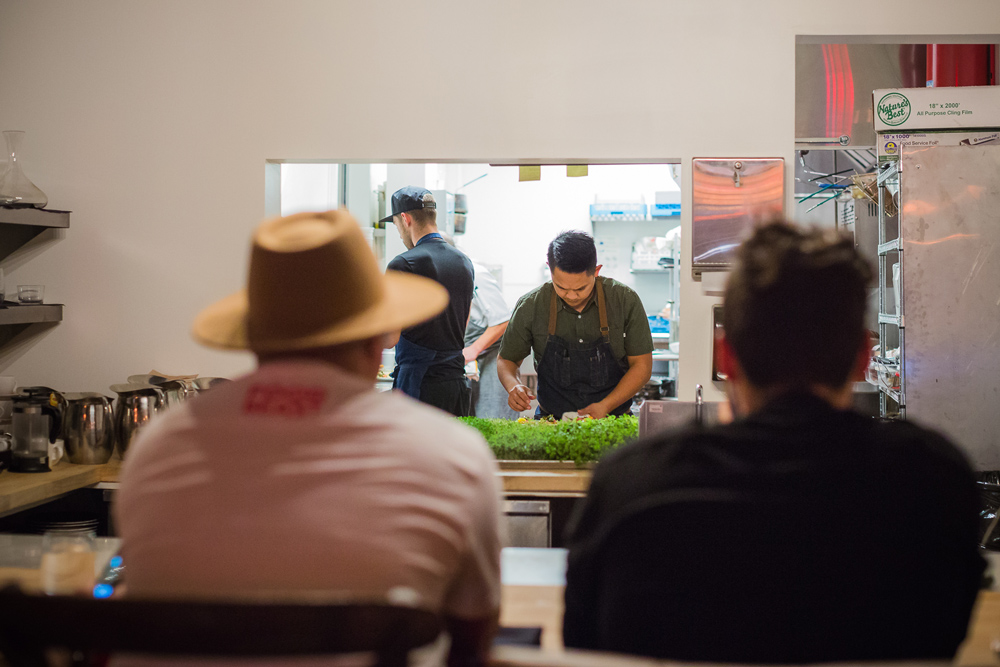 What's your favorite dish to cook and eat in general?
When I'm at home, I really like to roast things. I use my oven a lot and keep it simple. I love roasting things and it's also an easy and good way to cook without breaking out 15 different pans and making a huge mess. I love the simplicity of getting a good chicken—marinate it or do whatever you do to it—vegetables, potatoes, and roast them nicely in the oven.
When I had some of your food, and I shared leftovers with my Filipino coworker, he said the taste reminded him of food from his childhood. Is it like you're cooking from your memory, from heritage?
It's both. The flavors [I had] growing up I'm trying to recreate. Like I said, I didn't spend a lot of time with my grandparents cooking, but I know what the flavors are. And my training is French and Italian—I went to a French culinary school, trained in France, worked at an Italian restaurant. Now, I'm kind of relearning to cook Filipino but I'm using my French techniques and Italian techniques, which is kind of cool. A lot of Filipino restaurants that are opening grew up cooking Filipino food. I'm kind of doing it backwards, which is unique I think.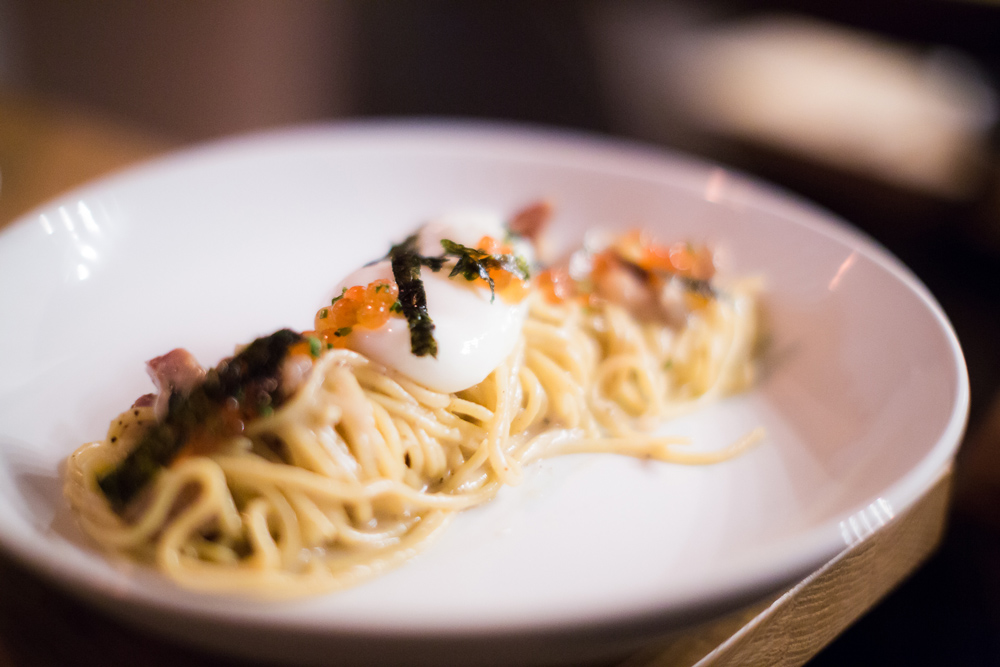 Chef Ross's twsit on Carbonara
I think that's cool! I think it's cool that someone can eat something and be like, "Wow, this reminds me of when I was a kid." That's a special experience.
Yeah. But it's also hard for me to cook modernized Filipino food because Filipino food isn't a rich man's food. It's stews and home soul food, you know? I go to the fast food Filipino places I grew up eating and I'm like, "This is good, why would I [change it]?" So you have to really think how are you going to modernize it and charge your pricing when they charge $7 for a two combo plate, you know what I mean?
No, totally. So it's not a fear of doing it a disservice but... you don't want to misrepresent the food or charge something insane because you know that there are people doing it for and by their community.
Yeah. And, you know, we're saying we're a global restaurant, not just straight up Filipino. We have pasta, some crudo dishes, a lot of different [flavors]. We're trying to keep it global. I ate a lot of Indian food growing up, so sometimes I'll add some different spices on the menu. And I grew up in Southern California, so we ate a lot of Mexican food too. That's kind of where the croquette [on the Mix Mix menu] was inspired from. Have you ever had those poor man's tacos? The mashed potato tacos?
Dessert: Tiramisu and Tropical Verrine
Yes, the crispy fried ones?
Yeah exactly. So that's where the idea of the croquette came from. I was like, "My gosh, these are so good! How can I put this on my menu without it being a taco?" So thinking French and making it a croquette, or Spanish or whatever you want to call it. We basically make a chorizo mashed potato, roll it into a ball, fry it, serve it with a lime, roasted jalapeno sauce.
Can you tell me about Mix Mix and the concept—how did this idea come to you?
So the name, there's this Filipino dessert called halo halo which translates to mix mix; it's mix mix in English. And I'm Filipino but I'm American. I [also] have a boy and a girl and one of them is Madeleine and the other one is Maddox so you got kind of the M's, so it kind of helped with the name, too. But as far as with the restaurant… Here, especially in downtown Santa Ana, we can be creative. We can cook whatever we want here. That's kind of the idea behind Mix-Mix, we want to mix things up.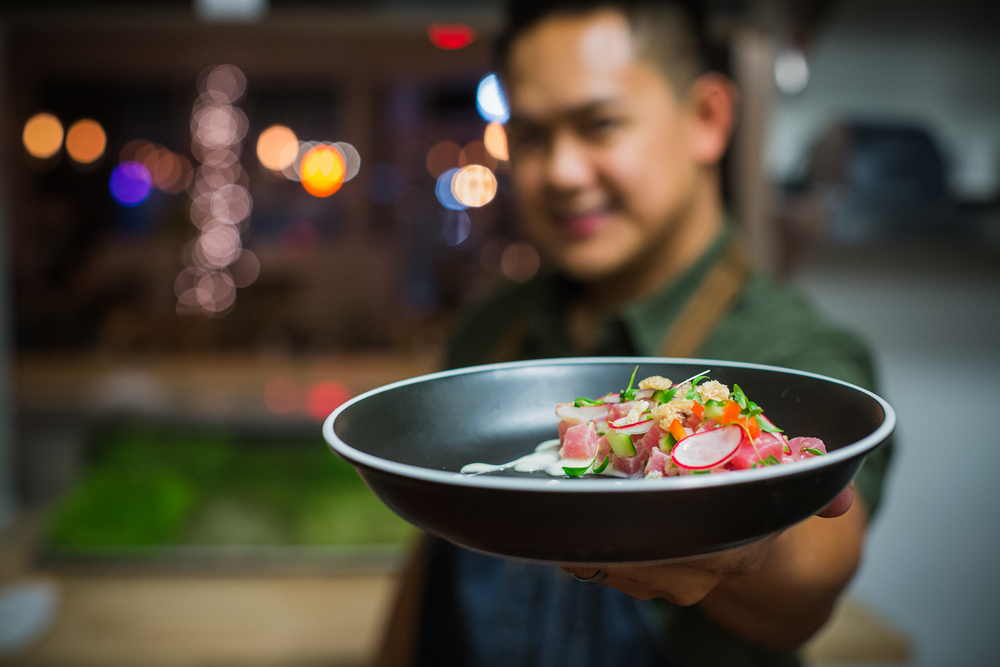 ***
To celebrate Orange Coast's award of Restaurant of the year, Mix Mix is offering a 4-course prix-fixe menu for just $40. You should go try Chef Ross's food—seriously, you won't regret it.