Artist Ryan Ady Putra grew up in a small town in Indonesia, and discovered his interest in illustration when he met like-minded people passionate about skateboarding, music, and a DIY punk ethic when he moved to the city of Yogyakarta. Affectionately called Jogja, Putra's city has been a creative hub for centuries (Putra says it's "one of the coolest art cities in Indonesia"). With Javanese culture being its largest influence, you can see elements of wayang puppetry, batik, Hinduism and Buddhism in the city.
Putra's work often draws from these influences, and feels like a melting pot of rock 'n' roll, Javanese art, and surf and skate culture, with a sense of humor sprinkled in (he cites Ed Templeton as an influence). His aesthetic approach has brought him well-deserved attention, collaborating with brands as diverse as Volcom, Melbourne's BOW3RY, Hurley, Sydney's Nothing, and The Quiet Life, with features in Juxtapoz and Monster Children. Some of his collaborative work exists under his brand Domestik, which is described on its site as "cool thing but trifling… Domestik is vicious rumor"—Putra himself says Domestik is "the rise from Indonesian dust."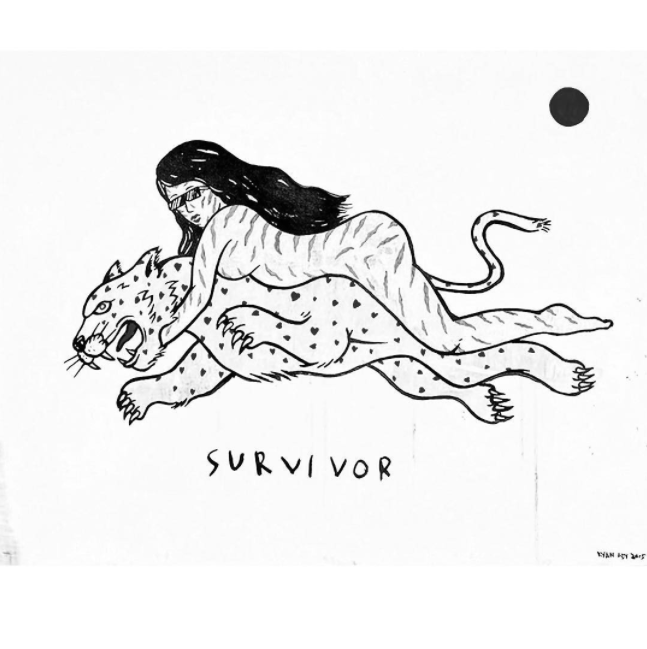 Putra is just one of many other Indonesian artists who have been bringing their country's modern art scene to attention. The recent opening of the Museum of Modern and Contemporary Art in Nusantara (MACAN) and widely popular art fair called Art Stage have both opened up in the country's capital, Jakarta, and have allowed Indonesian artists to showcase their work to wider audiences worldwide.
The Hundreds writer Manos Nomikos recently caught up with the young artist to talk about the coolest art city in Indonesia and why he describes his brand Domestik as "petty but pretty."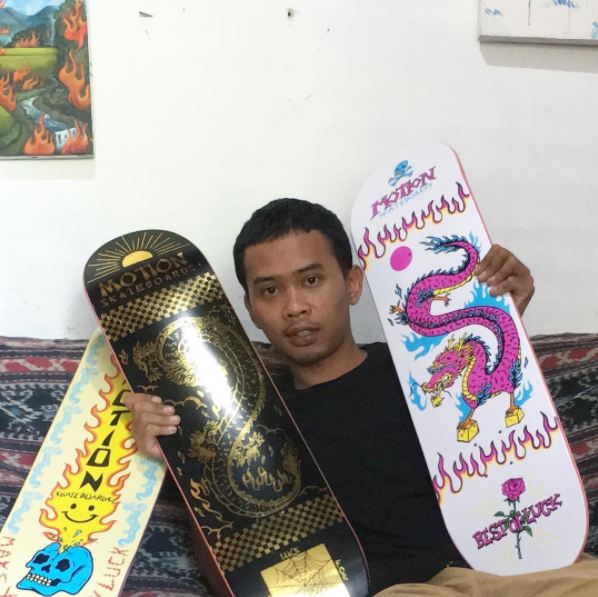 MANOS NOMIKOS : How did you get into the arts?
RYAN ADY PUTRA : I was born in a family with no background in art. In the beginning, I had no interest in this kind of activity. Until I realized that I'm among people who are into skateboarding, music, street art, and all things DIY in Magelang, a small city near Yogyakarta. I thought if I [could] paint a mural, skate, and also live close to the music scene, it would be so cool, as simple as that. I also have a small clothing brand called Domestik, mostly based on my own drawings and graphics on T-shirts. Time flies, I enjoy all the things I grew up with. Then I decided to move, and currently I live in Yogyakarta, one of the coolest art cities in Indonesia. Nothing has changed in me, here it is just like a boost to make things happen.
Tell us more about your clothing brand, Domestik.
For me, Domestik is like the rise from Indonesian dust. The things surrounding me are my biggest influences. I am interested partly on the visual side as a point finger, then I laugh and raise the middle finger. Domestik takes a lot of Indonesia's aesthetics, 'king and spirit.' It is petty but pretty.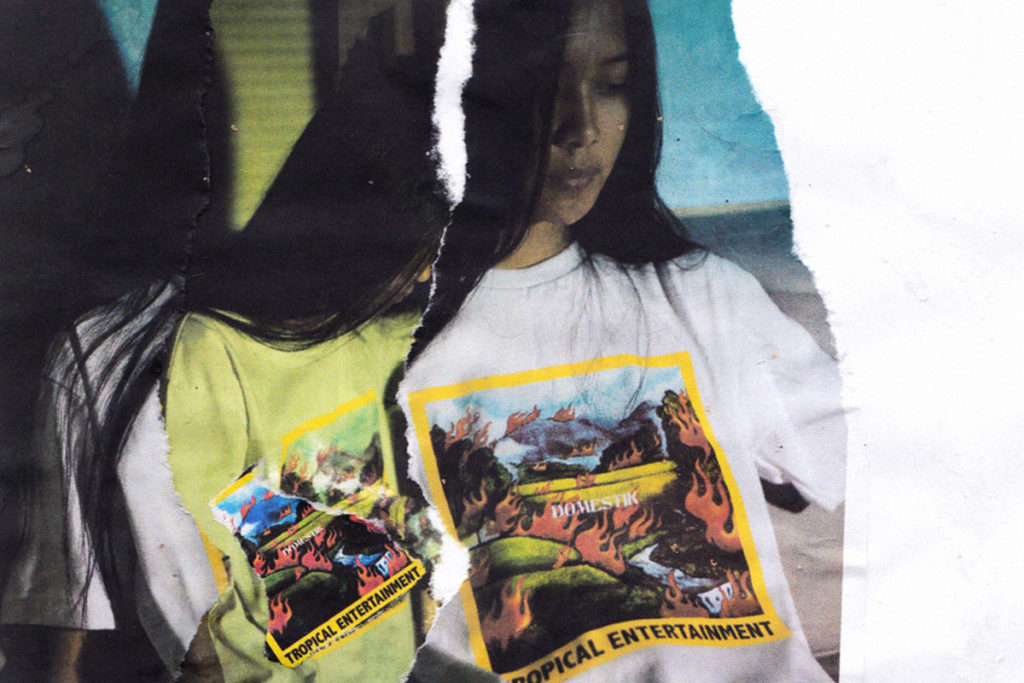 "For me, [my brand] Domestik is like the rise from Indonesian dust."
You said the "things surrounding you" are your brand's biggest influences. What are your influences as an artist?
Actually, I have no specific influences who reflect into my artwork and design. But in some part, artists like Ed Templeton and Barry McGee, give me some inspiration about their lives, how to live in the art world as a full time artist.
I remember one day, I said I'm done with drawing pin up girls. And that was 2-3 years ago. So much sarcasm and naughty thoughts back then. I still keep the sarcasm to this day to my fresh design and illustrations. A change in my visual language.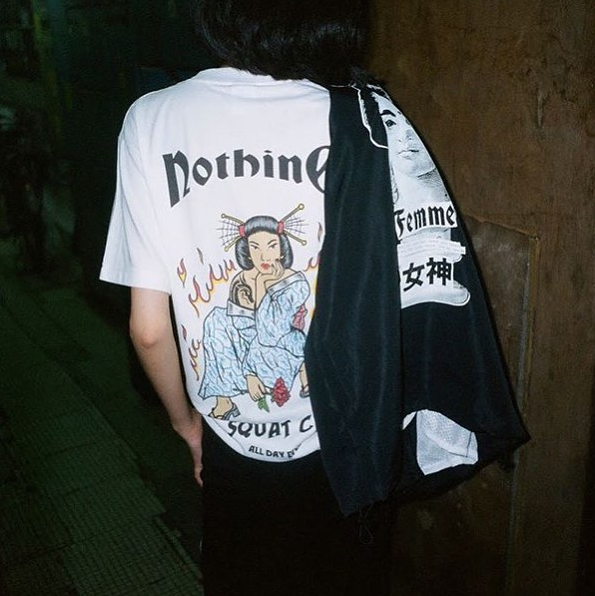 The Asian-inspired "Squat Club" illustration Ryan Ady Putra designed for Sydney brand Nothing's exclusive capsule for HBX.
How is it like making a living as an artist in Indonesia? How is the new art scene over there?
It's great to live in Indonesia with a low cost of living. Some trips in Melbourne, when I had an exhibition there, actually showed me the fact that it really needs a lot of effort to be a full time artist living abroad. I live in Yogyakarta, with [the] same vibes as San Francisco, [as far as] I can tell—ambience, atmosphere, a lot of initiative.
"Modern and traditional art blend together [in Yogyakarta, Indonesia]."
Any insider advice when someone visits the city you live?
Like I said before, Jogja is the one of the coolest art cities in Indonesia. Modern and traditional art blend together. There is space to try something new. It's really possible here. Just visit Yogyakarta, it's a really cool destination. You can go see the temples or chill by the seaside.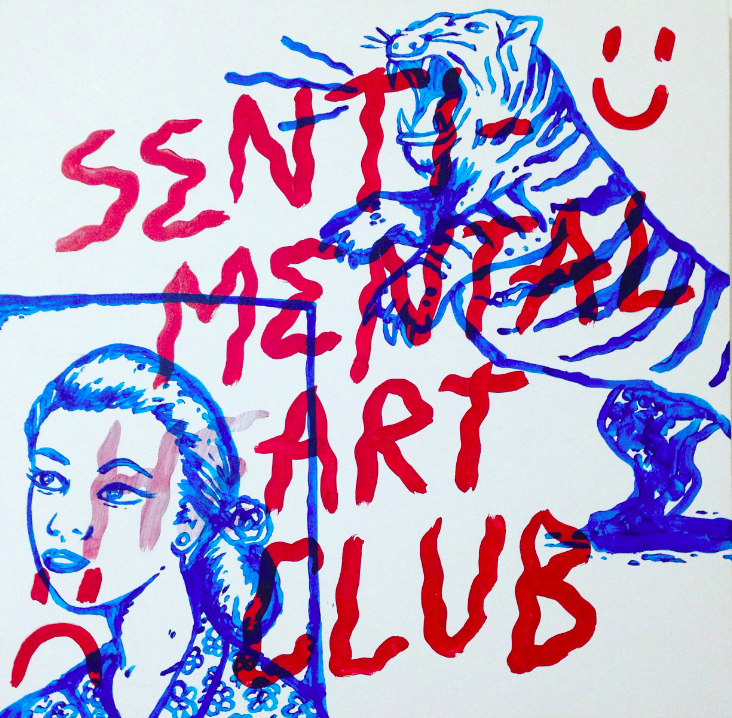 I have seen many photos of you riding a motorcycle. How is it riding a motorcycle in a vast country like Indonesia and how is this culture?
As you know, motorcycles are really common vehicles in Indonesia. Custom bike culture is alive for many years now, but there is always space for something fresh. That's the cool thing, and I'm into it.
Last but not least, do you have a dream project?
I have no dream project for now. Just flowing and see what's coming. Like a dream. A surprise to come. On the other hand, I have to operate a clothing brand. Me? Really?
***
Follow Ryan Ady Putra on Instagram @ryanadyputra
http://domestikdomestik.com
Intro by Namrata Mohan. Interview by Manos Nomikos. Photos courtesy of Ryan Ady Putra & Domestik.