This weekend in Chicago, The Hundreds is collaborating with some of Chicago's brightest stars and most historic streetwear figures, from Lena Waithe to Leaders and Joe Freshgoods. But it's a collaboration with a brand from Los Angeles we're bringing to the Windy City that means the most to us.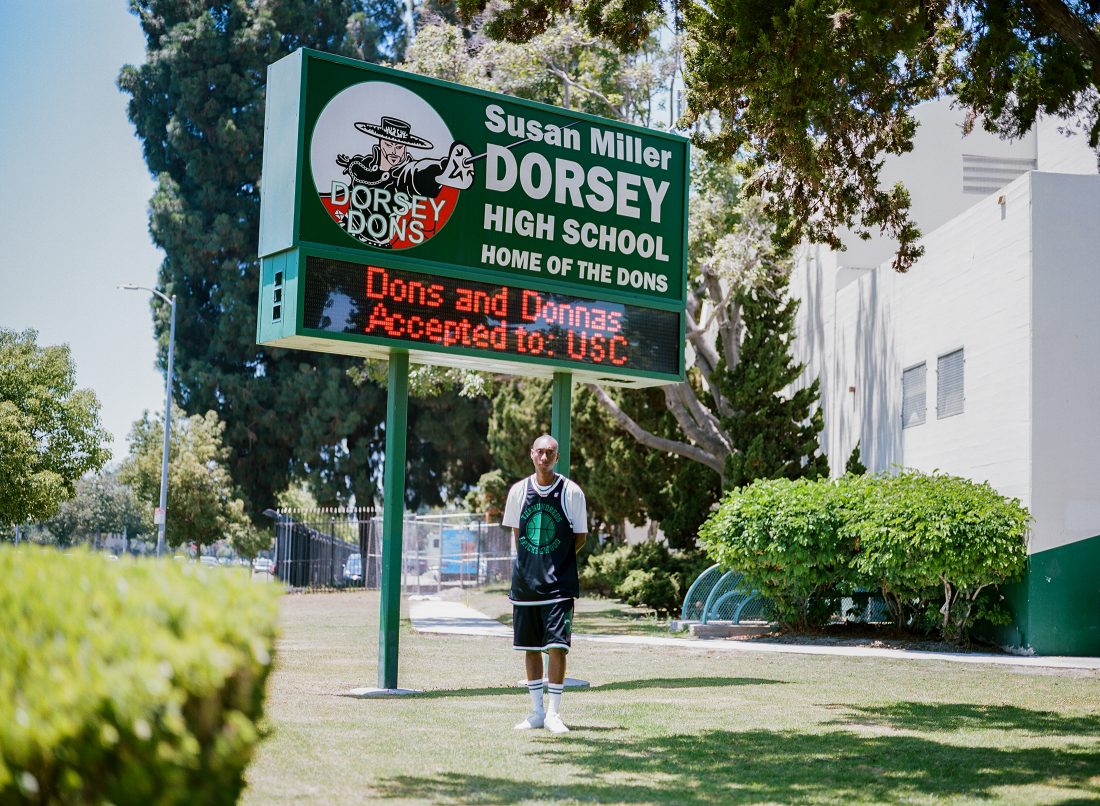 If you've been a fan of The Hundreds at any point over the previous two decades, you know that we place tremendous value on storytelling and community building. So, it should come as no shock why our collaboration with Bricks & Wood is such a special project for us. It fills all the criteria: it's from within The Hundreds family, it's legacy Los Angeles at its core, there's an incredible story behind the collection, and it came out fire. Check, check, check, check.
Bricks & Wood is the brainchild of Kacey Lynch, a product of the Jungles of South Central and one of the brightest up-and-coming stars of streetwear today. He's been working on Bricks & Wood for a few years, but it has only become his sole focus in the past couple as it has picked up an incredible amount of steam thanks to his visionary design work and cosigns from the likes of Tyler, the Creator and Anderson .Paak, who have both worn one of Kacey's signature beanies in some of the most major publications on Earth (Tyler on the cover of GQ and .Paak in a Rolling Stone interview).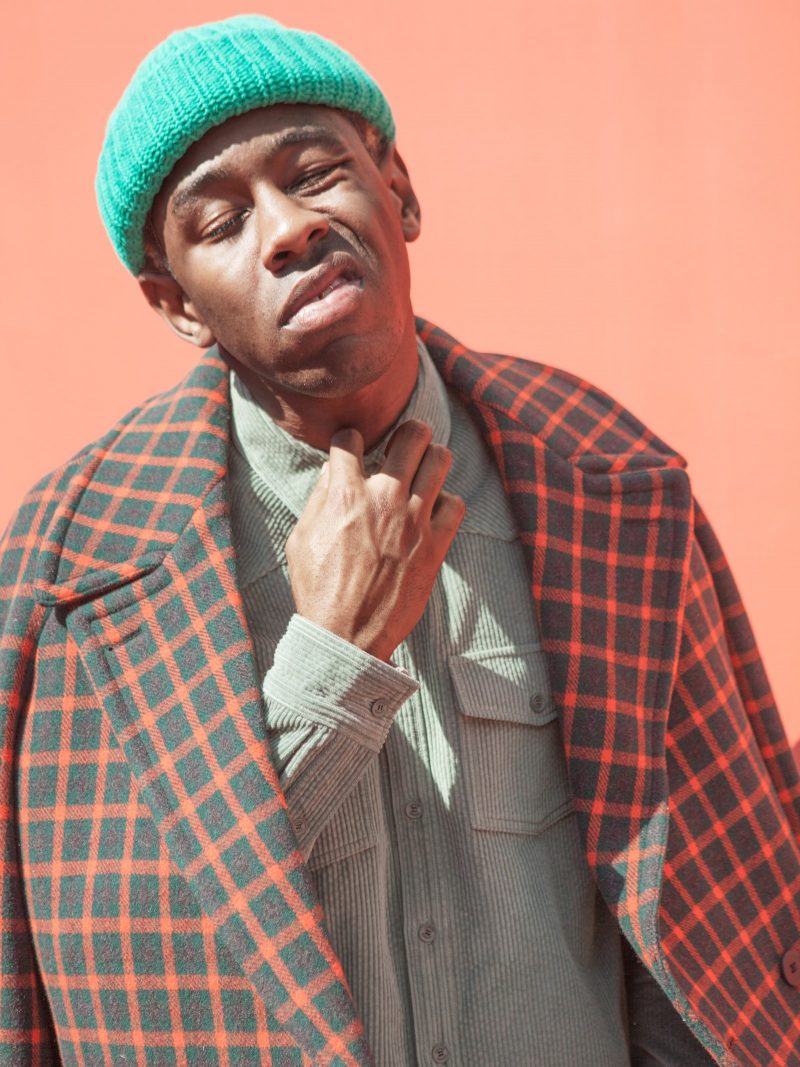 Bricks & Wood is a brand that needs to be held in your hand, experienced in person. Like Kacey's own story, Bricks & Wood is all about texture and feel, rather than flashy graphics and big statement pieces. This is all about immersing you in the story, from Kacey's own grandmother being featured in the lookbooks to feeling the suede that covers his standout 8-panel cap and being reminded of your own grandmother's couch you used to sleepover on. [Raises hand]
Kacey's family is a huge part of his life, and thus, his brand. Lynch strives to paint an authentic picture for outsiders of his humble beginnings in the Jungles, and that means showing the hard times one faces growing up in South Central and the strong, resilient family foundation that it requires for one to escape some of the pitfalls of that very environment.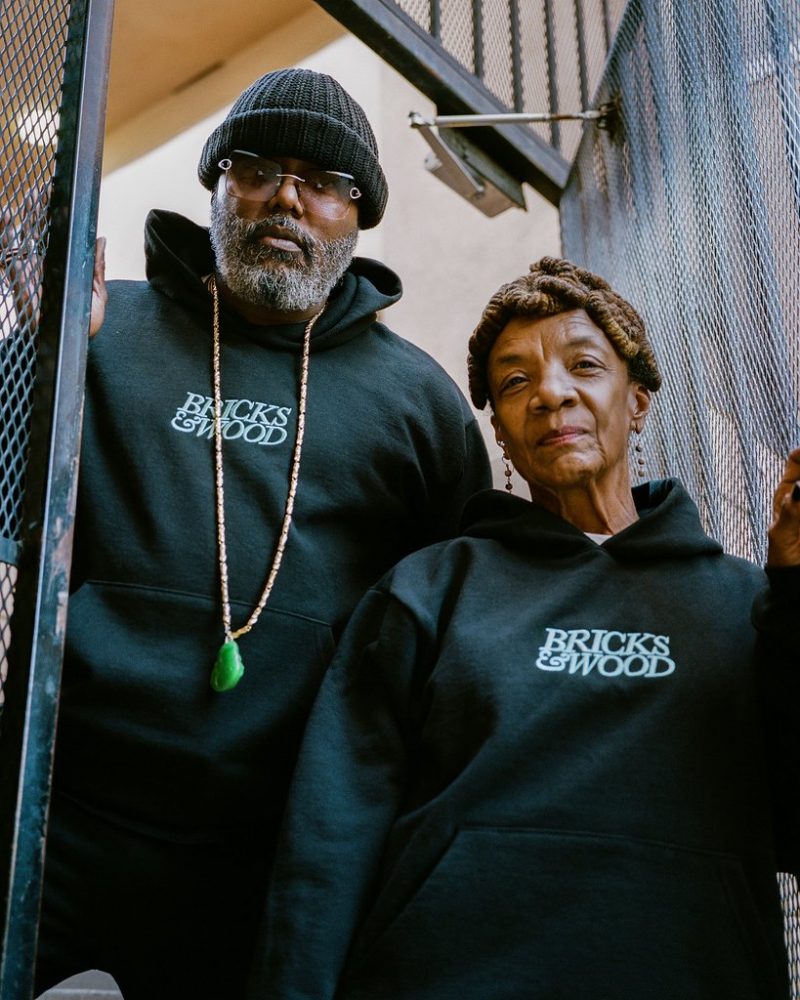 When you go through so much early in life, friends that go through it with you become just as much family as your blood relatives, sometimes more so. And that is how this collaboration between The Hundreds and Bricks & Wood was born, through lifelong friendships that transcended generations. Kacey's dad was friends with Bobby and Ben and would always lend a helping hand with The Hundreds throughout the years, and then Kacey went to high school with David Rivera, a fixture at The Hundreds for years and a force on our Design Team. We weren't kidding when we said there are a lot of layers to this collaboration.
I sat down with Kacey for an extended interview where we dove into that intertwined history between The Hundreds and his family, as well as a range of other topics. If you're in Chicago for ComplexCon this weekend, stop by the Bricks & Wood booth to witness the project — and Kacey — in person.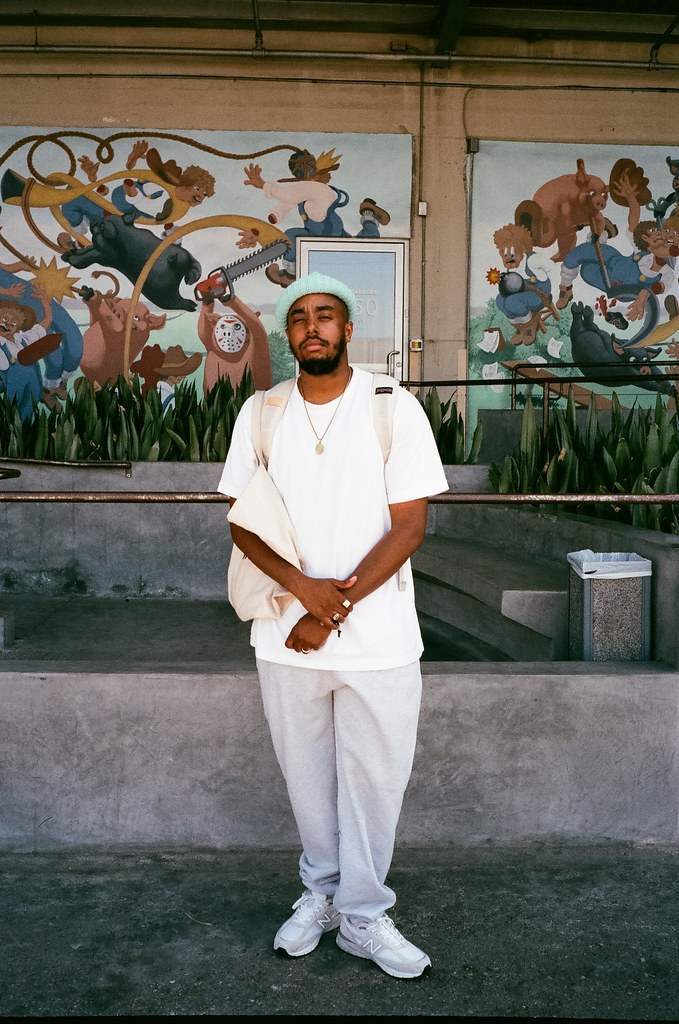 DUKE LONDON: How are you feeling right now? Couple days left until the big weekend.
KACEY LYNCH: I feel good, stressed a little bit but that comes with the territory. Nervous a little bit,  but that also comes with the territory. Ultimately, I'm excited. I'm just very grateful for this opportunity, it's definitely a dream come true. A year ago, I was working a full-time job at Tanner Goods and I used to intern at The Hundreds. Now, a year later, I'm doing my own brand full-time, did a collaboration with Tanner Goods earlier in the year, and I'm releasing my collaboration with The Hundreds. I'm just trying to soak it all in, enjoy the moment, and execute at the same time.
Has it really just been one year?
Yeah, bro. I've been doing Bricks & Wood full-time for one year starting next month. It's super new. 
Our collaboration with you is the only project we're doing for ComplexCon with a brand outside of Chicago. Everything else we're doing is very Chicago-centric. This is us bringing LA to Chicago. Can you tell me about your history with The Hundreds?
My pops, and I don't even know how the relationship between him and Bobby and Ben started, to be honest, that's something you're going to have to ask them. But I remember being in high school and my pops always had boxes of The Hundreds stuff in bulk. I started wearing it because my pops said it was cool. To me, whatever pops thought was cool, I thought was cool. Even when The Hundreds wasn't as big as they are now or whatever. I was early wearing that stuff as a kid and, as I got older, I began to realize how cool it really was by researching the blog and seeing my dad on the blog sometimes when Bobby would take his picture. After I graduated high school, which was in the IE, I moved back to LA and looked for a job and my identity and I just started kicking it on Rosewood. I would go anytime I had free time and kick it. Kicking it on Fairfax at the time, it was like getting a job or getting some sort of identity or placement within the streetwear industry. It's more about being there rather than what your resume says. If people don't know you or don't like you, then you won't get a job or the approval to kick it. And I never actually got the full hire at The Hundreds. I won't lie, sometimes Umi, the old RSWD manager, would pay me out of his own pocket under the table for helping out at pop-ups or events. Of course, he blessed me with clothes and things like that. I was definitely like an intern for a good six to eight months, not really making any money, just helping out and being there because I actually wanted to be there. It was funny because around the time I was about to get hired or could have gotten hired, I ended up getting a real job doing some marketing stuff for Creative Recreation, so I kind of just moved forward with my life. Umi moved on, he went to open his own shop with eTc Tacoma, and seeing him do a collaboration with The Hundreds, it showed me what was possible. Then, I started my own grind with Bricks & Wood, knowing that hard work does get recognized by the right people at the right time. Having a relationship with David ever since we went to high school together, we met through The Hundreds, just off of the strength of "You got The Hundreds. I got The Hundreds. How do you know about this? No one really knows about this." And now he's the one helping me design the collab collection. It doesn't get any better than this. Going full circle and all. Even when we were shooting the lookbook today, I was like, "damn, we literally met over this shit and now you work with them full-time, do their collabs, their designs, and now you're collabing with my company." It's wild.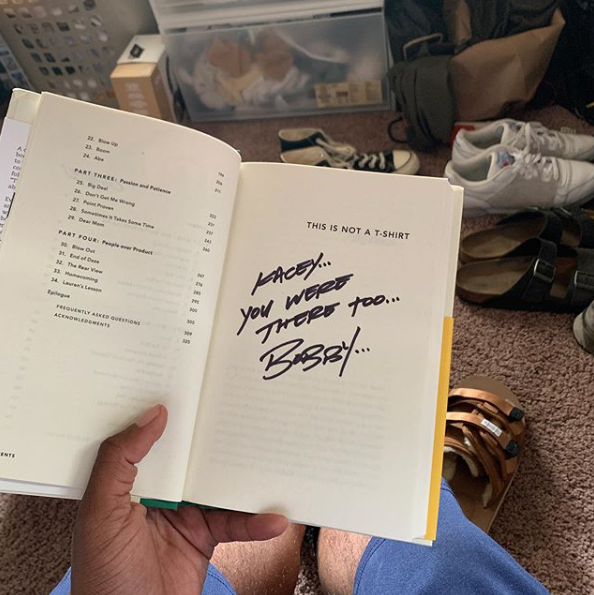 What kind of conversations do you think happen between two people that run up on each other and both have on Bricks & Wood?
[Laughs] I think it's pretty similar. It's probably like, "Do you know Kacey?" or "How do you know this brand?" It's a work in progress, it has its ups and downs but we're still not a colossal brand, so it still has rarity to it. If you know, then you know. 
It's like you're a part of something.
Yeah, which is how I felt wearing The Hundreds early on. I felt like it was something that no one else had and I was always big on individuality. I think it's going to get to that point where people have that Spider-man moment when they point at each other like "oh we got the same thing on." 
Is ComplexCon your first trade show that you've brought the brand to?
No, I did ComplexCon last year in November. It was a big boost to me because prior to that, I was literally running Bricks & Wood out of my grandma's house. Maybe a week after that, I had my first office. The timeline for me is basically: I worked at Tanner Goods for two-and-a-half years, they closed down around this time last year. During the breakdown process, I get a call from my good friend Taylor and he's like, "Agenda is coming up. They're looking to fill up some booth space. They're giving it for free, would you be down?" At the time, I was fresh off Tyler wearing our beanie on the GQ cover. That was a lot of momentum for us. Then, Taylor hit me with that and it was like, damn I've never done anything like that before. I'm literally in the midst of leaving my job. I already had it set in my head that I wanted to try Bricks & Wood full-time to see if I could build on the momentum. I thought about it for an hour and then I called and said I'll do it.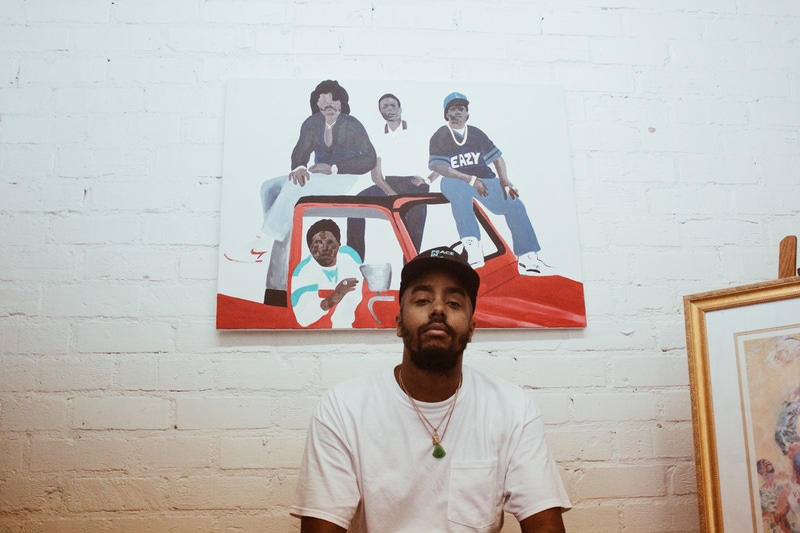 Did you have inventory?
I had some stuff but it was Agenda so thankfully you don't have to have backstock. You kind of just have things to show. I had a lot of stuff at my grandma's house. I had enough to bring a collection. Luckily, before Tanner Goods closed, I did a pop-up in the store. I really took that theme and took it to Agenda, which was my childhood bedroom growing up in South Central. I took memorabilia and just little stuff from my childhood and implemented it to the booth.
This collection is so strong. What went into creating it?
I think the collab is very strong and I was really surprised that Bobby and Pat allowed me to do something so big in terms of pieces in the collection. This is a 10-piece collab, from shirts to hoodies, jerseys to shorts, pins, hats, and beanies. I just felt like, if we're going to do it, this is how I really want it to come out. Let's not play around. Let me show you guys what I can do and if it doesn't work, then it doesn't work. Seeing it come to life and seeing the response from my team, The Hundreds team, and everyone else has been amazing.
The jersey, the shorts, the socks are even crazy with the grip bottom. The pencils are so tight. And don't get me started on the velour hat.
I've dropped that hat before, in some other colors. Pink, yellow, burgundy, brown, blue. I've dropped mad colors of it. Before Tanner Goods even closed, around springtime, Ben saw me wearing it and liked the hat so much that I gave him one, a pink one. He wears it all the time, so when we did the collab, he was like we have to recreate this hat. At the time, I had lost contact with the manufacturer, I didn't really have a connect on them anymore. It was through a middleman, somebody in Japan. I was like, "I don't really know if I can get this made." I tried sampling all types of stuff but it didn't come out the same.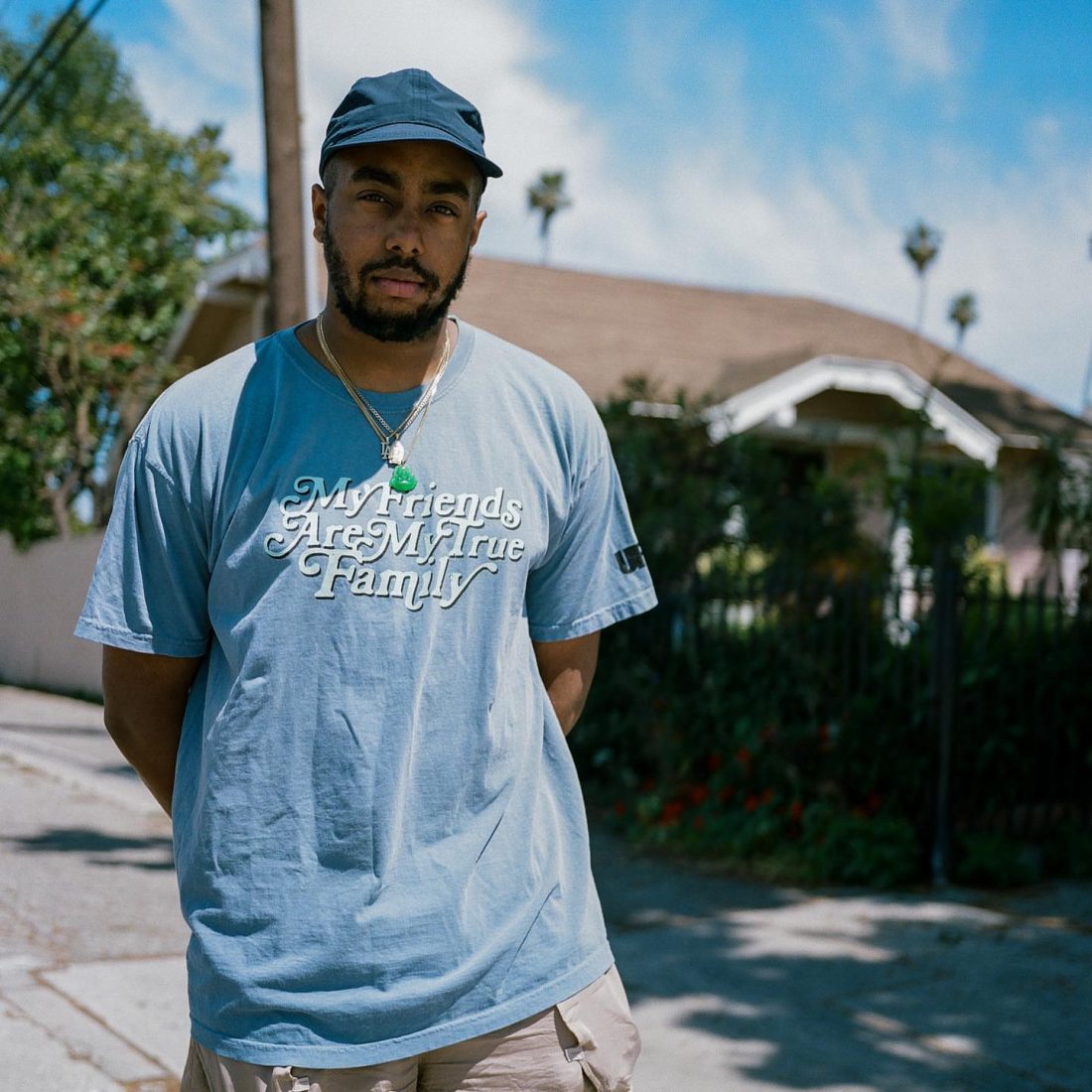 They have such a distinct shine to them.
The fabric of the hat really makes it stand out. Ben was like, "We need to make this hat. We need to figure it out." And so, that was more so him and David really pushing the samples and figuring out how to perfect it. The final product came out pretty damn similar.
Bricks & Wood feels so grassroots. It's about family, about where you're from, and storytelling. I know you grew up reading The Hundreds Blog and you have a Bricks & Wood Blog, too. How important are storytelling and building that sense of community within your brand's ecosystem?
Personally, I always tell people Bricks & Wood isn't anything special besides storytelling. I give you my true identity and what brought these things to life. Whether it's a garment, whether it's an idea, whatever, all of these things are really grassroots. Tanner Goods, that collab, I worked there for a long time. That was like family. The Hundreds, from my dad, to my time interning with Umi, to knowing Bobby and Ben, that's family. You can't control how big your brand goes, especially in this era. When you put something online, there's no telling who is going to see it, who is going to repost it, and where it can go. I just try to reiterate my story and message because if it were to reach a million other people, it's going to be hard to keep the same translation. Whenever it reaches whoever it reaches, they get the same story that someone who is right next to me can get. If I can change the perspective of my peers, my neighborhood, my community, my supporters, etc, that is creating change and I don't push anything negative. I really push individuality and push believing in yourself and understanding that all of the answers to all of your problems can be solved by looking in the mirror, they're within you. We just have to have the confidence and faith to overcome that fear to execute X, Y, and Z. That's step one. Every brand makes a hoodie, t-shirt, hat, beanie, whatever. Some might be the same material, some might be the same manufacturer. There's a reason why we buy this brand over that brand. I like The Hundreds because I like how personal they are, how Bobby and Ben really care about storytelling.
It comes back to you and David meeting because you were both wearing The Hundreds. There are other kids meeting today because they both wear Bricks & Wood. It's about creating pieces that people are going to want to rep and want to represent them for who they are.
When I look at The Hundreds and Bricks & Wood, it's about creating something very similar. I understand where this is going and I understand how important this is because this is how I was able to get this far. By being myself — personal, honest, transparent — and not following a trend or a look.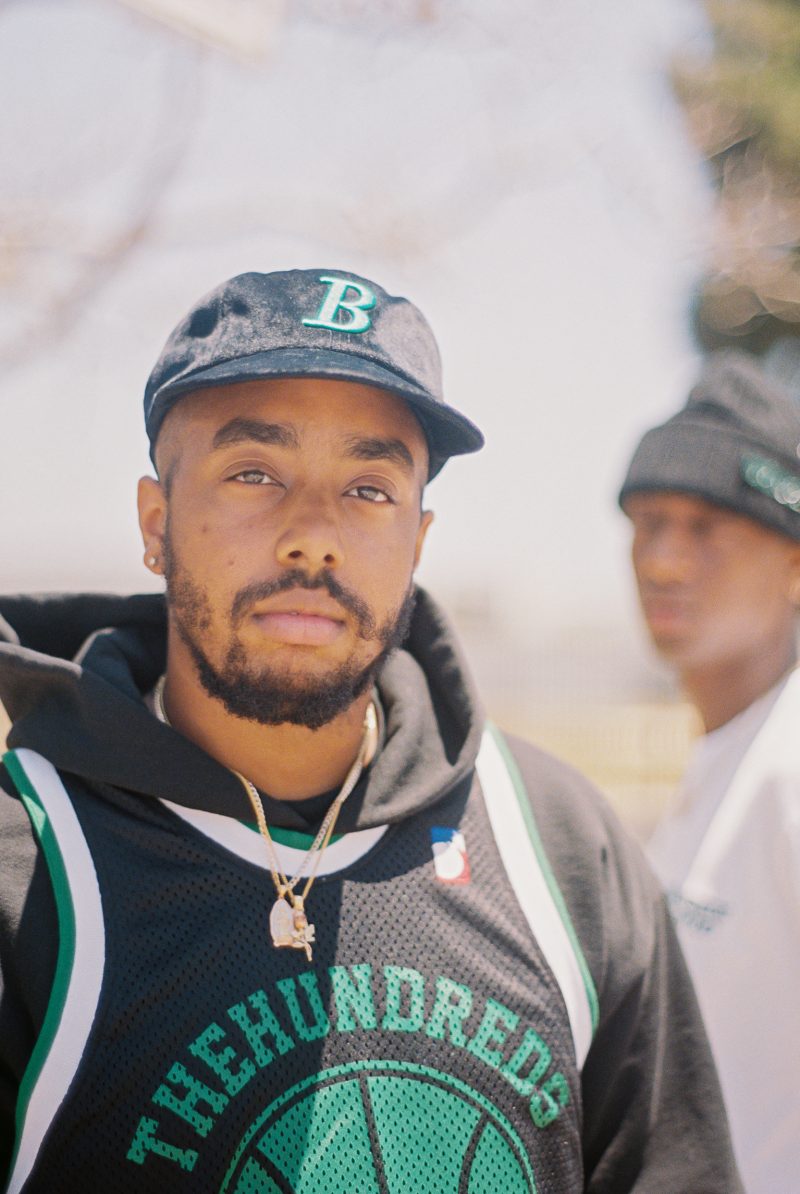 People are going to find their own meaning in your work, too. I'm from the East Coast, and this may upset you, but when I look at the whole collection, I think of the Celtics.
It's funny because we actually had an issue with that. We're all big Laker fans, I'm a huge Lakers fan. I hate the Celtics. The colorway came from the high school that my mom and dad graduated from. Kelly Green, Black, and White. That's Dorsey High School. It's basketball, so I can see why you think Celtics, but it's really meant to be a storyline about my mom and dad. I'm their seed, they created something within me. Dorsey High School is a legendary high school in South Central LA. I grew up in Baldwin Hills, which is called "The Jungles," so that mascot is a gorilla, the king of the jungle. It's really a deep storyline within the design. At the end of the day, that's how things are. I can put something out there and if the way you interpreted it makes you like it, then perfect.
Appreciating where it comes from and knowing the story behind it, but also finding your own reason for loving it.
That's what we do. I feel like Bricks & Wood really is for me. I made a T-Shirt that I sat on called the Made In America T-Shirt. I sat on that design for a year. It took a year to find out what it really meant to me. When I figured out what it meant to me, I put it out there and told my story. It was crazy the responses I was getting from people. I can tell one story, understand it, and appreciate it, but seeing how it applies to others in their life, that's the best part. That's what it's supposed to be and that's what gives it more substance. Even Bricks & Wood, the name itself. You look at it literally, Bricks and Wood, two separate elements and think of the foundation of a building. You have to have wood and bricks to create something that holds value and weight and something that's substantial long term. But I also see it as balance, understanding the balance of growing up in South Central but also having a taste for quality art and fashion and just having an interest in high-end things. I'm trying to create that balance within everything that I do.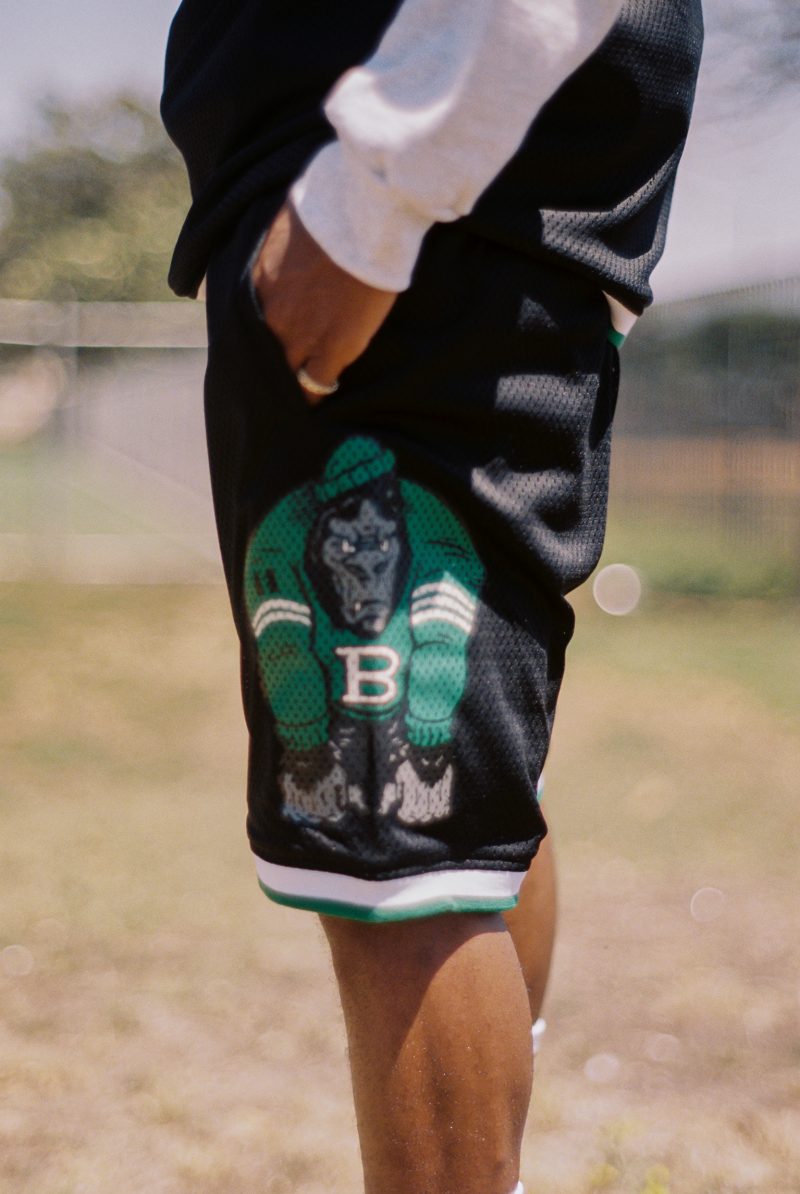 When you go into a collaboration, do you go in with set ideas of what you want to do?
The Hundreds collab was the only project that I came into with a set idea. The meeting we had a year ago to discuss the collab, it was literally, "You're a newer brand, we're just going to do a hat and a t-shirt and call it a day." We had a great conversation and I was happy with that but right before the meeting ended, I was like, "wait, I did have this idea that I want to throw at you." I had a bag full of references and I put them on the table and explained it all and damn near everything that I talked about came to life for the collab. I truly see it as a dream come true. That's like me having an opportunity to meet Jay-Z. The Hundreds is the Jay-Z of streetwear for me. Seeing that I had an opportunity to get a collab, what's the worst that can happen? They're already interested enough to have a collab with me. We would have done something to some degree, so let's see if I put this out there and explain the background of it, how would they react?
The worst you can get is a no.
The worst you can get is a no. Luckily enough, I tried and it came through. There's no such thing as coincidence. Everything happens for a reason. That was the one time I actually came through with a full-fledged plan about how I wanted it to look from the jump.
Last year, you gained a lot of momentum from ComplexCon. This year, you're scaling up and presenting a major collaboration. It's a bigger project, a bigger showing, new city, new eyes. What do you want to do next? What do you do with your momentum from this?
Same thing I was doing, taking risks and keeping my eyes open for all opportunities in the future. So far, even with this, there have been a few other opportunities that have already come through to fill in the gaps of the rest of the year. There is momentum and social media activity, audience, sales, and things are moving, but when it comes down to it, I'm super new to this and I do have to take it day by day, moment by moment. For me, it's just a matter of continuing to trust myself to take those risks and continue to do those things that got me these opportunities and got people to pay attention. I'm staying true to myself and telling my story in a creative way. As long as I do that, I think I'll be alright for a good while in the game.
***