atmos x ASICS Tiger GEL-Lyte V – This is a beautiful runner. The colors make it more suited for the fall and winter with a pair of jeans, but I can easily see these with a pair of brown twill shorts. atmos knocks one out of the park with ASICS and the combination of black, olive, and brown go perfectly with the camouflage detailing. What I really like is that the white midsole keeps the shoes from being mistaken as a trail runner, and the gum outsole completes the look.
As a sneakerhead since the late nineties atmos was the spot in Japan. This little boutique brought the heat. From the co.jp to their own little projects atmos was ahead of the game. They're a little late when it comes to the ASICS collaborations, but they definitely come correct. The new GEL-Lyte V does everything right with the use of camouflage, black, olive, and the finely placed gum outsole. This an enticing approach to a classic runner, and will drop next Saturday, May 2.
Source: atmos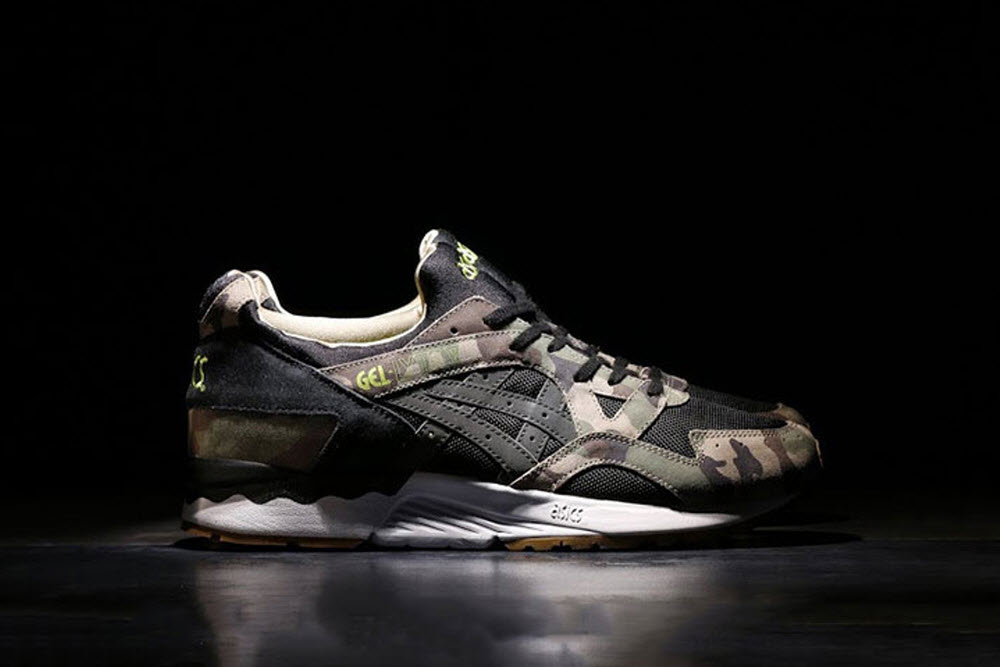 Kiehl's All-In-One Energizing Body Wash –I can get pretty lazy, but one thing I cannot do when I'm at home is take a shower before bed. Regardless of how many shots of Patron, I still need to take that shower before I go to bed, and that makes Kiehl's All-In-One invaluable. I just dump a glob into my hair and let hot water take care of the rest. The Menthol in the wash gives you that tingly feeling, and the vitamins promote nice, soft skin – no seriously, my skin is super soft.
I discovered Kiehl's in my search for a soap that smells clean, and not like I fell into a bouquet of flowers. This New York-based brand has been making cleansers for over a century and are now offering a body wash for the lazy. The All-In-One Energizing Body Wash is made with a blend of caffeine, vitamin e, vitamin c, with a splash of zinc and Menthol. All these natural ingredients promotes a soothing wash for the body, face, and even your hair. The wash does it all, and is available for $20.
Source: Kiehl's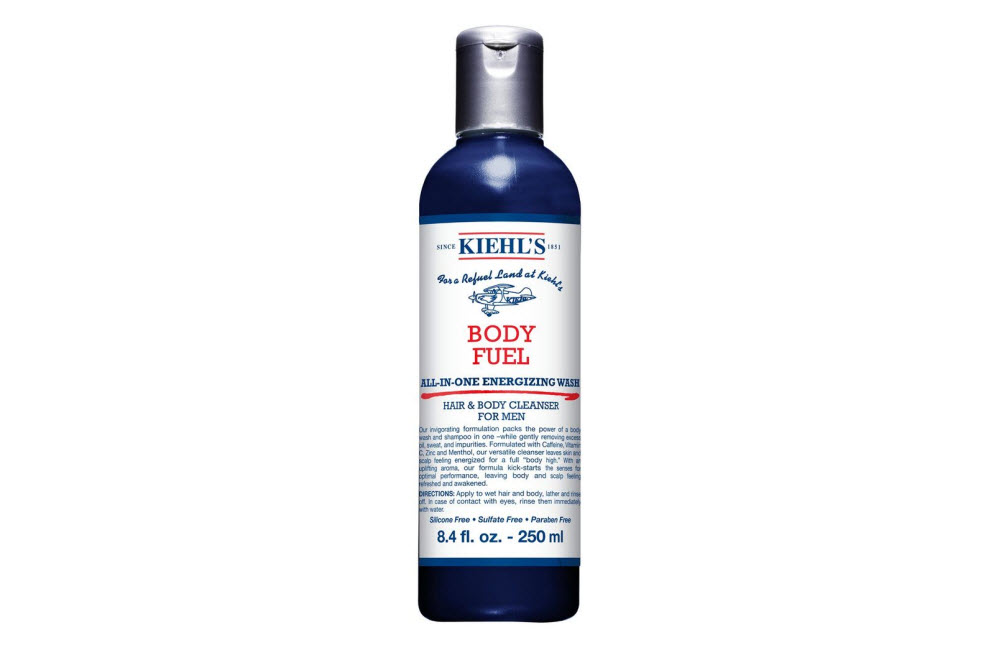 Uniqlo Smart Buys – As a fan of affordability (and generally being a cheap guy), I like what Uniqlo has done for menswear. Their price points don't hurt the wallet and it's nice to see them entering the footwear market. For their first project, they focus on the low-cut canvas tennis shoes. Available in a lace-up and slip-on the shoes have tonal textile uppers atop of vulcanized sole. There will be five colors to choose from and with a retail of $35, you can afford to get more than one color.
Fast fashion conglomerate Uniqlo dominates apparel and is now looking into sneakers. Spring 2015 is the perfect opportunity to kick things off and the new Smart Buys line of sneakers will debut two styles in five different colorways. Using the familiar canvas tennis silhouette, buyers can choose from a low-cut 5-hole lace-up, or the casual slip-on. Both pairs are set to retail for $35, and aligns well with the price points of Uniqlo's menswear collection.
Source: Uniqlo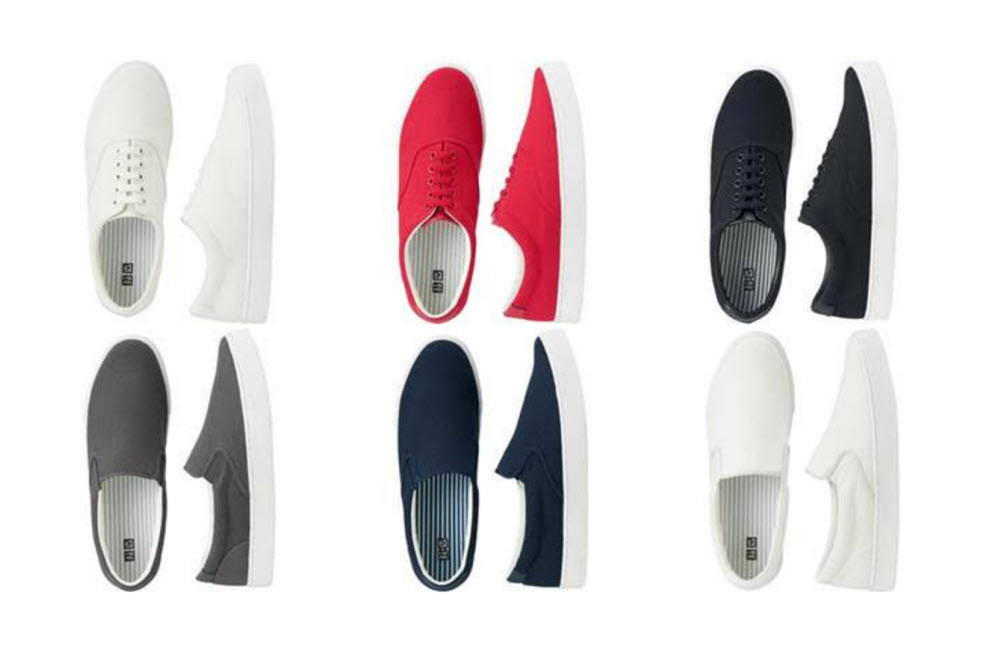 prAna Stretch Zion Pants – On my recent trip to visit Machu Picchu, five out of my 10 friends had the Zion pants. Either REI salesman are taking a kickback for peddling these pants, or these pants just kick butt. I'm pretty sure it's the latter because the Zions were clutch in during the 4 days of inclement weather. The nylon and spandex blend gave them a wide range of motion perfect for scaling over boulders and ice, while the internal waistband meant a sturdy custom fit. When it got hot the pants had a nice roll-up feature secured by buttons, and finally the DWR coating meant rain would whisk right off.
It's tough to stay comfortable on a long hike, but prAna tries its damn best to keep you in strong spirits with their Stretch Zion Pant. Using a blend of nylon and spandex, the durable fabric is versatile and allows a free flow of movement, and has the benefit of DWR. Water beads up into droplets and wicks right off and the pants also come with its own internal waistband. For those sunny days the pants also have a roll up feature for extra ventilation, along with the occasional wade across a river.
Source: prAna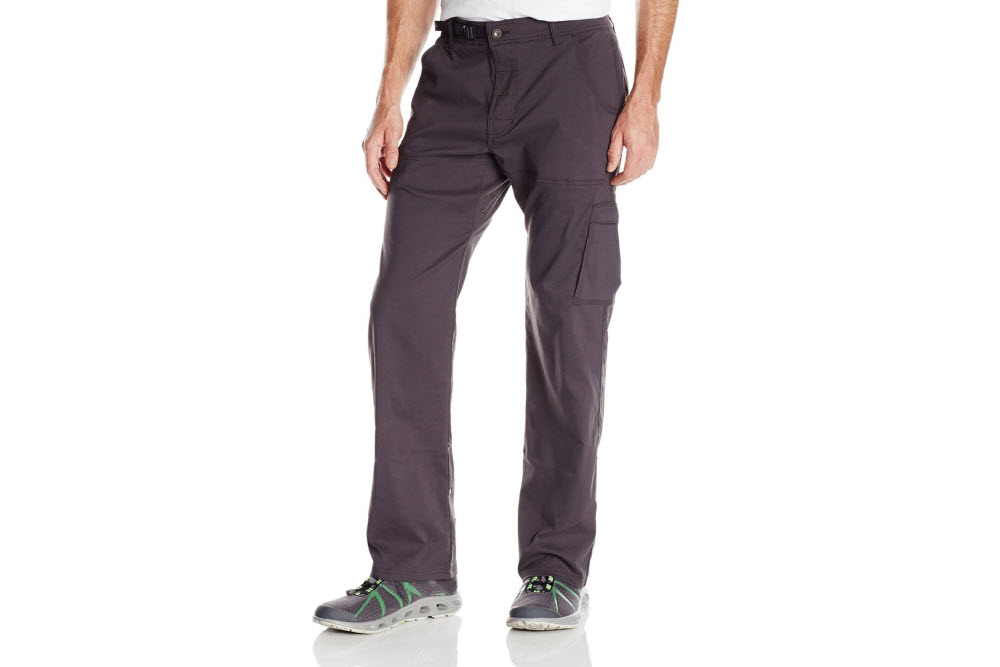 Bellroy Phone Pocket – I hate it when I'm scrambling to find my wallet and pull out my smartphone. Having to manage a wallet, keys, coins, and a phone with just a couple of pockets can get pretty tough. Bellroy's solution is for you to jam it all in one place. The Phone Pocket is a leather pouch that has a compartment for your smartphone, a separate sleeve for bills and credit cards, and specific compartments for a SIM Card, door key, and coins.
Jamming everything in one place is usually a bad look, but not when it's Bellroy. This little leather accessories company has a knack for dumping everything into one place while maintaining an efficient and handsome design. Their latest Phone Pocket is a slim leather wallet that keeps your iPhone secure, along with a handful of essentials. There is even specific sections for your SIM card, door key, bills, and coins. Each Phone Pocket is backed by an ironclad three year warranty, and that fine premium leather develops a nice patina over time.
Source: Bellroy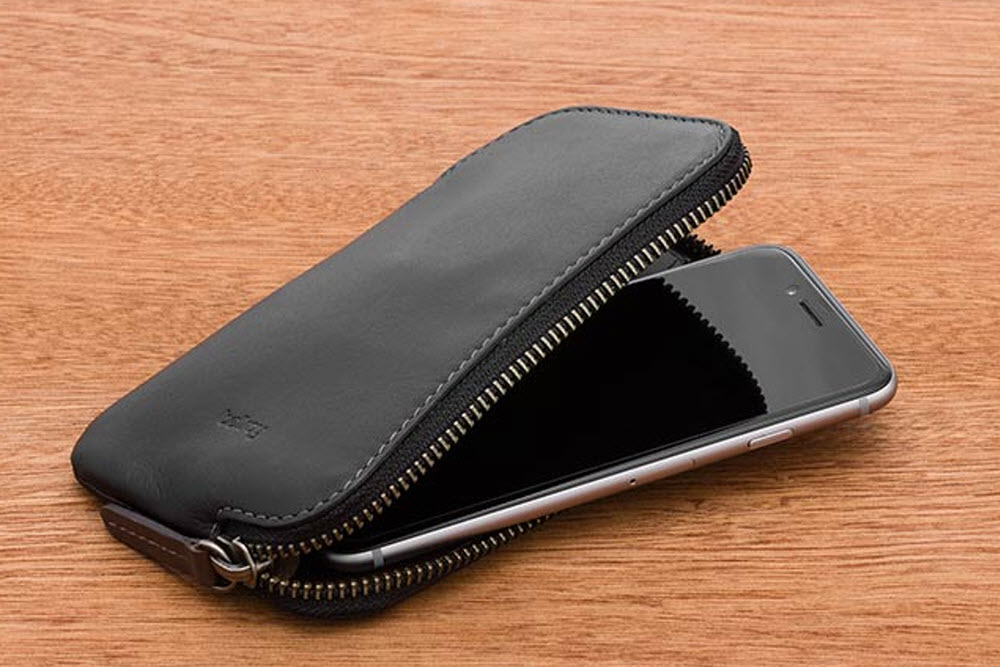 Seinfeld Action Figure – Seinfeld lives on as one of the greatest comedies ever, and seeing any sort of merchandise that references this odd-ball sitcom is a blessing. Vinyl Sugar takes on the series without three of the leads, and still manages to knock it out of the park. Fans of the show will recognize the bewildered look on Cosmo Kramer's face, or like sly wryly anticipation on Jerry's nemesis, Newman. Standing at 8″ tall, these figures will look perfect in any man cave, office desk, or living room mantle.
Vinyl Sugar may not have the funds to license the big dogs, but they did this first assortment of Seinfeld action figures right. Elaine, George, and Seinfeld are obviously missing, but they got episodes favorites like The Soup Nazi, Newman, J. Peterman, Puddy and Frank Costanza. The 8″ figures care caricatures of the original and Vinyl Sugar has done a wonderful job of capturing the antics. Just look at Puddy in his famous "8-Ball" leather jacket, and Frank Constanza with the famous Fesitivus pole.
Source: Hypebeast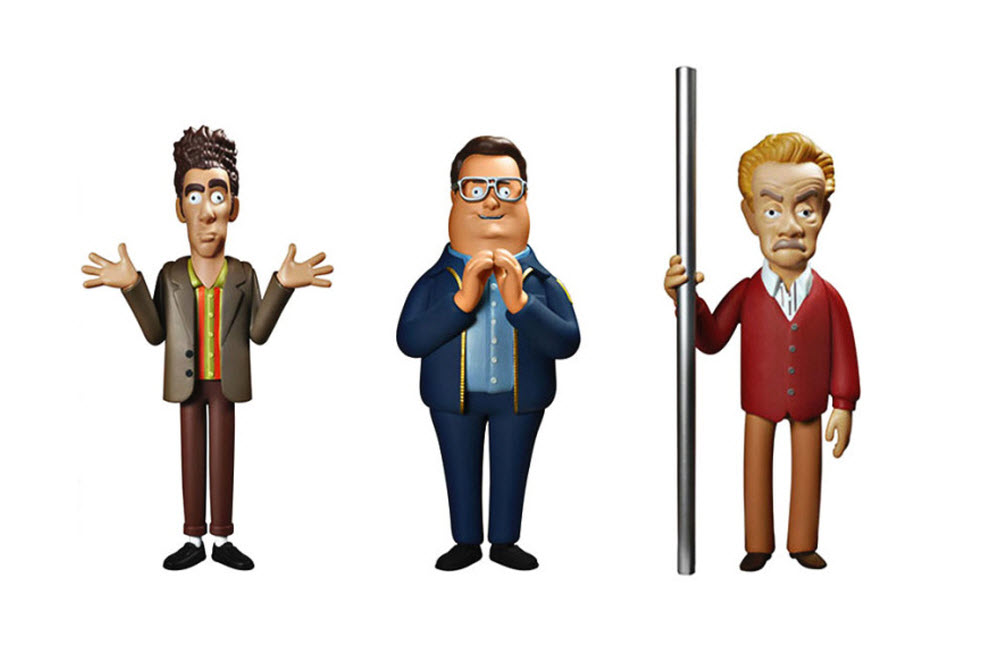 South Park x HUF – Most of the 420 gear that comes out is played, and when they make the drop on 4/20 that means you got to wait at least a week before it is shipped and delivered. It makes no sense to make weed references a week after the fact, but I got a special place in my heart for South Park. The cartoon has always been on point, and while HUF isn't taking the social commentary of the cartoon into the project, I can smile seeing my boy Randy sharing the spotlight with the San Francisco skate brand.
HUF never shies away from their affinity for weed, and when 4/20 comes rolling around, they pull out the big guns. Last year it was with Snoop Lion and this year it's with the dudes from Comedy Central. South Park gets their foot in streetwear with Towelie and Stan Marsh's pops, Randy. The collection features a couple of graphic T-shirts featuring the familiar characters, but it's the accessories game that brings everything together. Look for Towelie to be paired up with HUF's popular Plantlife weed-themed socks. There are also totes, towels, and a deck that rounds up the rest of the collection.
Source: HUF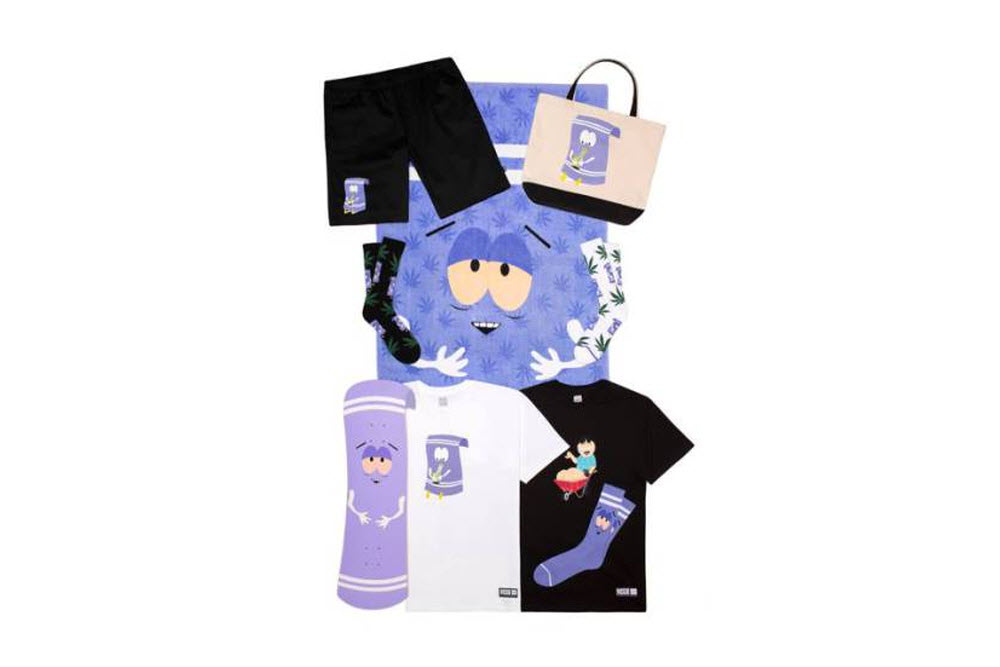 Supreme x The North Face Spring/Summer 2015 – I'm too old to be rocking gang-colored paisleys from the last collaboration, so this denim number is right up my alley. I always liked the Mountain, and having it in the official colors of the a Canadian Tuxedo is perfect for the light SoCal weather. I appreciate that the three-layer denim is treated with Gore-Tex, but it's the simplicity of the silhouette that draws most of my attention. This is an outdooring jacket that feels comfortable in the streets, and that almost justifies the staggering $498 price tag.
I never imagined denim to do particularly well in rain, but Supreme has other ideas for Spring and Summer 2015. The New York-based skate brand continues their routine collaboration with the California outfitter The North Face, and the denim Mountain parka is the all-star. Using a three-layer denim that is coated with Gore Windstopper, the jacket is flanked by a range of packable coaches jackets, Denali pants, duffel bags, backpacks, and a breeze hat. Look for the collection to hit stores this Thursday, April 23.
Source: Supreme