Avi Gold x ACD Gallery – Some people may try to ignore the fact that R. Kelly is a pedophile, but there is no denying that pink Zorro fit from the "Hotel" single. What was dude thinking? This is when one's ego gets the best of you, and I am glad Avi Gold and ACD Gallery is reminding people about how ridiculous it is to dance and jive in a pink costume. This look definitely took hip-hop a step back, and now you can get a little enamel pin that captures the buffoonery.
Street artist Avi Gold has worked with artists like the Diplomats to publications like SNEEZE Magazine, and now takes his talents to SoCal. The latest project is with ACD Gallery in San Diego, and the brand and artist embark on a fun little accessory. The Kellz enamel pin is an ode to the pissing pedophile and three time Grammy winner Robert Kelly. The pin features exclusive artwork from Avi Gold with the award winning music artist in his famously ridiculous pink Zorro get-up. The Hotel single between Cassidy and R.Kelly had the Chicago artist singing and prancing in a pink fedora and matching pink mask. Gold did a good job of capturing the idiocy, and it is now available for $12.
Source: ACD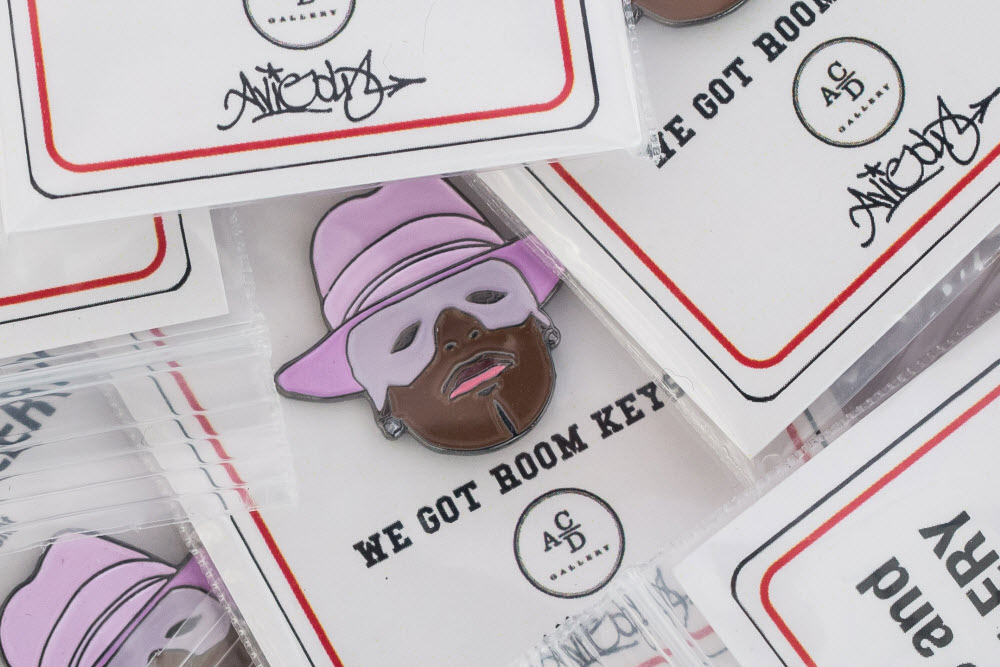 Supreme x Stone Island – I just love how Supreme just dropped this out of nowhere. Either some IT guy at Stone Island dropped the ball, or Supreme just kept an dope project under heavy wraps. The paisley print has been done before, but Supreme gives it a nice twist. I'll be honest and say that the striped long-sleeves are an easy pass, but there's the half-zipped pull-over and the panel-caps are worth a couple of looks.
Supreme just pulled a fast one on their fans by releasing another project with Stone Island. The highly anticipated collaboration from last year makes a reprise as an Europe exclusive sold on the Stone Island online store. Using paisley and stripes as the central theme the collection features a half-zip anorak in two different paisley patterns. In addition to the paisley print there are a trio of long-sleeve striped shirts that can easily be mistaken for prison garb. Add a couple of baseball caps, and you have a nice little capsule collection that was snuck out for to be released this week.
Source: Stone Island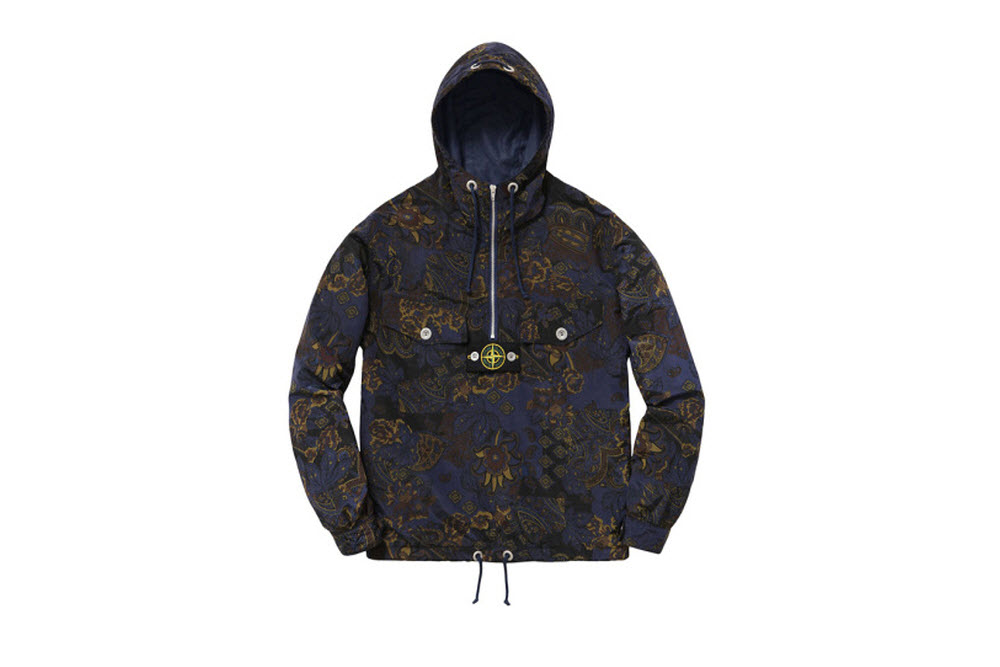 The Encyclopedia of Air Jordans – Before there was streetwear, there were sneakers. Basketball shoes and runners will always have a special place for me, and this hardcover does a nice job of culling through the countless Jordans that have come through the years. From the special Player Editions to special collaborative projects, the encyclopedia does a damn good job of not just getting a picture, but telling a story. Re-live your childhood for $100 with this photo-rich book.
An actual encyclopedia of Jordans would never be complete because releases come out every month, but this is a damn good attempt. The Encyclopedia of Jordans is a big photo book that is dedicated the Air Jordan line created for the greatest basketball player ever. From the millions of colorways for the Original Air Jordan 1, to the rare Air Jordan 4 for Undefeated that got a Nike executive fired, it's all here. The book is finally available and retails at $100 per copy.
Source: RUVILLA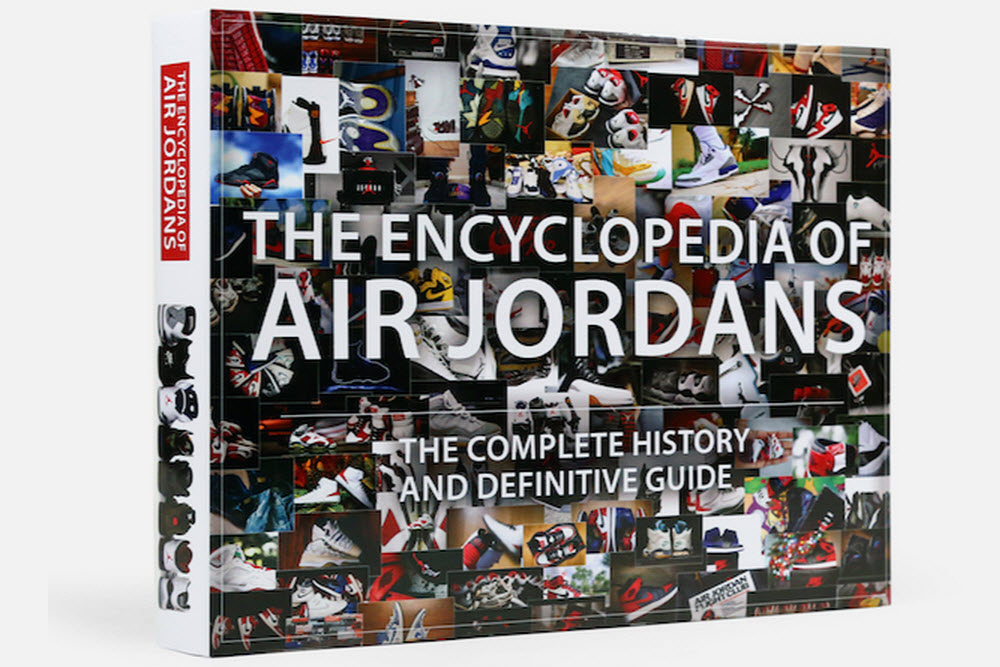 Grand Scheme – I honestly didn't think Australia had it like this. Grand Scheme is seriously solid streetwear. It comes hard with the graphic T-shirts, but it backs it up with some ill cut-and-sew, and their outerwear is nice too. This brand from Oz is definitely on my radar, and I will steadily look forward from whatever comes out of this camp.
I'm going to put it out there and say that Grand Scheme came correct. The streetwear community in Australia isn't as big as the US, but it's in good hands because Grand Scheme is holding it down. This rookie brand really shows off a robust of choices for spring 2015. The play off of the Neighborhood Watch logo is nice, but it's the range of cut and sew that really sets it apart. We see military-inspired overshirts with large placket pockets, camo color-blocked windrunners, and some interesting sportswear-inspired knits. The collection looks good and is well executed. Excited to see more come out of this Aussie joint.
Source: Grand Scheme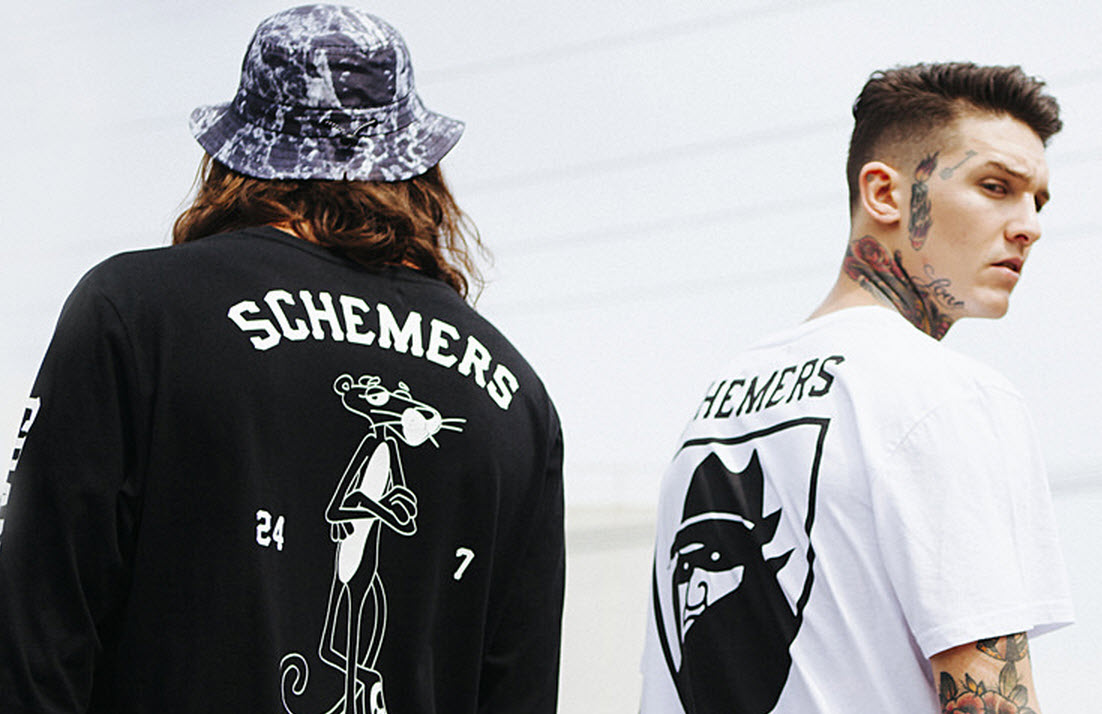 Nike Air Tech Challenge 2 – What can I say? I am an '80s kid and Andre Agassi defines swag for me. That glorious mane, the wild colors, this dude was clutch. Besides kicking ass on the tennis courts Agassi also had one of the dopest line-ups from Nike. The Air Tech Challenge rarely disappointed and the second signature sneaker was one of the best. This new colorway with the lime green is perfect for the upcoming warm weather, and whether you're lacing them up with shorts or a pair of jeans they'll always break necks.
Growing up in the eighties meant that there was nothing as cool as a pair of Jordans, but some Air Tech Challenges got pretty damn close. Andre Agassi was a rare beast, and the dude had some serious swag. I'm talking long hair don't care swag, not that new snapback weak stuff. The Air Tech Challenge had that rare balance of flare without being wildly colorful. Look at many of the most popular iterations of the Air Tech Challenge and the base color is usually white. It's through some vibrant colors that the sneaker gets its flash. A new retro is available now and Nike brightens up the clean white canvas with a bit of lime and black. Look for the sneaker at select stores with a reasonable retail of $120.
Source: Heist NY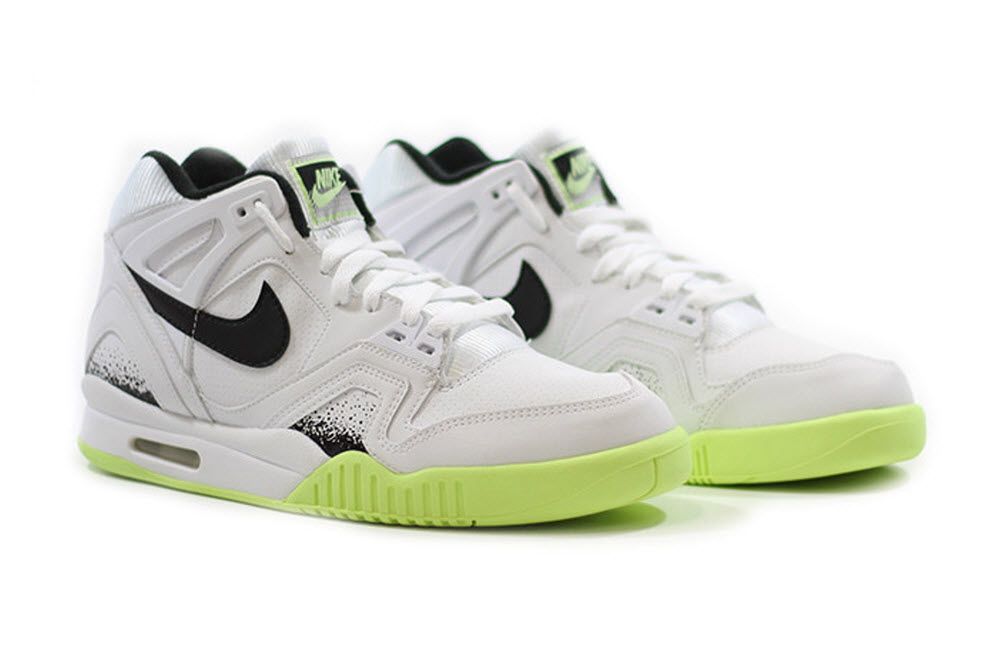 Xiaomi 55-Inch 4K Mi TV 2 – I swear I don't work for Xiaomi. The reason why I have this Chinese company on here all the time is because they make solid product. Last week it was the HD 40 inch LED and now its the 4k 55 inch Mi TV 2. Xiaomi spares no expensive with their flagship television and sources the 4k display straight from Samsung. In addition to the crystal rich display the TV also acts as tablet with a quad-core processor and a custom Android 4.4 operating system. And did I mention the soundbar and subwoofer? Both are included in the $800 price tag.
The 40 inch Mi TV 2 was heralded last week, and now we're going to celebrate the 55-inch varient. Xiaomi does it again with an affordable smart TV that possesses some unrivaled luxuries. Let's start with the razor sharp 4K resolution that arrives thanks to Samsung. The Korean conglomerate makes the thin display for Xiaomi, and powering the Mi TV 2 is a MStar 6A928 quad-core 1.4GHz processor, 2GB of DDR 3 RAM, and 8 GB of flash storage. Besides running Android 4.4 and the capability of playing all types of video files the TV also comes with it's own Bluetooth connected soundbar and subwoofer. You get an entire entertainment system for about $800, but too bad it's only available in China and small parts of India.
Source: BetaNews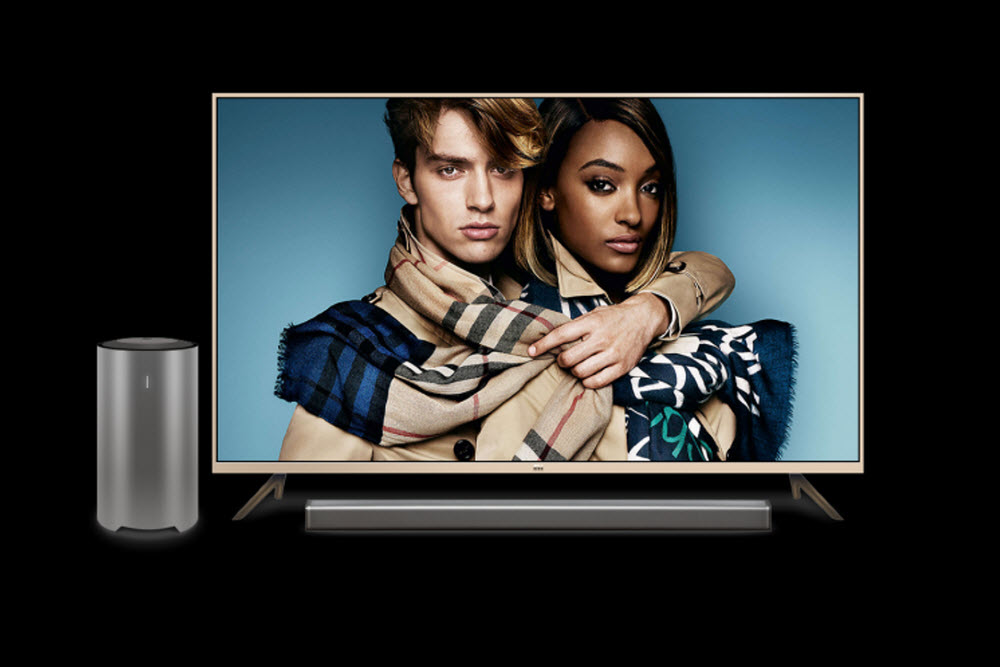 PiCo Bottle Opener – I'll admit I don't know how a fulcrum works, and can't guarantee to open a beer bottle with a lighter on the first try. To save myself the embarrassment, I carry a bottle opener. I'll save a lot more space on the keychain with this little thing. The small size allows it to disappear into my sea of keys, while the titanium construction ensures decades of use. I plan on drinking beer and soda for a long, long time, so $11 is a bargain for the PiCo bottle opener.
The truth is that you can use just about anything to open a bottle of beer, but that doesn't make the PiCo bottle opener any less cool. Constructed from high-quality titanium, the PiCo bottle opener is meant to be unobtrusive on any keychain thanks to its diminutive size. Measuring in smaller than a quarter, the PiCo bottle opener has a clean stonewashed body and is just big enough to provide a sturdy grip. The use of titanium keeps it lightweight, but also ensures it has the structural strength to leverage any beer bottle you come across. The PiCo is currently on sale at Kickstarter for $11.
Source: PiCo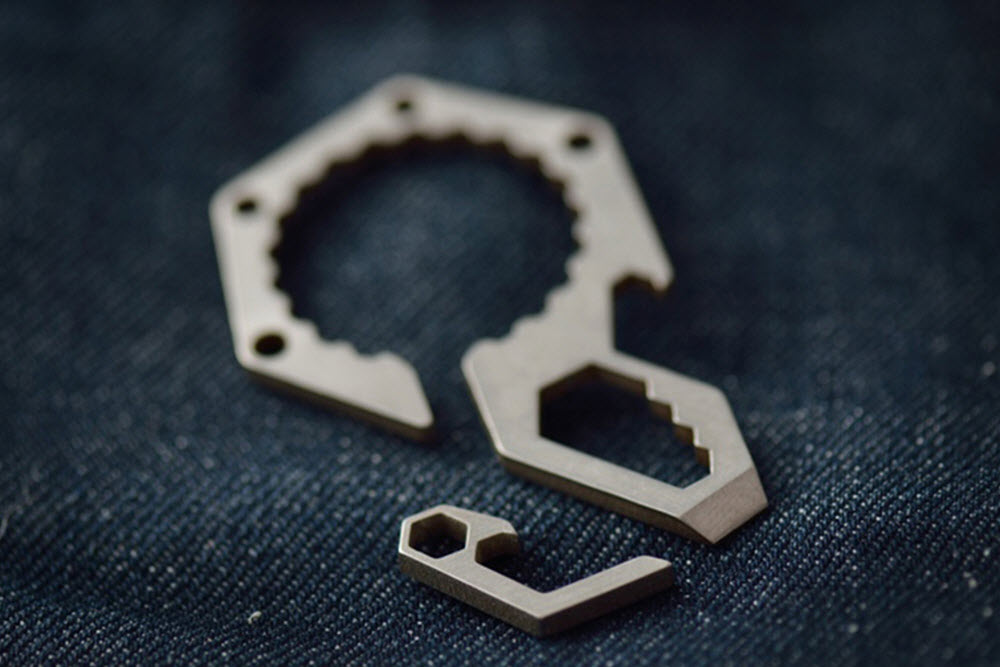 Tanner Goods Nokori Chair – Tanner Goods has just reminded me how shitty my furniture is. I liked the Nokori chair when it debuted last year, but this new color with the natural leather finish is something else. I like that light and subtle combination of colors, and the thought that it both the wood and leather will age over time is awesome. The thick 13 oz. leather means my big, tall friends can have a seat without me worrying about durability, and finally the fact that it's hand-made in Portland seals the deal.
Last year, Tanner Goods ventured from leather accessories to furniture with their Nokori folding chairs. Originally available in Chicago Tan or Dark Oak, the minimalist chair is now available in the popular Natural leather finish. Using hand-rubbed mahogany, each one of these chairs are handmade in Portland and use a thick 13 oz. natural leather. By using all-natural materials, the Nokori chair will develop its own patina over time. The chairs are also built to be sturdy, but don't let the Nokori's good looks fool you because they are also incredibly comfortable.
Source: Tanner Goods