In a year defined by shittiness, whether in the form of increasingly dystopian governance or the realization that every man you've ever admired is a creep, 2017 somehow wound up being a once-in-a-decade banner year for video games. The gamer's cup truly runneth over this year, with must-play after must-play dropping and scant few breaks in the release schedule to play catch up. Though this glut is nothing short of a champagne problem, time is a finite resource and, and who knows how much of it we've all got left. Here's what we've deemed as most worthy of your remaining hours before the socialist revolution or nuclear apocalypse of 2018 takes us out.
Honorable Mentions: Mario + Rabbids Kingdom Battle, for it's crazy-enough-to-work mash-up, it's two disparate franchises, and XCOM-style gameplay; Resident Evil 7: Biohazard, for reeling in the globetrotting to reboot with an infinitely scarier slasher film experience; Everything, for pushing dense philosophical theory while the player experiences the entire universe, embodying everything from quark to nebula; Stories Untold, for giving us retro Black Mirror vignettes that handle tech nostalgia less obnoxiously than Stranger Things; Player Unknown's Battlegrounds for being the closest we'll ever get to a Battle Royale video game; Monument Valley 2 & Dandy Dungeon: Legend of Brave Yamada for showing that, even in a sea of craven freemium mobile game garbage, some small developers are still putting player experience over profit margins.
10. South Park: The Fractured but Whole (Xbox ONE, Playstation 4, PC)
Expanding upon that which made its predecessor, The Stick of Truth, good but not great, South Park's sophomore send-up of the RPG genre offers the same brand of patently un-PC no-holds-barred humor, this time with refined gameplay that makes it harder and harder to set down the controller as the saga unfolds. Whether battling crab people, pedophilic priests, or your fellow 4th-graders, the game's tongue-in-cheek approach to turn-based combat is both challenging and deep enough that when the game breaks its own rules to force adaptation from the player, one can't help but laugh and begin experimenting. Why would we expect anything less from an asshole adversary like Eric Cartman?
9. Observer (Xbox ONE, Playstation 4, PC)
For those whose retro-future detective noir cravings weren't quite sated by the new Blade Runner movie, Bloober Team's story of a fear-hacking detective, played by Rutger Hower, can't be missed, even with some technical hiccups occasionally detracting from the game's otherwise nightmarish immersion. Don't be fooled: despite its sci-fi skin, this is a pure horror game, and one that will haunt even the most jump-scare-jaded gamer. As one of the many cinematic triumphs in this year's gaming roster, developers seem to have finally learned that on-rails experiences, when lavished with the same TLC as their open-world counterparts, can have just as much of a lasting impact on the audience.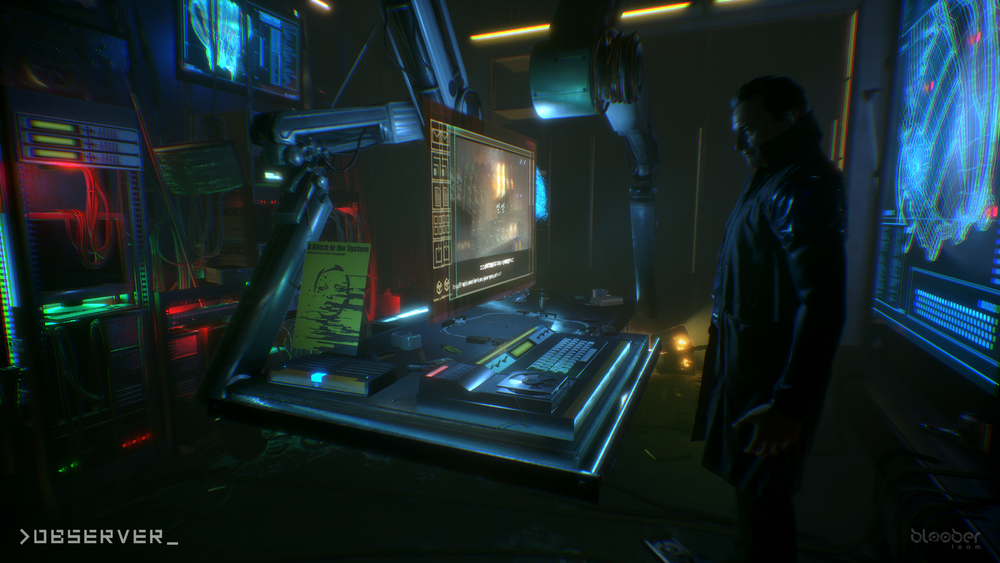 8. Cuphead (Xbox ONE, PC)
While AAA studios scramble to cross the still massive Uncanny Valley, Studio MDHR put out the best-looking game of the year by beelining in the opposite direction with an entirely bullet hell boss battle homage to 1930s Max Fleischer and Disney cartoons. It hardly matters that the unforgiving difficulty of each level will turn the player into heap of profanity and dejection, as the hand-drawn animations and meticulous attention to period-specific detail keep the senses feasting until that cruelly chipper foe is finally vanquished on the hundredth attempt and the cycle begins anew.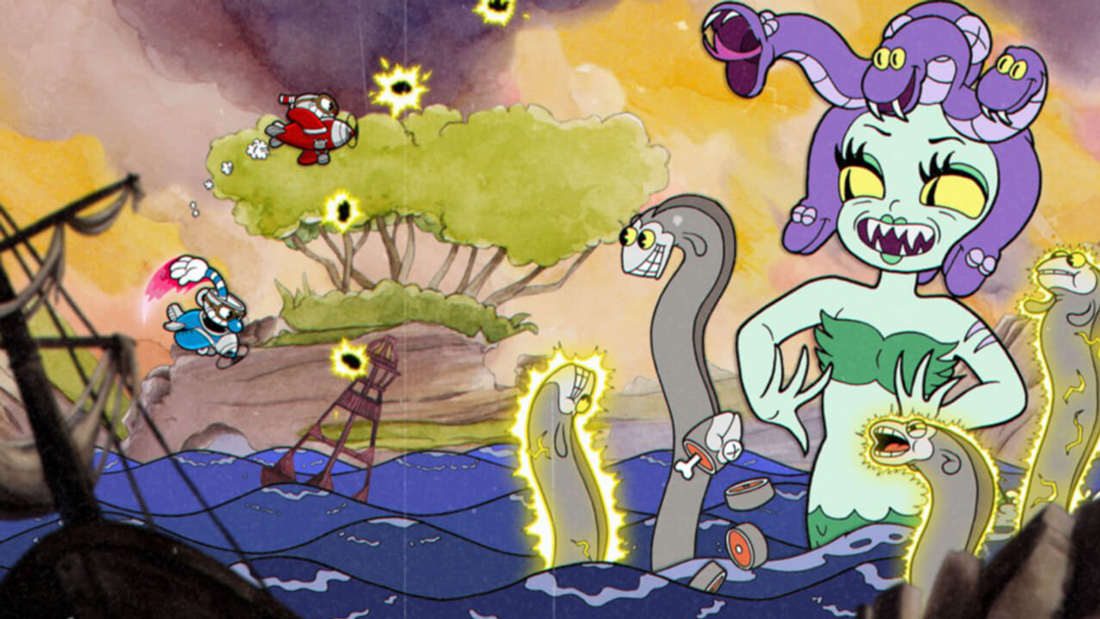 7. Wolfenstein II: The New Colossus (Xbox ONE, Playstation 4, PC)
Sure, most of us have spent large swaths of our gaming careers killing Nazis in some manner. Nonetheless, the novel sense of catharsis felt when digitally hatcheting a fascist super soldier in the face as IRL Nazis march in American streets cannot be overstated. MachineGames doesn't reinvent the FPS wheel they'd already finely tuned in their 2014 reboot of the Wolfenstein franchise, and that's hardly a complaint. With viscerally tight controls and a continuation of the audacious revisionist story, the journey is far more satisfying than the umpteenth landing on Normandie provided by Call of Duty: WWII.
6. What Remains of Edith Finch (Xbox ONE, Playstation 4, PC)
It's only fitting that, in a year where the lines between cinema and gaming blur as never before, one of the most engrossing experiential stories comes from Annapurna Pictures, the production company behind Her, Twentieth Century Women, and this year's masterpiece, Phantom Thread. In this first-person exploration of an unlucky bloodline, the player crawls through a Winchester Mystery House-like estate where mini-game diversions recount every tragic demise in the titular Finch family's history. This thoughtful, complex approach to the subject of death is a welcome treat in a medium where desensitization to murder is often a prerequisite for getting past the tutorial.
5. Night in the Woods (Playstation 4, PC)
Night in the Woods stealthily hides its dark themes of ennui, disenfranchisement, and an eroding middle class behind pickpocketing mini-games, snappy rejoinders, and cutesy Richard Scarry art design. The player guides protagonist Mae, a college-dropout cat, on a journey of self-discovery as she struggles to find her place in a small section of the world that's seemingly moving on without her. Perfectly capturing the all-encompassing-yet-niche feelings of early-adulthood stagnation, the game is guaranteed to stay with you long after all the mysteries of Possum Springs have been solved.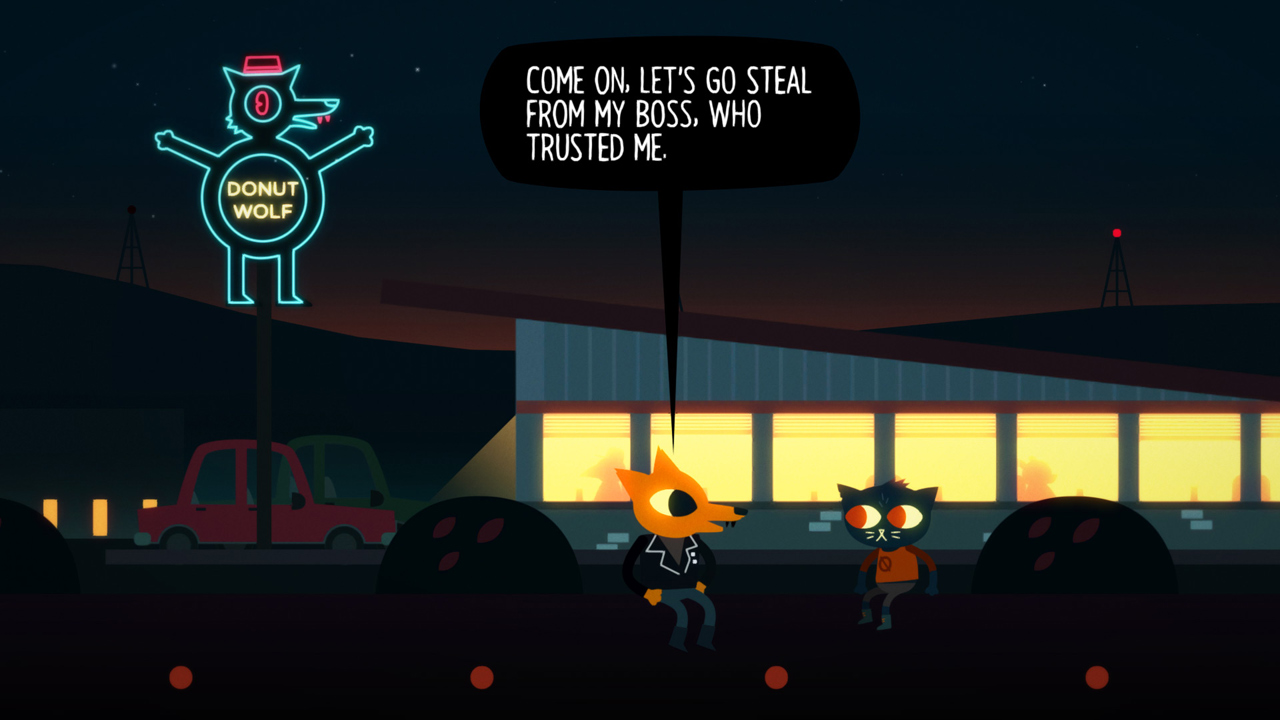 4. Persona 5 (PS4)
Sent to Tokyo from your pastoral hometown after a miscarriage of justice warps your Good Samaritan attempt to stop a rape, you play as a high school boy who spends his days going to class, working part-time jobs, and trying to date. Oh, and it bears mentioning that you also moonlight as a phantom thief who breaks into the fortress-like psyches of adults to change their villainous ways with Inception-style mental tampering. Even if you've never played—or, like me, bristled at—JRPGs, Atlus's brilliant, oozing-with-style standout of the cult series will steal your heart and leave you in a state of near-despondence when your 100 hours as a Japanese teenager comes to its inevitable conclusion.
3. Horizon: Zero Dawn (Playstation 4)
It would have been so easy to judge this book by its cover as some dumb robo-dino orgy of exploding metal. Thank God Guerilla Games had the temerity to disregard such prejudices and stay the course to realize their vision of a stunning open-world full of futuristic tribes, lush biomes, and cybernetic predators. Featuring some of the best voice acting and most robust gameplay of the generation, hunter-gatherer Aloy's journey into the politics and savagery of a post-apocalyptic Colorado, as well as the technological wonders of the ancient humans who brought humanity to its current precarious state is a near-perfect experience from start to finish. And with DLC, that packs in an abundance of fresh new content that expands upon this fascinating universe, it's clear that we've only just begun to experience all that the Horizon universe has to offer.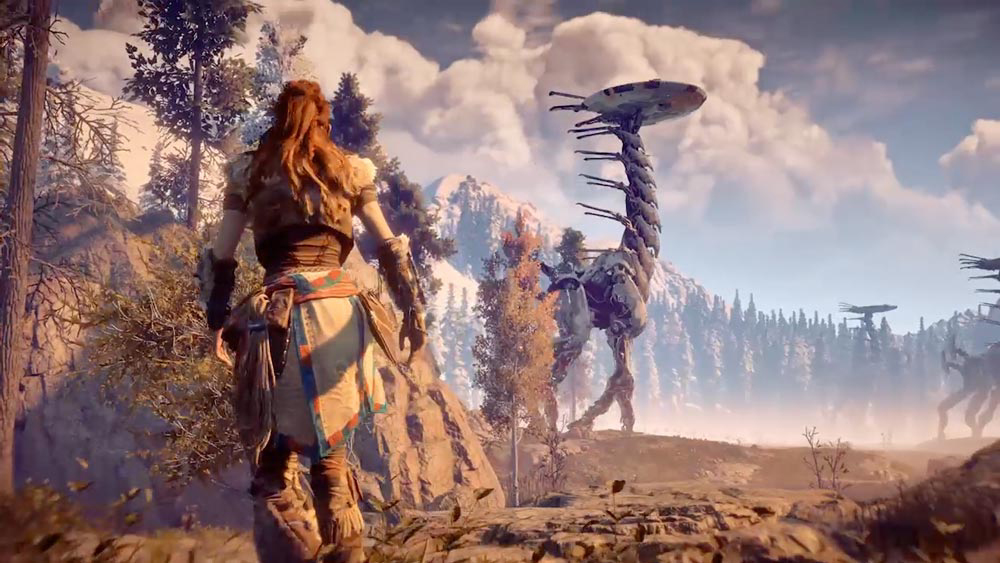 2. The Legend of Zelda: Breath of the Wild (Nintendo Switch)
The story of Nintendo's triumphant return to gaming supremacy would be far less enjoyable to tell had they not released what is arguably their best console to date and an All-Star team of an accompanying game catalog. Where lesser companies would have churned out perfunctory, soulless "next-gen" updates for their flagship franchises, Nintendo's fastidious craftsmanship prevailed, resulting in an immaculate installment of Link's ongoing adventures, one as sprawling and deep as any Elder Scrolls RPG. Breath of the Wild is a game that gives the player back as much as they're willing to put into it, and you'll likely sink countless hours into this latest iteration of Hyrule without even scratching the surface of all it has to offer. As you discover new shrines, quests, and puzzles with each crested hill, you'll wonder if you'll ever be able to enjoy the Zeldas of yesteryear again, having now experienced a bar so high.
1. Super Mario Odyssey (Nintendo Switch)
Mario is unquestionably the official unofficial mascot of video games, so you can't help but feel a sense of familial pride for the petite plumber as he reclaims the Game of the Year throne, this time with new friend and game mechanic, Cappy, in tow. Not since Super Mario 64 has the franchise delivered such a diverse, demanding, and—most importantly—fun smorgasbord of activities for players to disappear into as they attempt to foil Bowser's latest evil scheme. With hundreds of power moons to collect via challenges that range from nonexistent to maddening, the game is an endless wellspring of fun, whether you're a seasoned Mario vet or stomping goombas for the very first time.