बदमाश!! reads the stark white sign above Fairfax's newest restaurant, Badmaash—a literal exclamation in glowing neon Hindi against black paint. Nakul Mahendro says it looks the way he heard it in his head as a child when his grandma or mother would call him and his brother a badmaash, complete with two exclamation points for effect. The word means rascal, a hooligan, a deviant, someone who causes trouble, a "mischievous motherfucker." Seeing बदमाश!! interjected just so on one of Los Angeles's most hip destination blocks, right across the street from historical Jewish deli Canter's, makes you think: Only a badmaash would put up such signage. It's brash, it's badass, and it's everything Badmaash stands for.
Badmaash is the culinary result of what happens when the two deviant children (Nakul and Arjun Mahendro) of an immigrant chef from India (Pawan Mahendro) land in Los Angeles from a suburb of Toronto. When they opened their first Downtown location in 2013, Nakul says he "fought with Yelp to be listed as Indian and also New American." It sounds impossible to do this and remain boldly authentic, yet somehow, the restaurant exists at this culinary intersection—beyond fusion cuisine—because it is an extension of their uniquely immigrant experience and memories. Badmaash is the story of their lives. "Literally something from our brain is here. It's almost trippy," says Arjun, joking that the only things missing are "Street Fighter arcade and 'Sky's the Limit' by Biggie."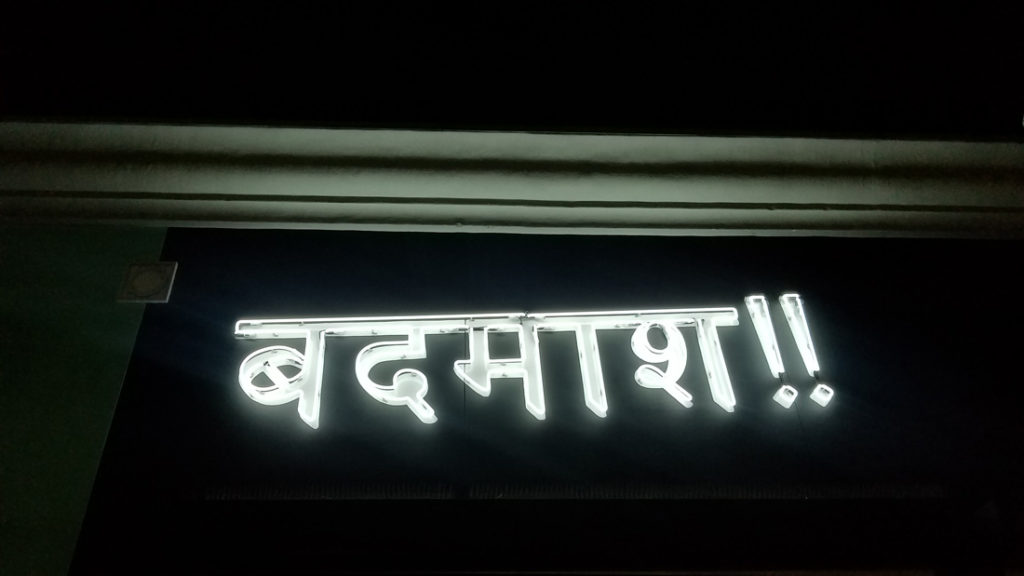 The Badmaash story begins with their father Pawan's memories of Amritsar, the cosmopolitan melting pot of a city in Punjab where he grew up, and the classic French and Italian cuisine he was culinarily trained in when he moved to Bombay at the age of 17. There, he met his beautiful wife Anu, who happens to be "a brilliant host and cook… the most hospitable person we know" according to Nakul. The young couple immigrated to Scarborough, Toronto, a strikingly vibrant multicultural city (demographically made up of over 65% immigrants) where they raised their two sons Nakul and Arjun. Badmaash carries the weight of the two brothers' memories, too. These two eccentric and undeniably creative little rascals with hard-working immigrant parents thrived in the juxtaposition of two cultural worlds, their early lives soundtracked with East Coast hip-hop's hustle and flow.
Pawan never wanted his sons to work in hospitality—he knew how grueling the work could be. But when their father was working long nights in New York and their mother was working one of her three jobs to support the family, Arjun told Migrant Kitchen that the brothers would "play restaurant" at home, cooking mac & cheese and serving each other the way mom and dad inadvertently taught them. It was second nature. The family found themselves in LA less than a decade ago, and together, opened their first Badmaash restaurant in 2013, and this second location on the historic Fairfax block in July. The brothers say the restaurant is responsible for bringing the family close on a project of work, life, love, and family that they can all be proud of.
The late Jonathan Gold credits Los Angeles with the invention of Asian fusion, with new school chefs like Roy Choi playfully melding cuisines, like his Korean-Mexican fusion Kogi food truck with its famous bulgogi tacos. But it wouldn't be quite correct to call Badmaash's notorious chicken tikka poutine fusion. Former LA Weekly restaurant critic Besha Rodell told the Washington Post that this new way of cooking, born from bicultural chefs and children of immigrants is different: "I don't think these folks set out to do this thing; it's just who they are... This is authentic in the very real sense of the word, because it is their authentic, lived reality." Writer Soleil Ho coined it "assimilation food," and wrote, "Like with any immigrant story, this style of cooking is all about telling the story of a family through its subtle gestures, quirks, and out-of-place ingredients."
It isn't fusion, it's adaptation; it is survival; it's what happens when immigrant families set out to make a new home and cook the comfort food their hearts crave. And the young chefs and cooks rooted in dual heritages, playing with flavors from this point of view, are more importantly having fun. "Indian food should be cool because Indian food is fun," says Arjun.
Naturally in Los Angeles, this sprawling city of migrants and immigrants, Badmaash found a true home. And their memories of where they come from are proudly displayed in the energetic menu of mango mousse and ghost chili lamb vindaloo (the superb wine menu has descriptions like "big papa" and "flavor town"). Arjun recommends the delicately crispy nuggets of Punjabi fried catfish (machhi amritsari) for appetizers; the dish recalls the straightforward yet complex-spiced street food of his father Pawan's hometown. Their lamb burger is inspired by the backyard barbecues of Arjun and Nakul's youth; in the dense immigrant suburb of Scarborough, it was common for rich lamb kabobs and barbecued tandoori chicken to be sandwiched between two standard buns because, Nakul remembers, "As kids Arjun and I were like, 'We want to eat burgers!'"
Consider the piping-hot gravy-smothered chicken tikka poutine, a Badmaash-style update to Arjun and Nakul's favorite comfort food back in Toronto with delightfully crisp-tender masala-dusted fries and "dhaba style" chicken tikka (a dhaba is a Punjabi truck stop restaurant), marinated with yogurt, ginger, dried fenugreek, and mustard oil, and cooked on skewers over an open flame. Oh, and of course it's dark meat—you can trust their father Pawan for the painstaking perfection executed in the Badmaash kitchen. Have no doubt that their traditional Indian butter chicken endured a 48-hour marinade before plated—utterly traditional, except you'll be dining to the ambiance of "In My Feelings" by Drake (lest we forget, these guys are proud Canadians). As a @badmaashla Instagram caption read: "Back on my butter chicken bullshit."
We wanted to learn more, and luckily, because Badmaash is one of Ben Hundreds' favorite restaurants in LA (The Hundreds hosted an EAT MEET there in 2016), we had a chance to hang out and catch up with Nakul and Arjun Mahendro at both their Downtown and new Fairfax locations. Within a few minutes of our first interview, Nakul was clowning Arjun, saying he was a "brilliantly talented battle rapper." Check out our conversation below.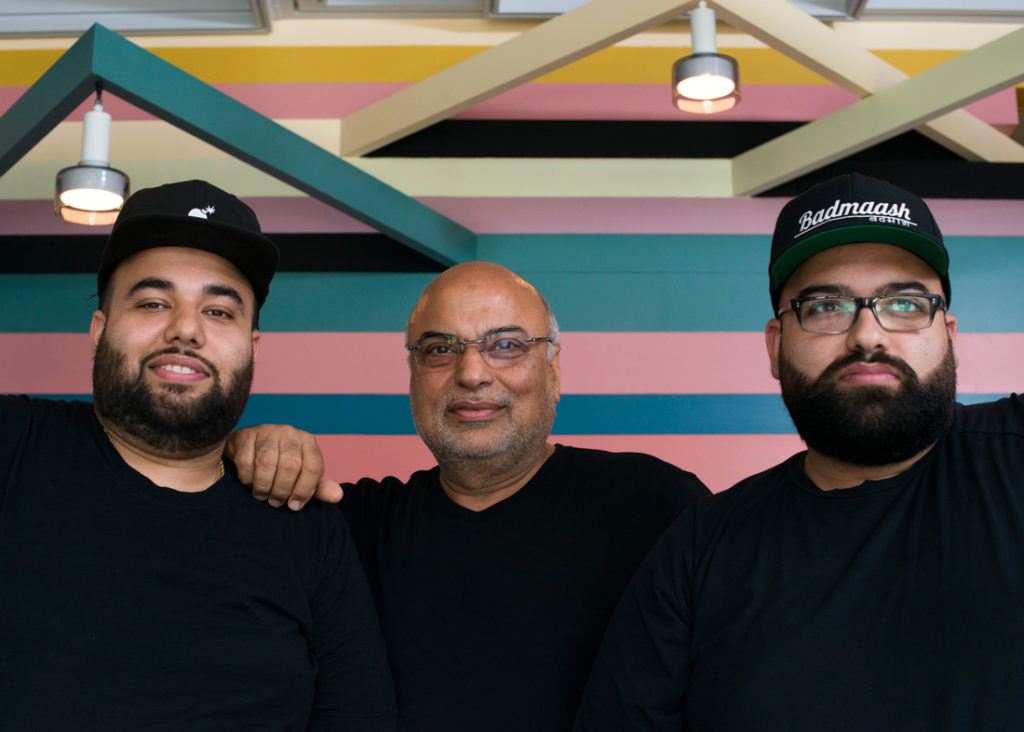 ALINA: Earlier, you both were spitballing menu ideas. Is that your usual process?
NAKUL: Oh, our dad is always in these discussions. Arjun will be inspired by something and he'll say, "Oh! I have an idea. I want to do this, this, and this like this," and then that will automatically inspire our father and automatically inspire me. A cook might say, "Hey, I used to do this back in the day, why don't we add this to it?"
One of the reasons why we've been successful, not only in our business but within our family, is that we enjoy working with each other, we listen to each other, and we listen to everyone around us. We're spongy; we're constantly soaking things in and reflecting on them.
Arjun, you studied marketing and sales, and Nakul, you studied hospitality?
NAKUL: [to Arjun] Yo, sales studied you, bro. Arjun has been the number one hustler I've known since we were like 5 years old.
What was he doing?
NAKUL: He was flipping yo-yos. He would buy a yo-yo, he would use it and do a mad amount of tricks. Then the other kids wouldn't be able to do tricks so he'd be like, "Yo cuz, you guys are fuckin' with a shitty ass yo-yo. You need this yo-yo." And they'd be like, "What's good with that yo-yo?"
ARJUN: The yo-yo man, homie! I sold one for $120 because I was like, "It's the blue one, man, they don't make that any more."
No way.
NAKUL: Yo-yos were in at a time in Toronto. They were like super in. And mom would buy them for us, $10 for a pack of 2. Arjun would flip them for like $70. The ice cream man would come around, and we'd buy ice cream for the block. He'd be like, "Ice cream for everybody!" We learned that from hip-hop. From you know, having a code, having Jay Z telling us how to do things, and Biggie telling us how to do things.
KCET's award-winning Migrant Kitchen series profiled Badmaash in this video above.
So how much of Badmaash tells your story? And do you think Badmaash is so successful because it is an authentic expression of that?
NAKUL: Authenticity, I think, is the most important thing in anything today. People are looking for something real and something they can resonate with. Our whole focus here at Badmaash is like, let's just give people that experience that Arjun and I have had with Indian food. Our relationship with Indian culture and Indian food is a little bit different than my father's relationship with it. He was born and raised in Amritsar, India. And when he was 17, he moved to Bombay for catering college, then he moved to Canada when he was like 30 years old. He moved to Toronto. And Arjun and I were born and raised in Toronto surrounded by every culture in every corner of the world. We grew up in a low-income immigrant neighborhood. You know, people who had just moved to Toronto. So, next door was Jamaican food, we were surrounded by Trinidadians, Jamaicans, Guyanese, Chinese... the Mandarin-speaking Chinese and the Cantonese-speaking Chinese. There were Taiwanese and Vietnamese people.
It took us a few years to actually be able to put it in words when people asked, "What is Badmaash? What's the concept?" It's an Indian restaurant, it's a fusion Indian restaurant, it's a nouveau Indian restaurant, it's avant-garde Indian cuisine, it's modern Indian food, it's Indian food in Los Angeles. For me, really, really crazy passionately, and for Arjun and dad, it was like, Why can't we just be? Why can't we just do what we're doing? And so, it took us a few years to actually put it into words, and this restaurant is exactly what your question is. This restaurant is not an Indian restaurant from someone's perspective who was born and raised in India and then they moved here and they said I'm going to open up an Indian restaurant and it's going to be cool. This is an Indian restaurant from the perspective of that person's kids who grew up in this part of the world.
Badmaash is Indian food and Indian culture from Arjun's and I's perspective. As kids who grew up in the era of hip-hop, you know we were listening to Biggie Smalls, we were into LRG, we were watching Fresh Prince, and our mom would be like, "No, no, no, what are you watching this garbage for? I don't even understand what they're saying!" This might be consistent for most immigrant families, but getting yelled at, like, "If you keep watching TV, you're not going to be anything in life!" And, "99% not good enough! You have to work harder and be smarter and now you have to eat rice and dahl and sabzi!" It's like, "Mom, I just want a slice of pepperoni pizza!" And she'd say, "Stop being a badmaash and eat your rajma chawal!"
We were working whatever jobs we could get and when we did have the money to rock that new LRG, it smelled like fuckin'—
ARJUN: —Like curry.
NAKUL: It smelled like Indian house. It was a juxtaposition of these two worlds. And the credit of creative expression all goes to our mother and father, because growing up in Canada, our parents broke their backs. I remember mom forgoing a lot of opportunities and a lot of comforts and pleasures for herself and dad, so that Arjun and I could go to skating class, hockey, we were in basketball, we were playing baseball in the summer, they sent us to a visual art class because I was building legos and clay. Drawing.
"Our whole focus here at Badmaash is like, let's just give people that experience that Arjun and I have had with Indian food."
What do you think is your responsibility as restaurant owners? Eddie Huang says that "restaurants have the responsibility of being cultural distribution centers."
NAKUL: I think first and foremost, before anything else, a restaurant should be a place where people come in and they're serviced, and they get food, drink, service, and they leave happy. I think the absolute number one goal of any restaurant is to make people happy. You know, we wear this on our hearts and our minds whenever we make any decision, and we live by this code that we are not in the business—we've always been in the restaurant business, but we are not in the business of selling food, wine, or service. We are in the business of manufacturing happiness and people. And food, wine, and service and the tools we use.
I do believe that restaurants do need to be accurate and responsible in the way that they present information. They need to be extremely thoughtful in the way that their guests are receiving this information. The cooks, the servers, the hostess, the bus boys, they're all ambassadors of what that restaurant is, so the people that we work with here are ambassadors of Badmaash as much as Arjun and I are. And then once the guests leave this restaurant, they are ambassadors as well.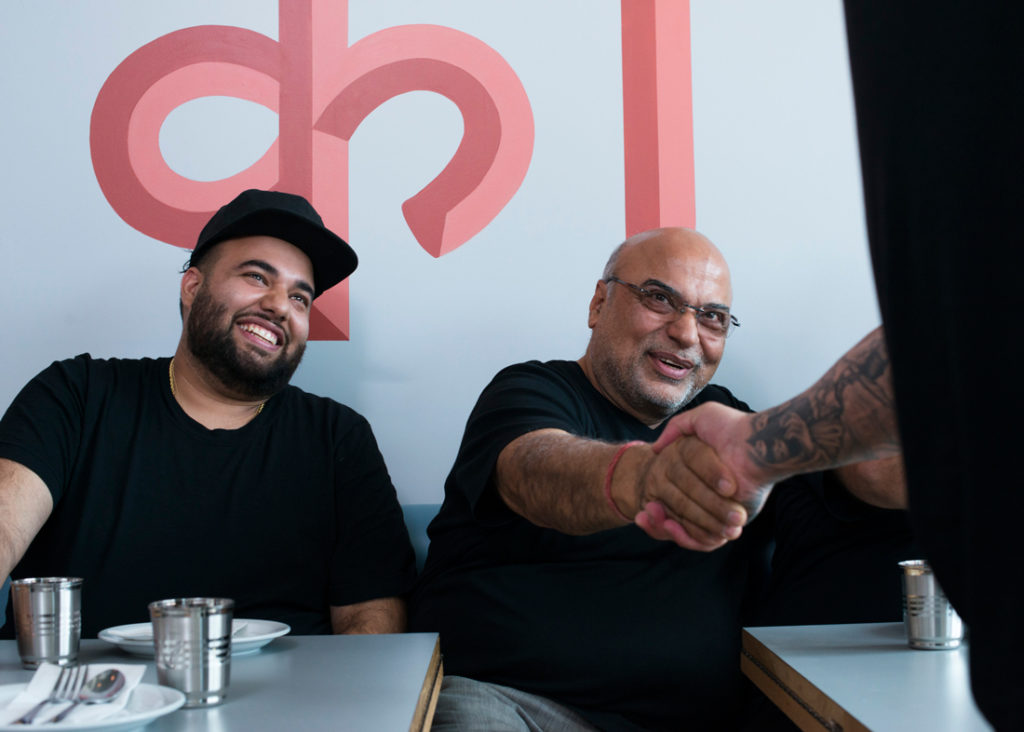 Our father says this: there are chefs who are chefs because they want to make art. And there are chefs who are chefs because they want to change the world. And there are chefs who are chefs because they want to feed people. And then there are chefs who are chefs because it's good business. And the best would be to take a little bit of all of that and combine it.
I'm just really passionate about this. When Arjun and I say this is our life, we really mean it. I really believe I was born to be in this business, and I want to know my lineage, not only in my DNA, but in my mind and heart.
Can you tell me more about that—the lineage?
NAKUL: Our home is often referred to by our friends and family as Mahendro Hotel. It's because we always have guests coming and going, and they always want to stay at our place because it's the best food, best service, you're with family, and most importantly, it's Indian hospitality. We will take the whole week off from work to be with you and make sure you feel like you're the most important person.
"Our home is often referred to by our friends and family as Mahendro Hotel… it's the best food, best service, you're with family, and most importantly, it's Indian hospitality. "
Both my mom and dad are natural-born entertainers and hosts. Dad is a brilliant, brilliant chef and mom is a brilliant host and cook. My mom is the most hospitable person we know. She actually worked in restaurants as bookkeeper/accountant for like 35 years. This is a family business, but we're all professionals separately in what we do.  It's so natural for us to get into this business and do this.
There are things specifically influenced by our upbringing and by our experiences. You know the lamb burger? That was something that was born in our backyard. The version that we have on our menu is a more thoughtful, chef-driven version, but slapping a kabob on a burger bun with ketchup and mustard and onion? That's like every backyard right now in Markham, Scarborough.
A young Nakul.
Markham's where you're from?
Markham, Scarborough, just outside of Toronto. We grew up at like McCowan and Steeles. Steeles is the border between and it's a very immigrant heavy [area] with South Asians and Jamaicans, West Indians, Chinese. It's an immigrant neighborhood, so in our backyard—just like many backyards—we'd be barbecuing tandoori chicken and kabobs. As kids Arjun and I were like, "We want to eat burgers!" And so there'd be burger buns.
You'd just put the kabobs in a burger bun?
Arjun: Basically.
Nakul: There you go. So, Badmaash comes from those experiences and those memories. It's a joint effort between the old school and new school, being our father and us.
The amazing thing is there's hardly a voice for this subculture of being Indian or South Asian, being someone who is born and brought up here. We're not doctors, lawyers, or engineers—we're artful, we're kind of the deviants, and we're the badmaashes. Conceptually that's what Badmaash is. We come from there. And we're a restaurant.
Fairfax definitely has evolved from being a street culture/streetwear destination to being a legitimate block for great food.
Nakul: It's great. You're right, this street is becoming more of a food destination. It's always been a destination for cool. It's always been a hangout spot where after the night clubs everyone will go to Damiano's which is now Jon & Vinny's, which is where everyone's going before the night clubs I guess. And then Canters is 24 hours, one of the few restaurants in LA where you can get almost anything at any time of the day. It's huge and it's historic and connected to a lot of rock bands, musicians, and artists. Creative people have done work there, they've written lyrics there, they've come up with little doodles that have turned into sculptures. Then you have you know Sweet Chick, Supreme.
Arjun: I really like Sweet Chick.
Nakul: They've got really good slushy drinks.
Arjun: Yeah, they've got like the frozen purple grape juice cocktail. So good. We've got good neighbors. You go to Animal, you get poutine there. You go to Jon & Vinny's, have a pasta.
Nakul: And everyone's been really supportive.
Totally. When I talked to Vinny [Dotolo] he was saying that he really appreciates when there's diversity on the street and a lot of the time that has to do with the landlords. He respects a landlord that is respectful to the culture, that knows that he's not going to put a coffee shop across from a coffee shop, that knows that the street needs Indian, that the street might need a women's store. He was very supportive of the diversity of the block.
Nakul: That's definitely true, I agree with that. Those were very wise words from him. Our landlord was the same. They were like, "Well, what are you guys going to do?" We're like, "Indian restaurant." They're like, "What type of Indian restaurant?" And then we showed them what our space was like downtown and they were like, "This totally fits." They loved it.
What do you feel you learned or did better this time around opening a second restaurant?
Nakul: I was talking about this with Joy [Limanon] that our first restaurant was like, this is what we feel, this is how we see it, and we're creating it from nothing—in terms of the brand, the concept. This restaurant was more like, alright, there's a reputation that we have to live up to. There are expectations we have to fulfill.
Our downtown location really influenced the space and what it feels like. We wanted it to feel like a loft, to feel like someone's home in the Arts District. They're feeding their soul. We wanted the same for this space. So, this space has been influenced by this street, what this street feels like, what the stores here feel like, what the people in this neighborhood feel like. I hope so.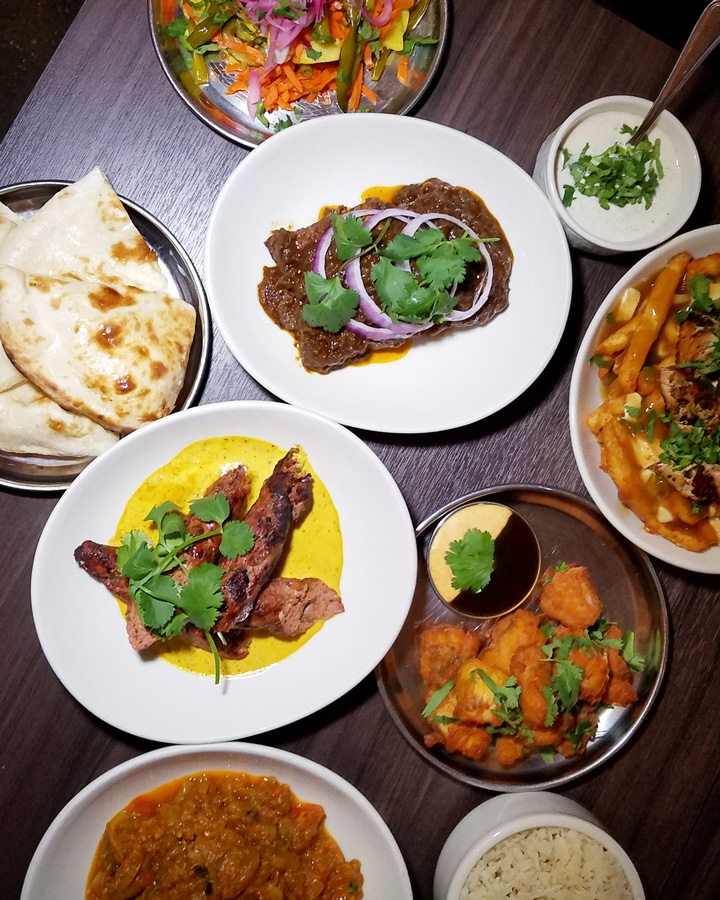 Photo: Badmaash
Ben [Hundreds] is like stoked that you guys are here.
Nakul: Oh yeah. He's been here more than a few times. Himself, with friends, with family. He comes here just to hang out and have some wine sometimes. We're really touched because you know [Ben Hundreds] is one of the OGs on the street and The Hundreds, you guys are one of the brands that make this street what it is. You've had your shop for 10 years.
What were your inspirations behind the design/art/layout of the location?
Arjun: I mean, that's all Nakul. It's all his, his brainchild. It's all his brains. This is all Nakul's thinking. Nakul's definitely the one who branded this whole thing. He's the one who's forcing all of us to agree with the crazy risks he wants to take and stuff.
What were the craziest risks?
Arjun: I mean, putting a sign out that's not in English, for starters. Opening this whole concept when it didn't even exist five years ago when we were the first cool Indian restaurant on the continent, for sure. Now you see the ripple effect everywhere. There are so many places in Toronto that are just like ours. There are so many places in New York. There's one that opened up in the South too, that celebrity chef. It's heavily influenced by Badmaash. It's not like a bad thing, I think it's great. I think this is how Indian restaurants should be. So, when we see it we're so happy. Indian food should be cool because Indian food fun.
"Indian food should be cool because Indian food is fun."
How did you decide to have the neon sign out front in Hindi? And Nakul, did you have to fight anyone to do it?
Arjun: Not really. I think it's come to the point where Nakul says something and I'm like, "Yeah, I kind of see it."
Nakul: Which is a little scary, because…
Arjun: Yeah, he says some wild shit, I'm like, "Yeah, I think you got a point!"
Nakul: Having Arjun and dad push back on my ideas forces me to think more about them. I think this is the first time I'm telling Arjun this, but I think when I have too much freedom I feel very self-conscious, am I doing the right thing? But when I have a lot of push back I'm able to think about them because most of the things I choose and decide from my artist brain is just like I feel like this, let's do this. And then it's Arjun saying, "Well, how much is it going to cost? Why don't you do it like this? Is it going to resonate with people? How is it going to work?" It forces me to think about those things.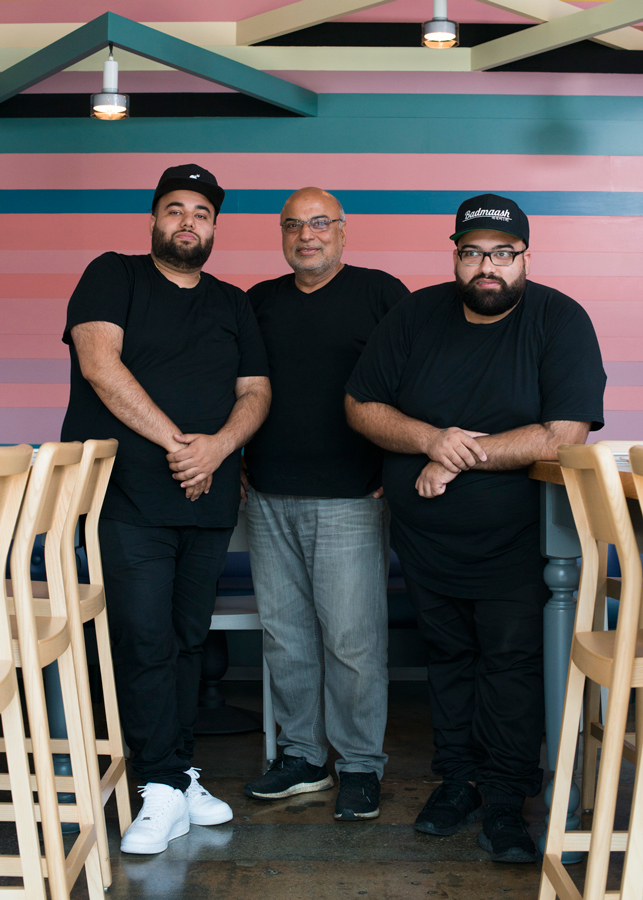 Photo: Nathanael Turner
I think it's awesome that the sign is in Hindi.
Nakul: Thank you. The version of our logo outside is the way I would see [the word in my head] when our grandparents or our parents would call us badmaash. Badmaash!! That's why it has the exclamation marks. You're a badmaash, you're a rascal, you're a deviant, you're naughty. You're a badass. So, it's like, boom! Badmaash. It felt good to put up our neon sign in Hindi because I feel like this street is a street where a lot of small, tiny brands and businesses have made a case for what they believe in.
The Hundreds has done that and you guys are still doing that, and I love that every week or month, the billboard above the store is a different [The] Hundreds billboard. It's fucking awesome because you're driving down one of the hottest strips of LA and right on the corner, you have the new Hundreds store and from miles away, you can see this billboard. You know, you guys are saying, "We are here, we're here to stay, this is what we're about. All are welcome and if you don't feel the same way, then go fuck yourself." That confidence and bravado.
"It felt good to put up our neon sign in Hindi because I feel like this street is a street where a lot of small, tiny brands and businesses have made a case for what they believe in."
You felt that spirit with Badmaash.
Nakul: Of course. And I think for the Indian community, here we've never had a meeting place you know, in Southern California. Coming from Toronto, the Indian community is so dense and so connected and so widespread that everywhere you go, there are Indians everywhere. In Toronto, it was never a thought. It was just like, "We're just all people, we're all together." Over here, I kind of felt like, "Where are the Indians?" We're like walking around like, "Where you at?"
Arjun: That's what all the Indians say when they come to our restaurant too, like, "Yo there's no Indians here in LA." Even Indians from New York or San Francisco say they feel the same way.
Nakul: But we're here. Indians are here. They're just spread out and there hasn't been the meeting place for them. For a long time, this strip was the meeting place and melting pot for the Jewish community in LA. Then streetwear happened and I feel like most of the people that have gone off to do awesome things in streetwear or art or music have also come from here. "Oh yeah that guy? He's a Fairfax kid. He used to skateboard and hang out here by the store."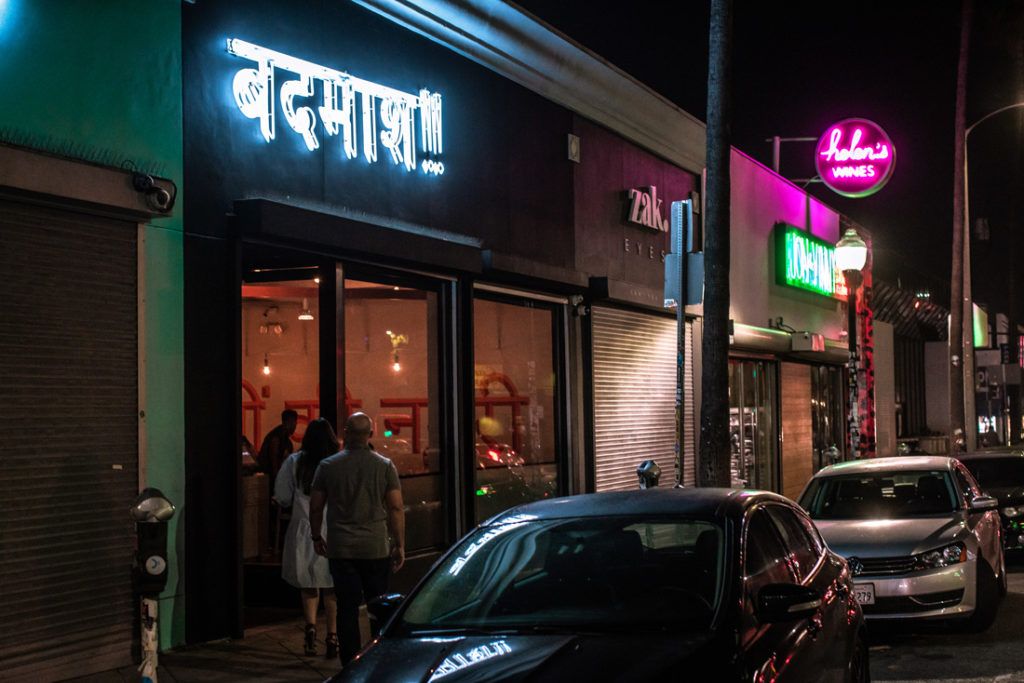 This block is a safe place. You have each other's backs, you understand each other. When we put the sign up and turned it on for the first time, we started getting DMs and messages and emails saying, "Yo, super dope representing us on one of the coolest strips in LA." It's kind of like saying, "We're here. We made it."
And you know, more importantly than anything else with this restaurant, it was about having the blessings of everyone else on the street. We don't want the street to just become a street of "cool businesses." It has to be Fairfax. So, we've slow-stepped our opening, we slow-stepped our construction. We made sure we soaked it all in and we met the owners of businesses and the kids who hang out on the street, and the old heads that make this street what it is. Ben has been really helpful with that and Jon [Shook] and Vinny [Dotolo], they've been helpful and supportive. They've always said that if we need anything we can reach out to them. Their staff and managers have been super cool. We feel really special, warm and fuzzy, all that good stuff.
***
This interview has been edited and condensed from two conversations.
Follow Badmaash on Instagram @badmaashla. Their Downtown location is on 108 W 2nd St and their Fairfax location is at 418 N. Fairfax Ave.