It's the 10 track commandments, whet?
I like to dig through SoundCloud. So here, I present the results of my excavations (in alphabetic order): Nine tracks released in the past month that you shouldn't miss, plus a tenth track that's kinda old but still knocks. Hopefully this'll help get you through the rest of your week, to the blessed lituation that we often call the weekend. #TYBG.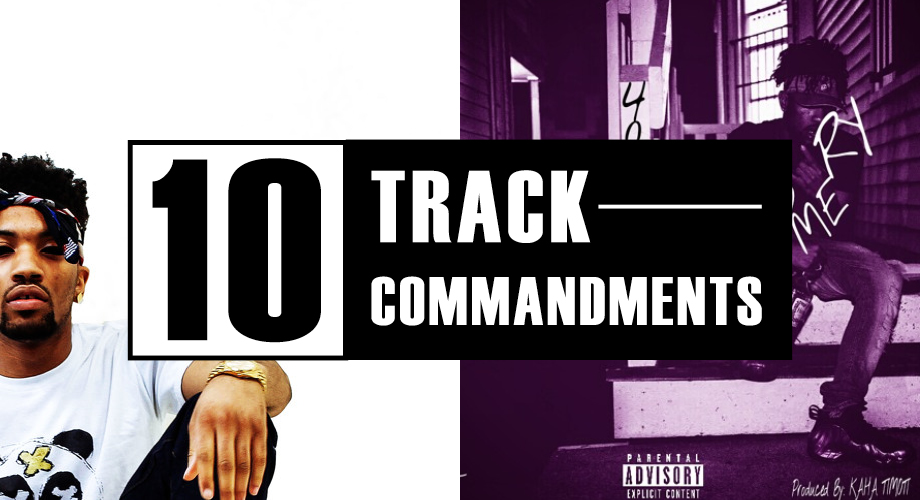 1. 40ozDai – "Bury Me"
40ozDai's "Bury Me" might just be that late summer anthem that everyone's been missing. If it's not the catchy hook that gets you, "If I die, bury me with all my gold / If I die, bury me with all my hoes / If I die bury me with all my racks, my racks, my racks / If I die best believe I'm comin' back," then it might be producer Kaha Timoti's thumping 808s. All we know is the Milwaukee, Wisconsin rapper's song is perfect for bumping on those Indian summer nights, when you're getting into a little mischief with the crew.
2. BoodahDARR – "Almighty"
Milwaukee is churning out artist after artist. "Almighty," the only track on BoodahDARR's SoundCloud page, is a straight banger. With somber undertones, the rapper uses the song to magnify his habits, easing his way through bars saturated with braggadocio. Our very obvious guess is that he and fellow Milwaukee rapper IshDARR are homies, and it's our hope that they'll continue to generate good ass music and put their city on the map.
3. Jay IDK – "God Said Trap (King Trappy III)"
"God Said Trap (King Trappy III)" is the second single from Jay IDK's latest LP SubTRAP. With this track, Jay presents an inner struggle: Does he keep selling packs, move up to higher-grade alternatives, or quit the business all together? Trap music isn't typically replete with substance and nuance, but the Maryland rapper creates a conceptually layered song, chronicling the push-and-pull of the game.
4. Khori⁴ ft. Hurt Everybody – "Moments"
All rising musicians will probably agree that trying to 'make it' can be a grueling grind, the exact sentiment expressed in Khori⁴'s track "Moments," where he spits on trying to find his purpose and focus. With support from Hurt Everybody vocalists Supa Bwe and Carl—who were featured in #10TrackCommandments Vol. 3—this song is further proof of St. Louis rapper Khori⁴'s devotion to his craft.
5. Michael da Vinci – "Where The Drugs"
Michael da Vinci isn't doing anything really complicated with this song. It's actually quite simple—where the drugs at? Probably something you ask yourself all the time when you're on the hunt for some tree. The bouncy beat for "Where The Drugs" becomes addictive itself, encouraging you to turn up once you locate your vice of choice.
6. Monte Booker – "Yuna"
After a few weeks of the #10TrackCommandments showcasing tracks Monte Booker has produced for other rappers, we finally got one that's all Booker. With his remix of Yuna's song "Broke Her," Booker further brands himself as a blossoming producer, known for his crazy drum patterns, strings, and hi-hats. He transforms "Broke Her" from a straightforward melody to have a more pulsating rhythm, also molding Yuna's cadence to sound murkier and more mysterious, ultimately imbuing the song with a whole set of other emotions.
7. Ro Ransom ft. Kensei Abbot – "See Me Fall"
Harlem native Ro Ransom's actually been around for a few years, releasing loosies, mixtapes, and remixes. After dropping the track "All Dogs Go To Heaven" nine months back—a song he's labeled as 'dark pop' on SoundCloud—he's been laying kind of low. Now, with "See Me Fall," Ransom gives us another gritty one, and a preview of the project he's got in the works. "See Me Fall" also certainly fits in that dark pop description, its gravelly pieces sewn together by an overarching story of people wanting to see him fail.
8. The Walters – "Hunk Beach"
Sometimes you just need a break from rap. Chicago, now known for being a hotbed of hip-hop, also generates some decent indie rock. That's where the Walters come in: A five piece alt-pop-indie band whose main interest—per their Facebook page—is, "Being huge hunks." "Hunk Beach" seems pretty accurate then, but probably isn't what you expect, a song expressing feelings of stagnancy, but also the sentiment of losing someone. Pretty sure we can all get with that.
9. Well$ – "608AM In Cleveland"
To be clear, Well$ isn't actually from Cleveland, but from Charlotte, North Carolina. On "608AM In Cleveland," Well$ shows off and also reveals some of his personal narrative, his fierce raps taking us through a night, or perhaps weeks, in his life. "It's 3 a.m. and I don't sleep / These stomach pains can keep me up / I been up for weeks." The track's late night setting, snarling production, and aggressive raps evokes an intense darkness that you can't quite shake.
10. Brasstracks – "Are You That Somebody?" (Cover)
Brasstracks— trumpeter Ivan Jackson, and drummer and beat-maker Conor Rayne—self-identify as future brass, which basically means that they not only make their own music, but also remake a lot of popular music that we love. Of their covers and remixes, the duo's remake of Aaliyah's "Are You That Somebody?" is the most riveting: Jackson and Rayne have an exceptional ability to translate the original version's emotions into a wordless, trumpet-based tune. This Tuesday, August 25, also marked the fourteenth anniversary of Aaliyah's death, an appropriately sad nod to our Baby Girl. RIP.