While in NYC, I was pretty stoked to meet up with Dave Ortiz and check out his new studio. If you didn't know, Dave has a long history in fashion, streetwear, and art/design from being Zoo York employee number 1, to starting DQM, designing the Bacon Air Max 90, creating Dave's Wearhouse, and a number of other projects. He's a smart dude who is funny and works hard, so it's always a pleasure to hang with him. I've known Dave for a few years and he's always learning and excelling at new things, which I find inspiring.
I showed up at Gowanas Print Lab just in time to see Dave roll up on a bike fumbling with his bottle of Schweppes.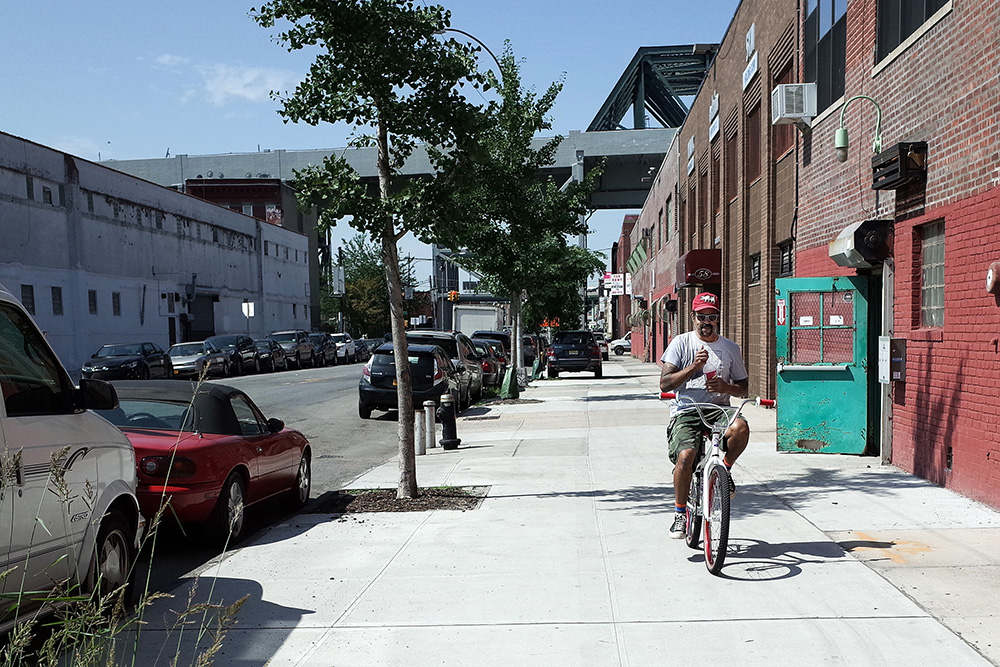 It takes about 25 minutes for Dave to to get to Gowanus, Brooklyn, whether he rides or takes the train. So whenever possible, he's riding. And of course he shows up on a special edition (not for sale) SE Bikes X PBR collab, which I was hyped on just a few days earlier.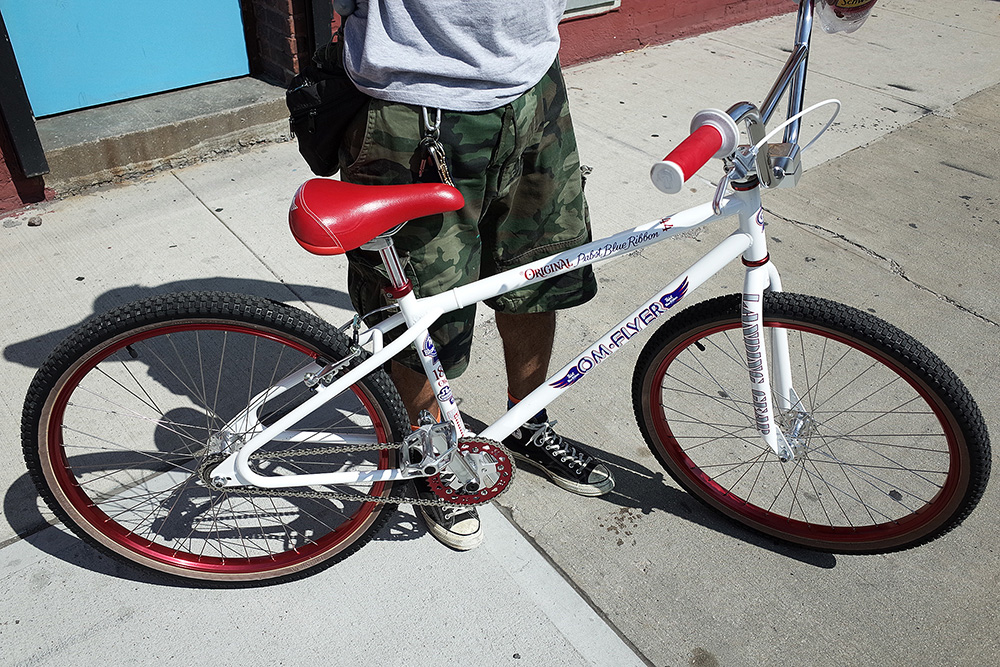 Walking into Gowanas, I was already pretty stoked. I was overwhelmed with all the possibility and just I wish I had a spot like this. Gowanas is a co-op screen print shop that allows artists to come in and create, so they don't need their own space and everything that goes with it. They also offer a limited number of private spaces to a few lucky artists.
"I love working here—it's amazing I can make a mess! Plus, I met my new friends Maya and Tyler here, and they taught me everything."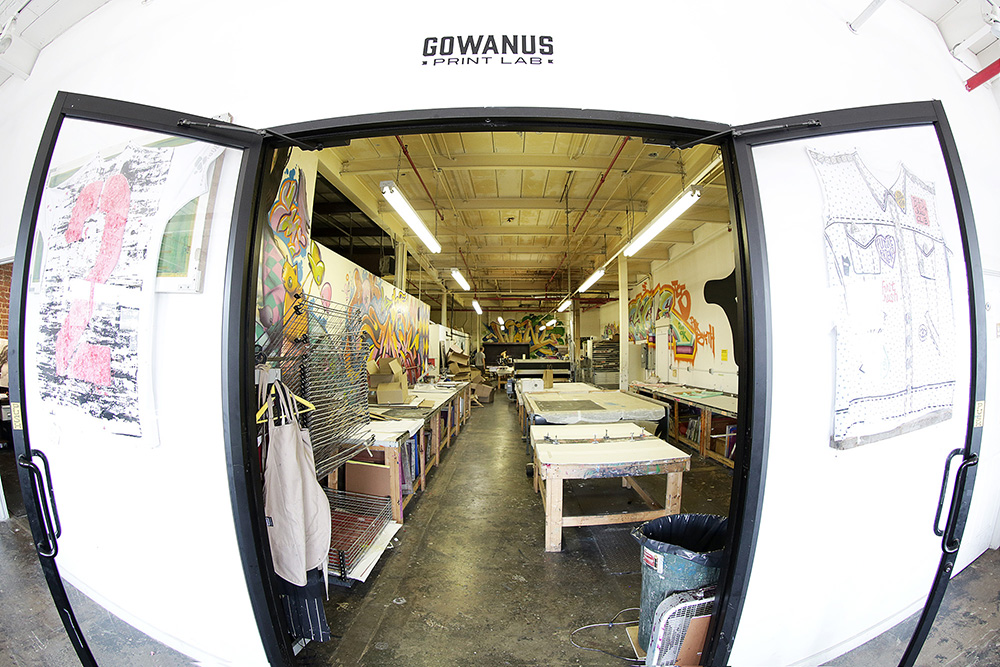 Dave explained, "Getting the residency at Gowanas was such a great challenge and opportunity," while praising Brian for helping him out with it.
Once in his space, Dave changed out of his street clothes and into his work clothes and embraced his biggest fan. I found the whole scenario practical, yet funny, and 100% Dave.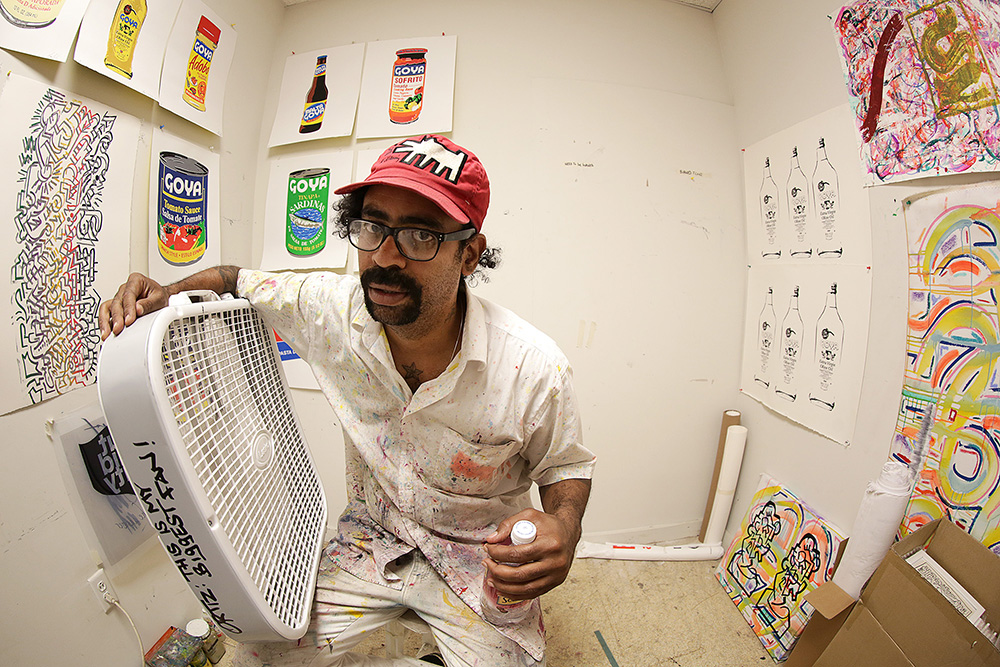 "ART IS MY FIRST LANGUAGE, THE ONE I CAN ACTUALLY SPELL EVERYTHING HOW I WANT TO…"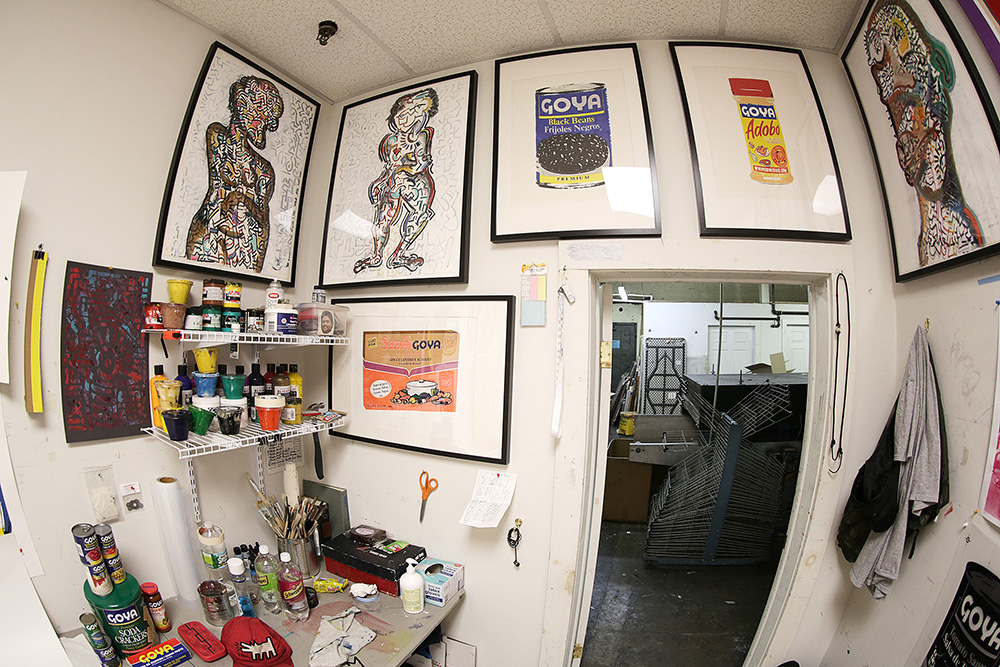 As long as I've known of Dave, he's always been into different forms of art. While discussing different mediums and styles, he expands, "I treat my art like the city I love and live in, New York City. It has a little bit of everything and I'm curious about everything. When I decide on a project, it is all based on feeling, an observation, or what occupies my thoughts at the time. My girlfriend says I live in the moment—she is usually right. My favorite mediums are painting, drawing, and now printmaking. I'm also working on my first interactive installation… Let's see how this will turn out."
It's pretty rad to see someone not only learning a new art form, but being comfortable enough to put it out there right away without overthinking things.
"I TREAT MY ART LIKE THE CITY I LOVE AND LIVE IN, NEW YORK CITY."
I was a big fan of one of Dave's previous shows, so I was stoked to see the piece still on his wall. Dave on the work:
"LAW JOURNALS started years ago when I found this law book, Corpus Juris Law, in the street... I started to draw in this book as if it were a sketchbook, which made me think about the way art and law function. To me, it's like both worlds—art and law—are on the same plane, but just on other parts of the spectrum. The more law you know, the easier it is to work it in your favor, same goes with art; the more you know, you can guide or manipulate the viewer to see what you want them to see. So I felt the pages of this law book would be a perfect foundation for my drawings."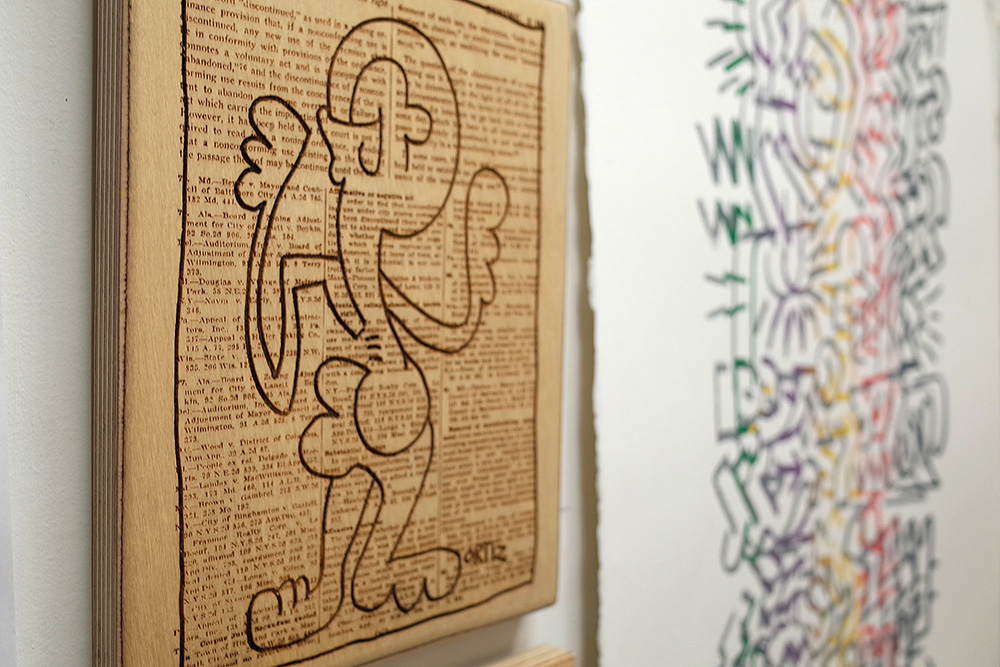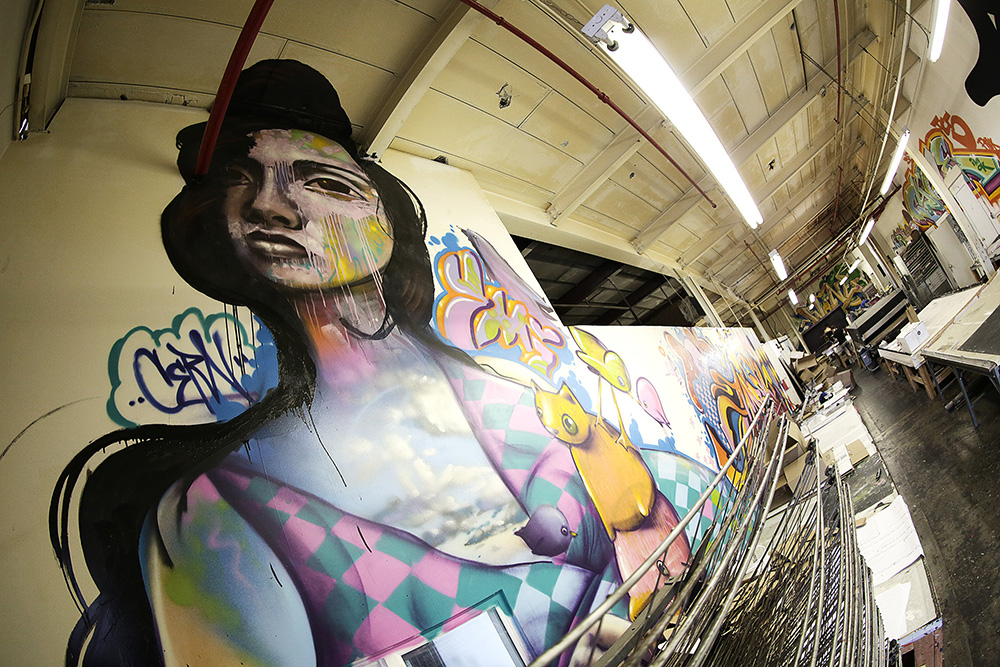 As Dave showed me around, we talked a bit about my background and printmaking, which we both found entertaining as we had a very similar beginnings. He said, "I knew some stuff about printmaking because I always made T-shirts, so I kinda knew how it worked, but never did it myself. But I didn't get really into until I got selected for the artist residency at the Gowanus Print Lab."
Already knowing the graphics, computer, and how to screen shirts, it wasn't that difficult for me personally to transition to printmaking. But it was very cool to see the process of Dave learning everything at once.
"Oh there's a curve… I can do 10 color prints now. But I worked real hard on this… long hours, every day. It's funny because you have to be very concentrated and remember all these things in order to make a print. There is so much involved, it's crazy. Everyone who knows me knows details; concentration and me are a challenge. But I love and live for colors. So surprisingly I learned real fast."
My background in printing shirts brought up a funny story from Dave: "Now that I learned about setting up to print, I realized how much work went into it all. I wrote my old print maker from DQM days and apologized for bitching about set up fees. He laughed and called me a prick, but I think he appreciated my call."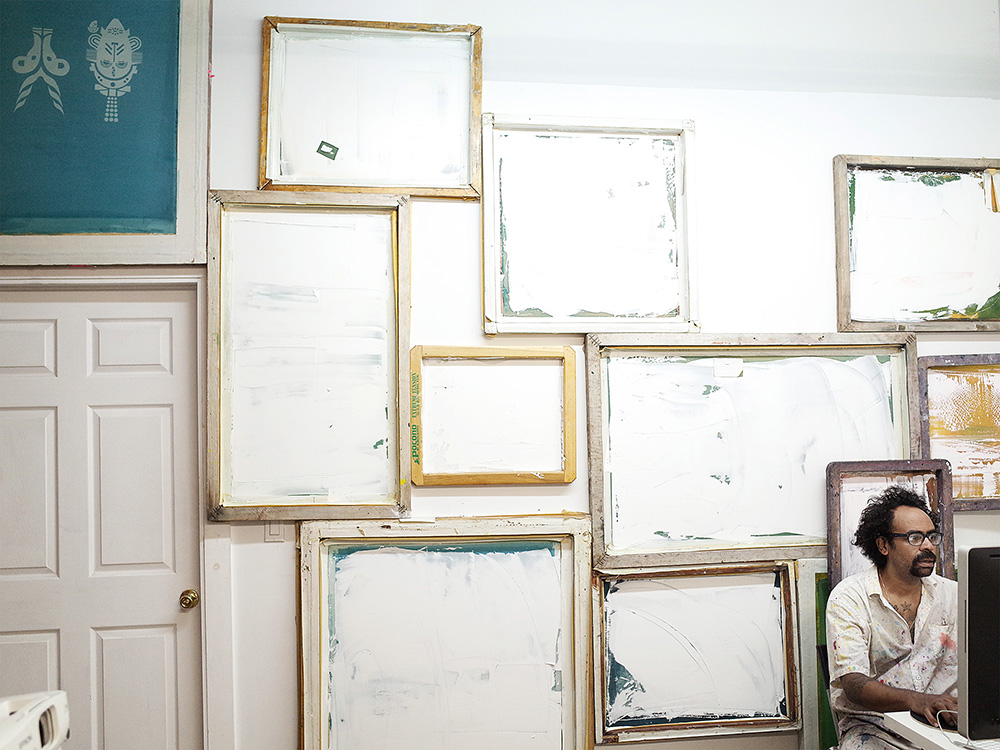 I was really feeling the various Goya products and prints Dave was working on. While you can see the pop-Warhol influence, they definitely have their own distinct style. He amusingly confirmed, "I started with the Goya print series as a play on Andy Warhol—you know, the Puerto Rican version. But obviously I was not the first one with this idea as I quickly found out. There are, of course, a couple of other dope artists who worked on the CAN."
I wanted to know why he dedicated so much focus to one brand. "The more I experimented with the medium and the images, the more I realized how much these crazy Goya products actually stand for in my life—[and] pretty much all Spanish people. So I chose all the products that signify certain Boricua qualities from my life and my family. And I enjoyed merging silk screen-printing techniques with some of my "sloppy" painting style. I've really enjoyed mixing and finding these strong color matches."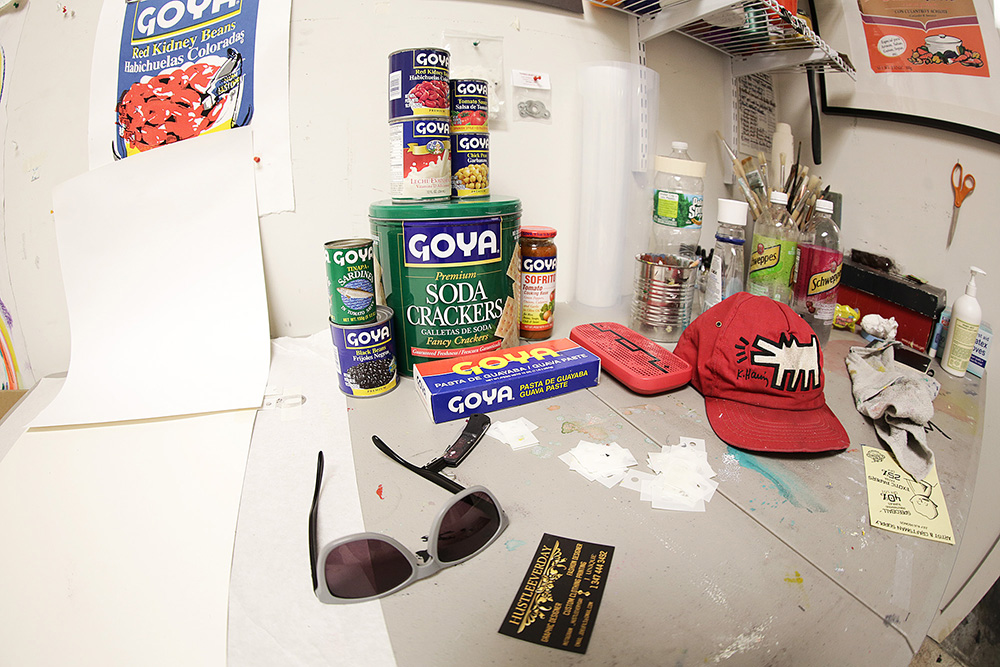 After a bit, even Dave's biggest fan couldn't keep up with the Brooklyn heat, so we headed outside for a break. I asked Dave, after everything he's done in streetwear and fashion, how or why did his form of expression come back to art in such a big way?
"Art is my first language, the one I can actually spell everything how I want to…."
This led to a discussion of what art means to both of us. Interestingly, we both have somewhat vague, yet decisive views on art. "Art. Life. Colors. Lines. Thoughts. Stories. Always interesting. Sometimes I can relate. Other times not. But I cannot and don't want to stop creating and experiencing it. Ever."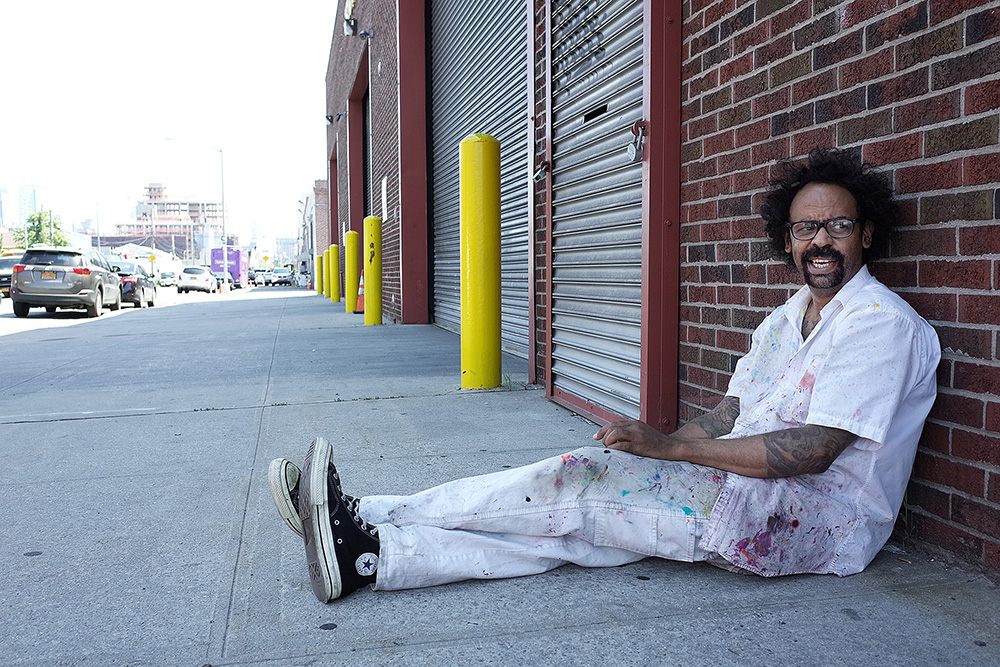 After heading inside, Dave started to set up some screens to pull. I didn't want to invade his space while he was physically creating, so we parted as he explained what he's up to.
"I'm working on the next part of the Goya project—an interactive art installation called Bodega Ortiz featuring my work, my real life Puerto Rican family, and of course, Goya product. We are hoping to present later this year or spring of next year; a little help from Goya wouldn't hurt. Besides that, I'm partner in Our/New York. We are going to open the first distillery in Manhattan since prohibition times—but that's another story."
I leave for Manhattan happy knowing I now have a few more reasons to come back to NYC and hang with Dave.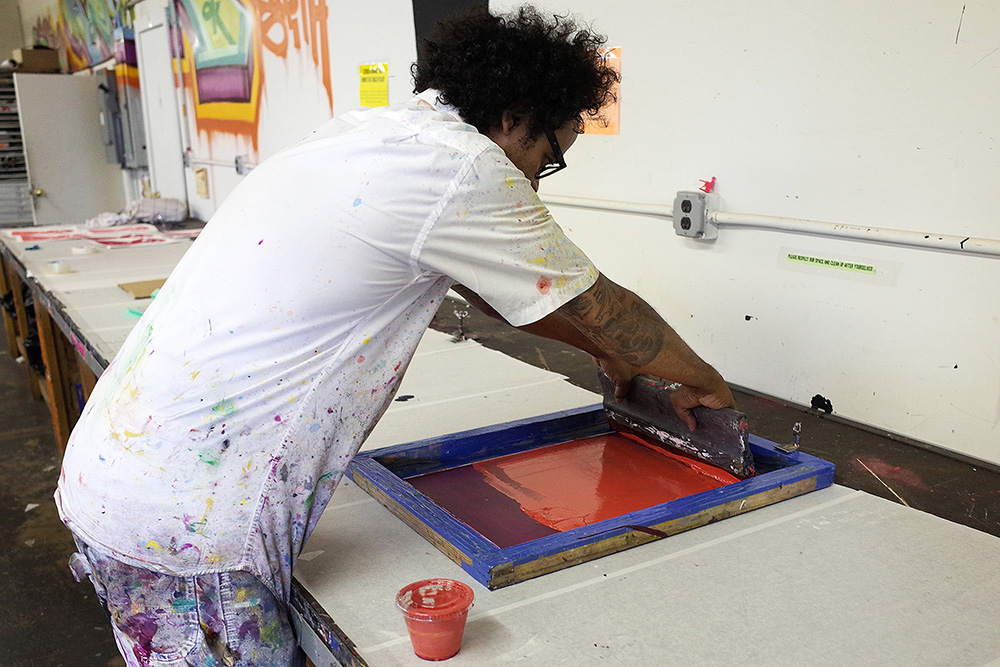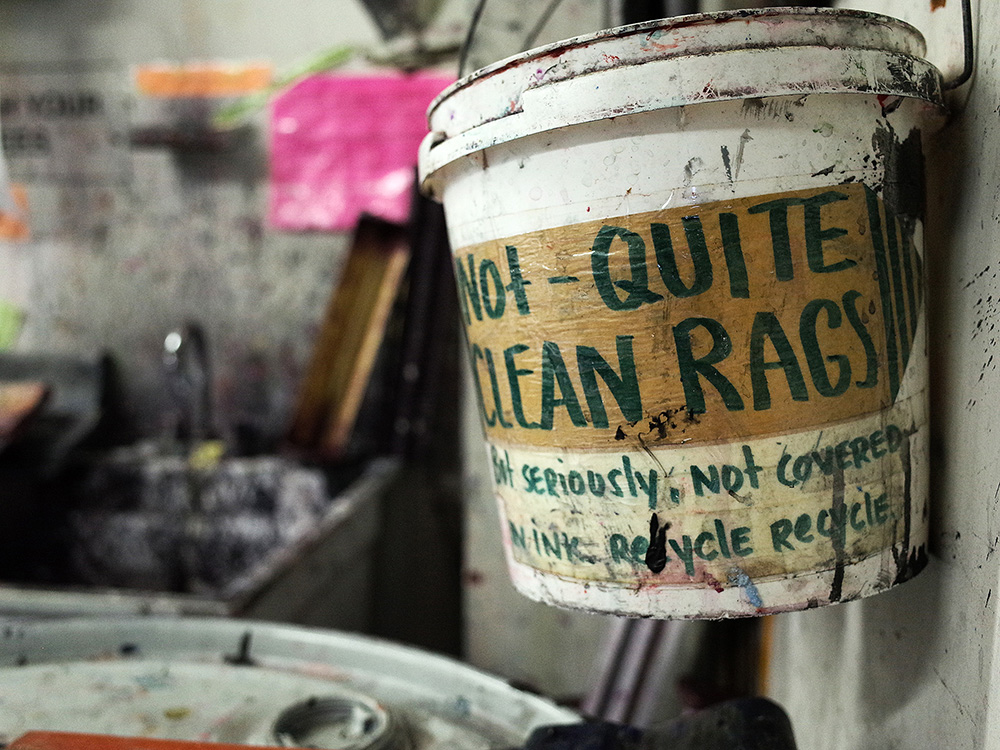 ::
DAVEORTIZ.NYC. Follow Dave on Instagram at @123dortiz.