It's the 10 track commandments, whet?
I like to dig through SoundCloud. So here, I present the results of my excavations (in alphabetic order): Nine tracks released in the past month that you shouldn't miss, plus a tenth track that's kinda old but still knocks. Hopefully this'll help get you through the rest of your week, to the blessed lituation that we often call the weekend. #TYBG.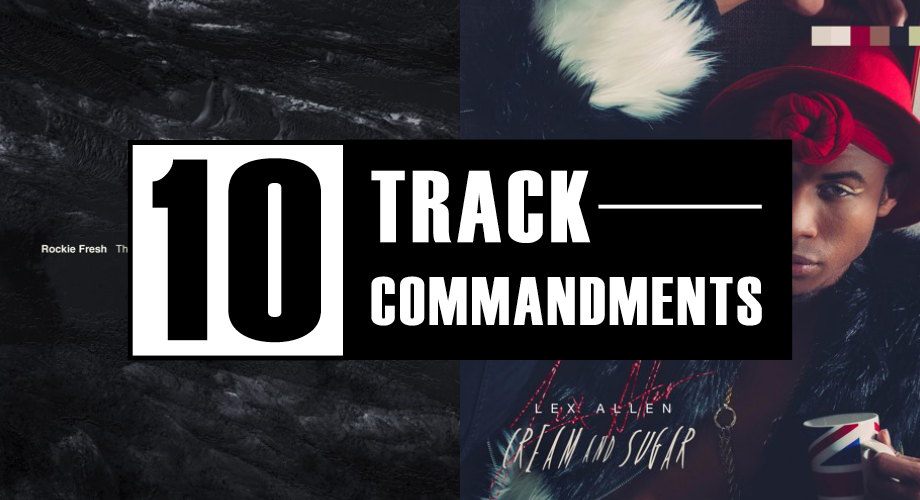 1. Jimi Tents feat. Jay IDK and Dave East – "All of It" [Remix]
Pretty sure Jimi Tents is on everyone's radar, and to keep that momentum going, he's tapped Jay IDK and Dave East for a remix of his 5 O'Clock Shadow track "All of It." It's been duly noted that individually, all three rappers—Tents from Brooklyn, East from Harlem, and Jay IDK from the DMV—are on an atmospheric rise; recruiting them for a remix was stellar move. All three emcees' energy effortlessly fit around the song's minimal, chilling beat, produced by the original song's feature rapper KeithCharles SpaceBar.
2. Khary feat. Masego – "Zodiac"
Khary has been dropping off quite a few gems here and there, his latest with TrapHouseJazz creator Masego. The song has that same bouncy feel that Masego's music frequently has—Masego opens the song, laying the foundation for Khary to jump in with his staccato rhythm. Not to say that Khary is devoid of melody here, but their differing inflections make for a more aesthetically pleasing track. Plus, Khary references Cassidy's song "Hotel," "Girl you wanna come to my hotel, baby I will leave you my room key…"
3. Lex Allen feat. Q the Sun and WebsterX – "Cream and Sugar"
Lex Allen's buttery smooth voice rises to the top on "Cream and Sugar." Suggestive of the title itself, his soulful voice intermingles with a funky rhythm produced by fellow New Age Narcissism member Q the Sun. The song peaks about halfway through and then almost unravels when WebsterX hops in. Webster's tone adds more dimensionality to the song, providing a balance between Allen's sublime qualities and Webster's darker timbre.
4. Noname Gypsy feat. SPZRKT – "All I Need"
"Don't forget about me world. I'm trying," Noname Gypsy tweeted this past September. Indeed, we haven't recently seen a lot of solo music from the Chicagoan, but a couple months later, she released the single "Open Apology," a genuine concession to her fans about the trials she's faced as an independent artist. To our joy, those struggles haven't stopped her from making more music. On "All I Need," her vulnerability can be heard in the opening lines, "Noname off the drugs / Noname quit the weed." Underpinned by SPZRKT's beautiful voice, the song is a simple look into life's pursuits and needs. Just know we're behind you, Gypsy girl.
5. Rockie Fresh – "Don't Change"
Rockie Fresh's new music isn't falling on deaf ears. Over the last couple months, seemingly out of nowhere, he's been dropping song after song, culminating in the release of his latest project The Night I Went To… It feels good to have Rockie back. Overall, the project is a personal recollection of the places he's been over the last couple years, using the project to piece together memories. The tape's bonus song "Don't Change" is a call to keep things the same—while material items may vary, his love is unwavering. Something that is elemental to his, and everyone's, growth.
6. Saba – "GPS"
The neo-soul rhythms that dominated Saba's last project ComfortZone are echoed ten-fold in "GPS," and assisting him on the track is the man who instilled him with those very neo-soul proclivities: His father, Chandlar. Like all of ComfortZone, "GPS" is equally infectious and razor sharp in focus, as Sab's words throw us for a loop, teetering between his knack for introspection and braggadocio.
7. Skizzy Mars – "Alcoholics"
Y'all are hiding under a rock if you haven't heard of Skizzy Mars. Though my personal list of New York-based musicians to watch out for isn't long, Mars has quickly earned a spot. With "Alcoholics," the autotune he lays over his vocals are the most sonically engaging, that dip his pitch takes when he first sings the word "alcoholics" in the chorus, then how it shifts into a falsetto, and its fluctuation from low to high. Sometimes too many vocal effects can ruin a song, but by visibly playing with the frequency, Mars hits the nail on the head.
8. The A.S.A. Project – "For You"
"If you can't dance to this you might be dead," a friend said about this song. While "For You" is a little outside my wheelhouse, I can appreciate what the trio is doing. Merging a little bit of house with a little bit of juke—The A.S.A. Project boys are from Chicago—the two lead singers' Spazz and Reelo's playful voices feed into the beat, almost in the same vein as a boy band (maybe even akin to Justin Bieber), but with an added electro-pop twist.
9. WHOISIZZ feat. Deedz and Papi Chubz – "30"
If you're going to rap about Steph Curry, at least do it right. WHOISIZZ does just that with "30." The Chicagoland native honors one of the NBA's hottest players and the 2015 MVP winner, though it kind of feels like Izz might be speaking for himself as well. "You can act like you ain't heard of me / I know they hate but there's no hurtin me."
10. Leather Corduroys – "Badmon"
"Badmon" is just one of the musical lanes the Leather Corduroys explored on their 2015 project Season. While this one was supposed to intuit the duo's—Joey Purp and Kami Chukwu—more Caribbean side, other songs delved into rock fusion, soulful Neptunes-like rhythms, and trappier beats, putting as much emphasis on lyrical quality as sonic content.