It's the 10 track commandments, whet?
I like to dig through SoundCloud. So here, I present the results of my excavations (in alphabetic order): 10 tracks released in the past month that you shouldn't miss. This time around, we're doing things a bit differently—themed mixes. And how could I not start with Chicago? Big ups to Fat Tiger Workshop for the motto, Made In A Chicago Hood. Hopefully this'll help get you through the rest of your week, to the blessed lituation that we often call the weekend. #TYBG.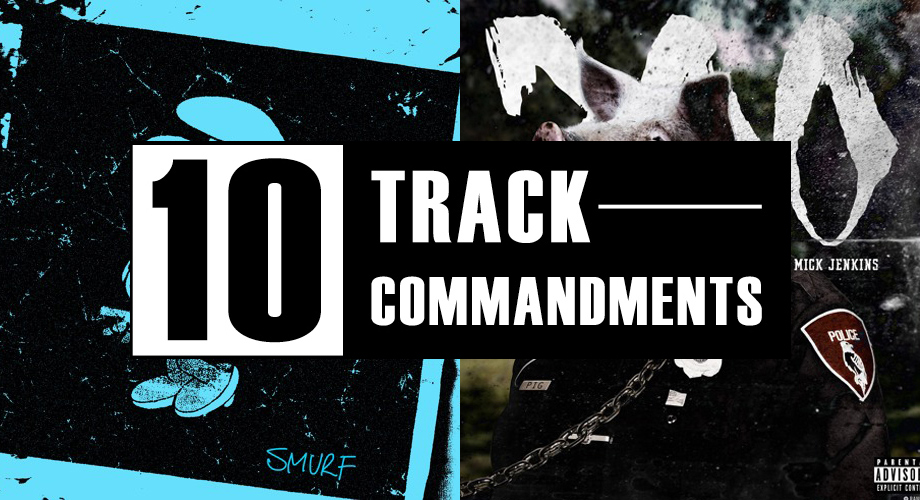 Joey Purp ft. Saba and theMIND – "CORNERSTORE"
Off the rip, it's evident that Thelonious Martin, Donnie Trumpet, and Peter Cottontale had a part in "CORNERSTORE"—the brassy, wholesome-feeling production gives the song a warmth, and is unlike much else we've seen so far from Joey Purp. He really takes a page right out of Chance the Rapper's book for this one, and it bodes well for Purp—his flow is raw against the bounce of Donnie's trumpet. Overall, it's a stellar first release from iiiDrops.
DeeLilly – "Difference"
Producer DeeLilly puts his spin on, as he puts it, "one of the all-time favorite songs," Ginuwine's "Differences." He sets aside many of the original version's familiar elements and manipulates the Ginuwine's voice, creating a busier auditory pattern with snapping drums, fuzzy synths, and a flood of textured sonic detail. The vocals become an instrument in itself, waxing and waning with the updated beat.
Qari ft. Logan Cage – "Disposition"
Discordant, ghostly, and sparse are the first words that come to mind when hearing "Disposition." As always, Qari has a phenomenal capacity for wordplay, a flair for wit, adventurous even though he keeps his cadence even-keel. Logan Cage provides a good contrast for Qari, Logan revealing a little more emotion in his adlibs and the sing-songy way he draws out the end of his verses.
Malcolm London ft. Dally Auston and Logan Cage – "Going Places"
"Going Places" encapsulates a few aspects of Chicago's creative community, from spoken word and poetry to production and rap, and to the collectives and squads that the city's hip-hop scene is formed around (in this case, SaveMoney). Rapper, activist, and poet Malcolm London acts as the unifier, examining the idea of striving for more. While he applies this idea personally, to himself, the concept can even be used for the culture at large: Chicago is a city that's going places, too.
Astonish ft. MFnMelo – "Let It Go"
Sometimes you just gotta spit and let the beat lead you. That's exactly what Astonish does on his latest tune "Let It Go"—MFnMelo and Astonish focus on their lyrics, their rapping pointed, nimble. Sometimes, in order to make it to the top, you have to let go of some shit—the two are certainly using this song for that purpose.
Via Rosa – "Somebody to Want"
Via Rosa's voice flawlessly pairs with the J Dilla production on "Somebody to Want." While the Dilla beat lingers in a hazy, boom bap trance, Via's voice is supple and velvety, harmonizing and ruminating on something that worries a lot of us. "They say you'll feel whole / When you find your other half." While she doesn't seem to come to any conclusions, it's okay—who can really come to a conclusion in a three minute song?
New Kingz ft. Glassic and Syd Shaw – "Through The Wind"
The music industry is tough, failure is around every corner. "Through The Wind" combats that notion, the three artists determined and aiming to push past those who doubt them. "Sky only the limit if you timid and gullible," Syd Shaw raps. Indeed, it's reassuring to see young artists hold onto their positivity and spunk, and suppress the naysayers.
Chandy – "SMURF"
The sonic foundation for "SMURF" feels like it's straight out of the '60s, its roots tied to surf music, a rock subgenre pioneered by groups like the Beach Boys, Jan and Dean, and Bruce & Terry. But Chandy takes that infrastructure and coats it with dissonant, choppy, slurred vocals, and a layered body of effects. His cadence interacts with the production, sometimes letting the beat override his voice, giving in to vocal manipulations, and fusing with the music.
Morimoto – "UYU"
"UYU" is more of a study of sound and effects, the sonic elements warped, the vocals shaped and guided, wavering in and out. The jazzy saxophone melody stands in stark contrast to the song's atmospheric qualities, grounding the tune. The vocals on this track become a tool as well, used as another piece in Morimoto's sonic scenery.
Green Sllime ft. Mick Jenkins – "Zoo"
Who knew Mick Jenkins's DJ, Green Sllime, had a fire flow? Jenkins sets "Zoo" off with a sharp verse, setting the groundwork for Sllime, Jenkins's verse sandwiched between two skits—and a hook—that confirm that this duo is absolutely from Chicago. Sllime's writing is tough, steeped in social and political commentary revolving around his city, letting you in on some crucial details about the Chi.
***