This NBA regular season was chock full of high-drama and theatrics that seem like they would have been stolen from an impactful third act of a screenwriter's Final Draft document. Whether it was the Golden State Warriors' historic pursuit of the 95-96 Bulls' single-season wins record, or Kobe's farewell tour—which resulted in a dazzling 60-point finale at Staples Center—all of that is now being left behind as the "real" season has gotten underway and the 16 teams that remain chase the Larry O'Brien trophy. Despite all of that, some people are still not enticed to sit through a 48-minute game because they, "Don't get sports."
While many athletes are defined by their athletic prowess and often-freakish genetics, not all of the NBA players in this year's Playoffs are solely basketball savants. In fact, some are quite skilled in other facets of culture. If you needed any rooting interests this year, look no further than these five players who transcend roundball dominance.
Damian Lillard Can Rap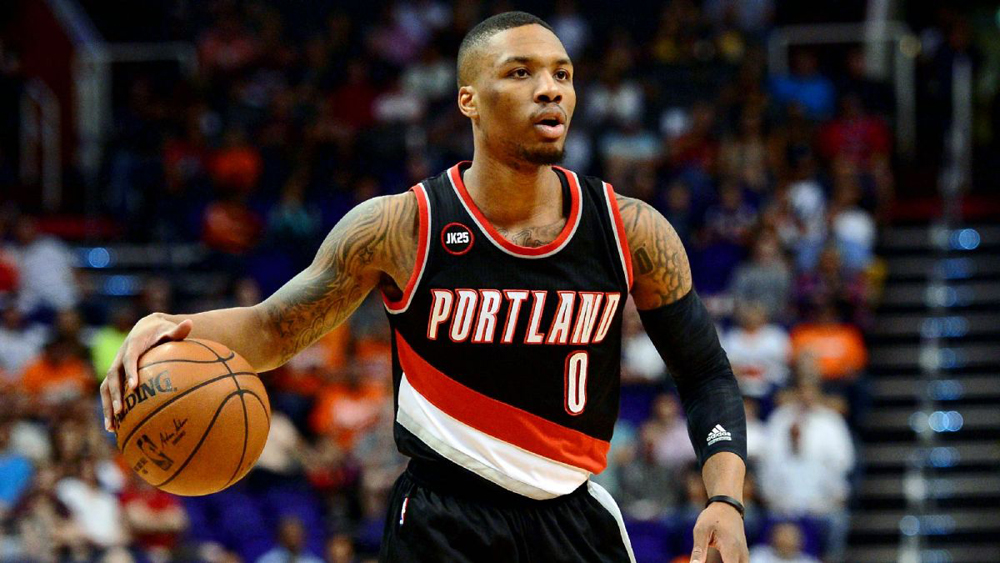 Photo: foxsports.com
Damian Lillard is one of those players who feels like a perennial All-Star despite having never earned a single selection because of the logjam at the point guard position in the West—thanks to players like Russell Westbrook, Chris Paul, and Steph Curry.
While some players would bemoan the situation by complaining to the media, Lillard actually turned to another skill of his—emceeing—to highlight his snub in the basketball realm.
Yes, Lillard has continued the ongoing trend where ballplayers want to be rappers and rappers want to be ballplayers (we're looking at you Drake). Before you immediately check out, Lillard actually has skills. He's even graced the mic on Sway's Shade 45 radio show, where the host has been known to bemoan even people who consider themselves "full-time" rappers.
Moonlighting as Dame D.O.L.L.A, the Trail Blazers guard doesn't just touch on basketball or how much money he has. He's even lent himself to more "conscious rap" topics like racism and police brutality in "Bigger Than Us," which was released on Martin Luther King Day.
Kemba Walker Can Dance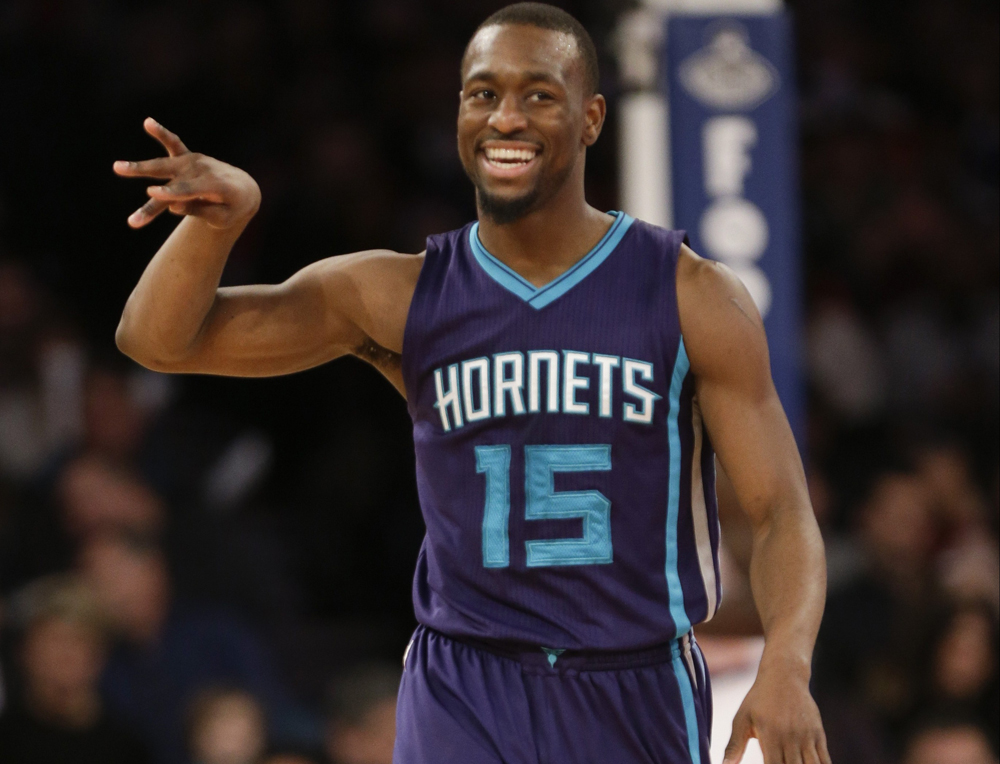 Photo: nba.nbcsports.com
The upstart Charlotte Hornets have been strengthened by Kemba Walker's emergence as a bonafide star in the East—averaging 20 points a game in the regular season, and 24 a contest in the Postseason.
While most NBA players have to be fleet-of-foot to make it into the league, Kemba Walker'a father, Kenya, points to an unlikely source for his son's success: "The dancing."
According to The Wall Street Journal, "He was a dedicated dancer," said Marilyn Patterson, who taught Walker until he went to high school, and who took his dance troupe, Future Flavors, to dozens of competitions. "Every time he had to go to practice, he'd come to me and say, 'Miss Marilyn, I have basketball.' And then he'd make up for it and come another day to dance."
The culminations of Walker's dance career were two separate appearances performing at the legendary Apollo Theatre.
Since dancing on an NBA court has come to a head in recent days after the altercation between Russell Westbrook and Charlie Villanueva, you probably won't catch Walker breaking out his own moves when he steps between the lines.
"Them days are over man," he says. "Long gone. I do it sometimes around my friends, but for the most part, nah. I'm pretty shy, believe it or not."

Harrison Barnes Has a Little John Coltrane in Him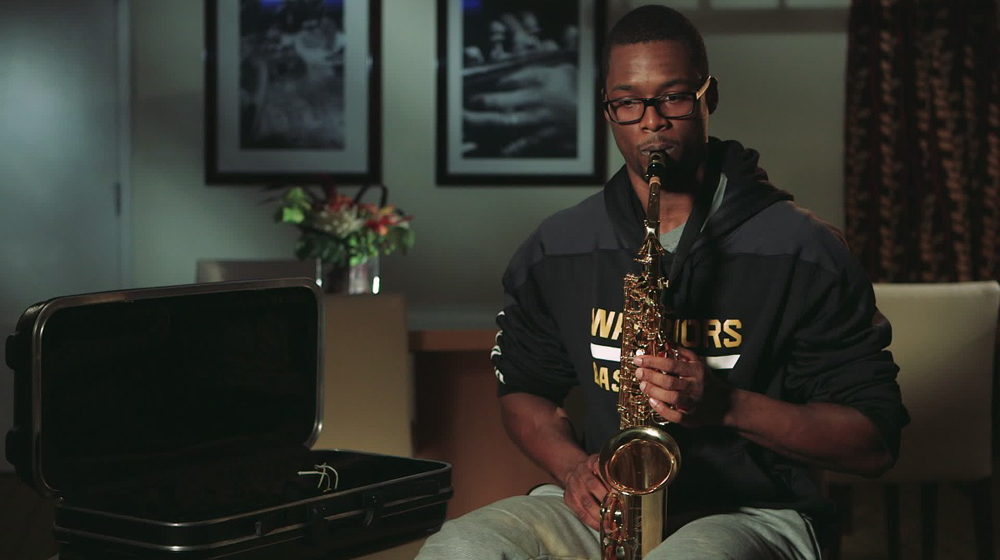 Photo: nba.com
Although he will probably never get the amount of credit he deserves playing alongside the Splash Brothers and Draymond Green, Harrison Barnes remains one of the most vital pieces in the Warriors' attempt to repeat as back-to-back champions.
With a silky, smooth game and little fanfare, it seems quite apropos that Barnes's outside specialty would fall into the world of jazz music—with the swingman playing the saxophone for over 15-years.
"My interest in playing the saxophone actually came from my mom," Barnes says. "She was a secretary in the department of music at Iowa St., so I used to go to all of the performances and used to be around all the music. It was so cool to go to these performances and see all these people in the band playing together. In the fifth grade, that's when I got hooked."
Unlike rapping or dancing, playing an instrument requires a practitioner to take their love of music a little further.
"The biggest hurdle you have to overcome playing the saxophone is reading music. That's the foundation to everything. You can have the wind and do all the fingering, but if you can't read music, it makes it really tough."
Serge Ibaka is a Polyglot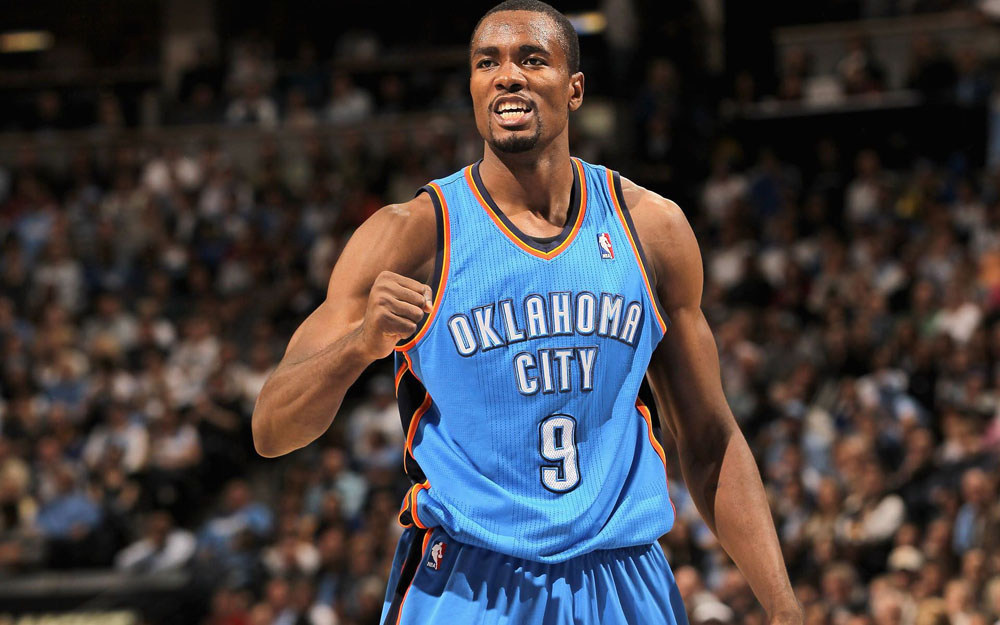 Photo: thunder.clutchpoints.com
Serving as the defensive equation in Kevin Durant and Russell Westbrook's title hopes, Serge Ibaka's journey from the Congo to Oklahoma City has come with the good fortune of not only an NBA paycheck, but also the ability to speak multiple languages.
Forced to leave his hometown at eight-years-old after the start of the Second Congo War, Ibaka eventually returned home where he quickly fell in love with basketball. By the time he was 16, he was playing professionally in Spain.
"That was something that surprised me a bit, because he didn't have a normal education with all this civil war mess and the problems of one of the poorest countries in the world," said Pete Gallego of U1st Sports. "But despite having this background, he was very polite, very formal, and able to learn quickly as speaking a new language (Spanish) in few months."
Officially, Ibaka is fluent in Lingala (Ibaka's tribal language), French (the official language of Congo), English, Catalan, and Spanish.
Jeremy Evans Can Paint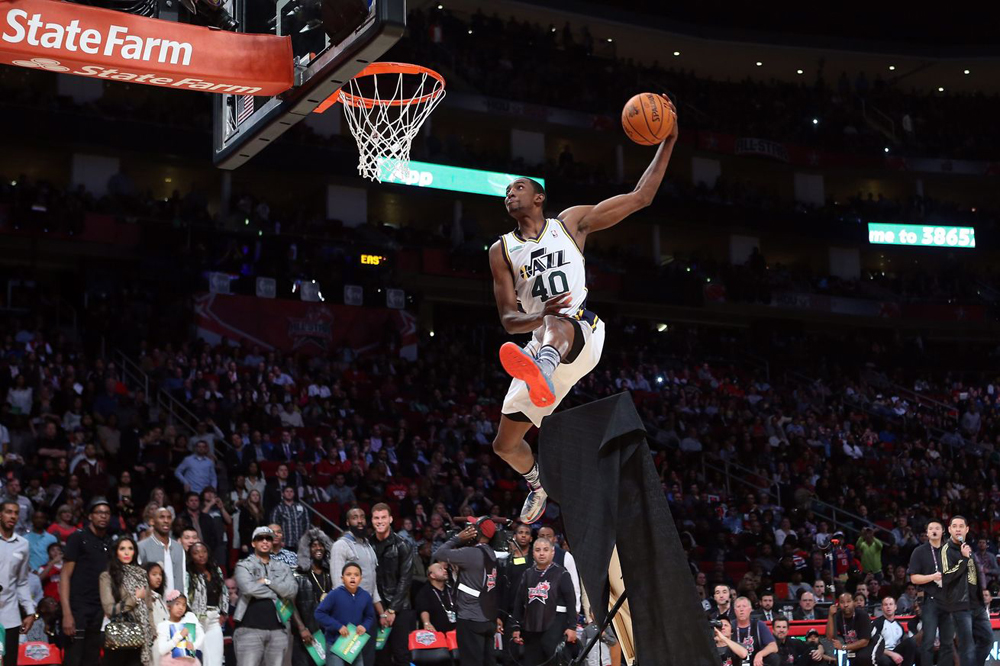 Photo: sbnation.com
Over the years, the NBA dunk contest has become less about freakish athleticism, and more about showmanship (yes, this year was the outlier). In one of the most meta moments in recent memory, then Utah Jazz forward, Jeremy Evans, jumped over an easel that was covered with a black sheet. After slamming one home, he unveiled a painting that depicted the same scene. What might have been lost on viewers is that Evans actually painted the artwork.
"I get a tremendous amount of pleasure out of painting and drawing because I'm able to do what I want, express myself, and no one else knows what you have in your mind," he says. "And it's a way that you can show them."
During this year's NBA All-Star festivities, Evans competed in a talent contest against other players with off-the-court skills (including Harrison Barnes). Evans took home the crown—earning a perfect "10" from Charles Barkley for a drawing of his likeness. "I'm going to put that in my house," Barkley quipped.
***