It's the 10 track commandments, whet?
I like to dig through SoundCloud. So here, I present the results of my excavations (in alphabetic order): Nine tracks released in the past month that you shouldn't miss, plus a tenth track that's kinda old but still knocks. Hopefully this'll help get you through the rest of your week, to the blessed lituation that we often call the weekend. #TYBG.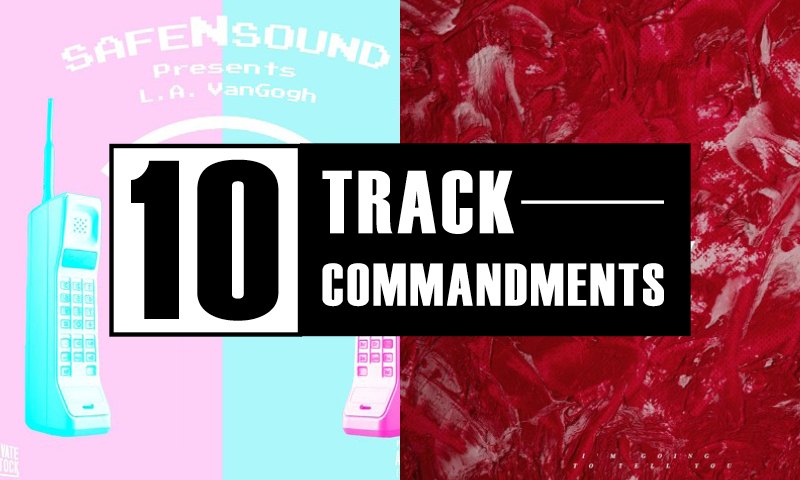 1. Anik Khan – "Too Late Now"
Most artists assert that they're doing something different from everyone else, which, to be honest, isn't often the case. But Anik Khan might be an exception: On his latest track "Too Late Now"—over a beat by Soulection producer Jarreau Vandal—Khan croons about his newfound love. While the production is rooted in house rhythms and a glossy sax, the vocalist doesn't forget where he comes from, giving a nod to fasting for Ramadan, wrapping the song up in Arabic. Overall, he removes the negative connotations from the phrase "too late now," flipping it into something positive.
2. Barney Artist feat. Jordan Rakei – "I'm Gonna Tell You"
Barney Artist dropped "I'm Gonna Tell You" on Valentine's Day, the perfect day for the song's release. He lets his girl know that he just wants to get close to her, emotionally support her, to be let in on her secrets. It's a fierce testament to love, which he breaks down in the last verse of the song, "I need her / I feel her / I see her / I dream her / Between her and me, we bleed love."
3. Boathouse feat. Allan Kingdom – "Lavish"
In-between Boathouse's ethereal beat appears Kanye West-endorsed artist Allan Kingdom, "We finna live lavish / Finna get established," he warbles in the chorus, "We finna make it happen / Just imagine." While Kingdom isn't saying anything particularly new, overall, the track's aesthetic is haunting, perhaps alluding to the idea that the vision many artists have for themselves—of fame, wealth—pervades their thoughts.
4. Jean Deaux – "Father Time"
The first descriptor that comes to mind when speaking of Jean Deaux is sultry. At just 20-years-old, Deaux has an alluring energy that spills into all her music; "Father Time" is a foolproof example, where her vocals—which oscillate between rapping and singing—ride the house-driven beat almost flawlessly. She uses the anthropomorphized concept of  time as a reference to life and finding your way.
5. Loona Dae – "Black And White"
It's easy to fall for Loona Dae's voice and production on "Black And White." The song is organic and raw, enveloping you in her buttery voice and the vibrating cymbal and drums. "Someone once told me that / There's only black and white / No gray, you must pick a side," she sings, using the song to question the validity of that statement, and as a tool to get some answers.
6. safeNsound – "Changed My Number"
"Changed My Number" is the spawn of the sonic elements of D.R.A.M.'s "Cha Cha" and lyrical components of Drake's "Hotline Bling"—"Changed My Number" is the reason Campaign Don't Text Ya Ex 2016 has officially launched. Nah, don't get a new phone number to talk to your ex. Shit ain't worth it. L.A. VanGogh can carry a note though, that's for damn sure.
7. SPZRKT feat. Masego – "Hesitate"
SPZRKT's voice is powerful. With "Hesitate," he proves that he has some serious vocal chops, his voice first cascading over a minimal, staccato rhythm, then coalescing with a fuller beat, marked by hi-hats and adlibs. The song continually builds up and unravels, allowing both artists to shine as soloists. The interplay of Uncle Sego's sax and Spazzy's voice still has me damn near tears.
8. Sunny Woodz feat. Qari and CHURCHDONTSTOP – "Roots"
Mulatto Beats dials down his production to the essentials so that Qari and CHURCHDONTSTOP's verses become the focus. "Roots, I got roots / Can't fuck with these goof troops / I ain't with the foo foo," Qari raps. It's a simple testament to keeping it real, staying true, and sticking with your family. There isn't much more to this shit than that.
9. Vintage Lee – "Hennythings Possible"
Between Michael Christmas, Cousin Stizz, and Black EL, Boston's rap scene has been on the come-up for the last couple years. Now, the female rapper Vintage Lee has been thrown into the mix, which is undeniably amazing. Though it seems like she intuits and echoes some features of Stizz's monotone vocal and production aesthetics—Tee-WaTT, who produced a few tracks on Stizz's debut Suffolk County, also produced "Hennythings Possible"—her intonation is much different, her mouth curling around the hard "r's," halting the long "o's." "I'm not your regular degular," Lee raps. She really isn't.
10. @peace – "Where I Come From"
@peace is a slightly mysterious four-piece band. Hailing from Auckland, New Zealand, the quartet mixes aspects of hip-hop with funk and electronic rhythms—their year-old track "Where I Come From" is particularly soothing. They harmonize on the truth: Sometimes you do have to go back to where you come from, to what you're familiar with, in order to gain perspective.
***