If it ain't Dutch, it ain't much. 2015, once again, saw a strong line-up of amazing projects involving Dutch brands or shops. Local brands are slowly expanding into new countries and continents, gaining respect and notoriety in new places. For The Hundreds' look back at 2015, I've listed 10 projects that brought the Dutch touch into the global scene through clothing, sneakers, and skateboarding.
Patta x Levi's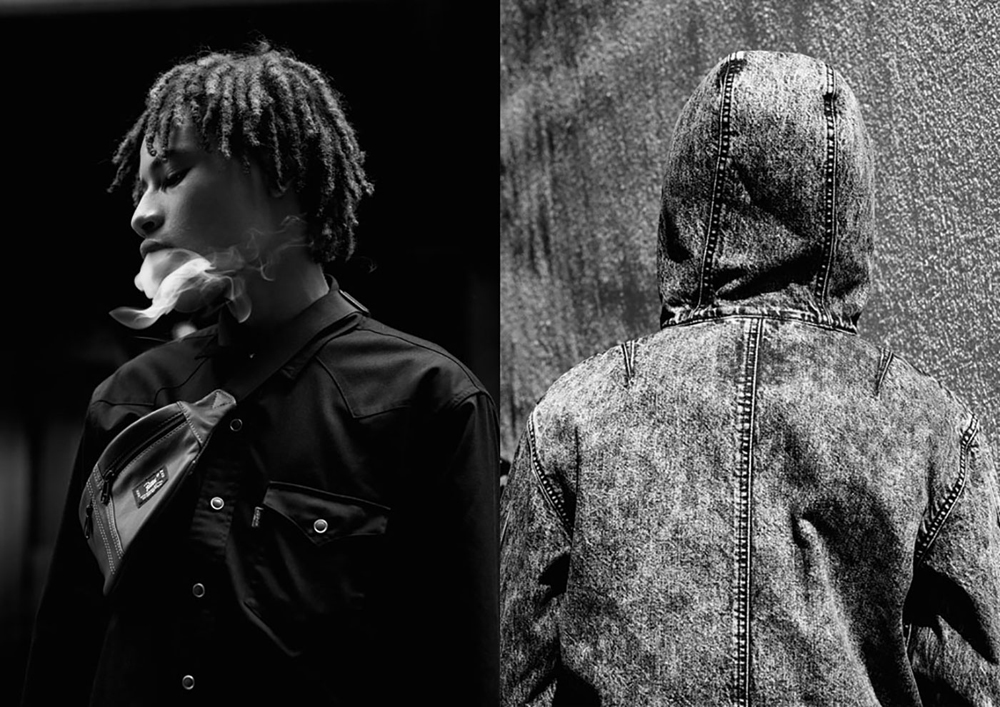 Dem Patta boys have done it again. After their collab-filled 10th anniversary year, they've delivered on another year of stellar collabs, including brands like Stussy, Karhu, Jason Markk, Gumball 3000, Vans and Beams, EoE Glasses, Converse, Dekmantel, and Appelsap. But none of these were bigger than the collection with the originators of the denim jean: Levi's. The Patta crew kept it classic by applying a '90s acid wash to iconic Levi's, like the 501 denim (with a tapered leg), Western Shirt, and Trucker Jacket. But they didn't stop there; the collection also included a denim Fishtail parka and coach's jacket. The collection also saw a comeback of the Patta Got Love For All graphic, in a special Levi's Got Love For Patta remix.
OBEY x Floor van 't Nederend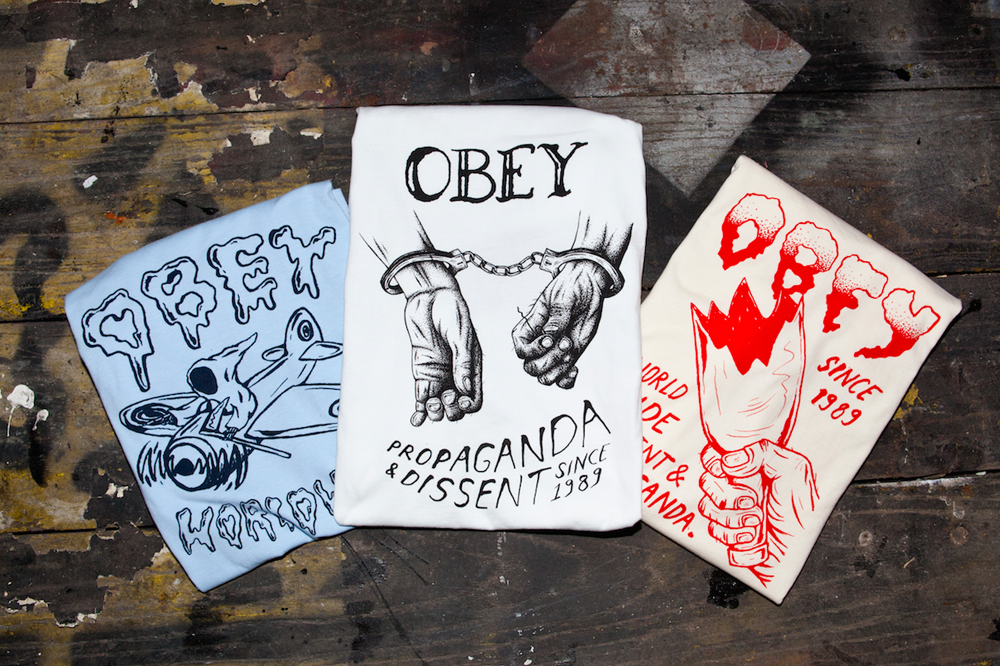 OBEY was founded by artist Shepard Fairey, but the brand has never been shy about putting other artists' work on their garments. Since OBEY's European headquarters is based in Amsterdam, there has been a string of Dutch designers and illustrators who've seen their art being distributed to OBEY dealers all over the globe as part of the Artist Series. In 2015, two Dutchies got their own collection: Father Futureback and Floor van't Nederend. I've written about Floor before on this very website, and he's had a great year so far. He's had two solo shows, various record covers, skateboard, snowboard, and T-shirt designs and, of course, this Artist Series for OBEY, based on the famous flyers he's drawn for Dutch nighttime venue Ludwig.
Onitsuka Tiger x Woei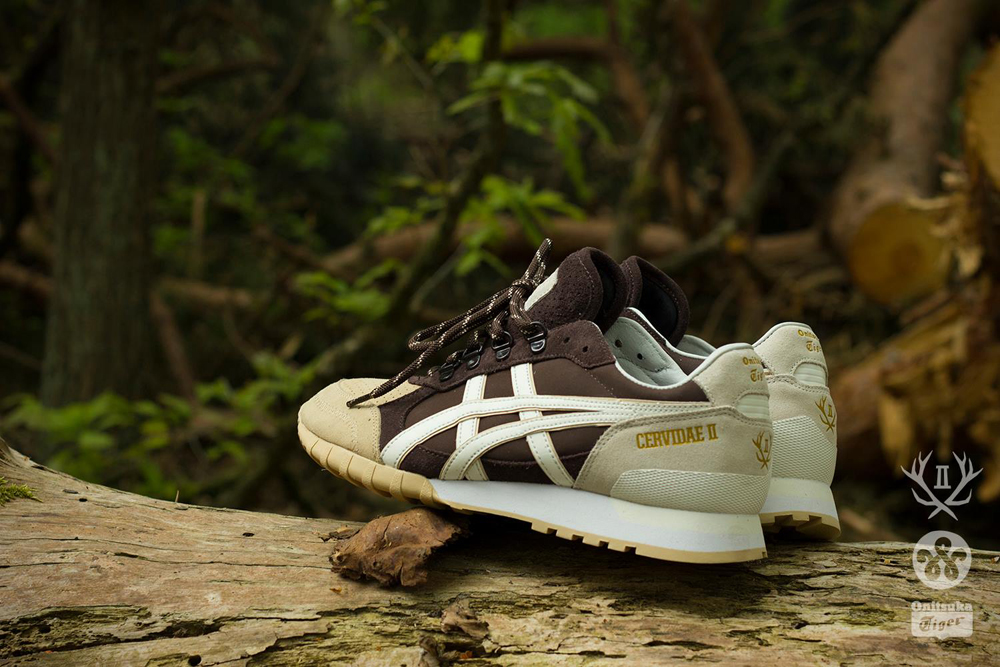 Onitsuka Tiger celebrated the 30th anniversary of their Colorado 85 sneaker by inviting former ASICS collaborators to re-apply their beloved designs onto the classic running sneaker. Among them was Rotterdam based sneaker shop, Woei, who gained international praise for their deer inspired Cervidae ASICS GEL-Lyte III from 2012. Truth be told, the Colorado 85 isn't a shoe that's valued by most sneaker fans, but the Cervidae design turned an often bland GR shoe into a premium sneaker that had kids skipping school to line up all night. The Cervidae II featured the same premium materials and details as the original, including the zig-zag stitching and hiking eyelets, and was packaged with a special long sleeve, socks, and a pin.
Skate Mental x Vincent Vos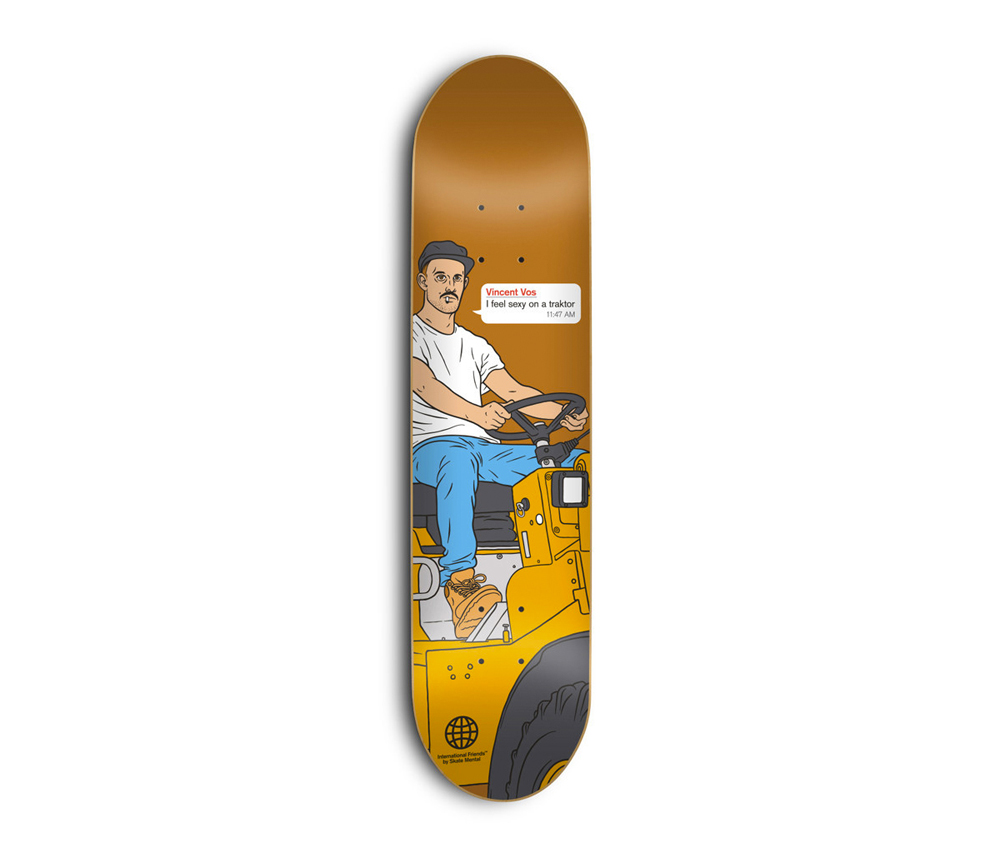 Pro boards are cool, but guest boards are even better. Brands honoring skaters or artists they like by giving them their own board (even though they may not be as well known as the brand's own pro's) is a grand gesture. Perfect example of such a special board is the Foxy Vos deck by Skate Mental, a guest board for Amsterdam skater and creative marketer Vincent Vos. There's no doubt that this board originated from an inside joke between Vos and Skate Mental owner Brad Staba, who can often be found in Amsterdam. The deck features a Loren Purcell illustration of Vos riding a tractor, alongside a text message which most likely inspired the design. Besides this deck, Vos finally released his long awaited self titled magazine this year, for which he collaborated with local artists like Parra, Vincent van der Waal, Floor van't Nederend and Father Futureback.
Filling Pieces x Monkey Time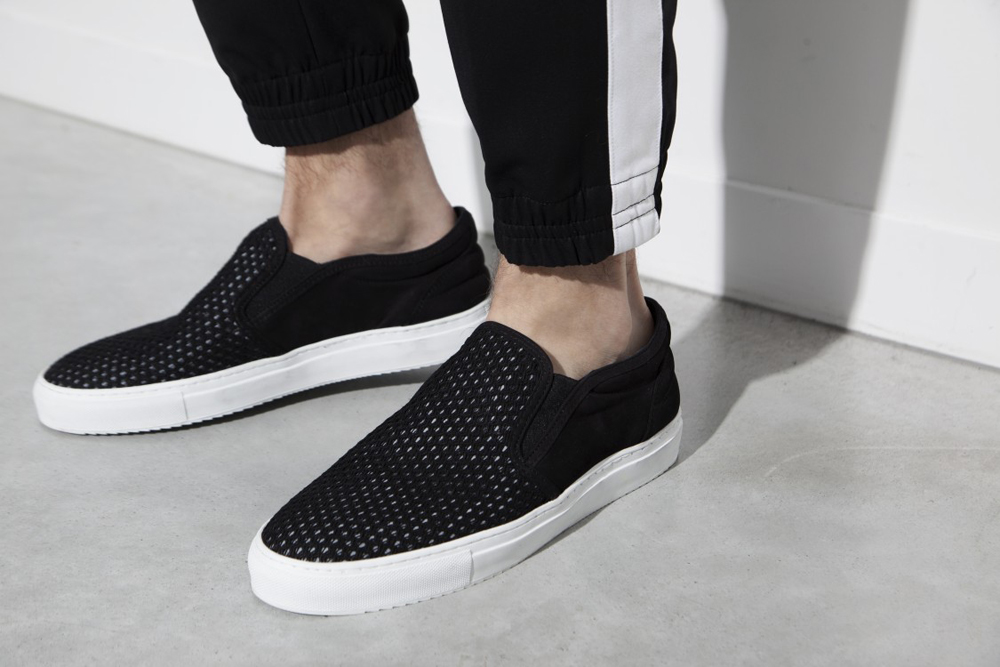 There were plenty of great collaborations for the Dutch sneaker label Filling Pieces in 2015. Ronnie Fieg, Barney's, Raised By Wolves, Daily Paper, Mr Porter, and Harvey Nichols collaborated with the Amsterdam-based brand, and they caught quite a bit of attention with their own sixth anniversary collection and their amazing Jackson Pollock inspired sneaker. But my personal highlight of the year was their collaborative project with Monkey Time, the sub-label of Monkey Time of United Arrows sub-label, Beauty & Youth. The collaboration introduced a brand new sneaker into the Filling Pieces line-up, the Slip On. Fans had the choice of two editions, both black with 3M details. The shoes had an upper of black premium nubuck and a mesh material with silver 3M underlining. One pair featured the mesh and 3M combo on the entire front panel; the other shoe kept it more subtle by placing the reflective material on the heel only. The Slip On was limited to only 40 pairs per colorway, and was only available at selected United Arrows shops in Japan.
Parra x Case Studyo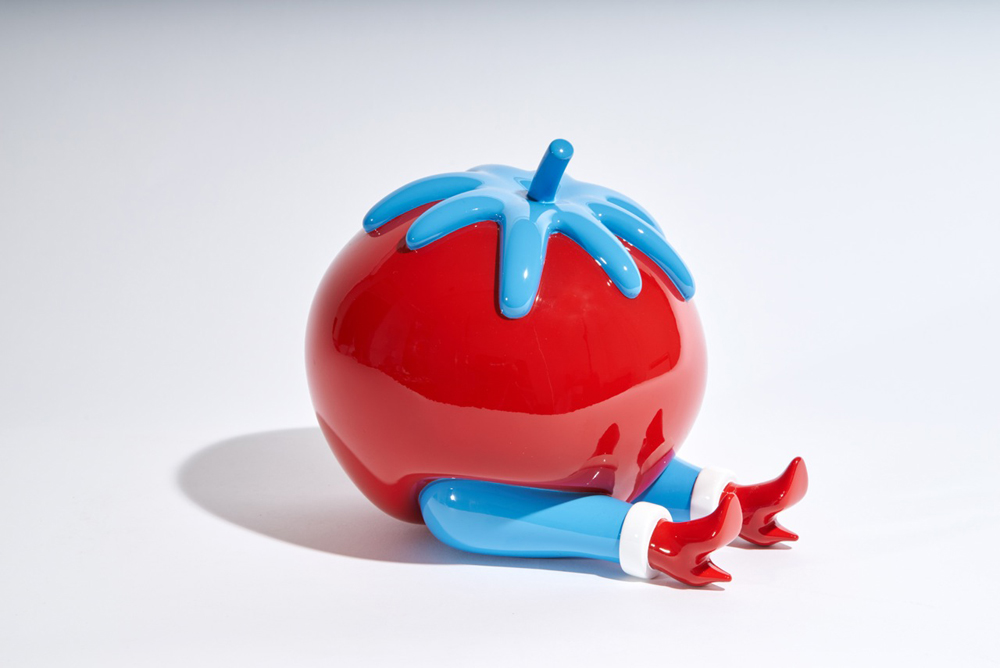 Famed Dutch designer Parra made some big moves in 2015. He had a few big solo shows (including his first ever show in The Netherlands), changed the name of his clothing brand from Rockwell to By Parra, and introduced his homeware line. By Parra Homeware is aimed at those who love Parra's artwork, but can't wear his clothes every day. The collection includes everything from pillows and throw blankets to shower curtains, tea towels, and even an apron. But the absolute highlights are his collaborative pieces with Belgian based Case Studyo. The two re-issued the 2013 Vasa di Culo vase this year but they also launched a new design, the highly limited 'Give Up' apple, a follow up to the Parra x Case Studyo 'Pop Fruit' dancing pear. The apple with legs is exectured in classic Parra colors and displays the melancholic tendencies that Parra's work is know for.
ETQ x Ne.Sense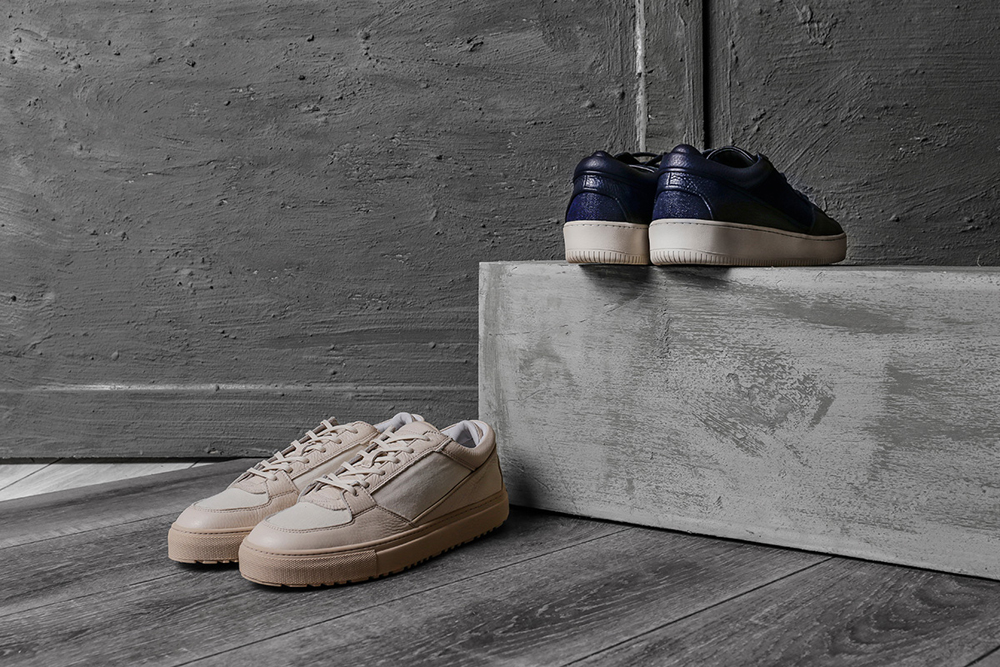 2015 was a strong year for footwear brand ETQ. They opened their first store in Amsterdam, released their first clothing items, and dipped their toes into the massive pool called 'collaborations.' Mid-November, they worked with Taiwanese retailer Ne.Sense for a 'From Dusk To Dawn' pack. The pack included two special editions of ETQ's Low 3 model: one representing 'dusk' and one inspired by the dawn. The navy colored dusk sneaker has an upper of raw Japanese denim (sneaker fades!) and premium calf leather, which sits on an Air Force 1 inspired Italian-made Virtus sole. The off-white dawn shoe mixes calf leather and Japanese canvas on top of a rugged sole. Both shoes came with a matching dust bag, made out of the exact same high-end materials as the sneakers.
OBEY x Ben G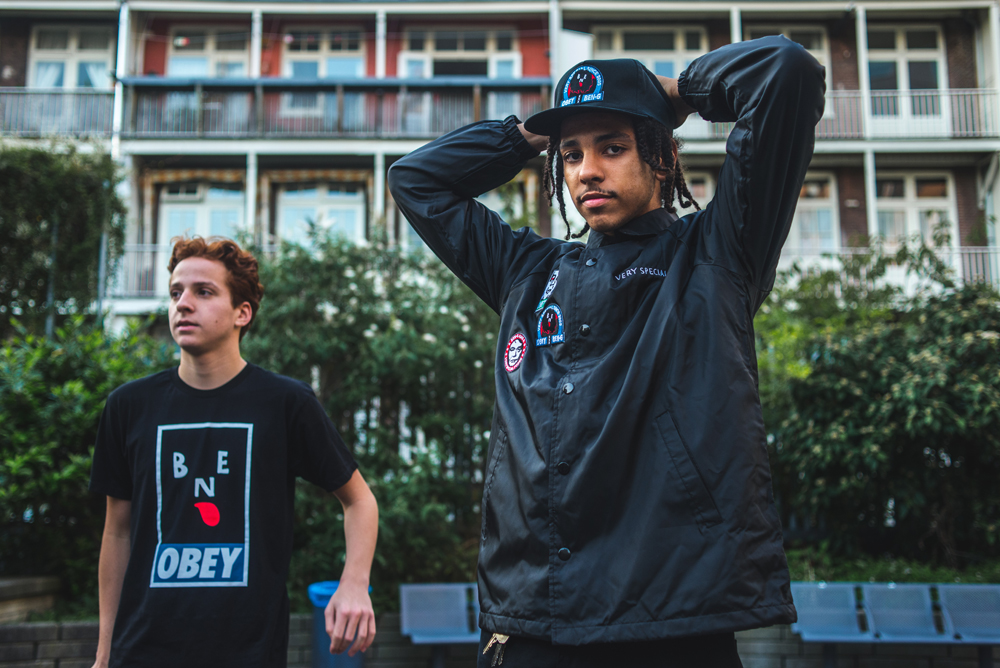 Amsterdam's finest skateshop, Ben G, celebrated its 10th anniversary this year. The shop opened in 2005 as the downstairs neighbor of Patta, which left the building in 2012 to open up shop in Amsterdam's Red Light District. Ben G has since expanded into a three story shop, with the exclusive Very Special store on the third floor, which showcases limited and deadstock product, as well as a small museum. Every year, the second floor houses a special OBEY pop-up shop, which has lead to a few OBEY x Ben G collaborations throughout the years. OBEY and Ben G celebrated a decade of Ben G by releasing a special collection which brings back two earlier Ben G x OBEY collaborative designs: 2010's Andre Has A Very Special Posse (honoring Dutch singer André Hazes), and 2012's 'Stoner' Andre. They're joined by a new Ben G x OBEY logo, featuring the Parra designed Ben G dog. The three logo's were applied to a Ben-G Brigade coach jacket and backpack, while the new logo was used on a t-shirt and cap. A limited amount of patches were available for friends and family.
Baskèts x Ceizer x Pony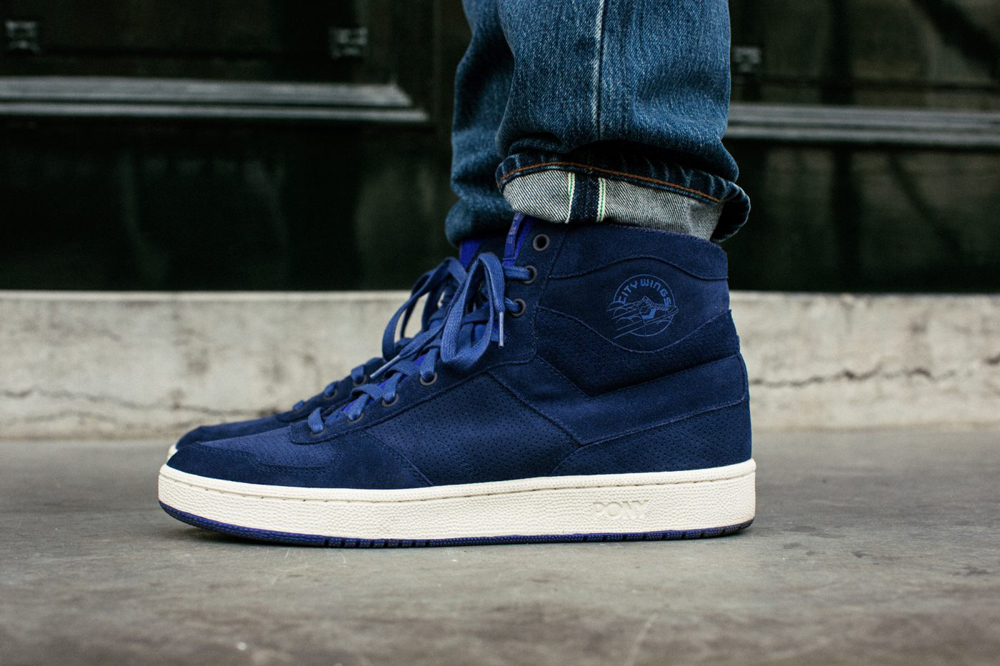 Late 2014, the original investors of the PONY Footwear comeback called it quits. They sold the North American right to Iconix, the company that holds the American licenses to brands like Zoo York, Umbro, Starter, Rocawear, and Ocean Pacific, and pulled out of Europe. This move could've cost us the PONY x Baskèts x Ceizer collabo that had been in the works for quite some time, but thankfully, the shoe did make it to market and released in February. The triple collab was called Blue Collar Kings, a nod to the blue collar workers that used to reside in Amsterdam's Jordaan neighborhood, where sneaker store Baskèts opened their first shop in 2012. The shop tapped long time friend and collaborator, the Amsterdam Pieter Ceizer, to supply the artwork for the collection, which included a pair of all blue PONY City Wings, a special varsity jacket, and a crewneck sweater. The collaboration started of another stellar year for Ceizer from his current home of Paris, France, including collaborations with Coca Cola, Paris Saint Germain, Grant's Whisky, Japanese retailer ABAHOUSE, and the release of his first book.
Daily Paper x Yellow Claw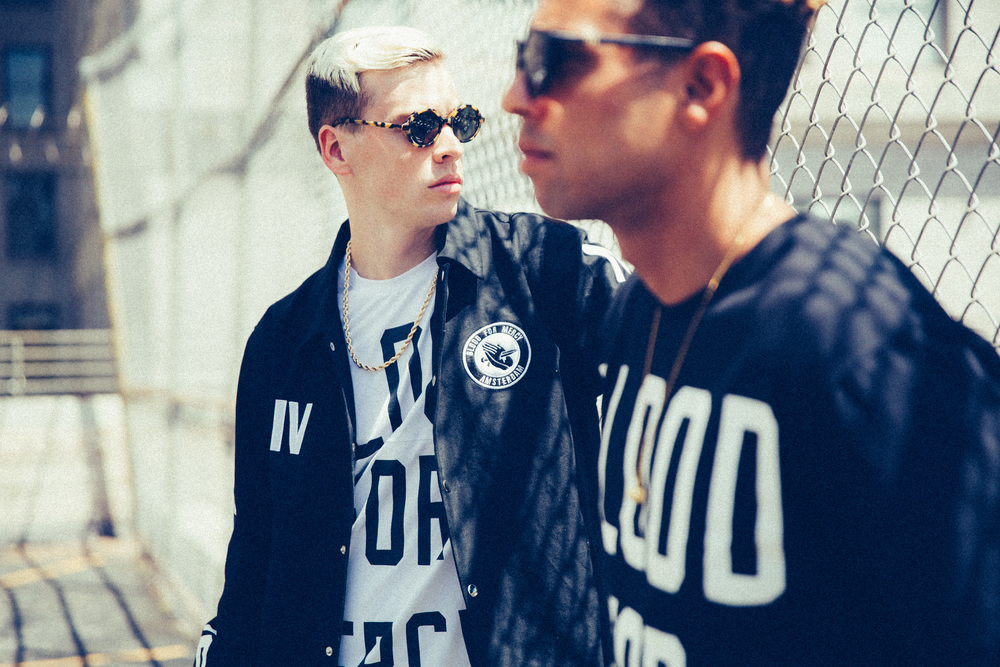 Yellow Claw is one of the fastest growing Dutch music exports. The group consists of DJ's Jim Aasgier and Nizzle, and MC Bizzey, who's signature trap sounds have brought them to festivals and venues all over the world. After releaseing a bunch of EP's, 2015 saw the release of their true debut, Blood For Mercy. The album was released in November on Mad Decent Records and featured artists like Pusha T, Ty Dolla $ign, Beenie Man, DJ Tiësto, and DJ Mustard. Within a month, Blood For Mercy topped the Billboard Dance Albums chart. In 2015, the trio once again linked up with clothing brand Daily Paper to produce their best and most complete clothing collection to date. The 2015 Blood For Mercy collection includes modern streetwear staples like polo hats, coach jackets, a track suit, a one piece swim suit for the ladies, longsleeve polos, and a motorcross jersey, which made this a rare music collabo that goes beyond just putting a logo on a t-shirt or hoodie.
***