I've always been ambivalent about Throwback Thursdays and nostalgic social media. I just feel like, if you're relevant, there should be no space to talk about the past. You should be innovating today, instead of resting on your history.
But, I'm also stuck in a bubble. One in which our audience is fully versed in our story. In my head, all of our supporters have been with us since 2003. The truth is, there's probably a good chunk of them that were BORN in 2003.
So, this time last week, I introduced Wayback Week on The Hundreds' Instagram. Every day I took our followers through some of our brand highlights over the 12 years. I've compiled them all here in one blog entry. These aren't the only important things that happened, but they were the benchmarks and milestones that give you a better idea of how we got to where we are today.
If you dig it, I'll probably be returning every week to the brand's IG (Wayback Wednesday or Throwback Thursday?) to share another awesome memory.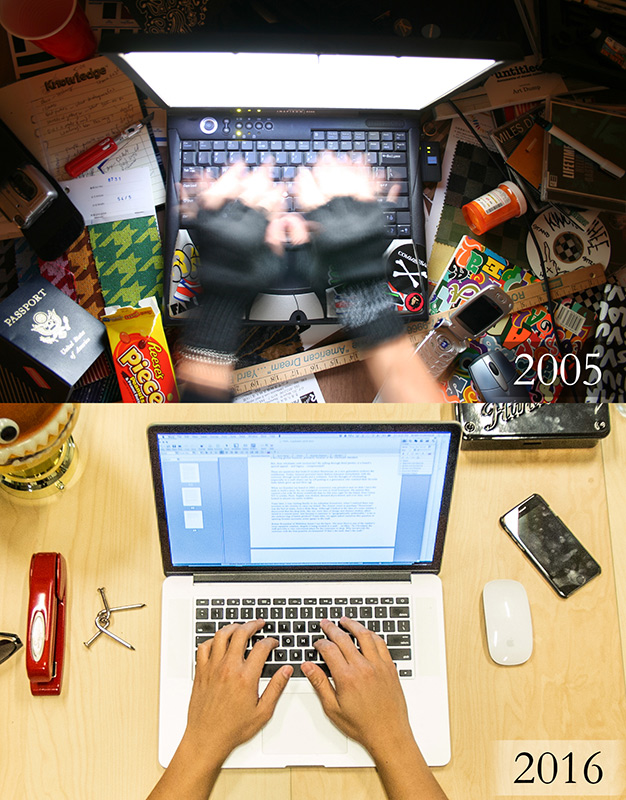 Here's an old snapshot of my 1-bedroom studio behind the In-N-Out on Venice Blvd. The Hundreds started here, with Ben cold-calling boutiques and me at my desk, designing graphic T-shirts. A lot has changed since then, but a lot has also stayed the same.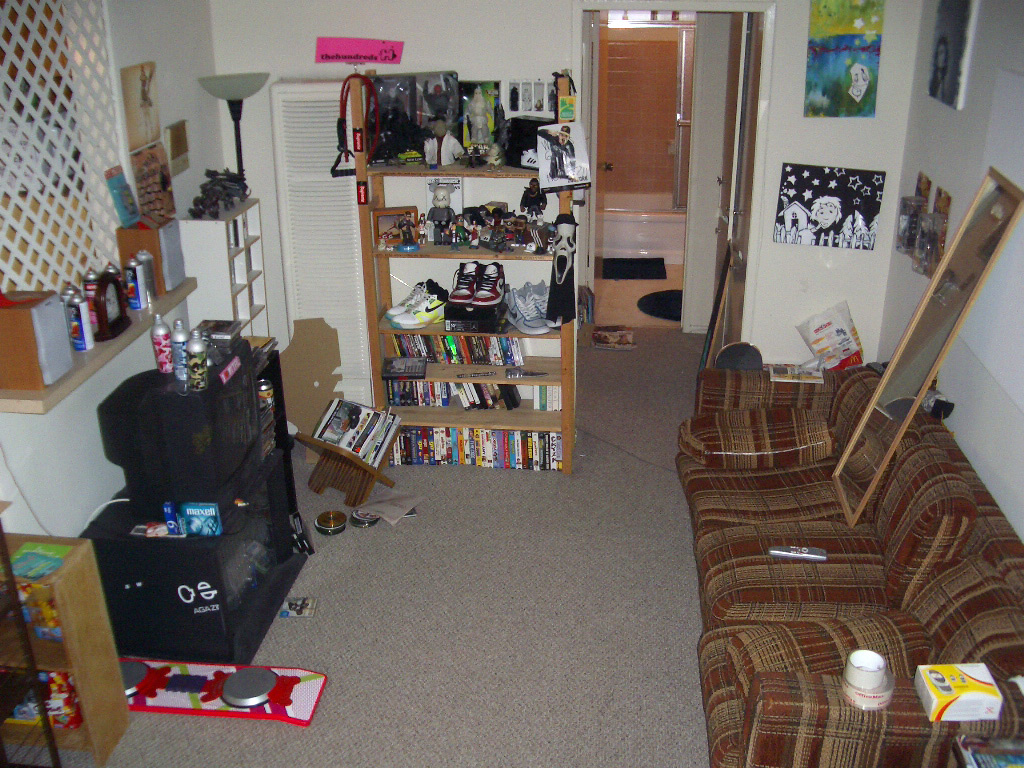 For lack of an Alstyle connect, our first season of T-shirts were printed on American Apparel, which were popular at the time amongst burgeoning T-shirt brands. "Streetwear" wasn't an industry, mediated label yet, but there were many brands in the early 2000s that were experimenting with a new, contrarian design-speak. I was really inspired by an enclave of renegade graphic designers coming out of San Diego, Hawaii, and Hong Kong: Fiberops, irons, HR, in4mation, selfdiscovery.prj, to name a few. They got weird with placements, neon prints, and bold statements. So, of the first set of tees from The Hundreds, this was most influenced by what those kids were doing, although spirited our way.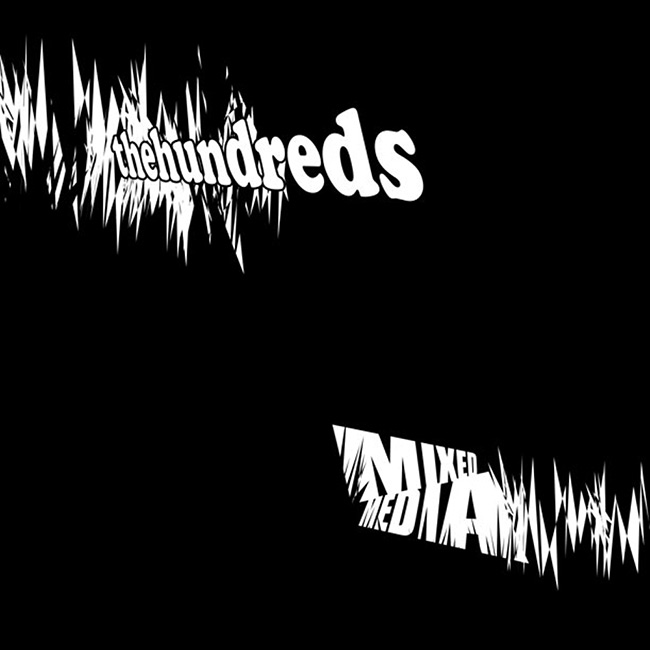 A lot of our early T-shirts were parody-based. This is typical for startup Streetwear labels because they can fly under the legal radar. By perverting a recognizable property, flips are also a fast way to get your foot in the door. In 2005, I designed this rip on "Super Friends," after seeing how quickly close friends were turning against us in light of popularity. It was a total bummer, after entering the game on such positive vibes, but, it was also a lesson that prepared us for the next decade of navigating relationships. The road to success can get narrower and lonelier. Anyone who competes like it's a race, tends to get distracted with comparison, and burns out chasing the crowd. The rest who see it as a journey, dig in for the long haul, and write their own story.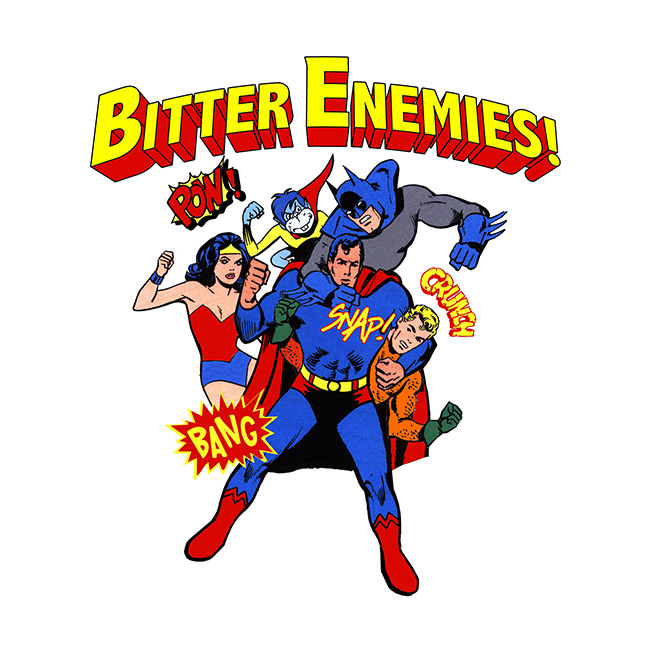 From 2006-2009, The Hundreds hosted an annual Labor Day block party on Fairfax & Rosewood, which laid the foundation for the familial LA streetwear community as it stands today. The next generation of brands and artists convened on the hottest afternoon of the year—many would go on to build their own shops on the block (Diamond, Crooks, Huf), or explode in skateboarding and music (like Tyler, Left Brain, and Jasper in the photo below). The most notable block parties were shut down by LAPD in riot gear, so on the fourth year, we bowed out with a get-together behind the old Brooklyn Projects. Should we bring these back?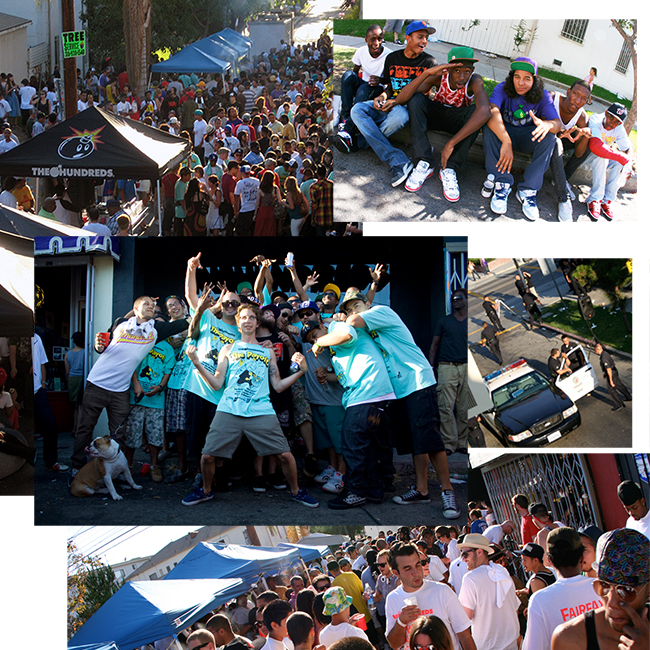 When we built our stores in Los Angeles, San Francisco, and New York, we installed the PhotoBooTH, a touch-screen computer set up to take pictures of customers, and then upload them immediately to our website. We wanted our stores to be a universal experience, so even if you lived in Denmark or Taipei, you could see what was going on inside our world on the daily—how kids were dressing, what they were buying, and who was visiting. On this particular day in 2011, Cudi and Ibn called Ben and I out!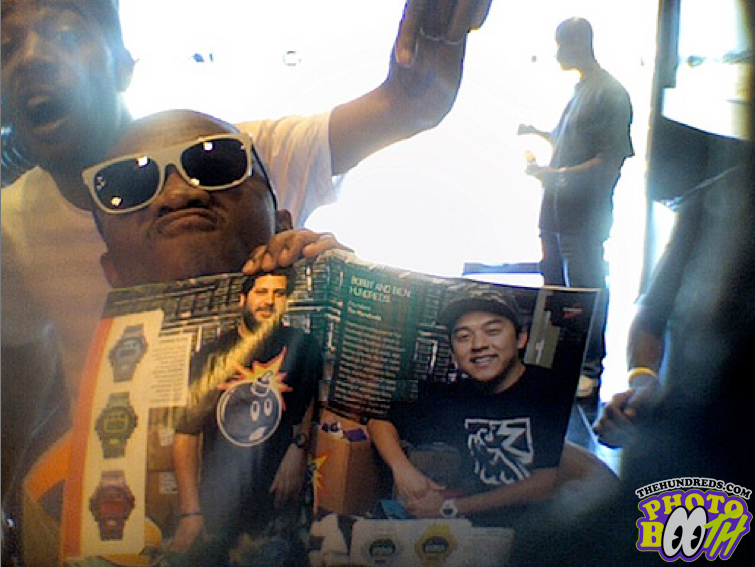 Although we are a men's brand, early on in the brand, we had a sister line called TENS that shared the same inspiration and aesthetic as The Hundreds (there was even a MADAM Bomb mascot). TENS only lasted a few seasons, through a Tinkerbell collaboration and Kelis project. But, as soon as we started moving into the more complicated cut-n-sew game, we decided to play to our strengths and focus all of our energy on The Hundreds.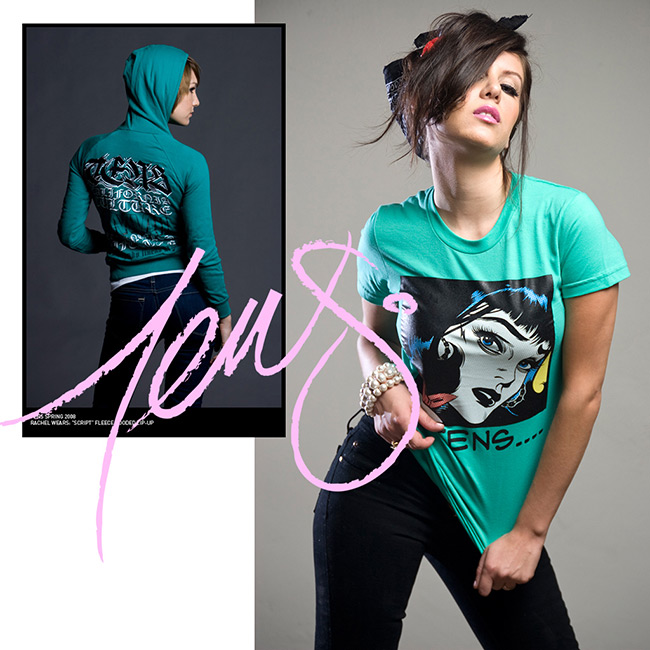 Lookbooks are a big editorial play in Streetwear and fashion these days (Hypebeast just leaked our INTER.ACTIVE® lookbook). Our first was in 2005, and it was published on a pre-Hype German street culture magazine called Beinghunted. Not only was this the first real interview I answered about The Hundreds, it was also the first time Ben and I had shown ourselves, even though our backs were turned (We were two years into the brand and people still had no clue what we looked like). In those days, one of our goals was big-upping Los Angeles, as Streetwear was largely coming out of Japan and New York. So, our lookbook featured the era's prominent Angelenos, dipped in The Hundreds: Rick Klotz of Jive, Arsen of Kendo (now, Hall of Fame), Kinsey, DJ AM, Javs from Supreme, Brooklyn Dom, the Undefeated crew (Eddie, Joy, Jupes), etc.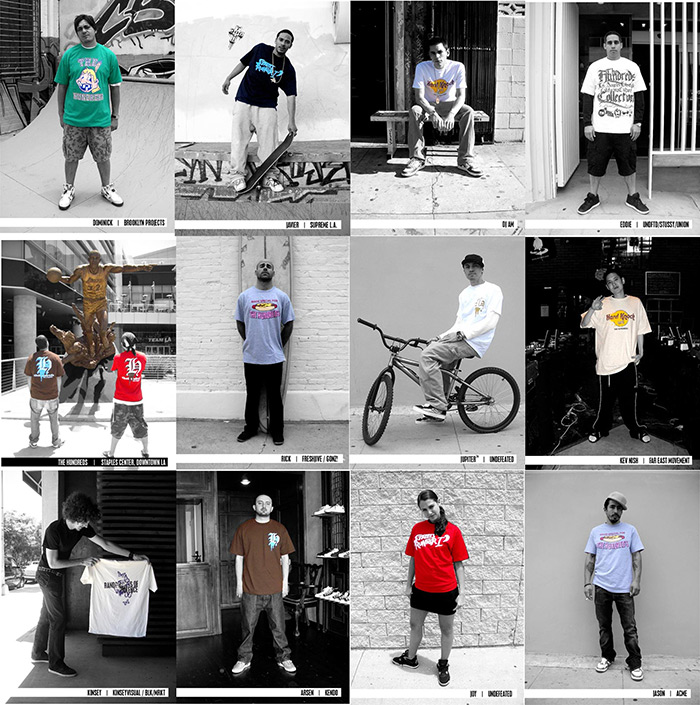 Ever since we adopted Adam Bomb as the official mascot of The Hundreds, he has popped up in all sorts of ways. But one piece you don't have is a black T-shirt with an unmodified, full-color Adam Bomb front-and-center (If you've seen Adam on a tee, he's either twisted in different colors, outlined, or worked into a surrounding graphic). And you don't have it because we've never sold it. The "Black Adam" T-shirt is the rarest product we make, because the only way you can get one is as a personal gift from Ben or I. No one else who works for us has access to these T-shirts, no stores carry them, and they have never been sold.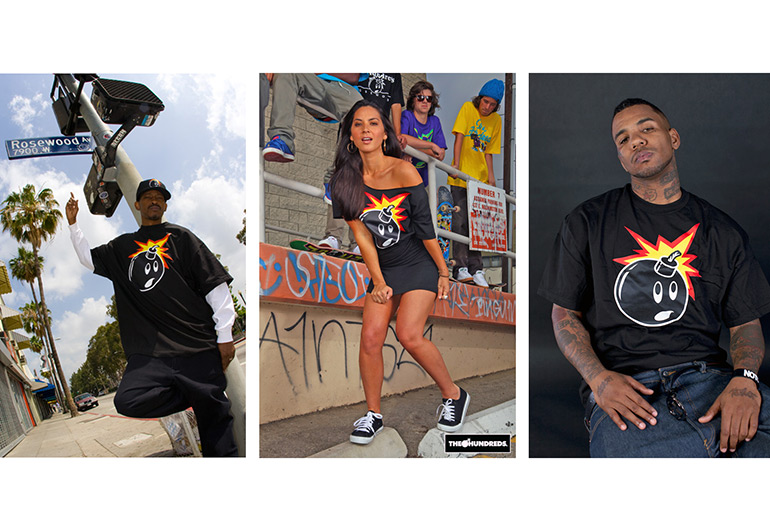 It was the Summer of 2006 and we were excited. Our first offering of cut-n-sew was ready to distribute, we just had to figure out a way to tell the world about it. We were a smaller company at the time- just 5 of us -and the last thing we could afford were professional models. The other option was to use ourselves to showcase the apparel, but we didn't want to be seen or recognized (nevermind the fact that we're not exactly eye candy). So the solution was simple, how about subtracting us from the equation?
With a tripod, some forethought, and a few hours of Photoshopping, the result was one of our favorite lookbooks to date. Sometimes the best ideas are the ones that you are forced to make.
(Also, for the first time ever, I show you the original version)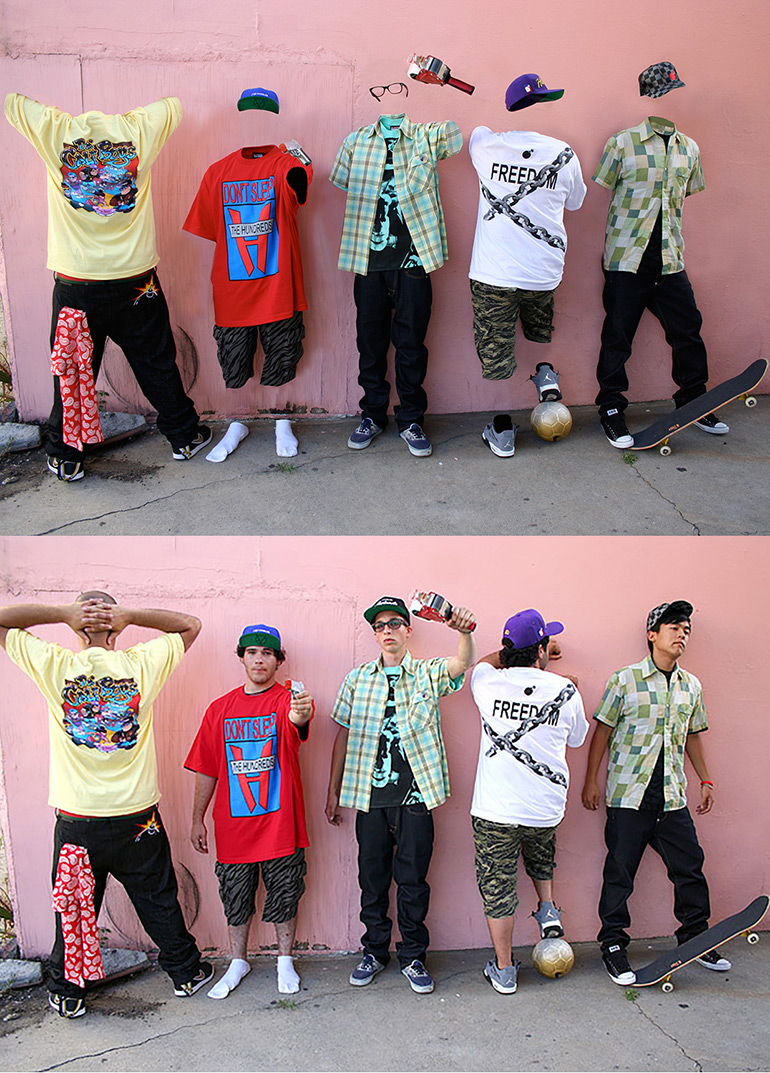 At the turn of the millennium, sneaker collecting was still a niche obsession propelled by Japanese hobbyists and forward-thinkers. It was all about Js, Air Maxes, AF1s, and Dunks.. there were few stateside boutiques that stocked the rare retro (Sportie LA, Chinaman's in San Diego, Nort in New York, Harput's San Francisco, Packer in New Jersey), so once the Internet fired up, the sneakerhead community centralized around Niketalk (NikePark). Streetwear history is almost symbiotic with sneaker culture, and The Hundreds was no different. Niketalk was our first venue and audience. Blogs and social networks were years away, so we used the messageboard as our first marketing platform. At this early 2000s NT summit, you can see Ben Hundreds, Scotty iLL, Methamphibian, and Ben Baller.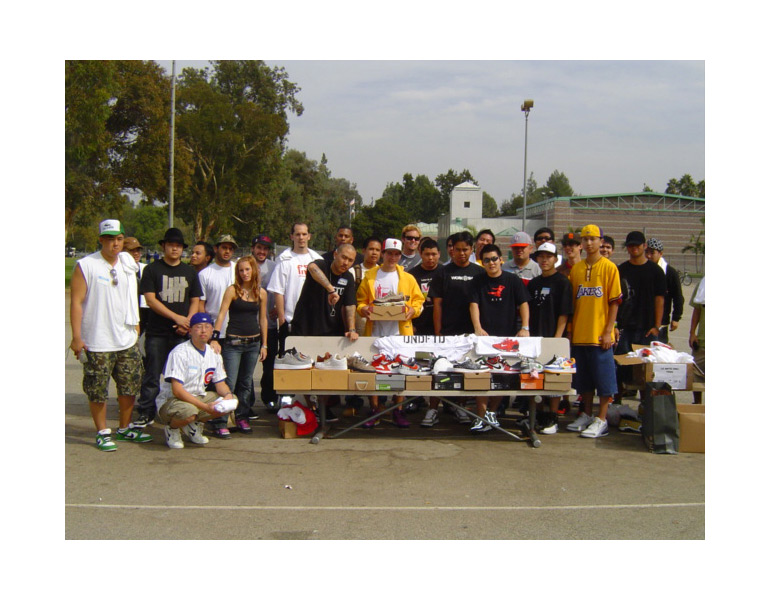 The best designers have something to say, and aren't afraid of expressing it. The best brands have personality and broadcast a point-of-view. Here's a throwback The Hundreds graphic from over a decade ago. It was called "Self-Offense," and like any good T-shirt, I think it speaks for itself.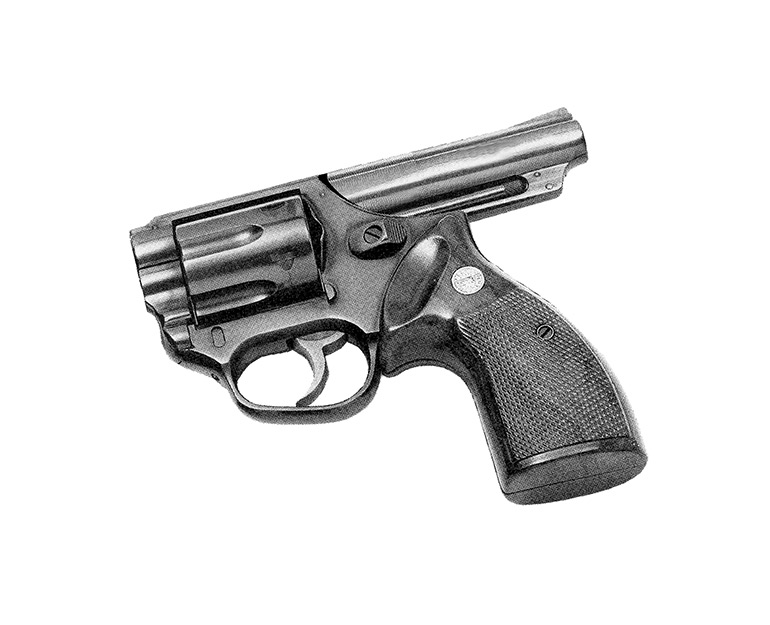 The first time Nas walked into The Hundreds, Morgan was playing a pirated track off of the new Jay Z record.
"Is this the new Jay?" Nas inquired.
Turns out Nas was hearing Jay Z's out-of-retirement album, Kingdom Come, for the first time. He told Morgan to start it over and turn it up, then Nas stopped in the middle of the floor, dropped his bags, and listened to the first single in its entirety. Customers milled around him, gawking at one of the greatest rappers of all time. Considering his and Jay Z's storied past, it was crazy to watch Nas zone in and bob his head to the track. He was completely oblivious to anyone else in the room, deconstructing and analyzing Jay's raps as if he was squaring up Hova right then and there. The song finished. The spell was broken. He looked up and gave a nod.
"So what'd you think?" I asked him.
He cocked his head to the side. "Not bad."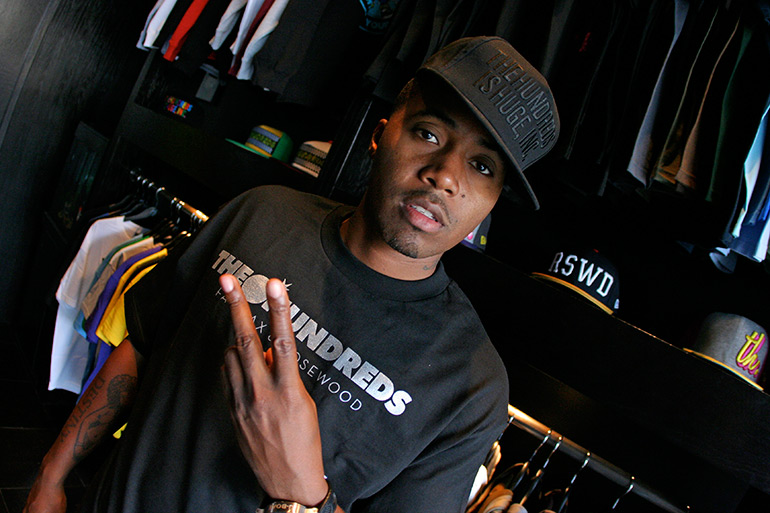 If you're a real fan, you remember this. When Disney first approached us in 2007, it was to acknowledge that we had been ripping them on the low (like, our Mickey Mouse ('05) and chola Belle (TENS) parodies). "Why don't we just do this legitimately?," they asked. We were so underground and indie, that our core fan was disappointed that we'd work with such a big corporation; however, we knew we could play this collaboration to our advantage.
Disney offered us their library of mainstream characters, but we honed in on the lesser-recognized Lost Boys. As always with The Hundreds, a good story trumped the easy and obvious. We likened ourselves to Peter Pan's vagabond kids – never growing up and fighting pirates – so we designated each character for a different LA subculture. We broke so many rules with this project that to this day, the Lost Boys collab is the benchmark for what you can NOT do in partnering with Disney (can't use their font, no logo merging, etc.)
On December 11, 2008, The Hundreds X Disney debuted with lineups at all shops, Kanye West blogging about it, and the collection selling out in hours. Will we ever see another collaboration with Disney?
"P-p-p-please..."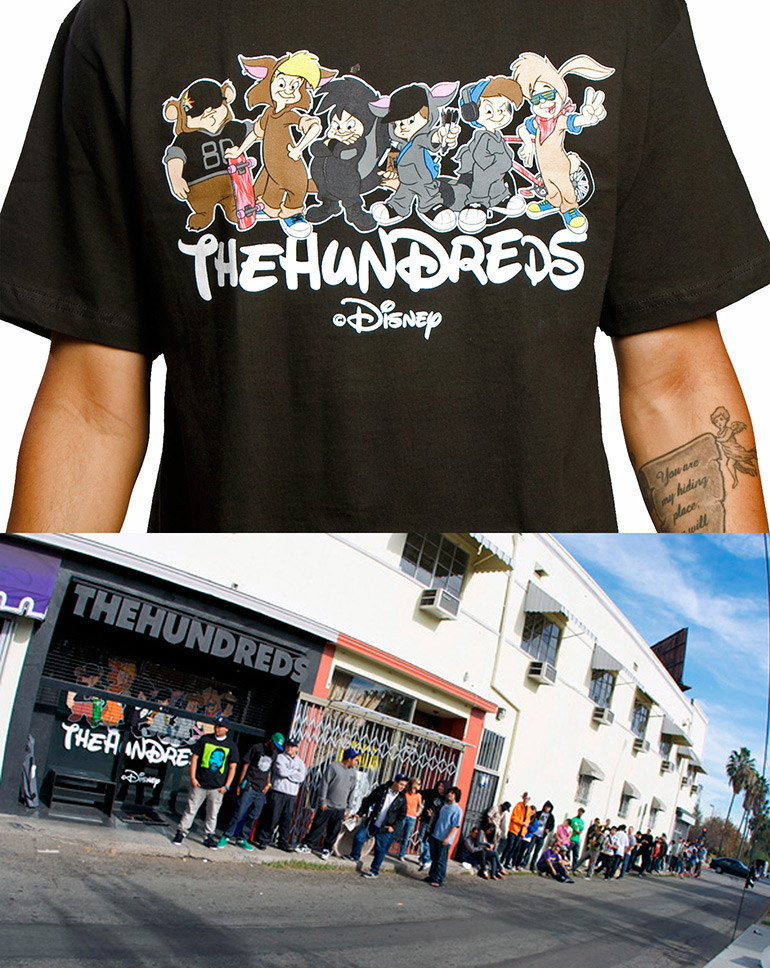 It is always cool when a major celebrity wears your clothing or endorses your product. It's not always the best look, but it's fun to see and it's flattering. In The Hundreds' 12 years, the one that gave us the biggest rise was Jay-Z during his 2006 comeback tour. Fresh out of "retirement," the rapper ran through a 24-hour, 7-city Hangar Tour, prominently repping The Hundreds throughout. Aside from our "Lost" T-shirt, the most notable piece he donned was the "Pins" zip-up hooded sweatshirt. The design (an homage to punk rock stylings) was soon everywhere, from the cover of USA Today to Forever 21 knockoffs.
We were just 3 years into our little T-shirt project at the time. It was a late Saturday afternoon when Ben Hundreds called me, telling me to log onto MTV.com. After a few reloads of my browser, there it was for all the world to see: Jay Z and The Hundreds. I don't think we ever ended that conversation. We just started running around and screaming.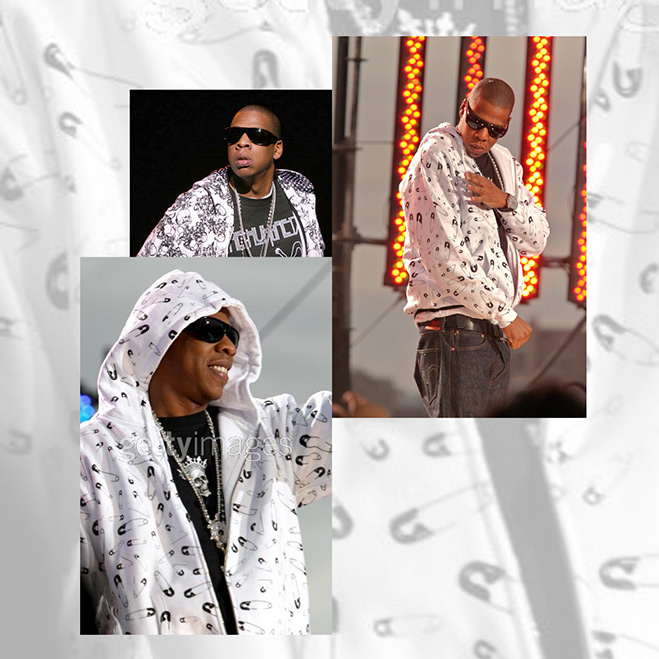 Wayback Week ends where we began. In 2003, Ben Hundreds and I partnered up on a dream project: clothing that tells a story. We had a few hundred bucks, no experience, no connections. The mission was so important, that we didn't even want our own selves to distract from the brand :: MAINTAIN THE MYSTERY :: It was years before we showed our faces or answered interviews (Beinghunted, Complex, Weekly Drop). Today, I am proud to say we are still self-owned and operated. We have never been the biggest or the trendiest (thank God), but we've always been the most authentic—warts and all. You've been there with us, celebrating the highs, fighting through the lows, and partaking in all the delicious lunches in between. We have stayed true to designing quality apparel, backed it up with a purpose and a narrative, and hopefully, inspired many of you to pursue your passion over the years.
Thanks for reading along and supporting us. We're just warming up…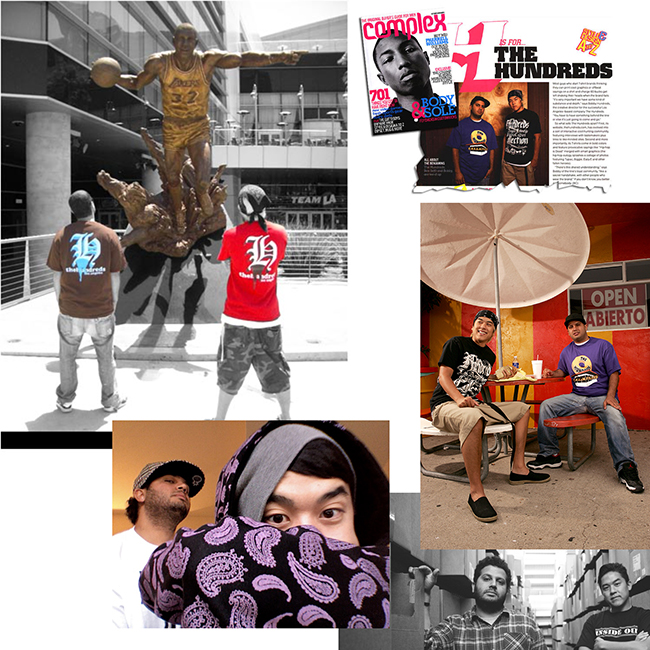 ***