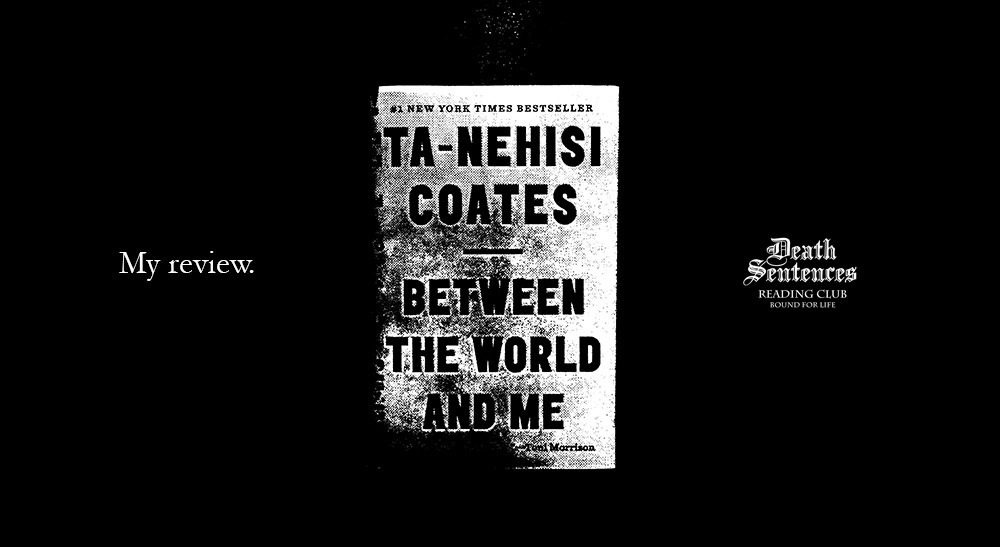 As you may or may not know, I recently started a book club called Death Sentences. There's not much to it. Every month, I'll be handpicking a new book for us all to read together, and you can keep up with the conversation by following the Instagram at @deathsentencesreadingclub.
This past month, we have been working our way through Ta-Nehisi Coates' 2015 National Book Award for Nonfiction winner, "Between the World and Me." I've opened up the Comments if you read it and wanna chip in. Otherwise, jump over to the IG to make some friends and discuss.
(Psst..we begin our next book tomorrow. It's All the Light We Cannot See by Anthony Doerr.)
—–X—–
Today marks the close of our first book, "Between the World and Me," by Ta-Nehisi Coates. A month ago, I had no idea what I was getting myself – and our club – into, by making this selection. Two different people (one being my wife) gifted me the bestseller within weeks of each other. I figured it was a sign. I'm embarrassed to admit I had never heard of the author before.
What I got was a surprise. Maybe, even a shock. A raw and brutally honest letter from Coates to his teenage son, on the Black man's experience in America. For such a short book, there were paragraphs that were impossible to get through. Some were too painful, some infuriating. Never have I seen racism painted in such beautiful, yet ferocious, prose, in a way that made me consider it differently, take it more seriously. As a minority myself, I could empathize with – and even share – some of Coates' ire. But, as an Asian-American, I have absolutely no clue what it's like to be Black in this country. For the first time, I felt like I absorbed that perspective.
I did a little online research and discovered that Coates was inspired to write this book by two things: James Baldwin's 1963 essays under "The Fire Next Time" (a letter to his 14-year-old nephew on race), and a sitdown with Barack Obama, in which he afterwards realized he did not share the President's optimism regarding racial strife. Again, it's intriguing to see such an astringent approach to the issue – bleak, and broken. Coates' language stuck out most, how he constantly affixes hate to bodily harm. I find myself thinking of racism in abstract terms: Discrimination holds people down. But, Coates is like nah, WE ARE PHYSICALLY BEING HELD DOWN and trampled, destroyed. There is an urgency here, a frantic cry. We can ignore it, complain about it, meme about it, but racism is very real and annihilative.
Everyone should read this book. Not everyone will like it. I'm sure many of you disagreed with it, railed against it in your minds, hated it. But, everyone should read this. Because, we should know.
Now, it's your turn. What'd you think?