You know, when the website launched in 2003, there wasn't much in terms of publicizing. I mean, the idea of social media had yet to realize and news blogs like Hypebeast and High Snobiety were still in the womb. We didn't even have the means to buy a print advertisement. I just uploaded the .html and sorta put it out there in the universe and hoped really badly that people would find thehundreds.com, somehow it'd get passed around, that by word-of-mouth you would come to know us. It was that type of faith in our readership – the moving-mountains kind – that pushed us to be the best blog on the Internet.
Not much has changed, and yet everything has.
The Hundreds was devised as a 2-headed project, by which the product was anchored in a lifestyle broadcast through web content. 10 years ago, this was more widely known as a daily-updated blog centered around my perspective and worldview on all things The Hundreds, from street culture to food, L.A. modus vivendi to music. We called it the world's first "social merchandising" brand. We sold personal narratives, not clothing. The Hundreds was – and to this day, remains – a storytelling company.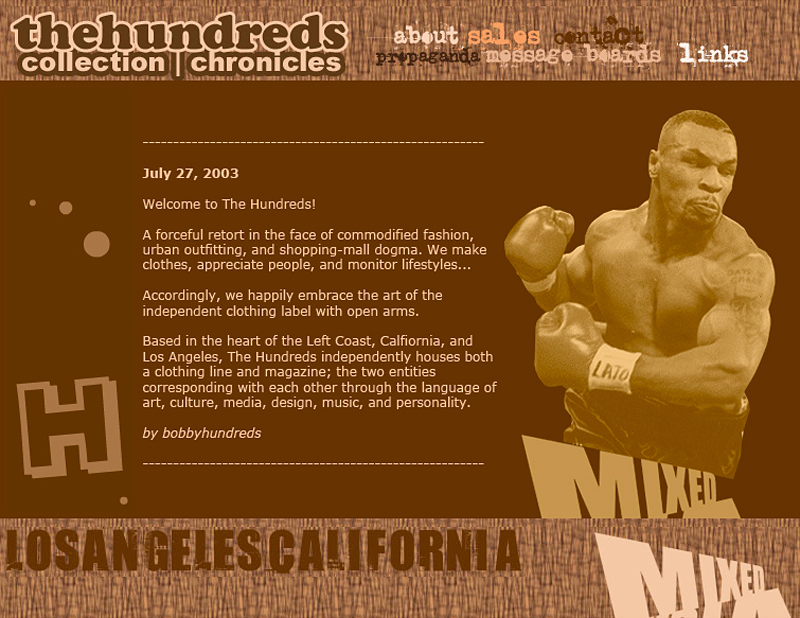 So begins the next phase of The Hundreds. The first decade was focused around establishing the clothing and the business. The second is about media takeover, unique content, and global coverage. We've gone from my voice alone on Fairfax, to a family of international contributors from Los Angeles to London to Brazil. The premise is that everything Cool starts here. We are your ear to the street, your finger on the pulse, we do the digging for you. We don't just post boilerplate press releases or offend with paid-for commercials; we share our opinion, we hold a conversation, and in the end, you come back not just to read the latest news, but to visit your friends and hear of their experiences.
It's that familiarity, access, and honesty that have forever distinguished The Hundreds' site. Our advantage is that we aren't dependent on advertising dollars, we aren't motivated by clicks and stats. We are driven to report quality original pieces, not simply repeat what someone else said. We uphold a journalistic integrity and sincerity that lacks amongst similar culture-based magazines. You can always expect the truth from The Hundreds.

Finally, we're taking it back to what's real and what's right. We miss the culture blogs and news sites dedicated to true Streetwear (vs. obscure, arrogant fashion), organic brand stories (vs. bloodsucking corporate bulletins), and relatable essays that intend to educate and encourage (vs. alienate and condescend). We've been working on this new website for the better part of a year, but in reality, it's been 10 years in the making, a lifetime in the philosophy.
Welcome to the new thehundreds.com.
Well, I guess I should say, "Welcome back."