The first time I heard of Flight Club was when Yu-Ming did a surprise feature on the consignment-based sneaker store for Freshnessmag years ago. Being here on the Left Coast, behind the limitations of a screen, Flight Club New York seemed a shoe addict's pipe dream. A steady inventory of fresh vintage Jordans and every other coveted Nike retro at eBay-beatable prices? I had already convinced myself that by the time I made my next NY trip, the mirage would evaporate. In theory, a store like this, let alone the inventory, couldn't last, could it?
Months later, by the time I finally had the opportunity to set foot into the space, I realized not only that it could, but it did, and all things considered, it actually made a great deal of sense. It's one of those things that made thousands of people around the world smack the sole of their Air Force 1 across their head and exclaim, "Why didn't I think of that???"
Although this is all speculation from my end, it wouldn't surprise me if Damany and the Flight Club team had stepped back and realized that as far as the cult community of sneakerheads go, they had already fortuitously created their own personalized marketplace through online forums and auction houses, devoid of retailers and stores who just ended up complicating matters. In essence, since the vast majority of sneaker-based transactions were/are dealt through online-savvy lay-merchants and average 14-year-old Joes with a username, why not provide a physical hub to root the community, sit back, and let them agree upon their own prices?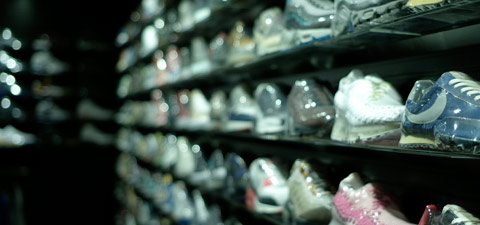 So we got Flight Club NY, our neighbors at Flight Club LA have been open a year now, and Hiroshi has just sneaked us this first image of Flight Club Tokyo, which recently set up shop in the heart of Harajuku, Japan. (Which, if you know anything about the district, brand placement, rent, and the sheer politics of working your way into a space there, then you know that the location alone was a feat in and of itself). Congratulations on the third, fellas, and props to FC for returning the power to the people.
by bobbyhundreds