We're sitting down in Ryan's office, sometime near the end of my tour of the Hurley offices, and I am being straight-up about my feelings on the surf brand.  I look at Ryan's dad, founder Bob Hurley, and Global Creative Director Adrian Nyman, and tell them that although I'm aware of their brand, I've always sensed a disconnect with their ethos and lifestyle.  Historically, if presented with their logo, I'd think of blonde, Orange County kids, with shortboards and perfect smiles, cheesing off a Nike paycheck.  As a minority, independent-minded, counter-cultural dude, I just never saw where I fit into the Hurley picture.
But I also acknowledged that as of late, my impression and understanding of Hurley has shifted.
There are a bagful of reasons for this.  First, there's the innovation.  Ever since Hurley's relationship with Nike came to fruition, the surf company has capitalized on Nike technology and R&D.  Coupled with Ryan's years of tinkering in the Portland lab, concocting swoosh-caliber waterman's product, their resulting "Phantom" boardshorts are the best money can buy (and at a whopping $125 USD for trunks, that says a lot).
And as far as Hurley reaches in the technical space, they've also tilled an organic, creative soil underneath their arts and branding departments.  Hands down, their campus was one of the most inspiring and design-minded workspaces I've walked.  From silkscreen presses to buzzsaws, patternmakers to muralists, this was a creator's paradise.  The Hurley Printing Press program is also indicative of their support and promotion of independent arts.
I'd like to guide you through the Hurley headquarters now, so you can gather your own opinion.  As surf climbs to the biggest its ever been as a culture and "sport" – contrasted with the worst the industry has performed – Hurley's focus and objective are only greater amplified.  Over the next few years, they aim to take surf to a globally recognizable stage, and so this isn't the last you've heard of them.
In fact, it's just the beginning.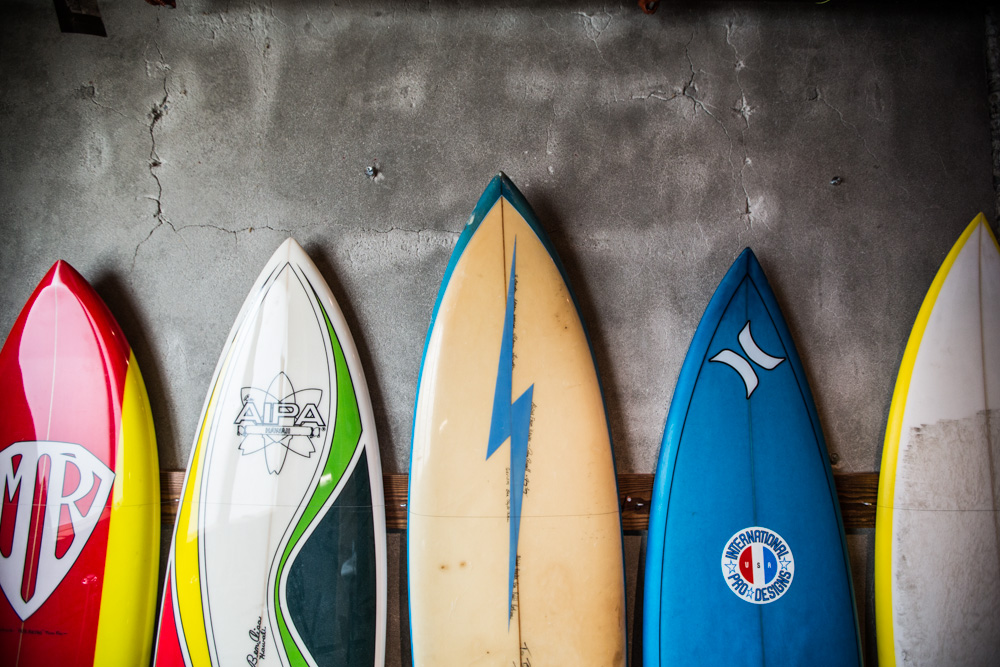 Bob and Adrian in Hurley's lobby: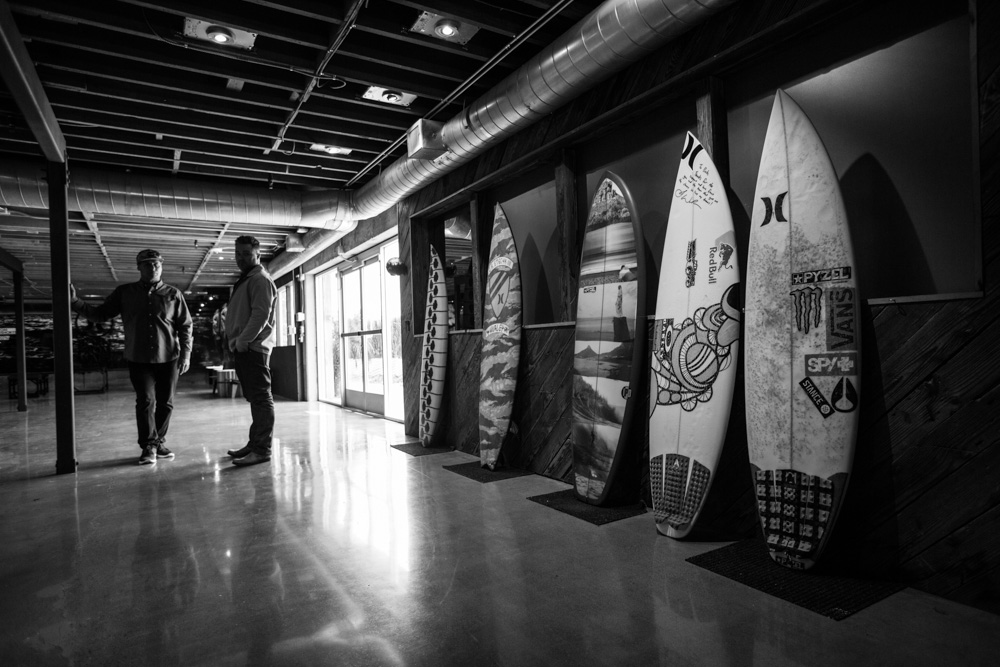 Bob launched Hurley Surfboards in 1979 right here in Costa Mesa.  In 1982, he and Joe K. discovered – and became the official licensee – of an Australian surf label you may have heard about, Billabong.  It wasn't until he gave the Billabong license back in 1998, that Bob launched Hurley as a response to the traditional surf brand.  Reflecting and inspiring a diverse surf lifestyle that embraced art and youth culture, Hurley has thrived over the past 16 years within these walls.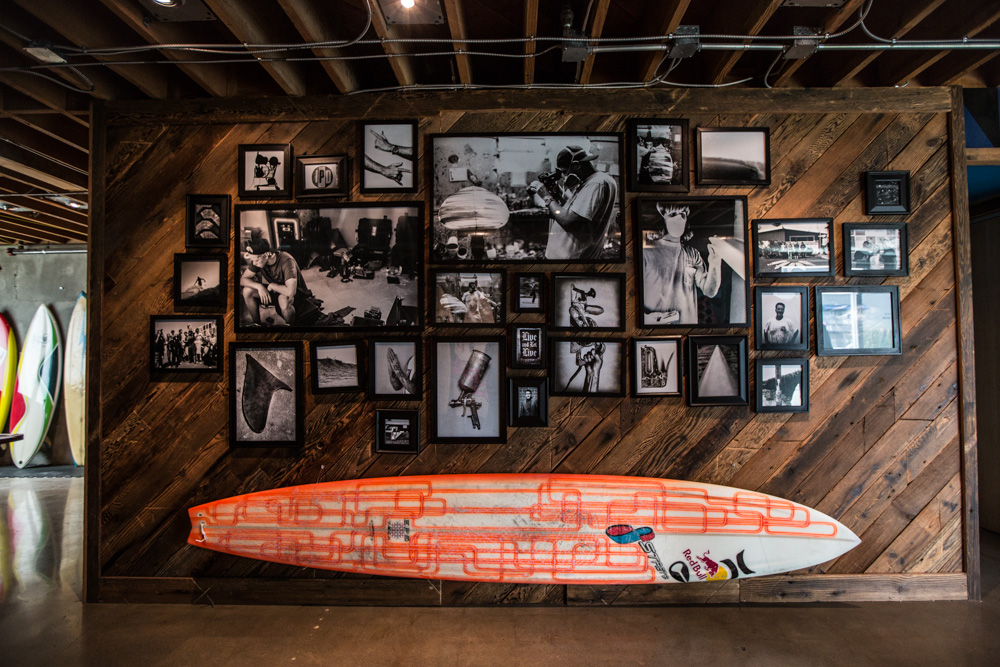 Beyond the Phantom boardshorts, there are the Phantom wetsuits, which are starting to redefine the typical surf garment, not just from a materials story, but also in terms of educating and selling to a potential customer.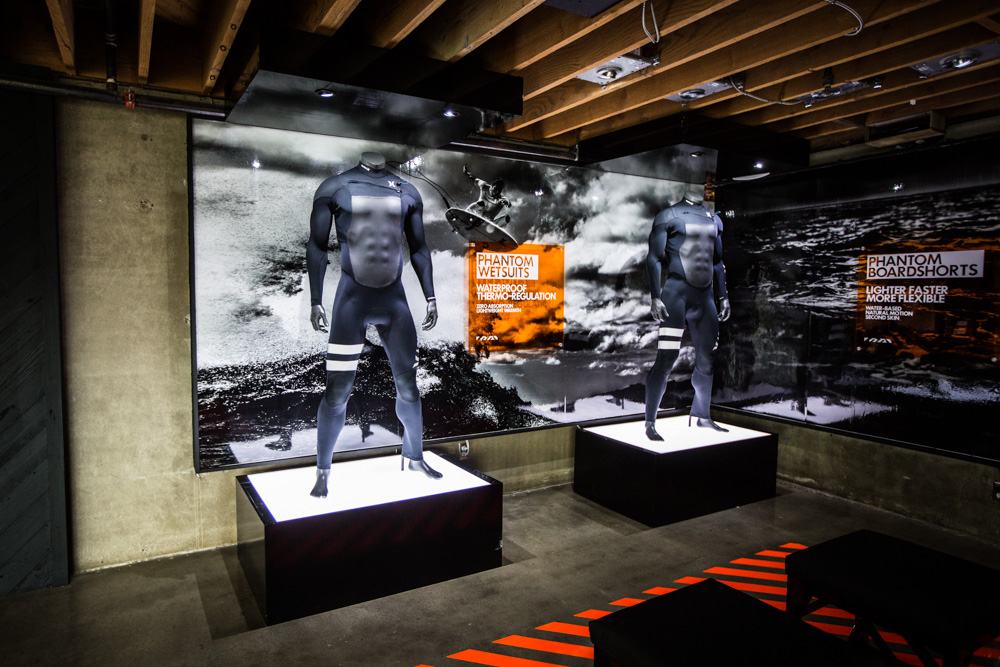 Ryan Hurley just got back last night from an annual Indonesian boat/surf trip with his dad and buddies.  As the founder's son, he is the one spearheading the next chapter of the company, the product, and the brand.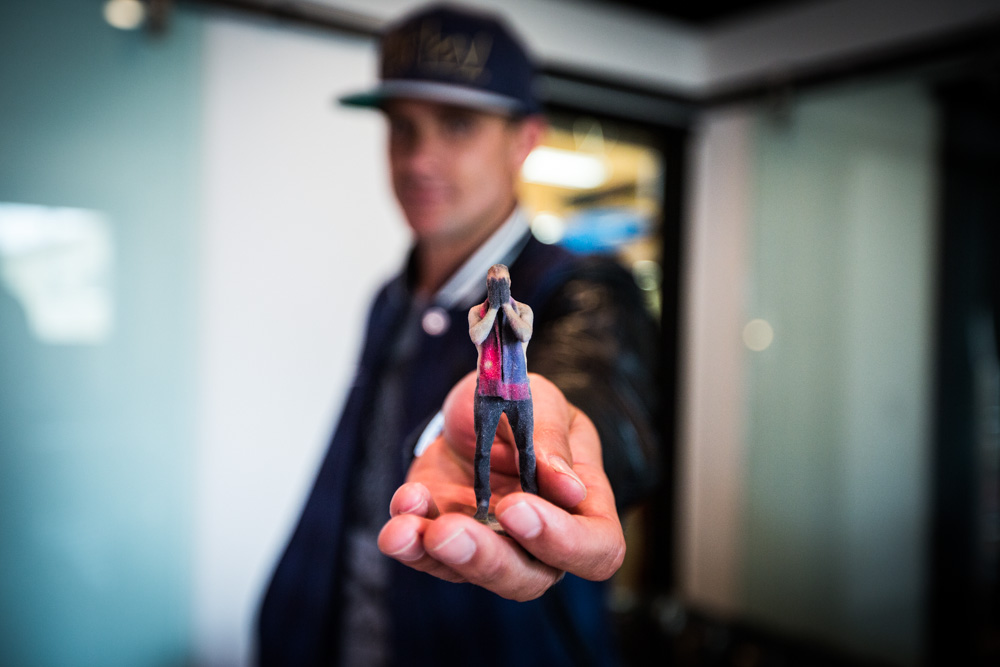 And this is the creative genius, Adrian Nyman.  Adrian is responsible for this cool line I looked up to back in the late '90s called NC Collective.  It's with his involvement and under his direction that Hurley maintains relevance and identity.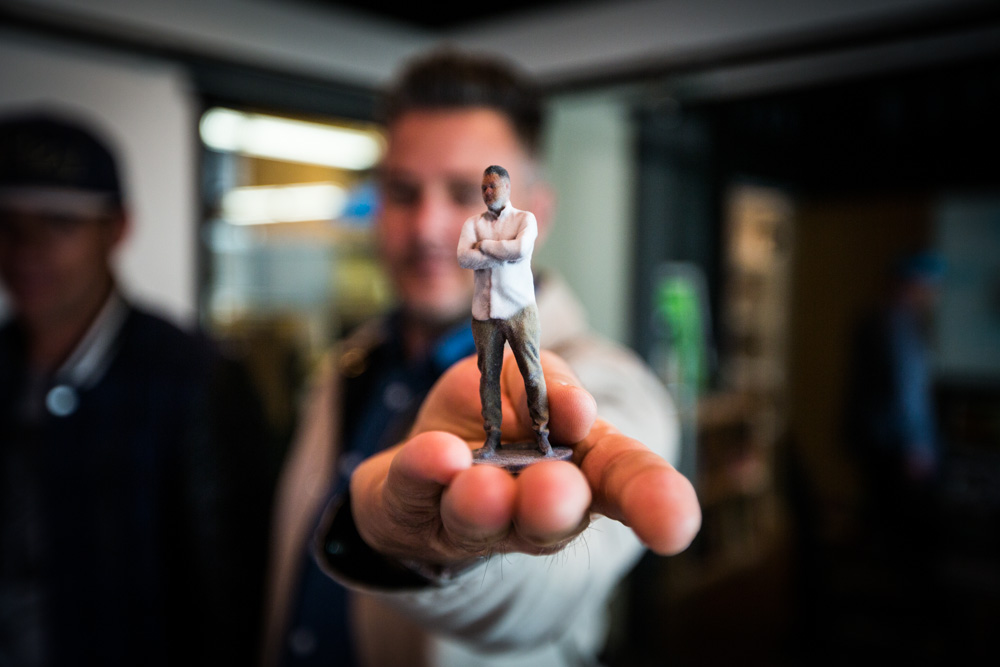 When I got to the Hurley offices, one of the first doors belonged to Craig Stecyk.  It took me a few takes to accept the fact that the icon actually works here. Always the consummate nice and humble artisan, Craig Stecyk is practically an urban myth to me.  And not only is he on staff at Hurley, he's one of the earliest ones here everyday and the last to leave.
Turning the corner into the graphics department, Bob pulled Stecyk out of a meeting with a young designer and brought him around.  I'm a believer.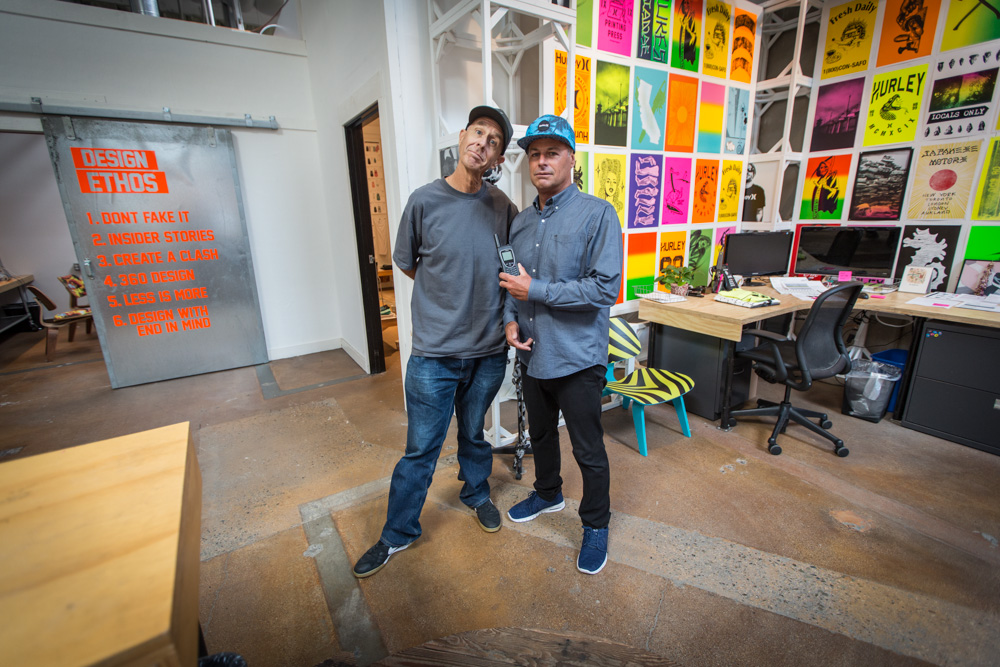 I wish I had snapped more photographs in Bob's office, but we got caught up, talking about our respective businesses and where we're at and headed.  It was really cool and comforting to see our position from the veteran's perspective.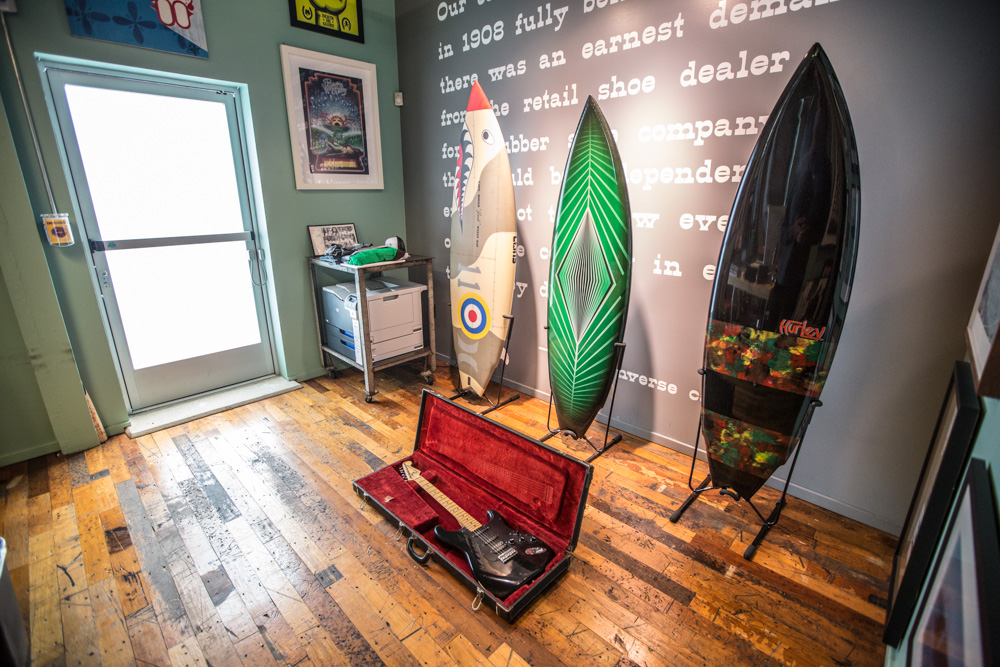 Of everything I saw inside, this was the most coveted.  It's an exact replica of the Nude Bowl by Lance Mountain.  Bob almost felt guilty for having it and said he'd probably have to give it back to the legendary skateboarder artist one day.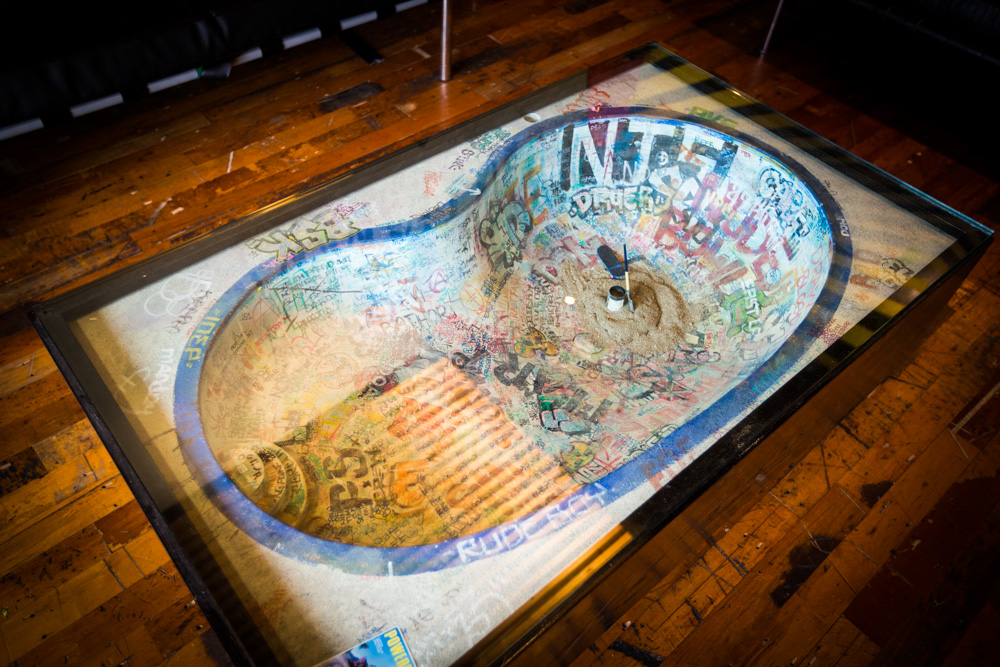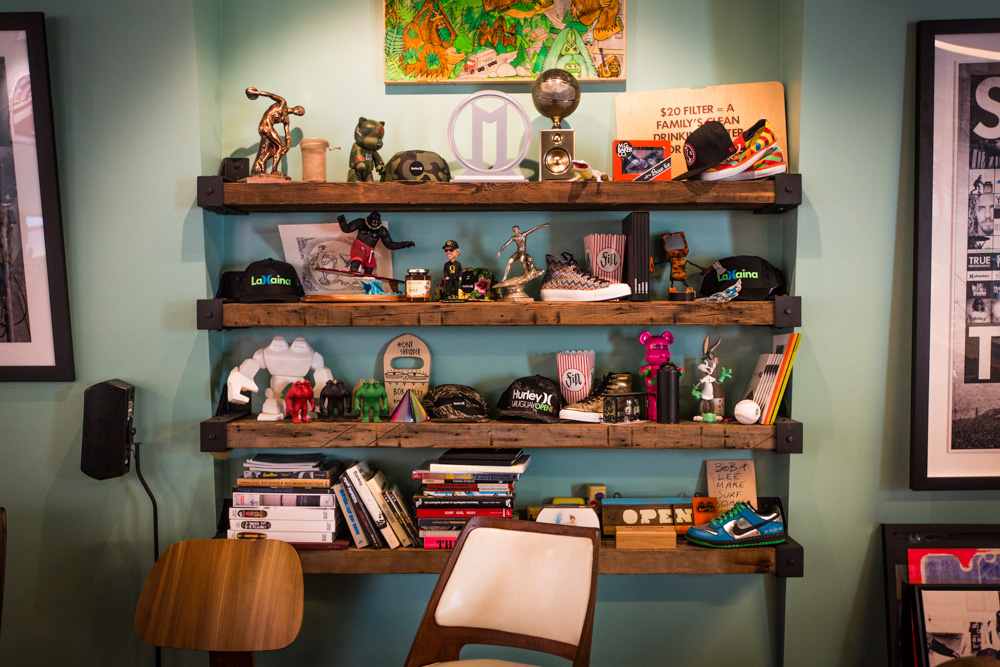 By the way, this is the inside of Stecyk's office.  Immaculate.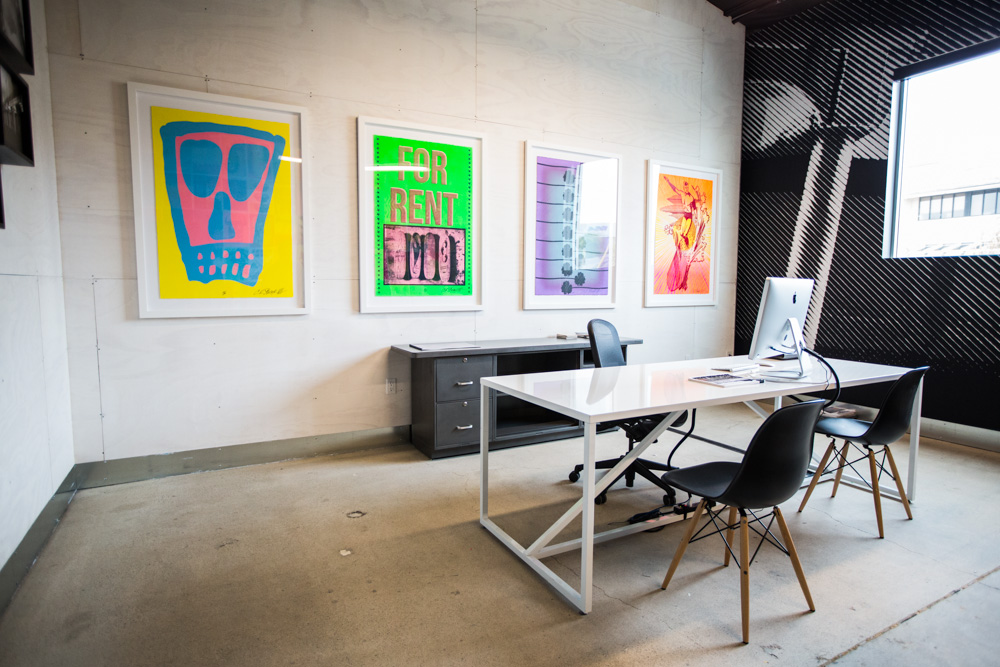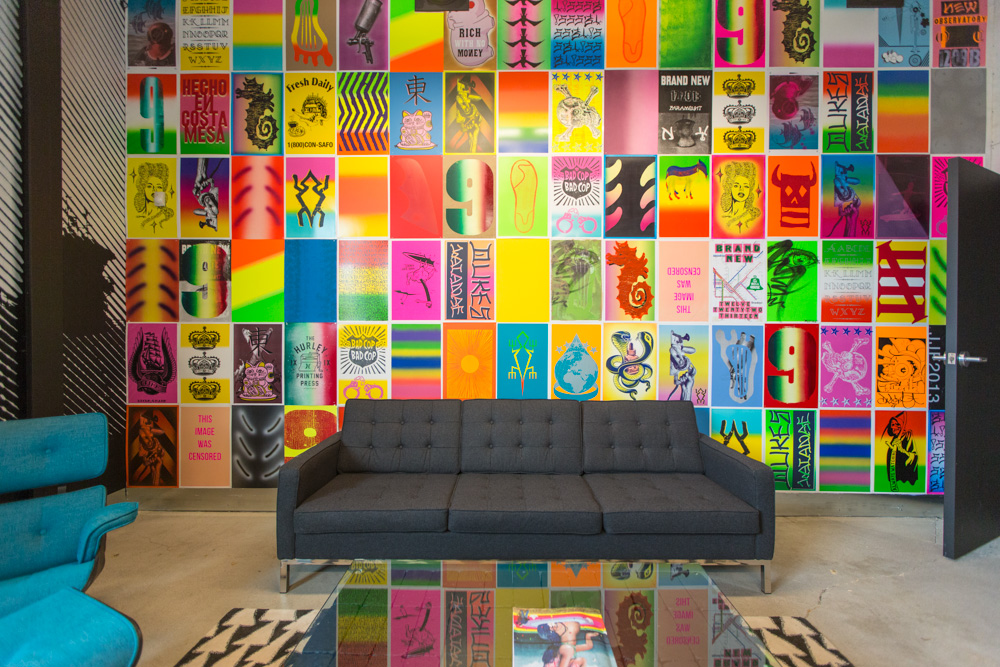 You can see the influence of Craig Stecyk's hand in Hurley's current aesthetic.  I'm standing inside their T-shirt room, showcasing where the brand is headed as far as graphics and bodies go: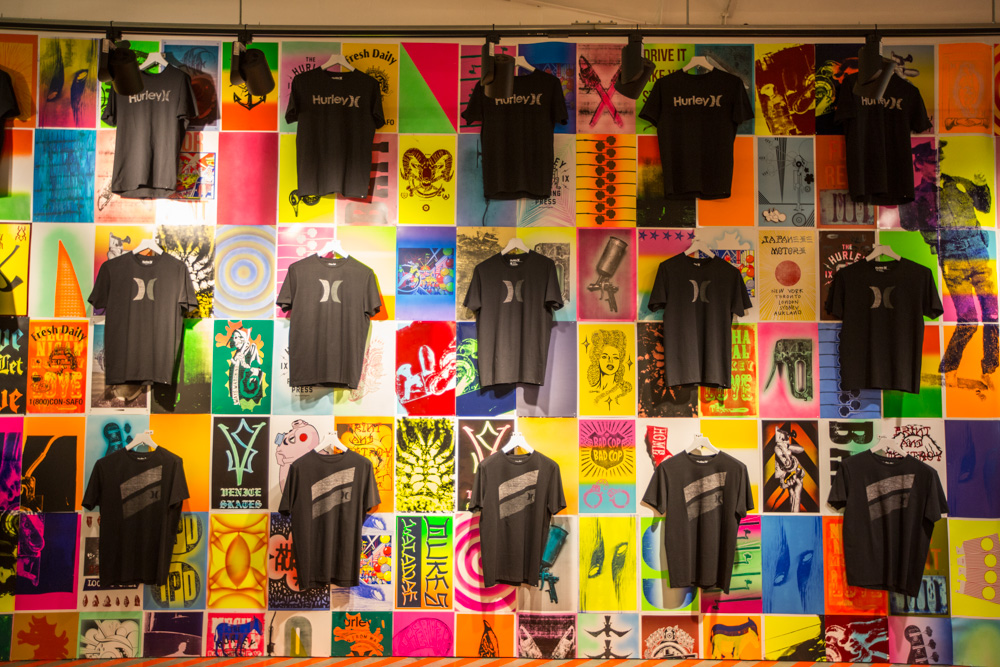 Thinner and warmer. Turned inside out, this is the future of wetsuit technology by Hurley.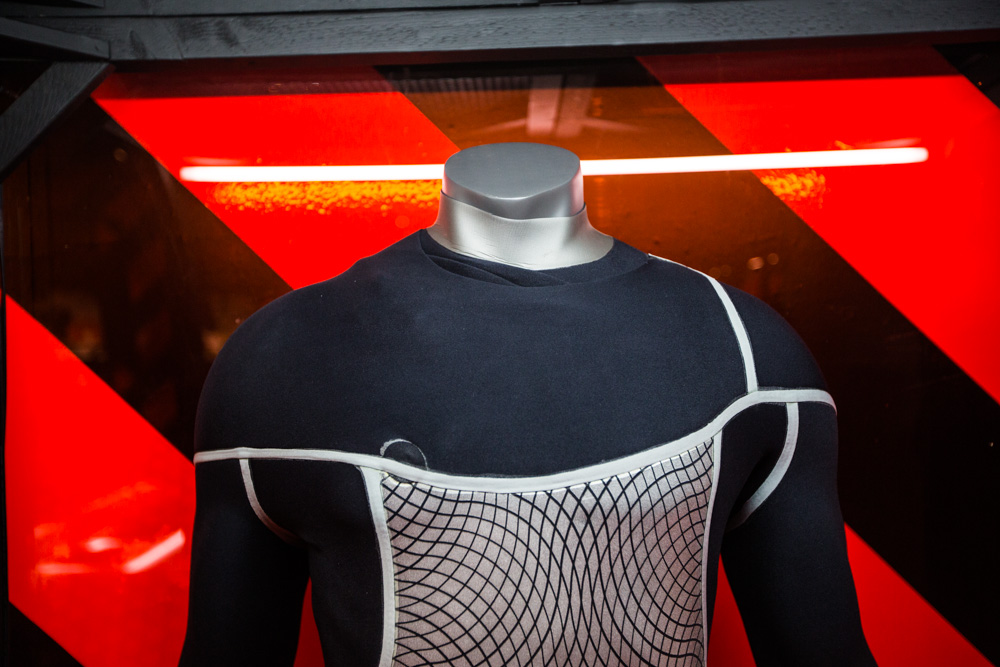 The history of the Phantom boardshort, which has set the tone for Hurley these last several years.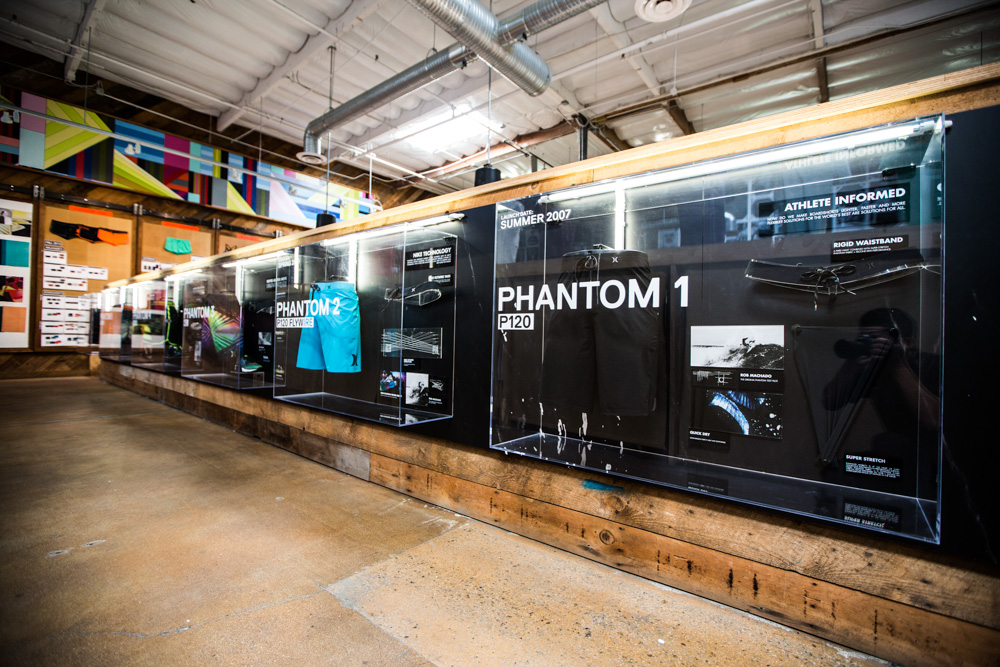 Much of that innovation with boardshorts is incorporated into waistband technology. Ryan's work has been so transformative and revolutionary, that Nike is now instituting the breakthroughs across other sport attire.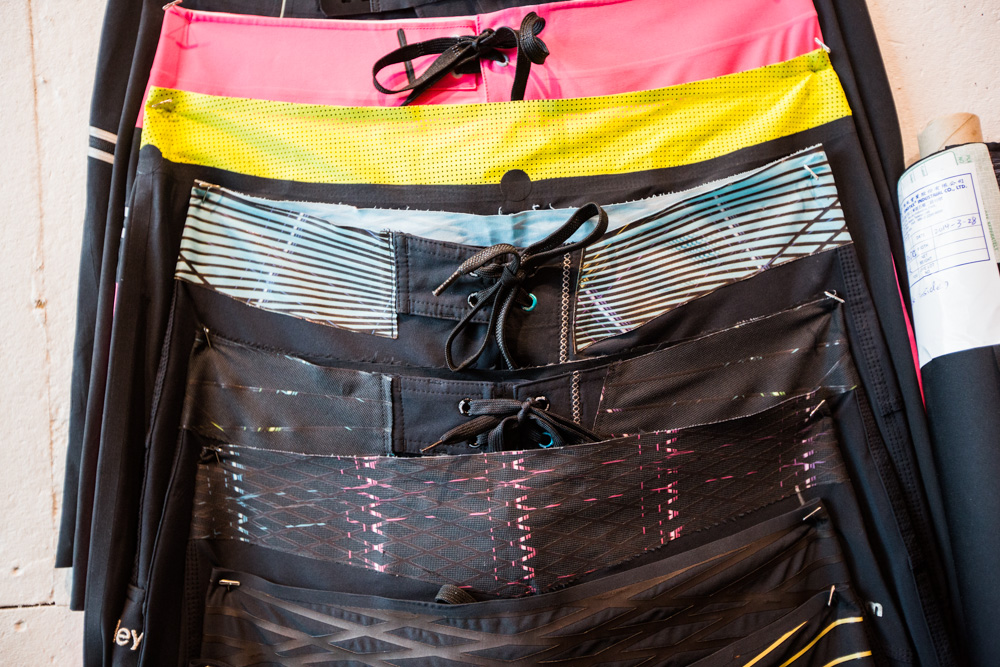 Nike's presence can also be felt right at the soles of your feet.  Hurley's Phantom sandals feature the wildly popular Nike Free sole: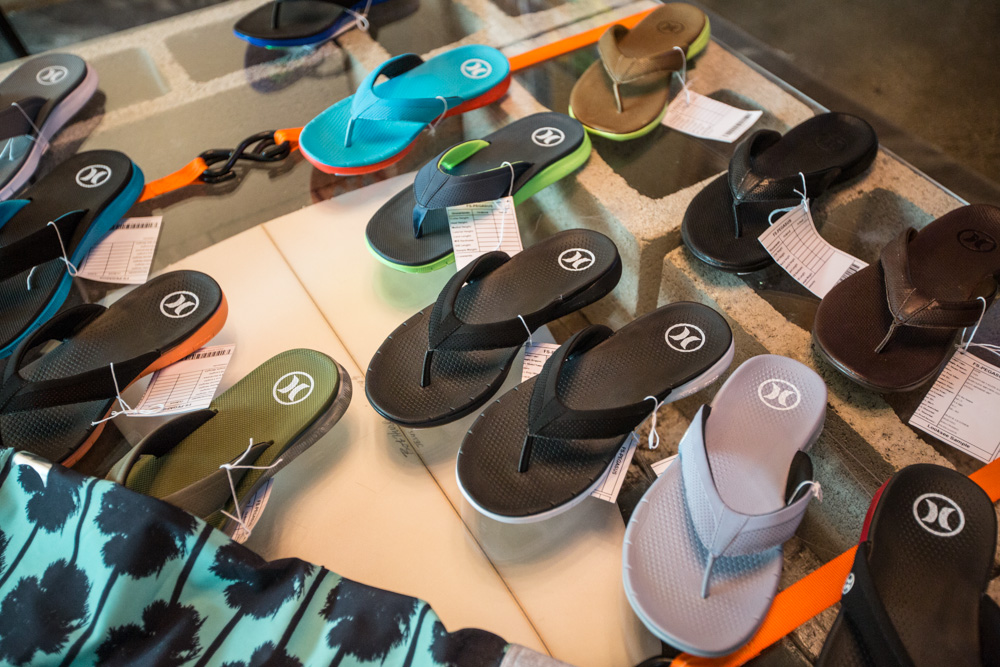 In some ways, the Hurley offices are just like any other apparel brand's workspace, albeit a big larger.  This is one corner of the Graphics room: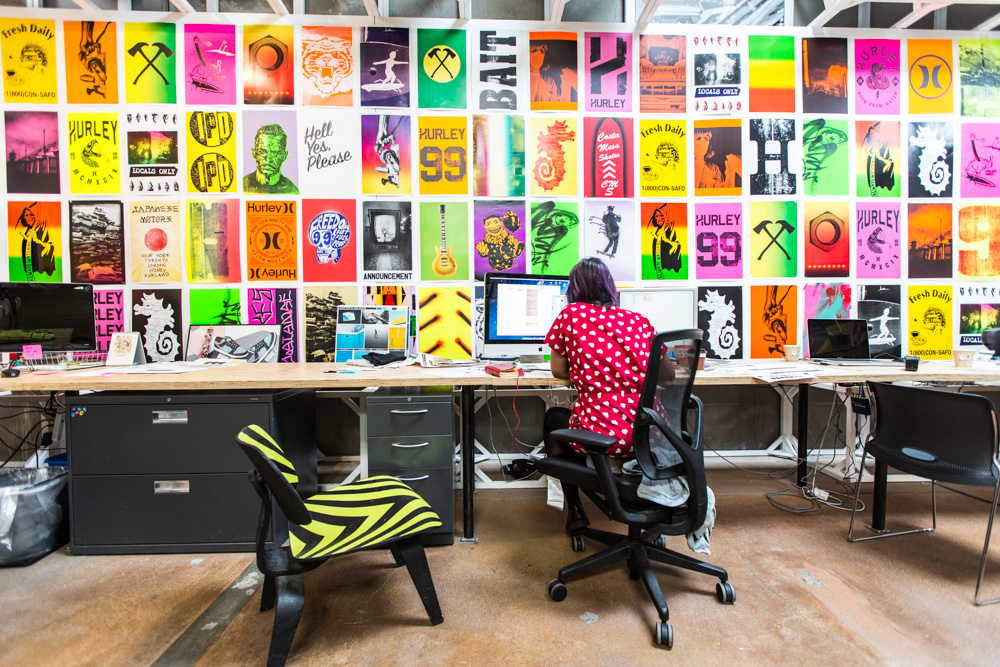 Inside the Women's department: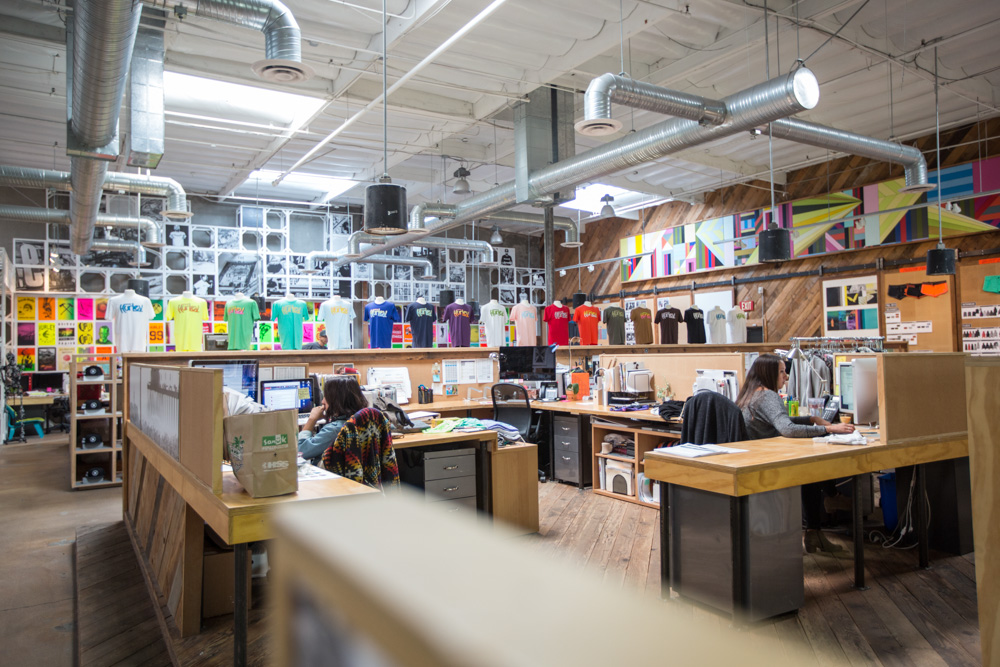 The Marketing room: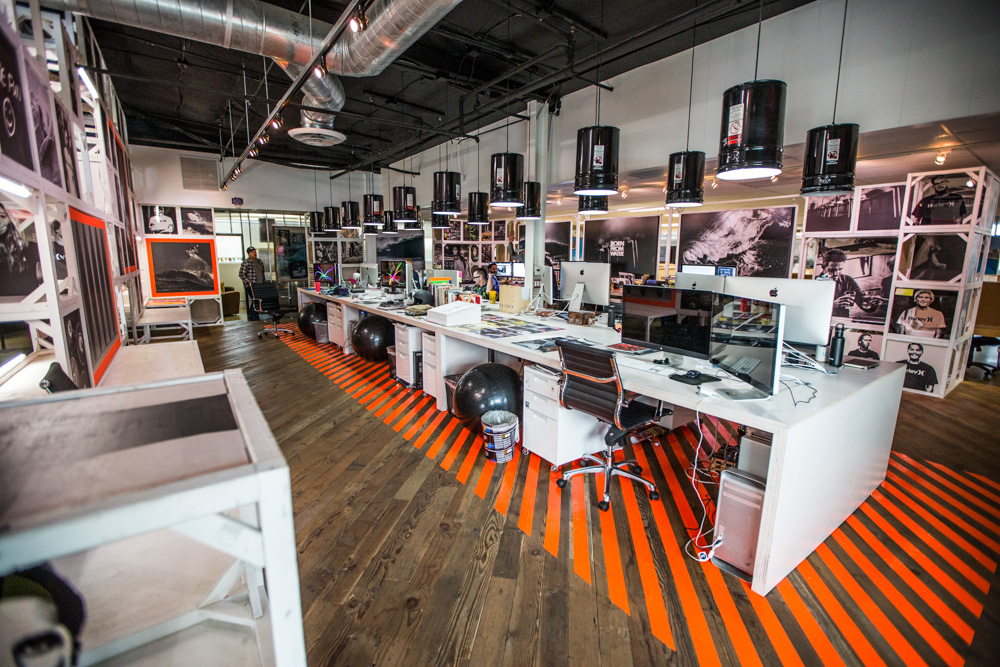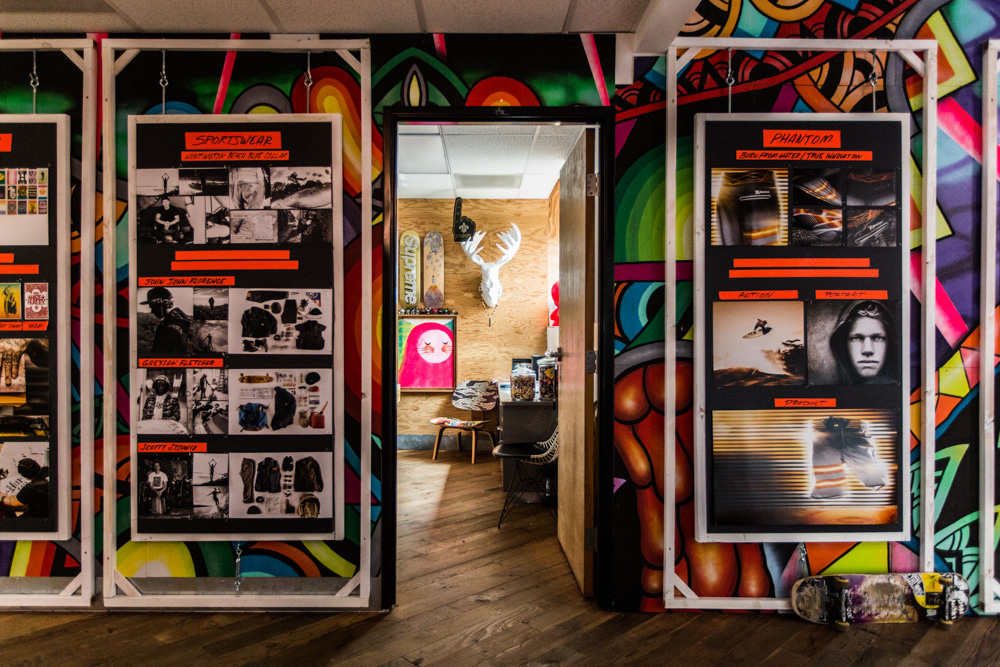 The social media and online offices: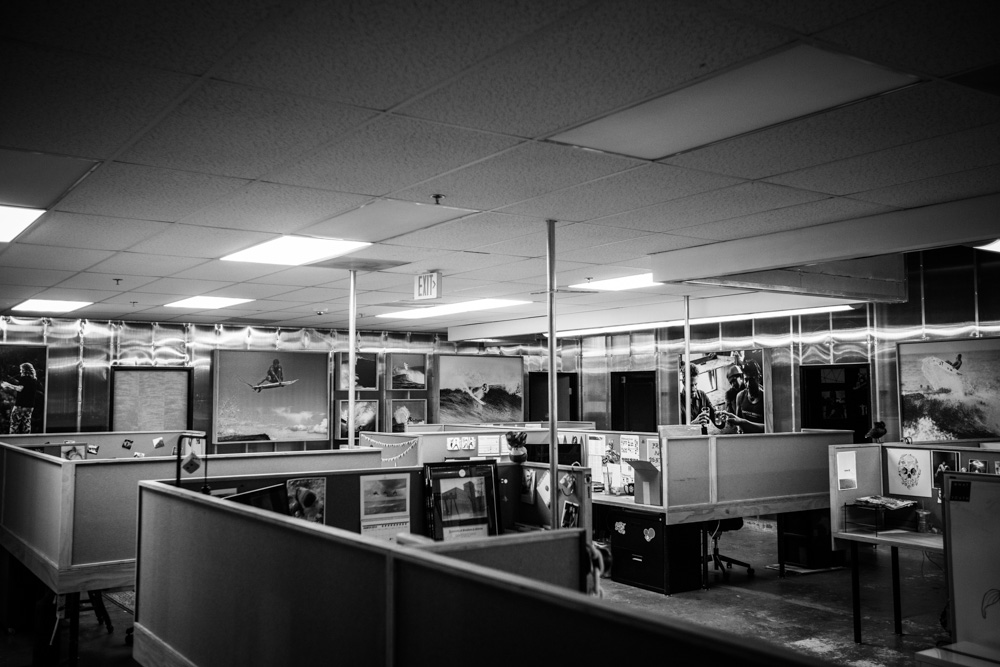 Learn something new everyday.  Ryan's brother dreamt up this masterpiece: 20 iPads configured to broadcast all of Hurley's social network channels, self-updating, to show exactly how Hurley looks at any point in time across the web.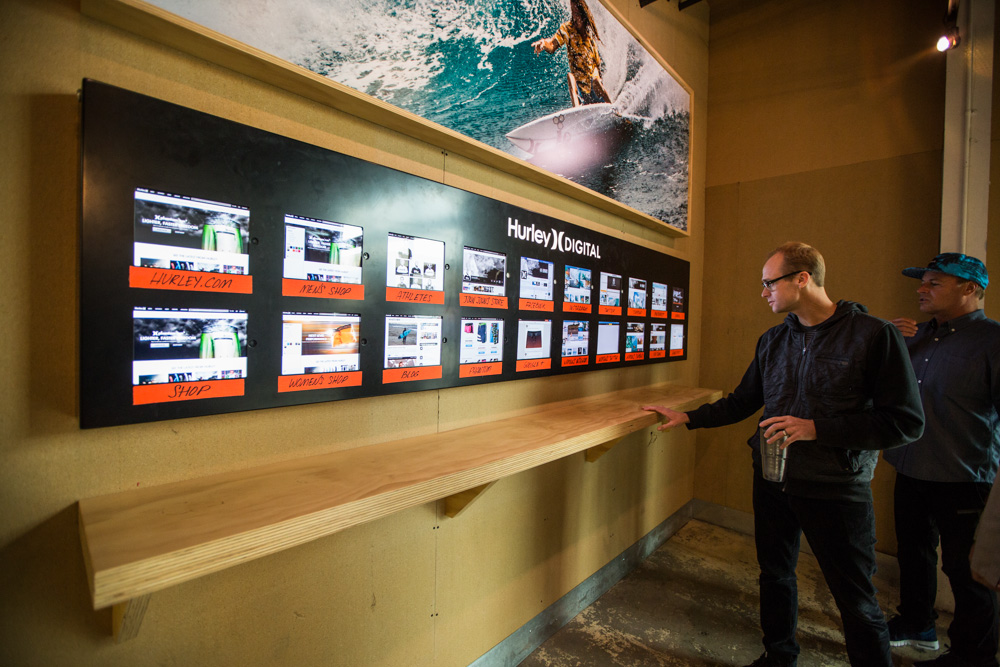 Of course, Hurley has a sales room, but it's framed a bit differently from the norm.  Instead of selling off racks, Hurley salesmen get to utilize mock retail setups when presenting the line to buyers.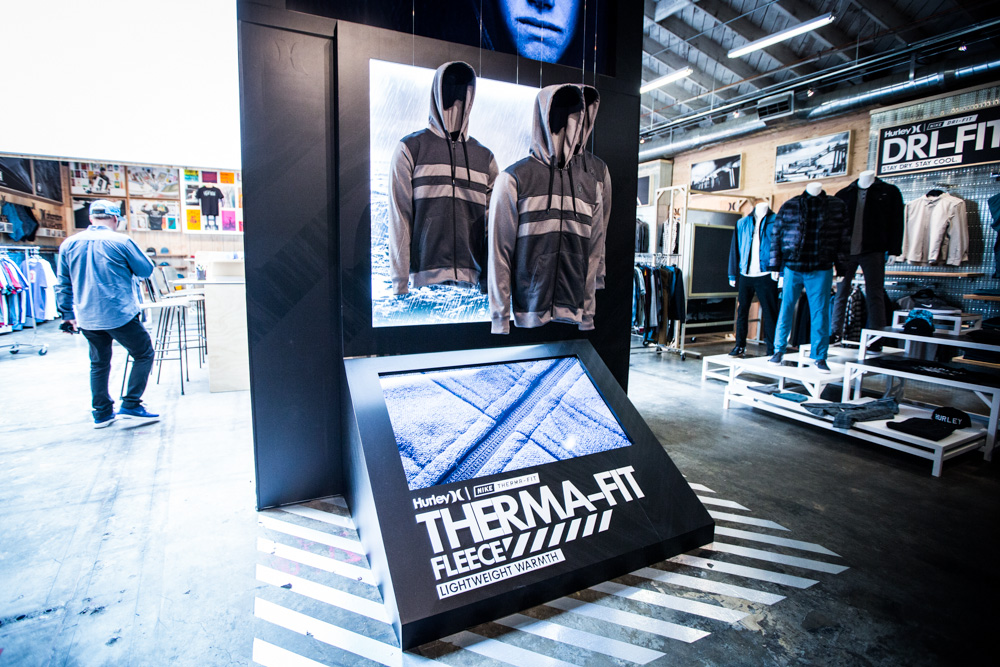 In other regards, the Hurley offices are a departure from the average Joe's.  Most notably in the hands-on, creative sense.  Almost all of Hurley's photography is fulfilled right here in their studio: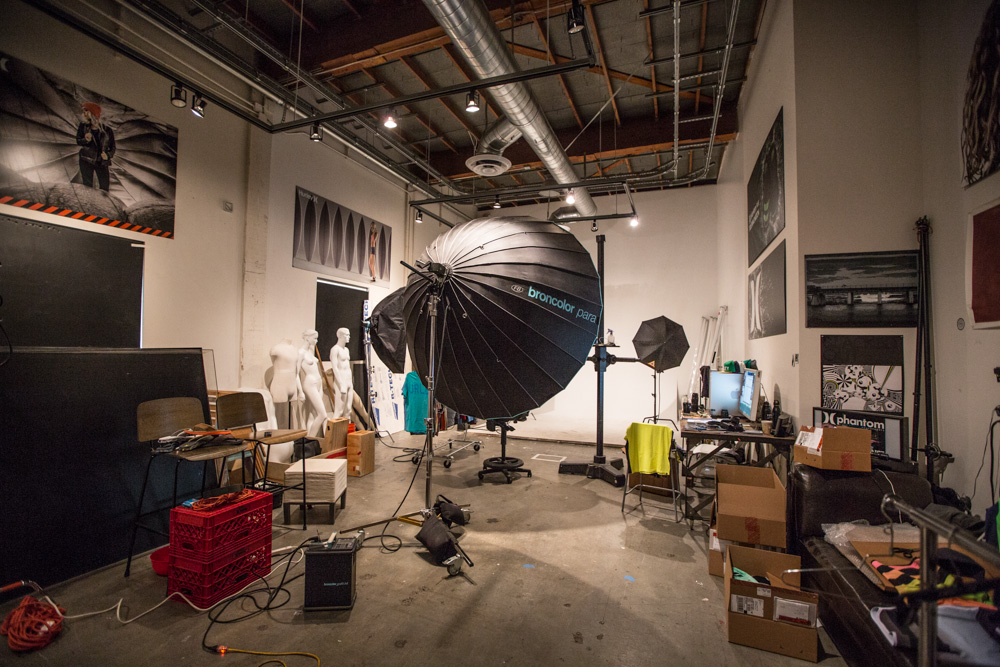 There is a printmaking room: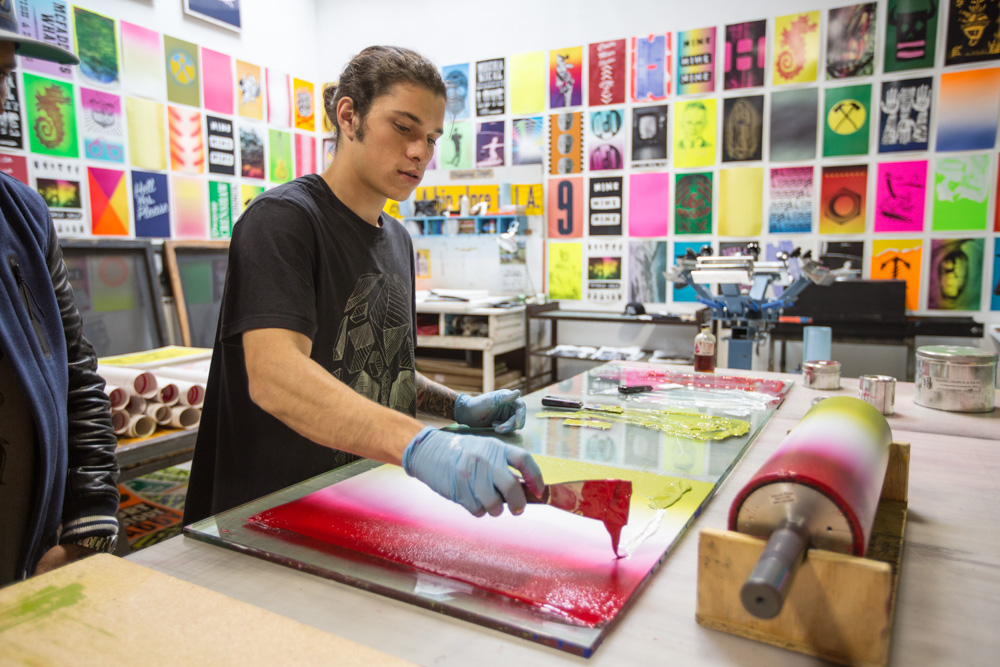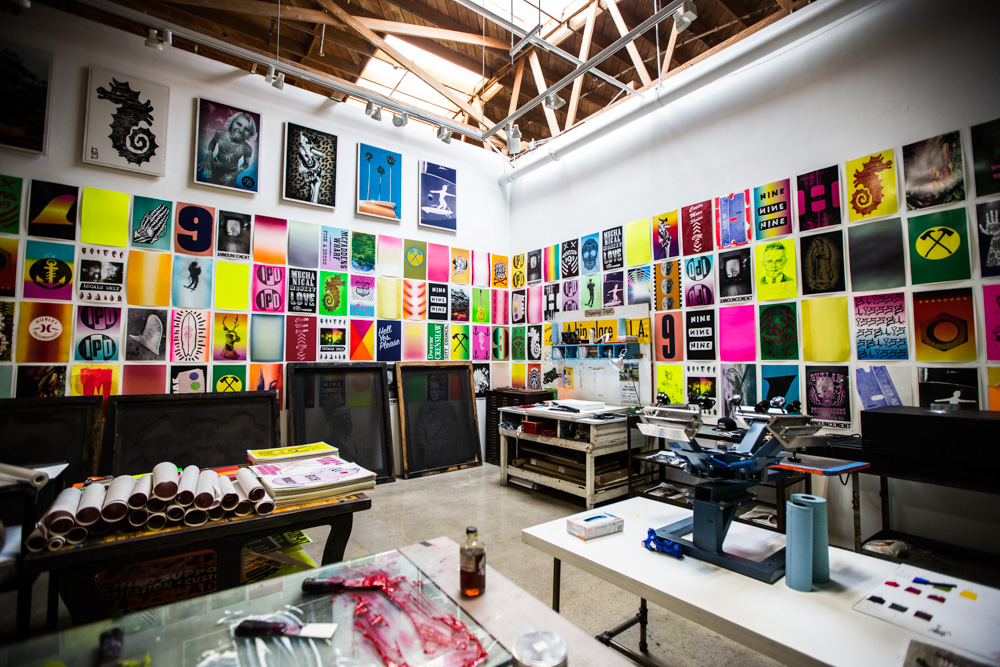 A darkroom to print photos: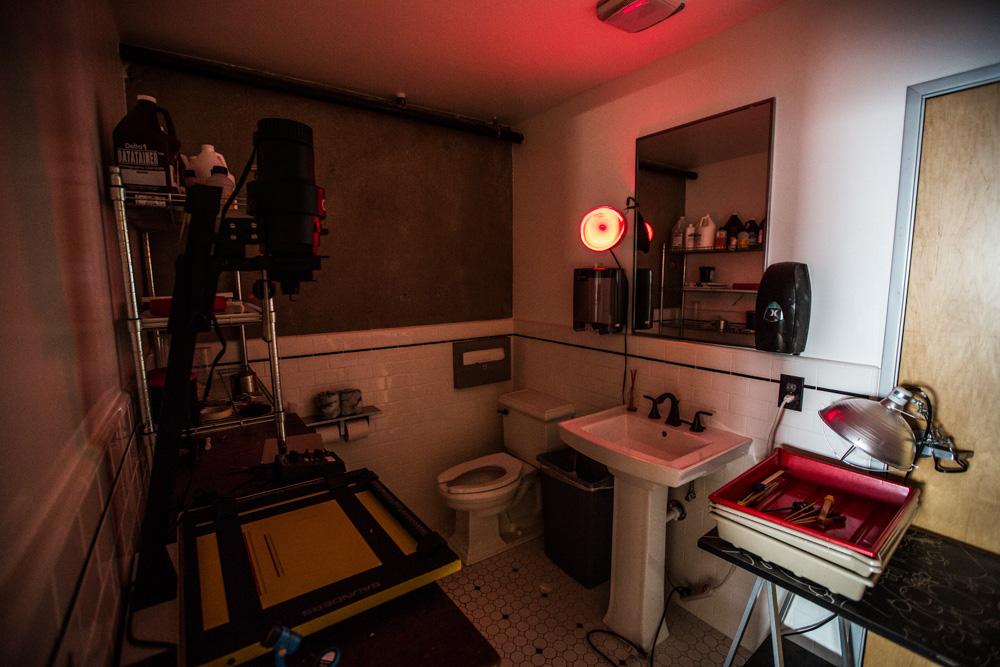 In fact, when he's not busy being the best surfer in the world, Hurley team rider John John Florence plays in here. Turns out he's also an avid photographer and also the President of the United States and Bon Jovi.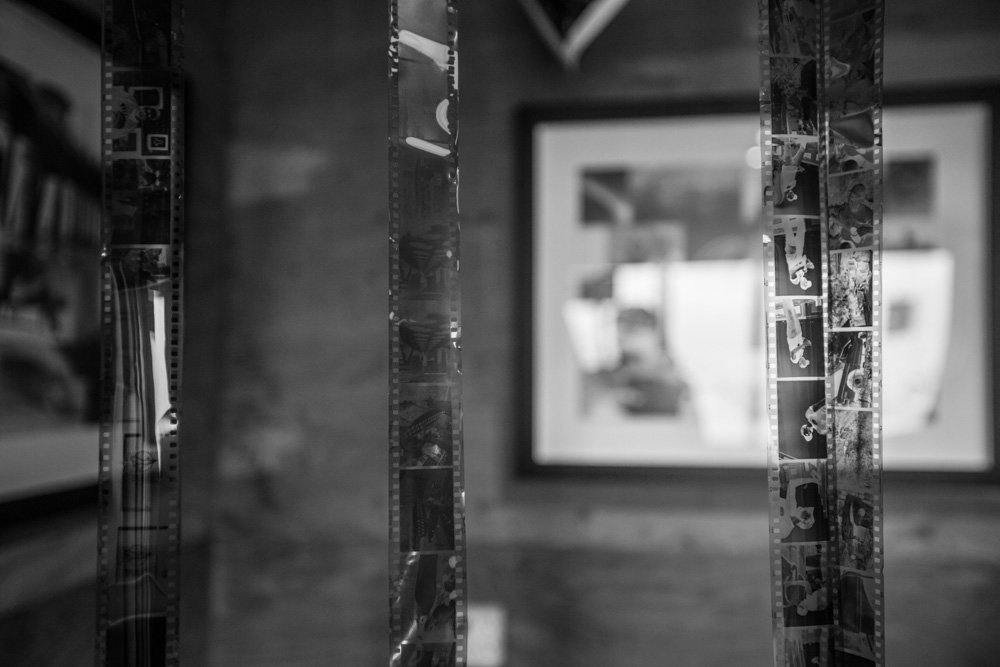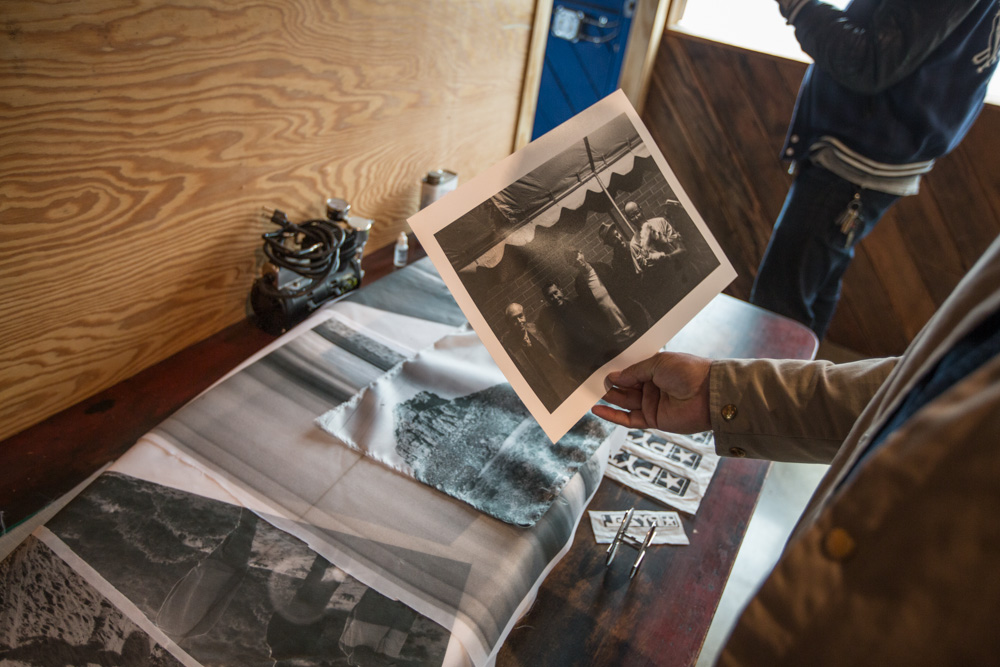 You can shape your own surfboard on your lunch break: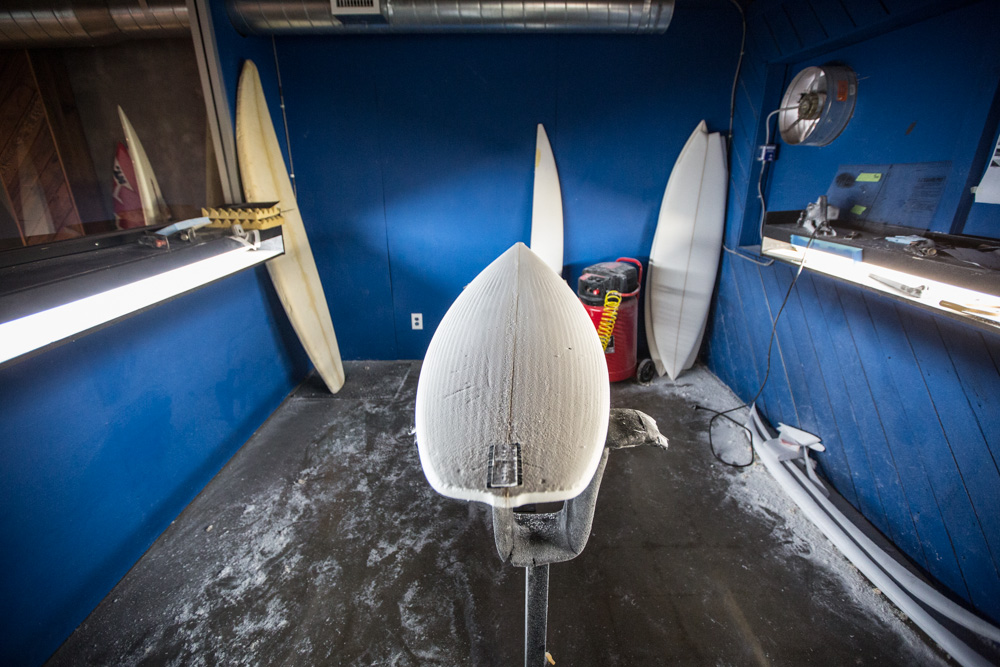 You can wander out into the parking lot and design retail POP: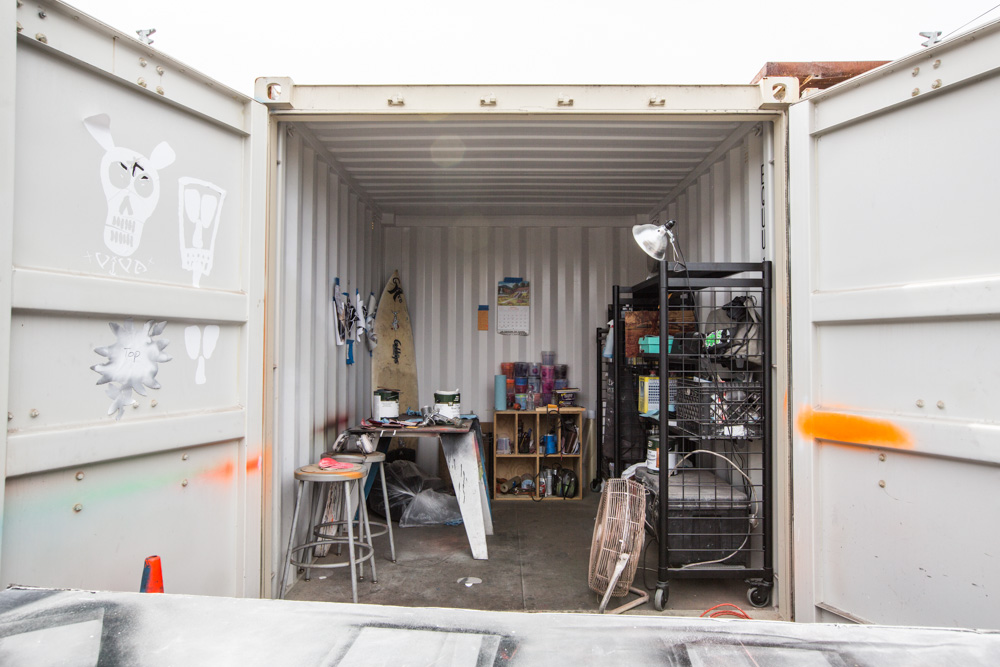 or special-gifting Nike SB boxes: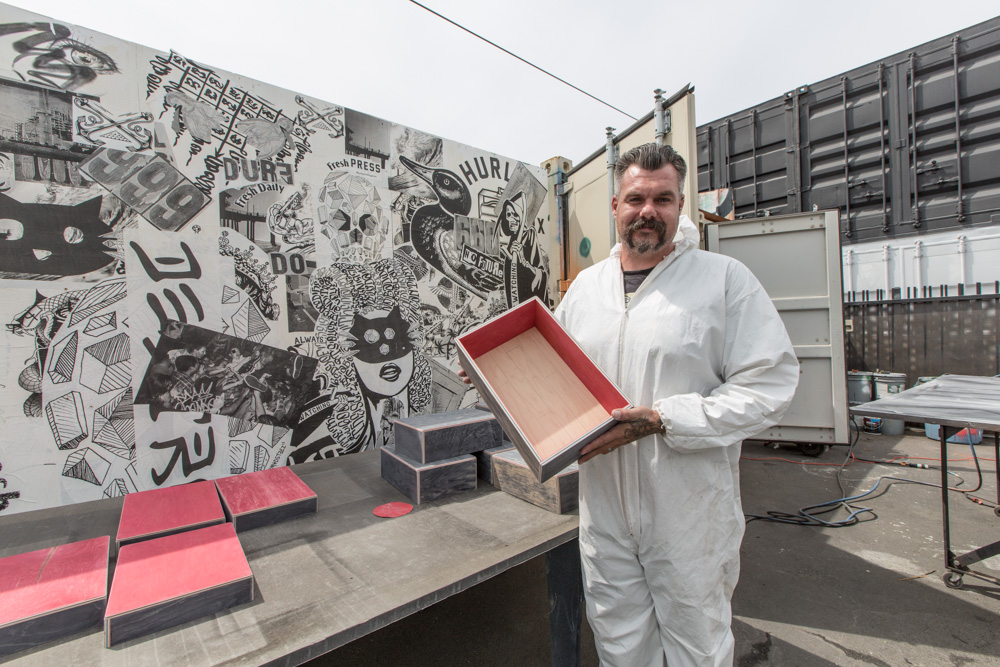 You can explore the recording studio, where all sorts of famous rock and punk bands have made timeless music: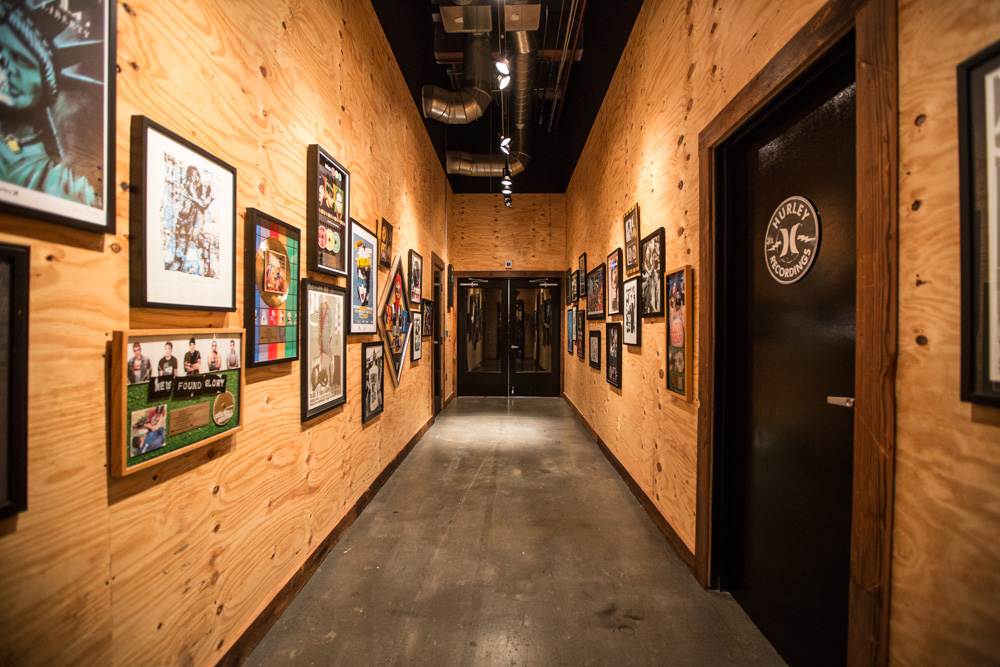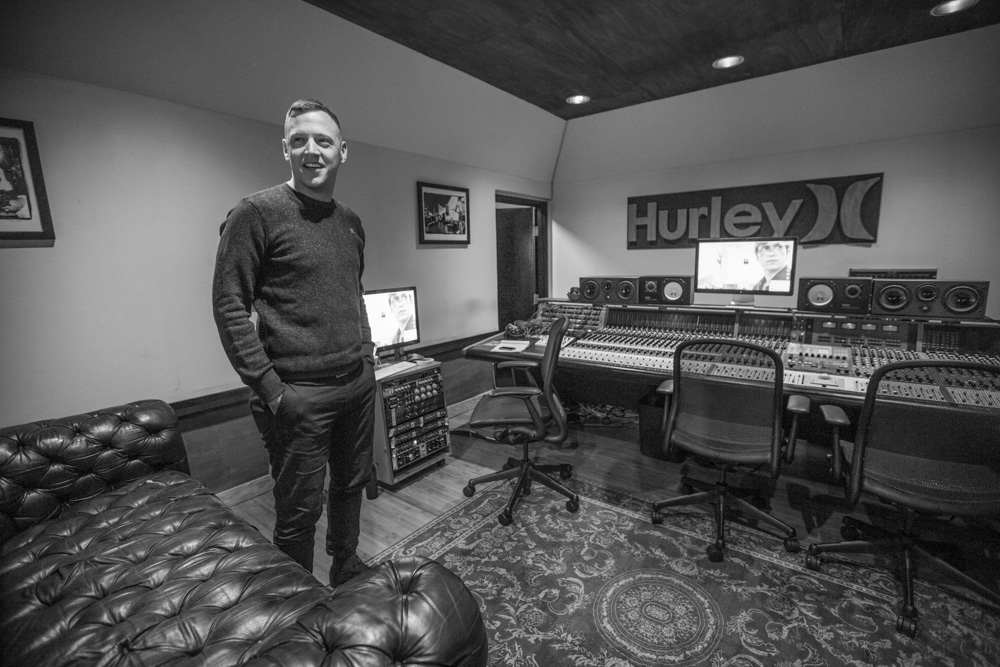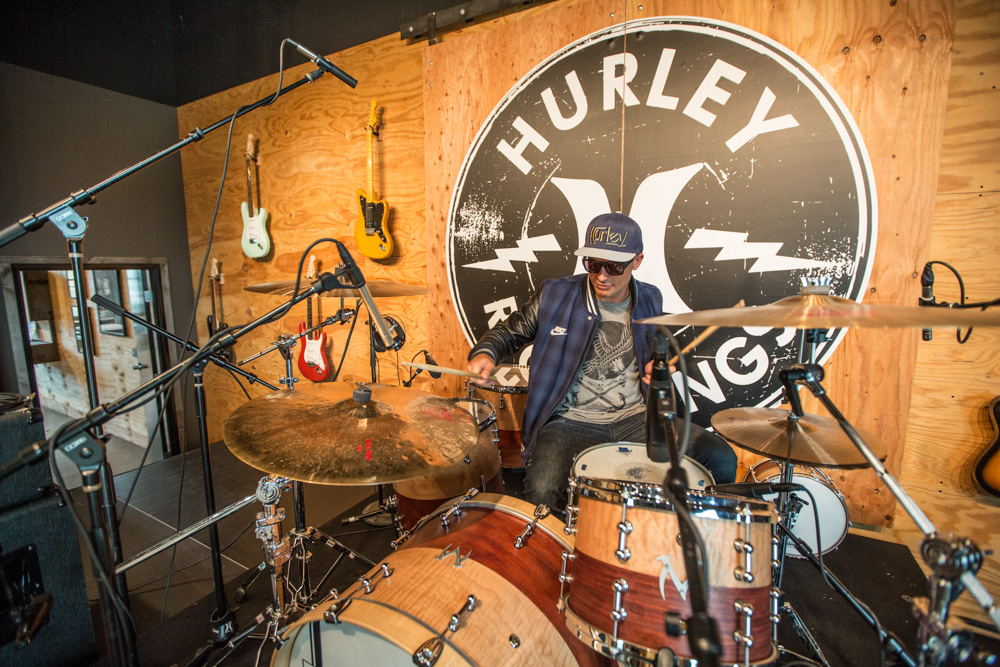 Or how about losing yourself in Hurley's skate park, most recently blanketed by this X-Men set of graffiti artists?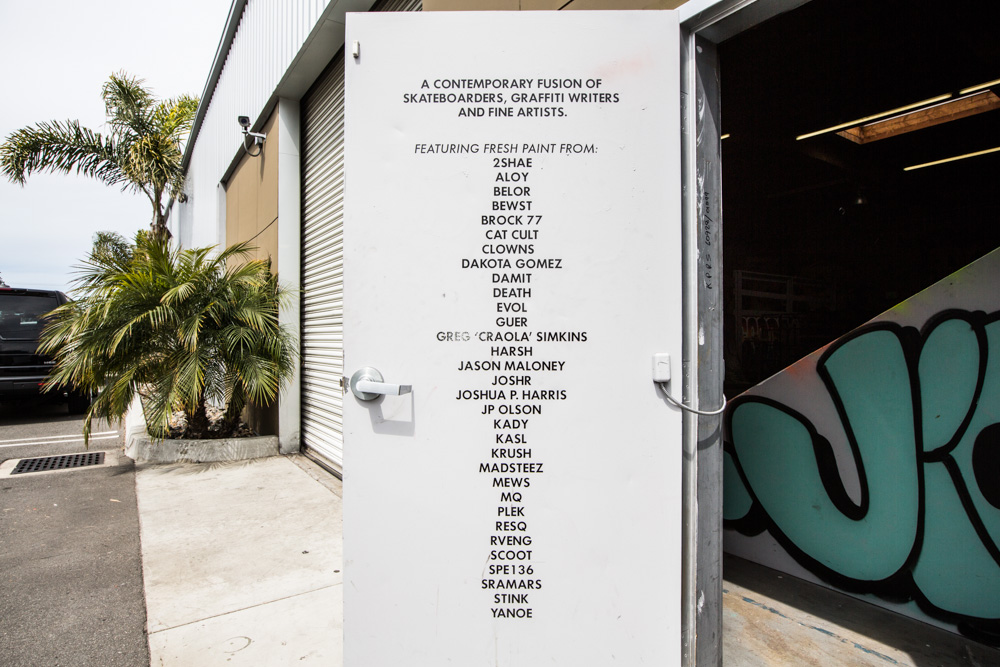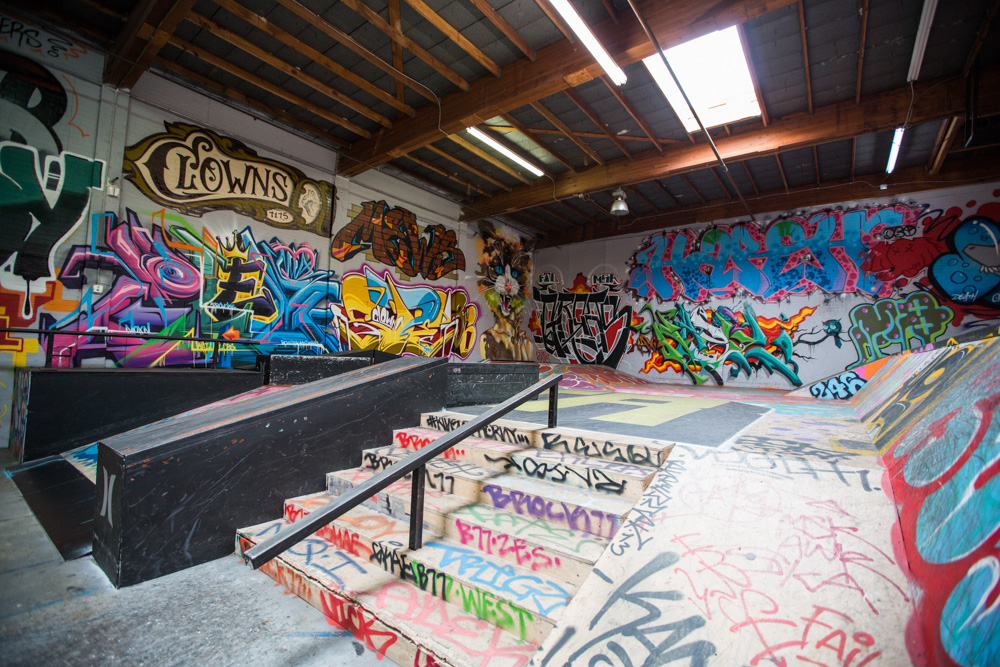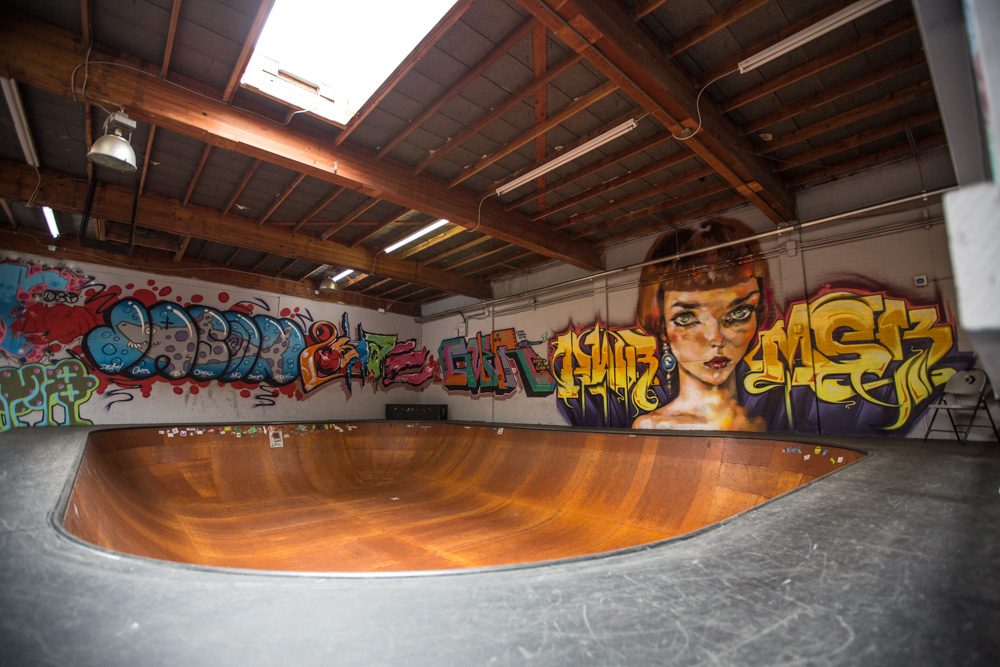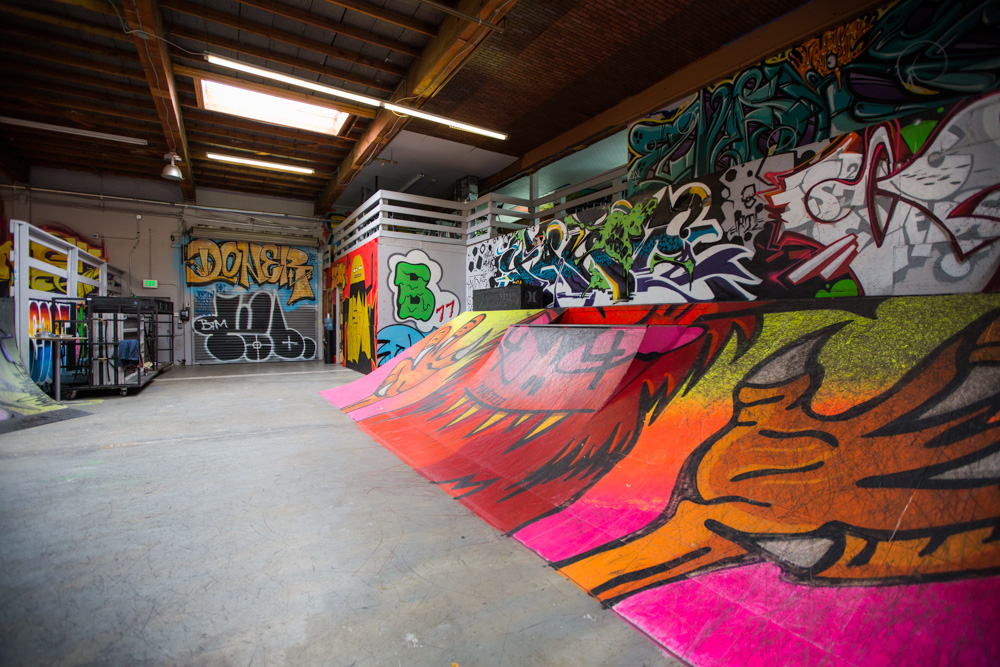 Of course there's a basketball hoop. That's basic.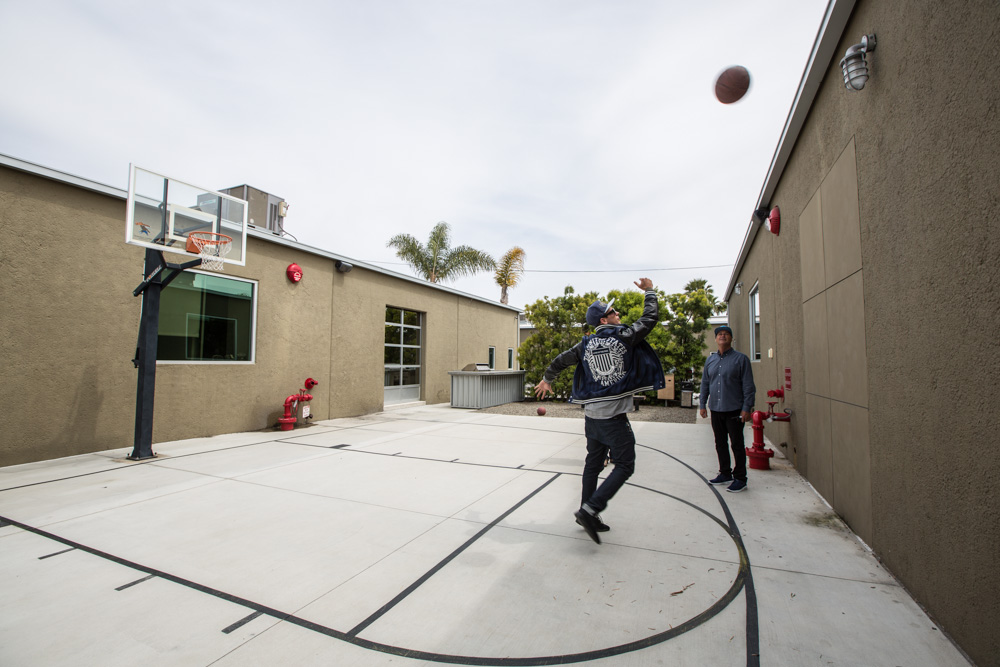 It's the middle of the day and beautiful women are working out for no apparent reason other than to make your work environment seem even lamer than it already is.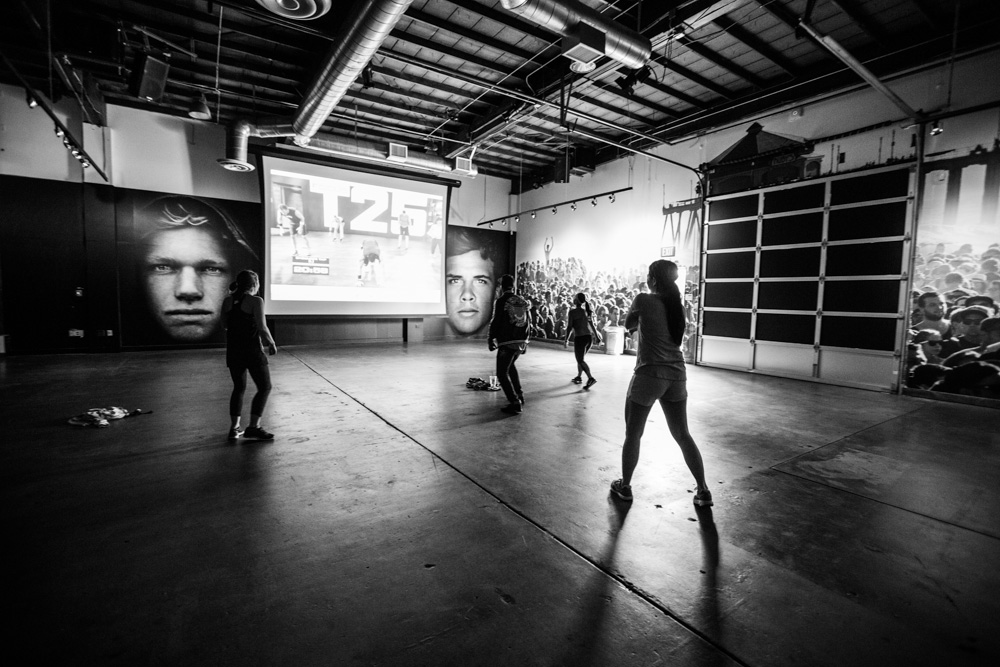 There are so many rooms and departments in the Hurley offices that I had no idea what they were for.  I'm not even sure the guys did either.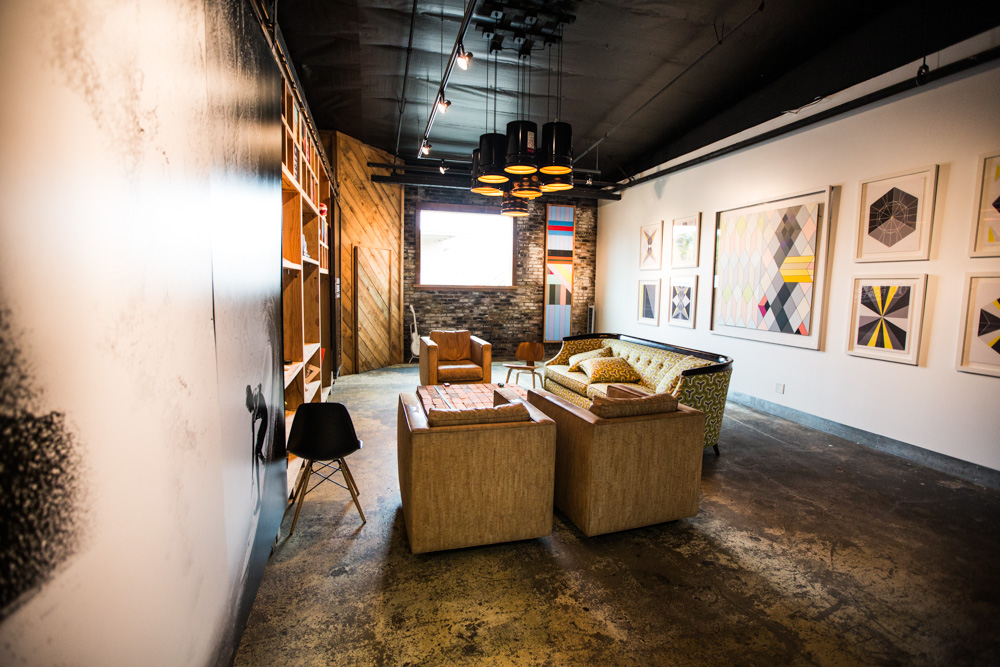 And of course, exit through the gift shop.  Hurley's warehouse is located in a different county, so all promo is done out of their on-site retail shop: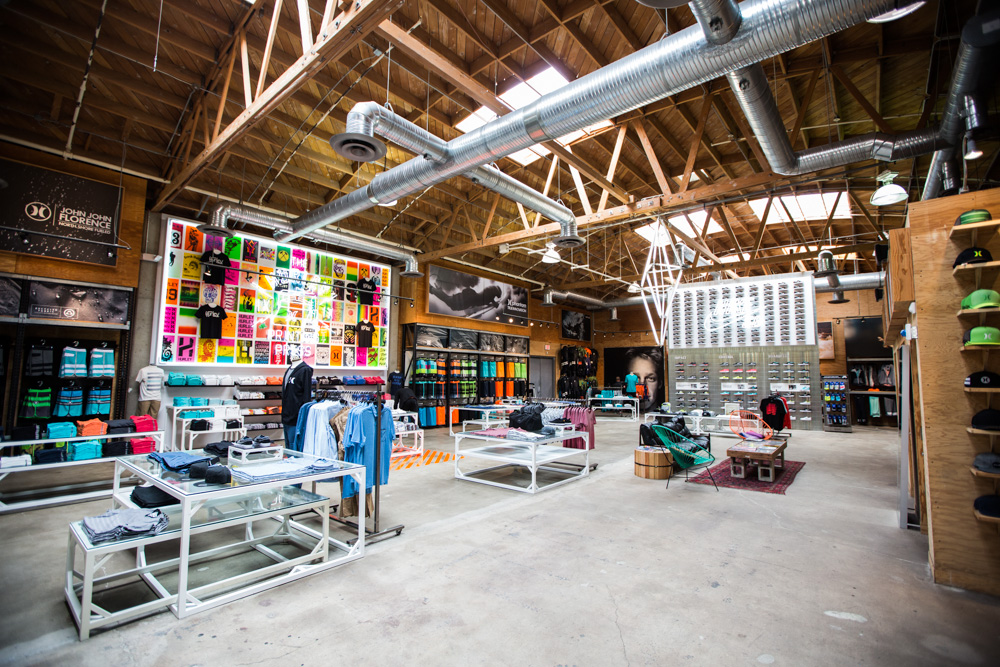 Not the worst place to work, right?  Nor the worst team to work with.  If only they didn't have to be located in such a dark hellhole like sunny beachtown Costa Mesa…
Thank you to Bob, Adrian, and Ryan on lending me their time and introducing me to the Hurley brand with a fresh set of eyes.  And afterwards, taking me to maybe the best sushi I've ever had. In fact, it's so good, that I'm not gonna blow up the spot and publicize it.  I don't even know what you're talking about. What sushi?