There's something about knowing that the company you're buying from has been in an industry for generations that sets the mind at ease. That's partially what the team behind York Athletics Mfg. is built on—having launched officially this month, the brand is partially owned by a third generation shoe maker. What else they're banking on: the right combination of function and fashion.
CEO Mark McGarry logged time at brands like Nike and Puma for 11 years before striking out on his own. As the head of Puma's lifestyle division, which was the largest footwear leg at the company, the brand's Alexander McQueen and Hussein Chalayan tie-ins both fell under McGarry's so the dude clearly knows something about the fashion industry.
"Being in the Nike, Puma, big brand world for so long, it really just crystallized the opportunity for York," McGarry said. "[The opportunity] for being a true performance brand but for more of this misfit crowd." Couple that with his wife, Elizabeth's experience working for the likes of Reebok, Puma, New Balance, and Nike as well as the production experience that Kyle and Travis York (co-owners of York Athletics shoe company, which was formerly Indian Head Shoe Company) brought to the table and you've got a pretty much fully-realized brand.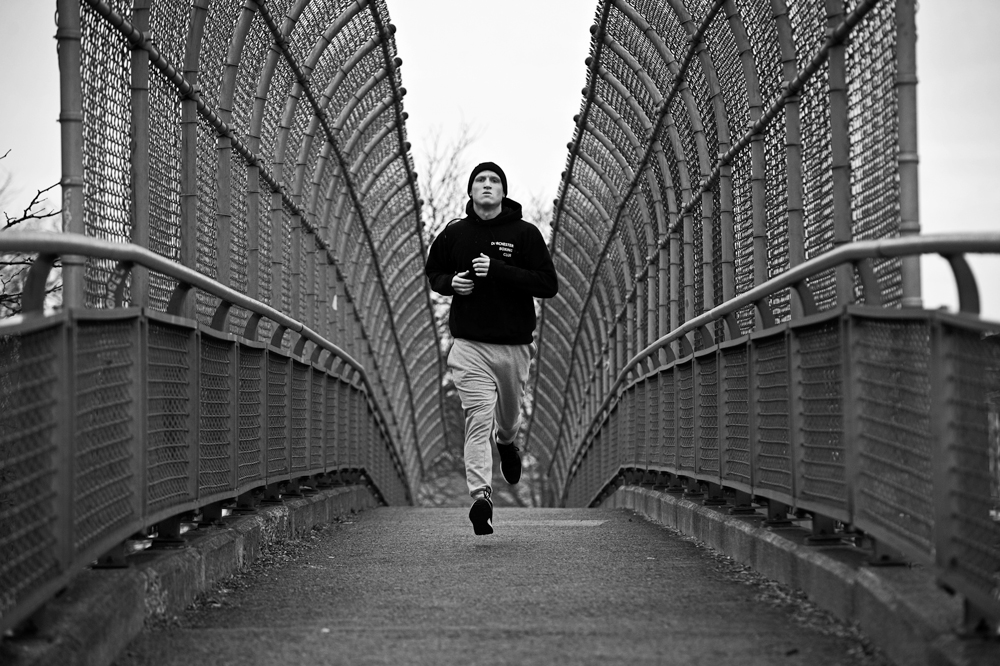 "I started training at this boxing gym and I almost felt like I was shedding my own skin to get into my work out gear," McGarry explained about what prompted him to go in the direction that he did. "Whenever I had to wear Nike and Under Armour it was a little weird. I wear cut off Dickies and I'm a skateboarder but those were the only things that were out there for performance wear."  That pushed the creative to conceptualize making a minimal sneaker, one that gave the visual impact of, say, an adidas NMD, but one that also boasted performance functions. The result is York's 'HENRY' style which comes available in both a mid and a low style. One style for the launch; minimal even in that.
The quality is top notch, as is to be expected as the brand is producing their styles in the same factory that manufactures brands like ASICS. The marked difference: the no-fuss aesthetic available in only black likely with options like cream and grey to be available online n the months to come. The midtop style features stabilizing bands for quick lateral movement in the gym while the low is ideal for running below 10 miles.
The company isn't all about turning a profit though. McGarry, who classifies the brand as a bit of a black sheep that behaves more like a skateboard brand than Nike, has decided to partner with organization like Rock On Foundation so that every event the shoe brand puts on benefits the community. That sort of community engagement isn't what you're going to get with a Nike or a Puma, and that's what McGorry expects that guys will appreciate.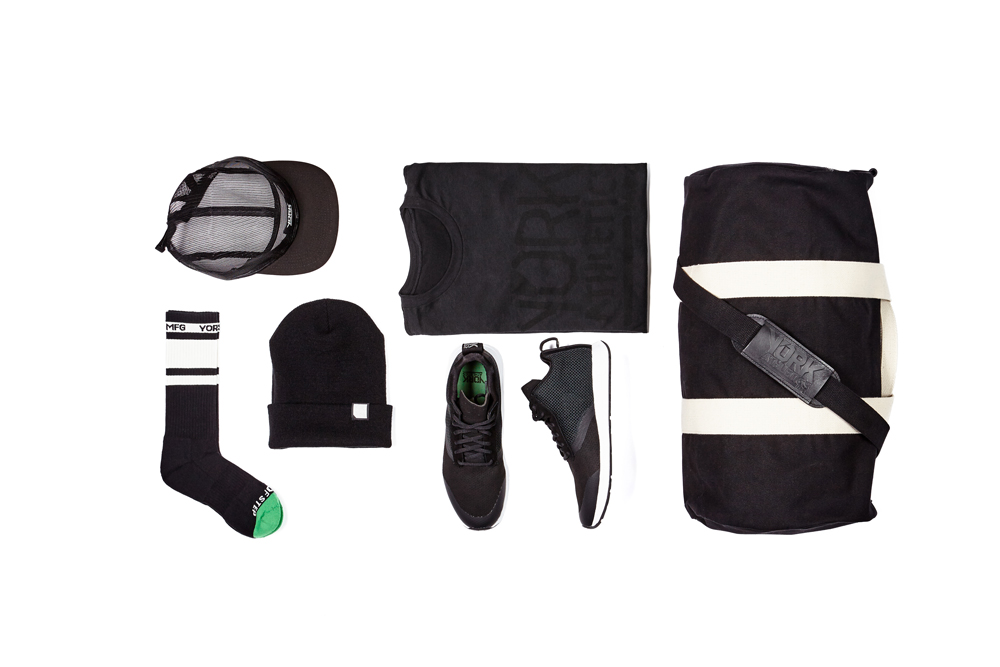 Expect to see ambassadors like artist and cyclist Andrew Peterson, professional boxer Kevin Cobbs, and professional snowboarder Eddie Wall wearing not only the shoes but also the brand's line of basics like a five-panel mesh hat, socks, and t-shirts. It all will be able to be picked up exclusively at Bodega in Boston beginning this week or on the company's website. "You know, when we launched at Bodega, everyone was freaking out over the cream color way we had," McGarry explained. "That's how we offer our audience something new and refreshing; everyhing else in the market right now is so over-designed and we just want to wear something that's super muted."
And right now, this is the best thing out.
***