Supreme's collaboration with Louis Vuitton this season caught a lot of heat for its deviation from street and skate. The New York brand is often viewed as the antithesis of big branding while Louis Vuitton is the prize horse in a multinational luxury conglomerate. Supreme hit further snags when Cruz Beckham and Lewis Hamilton shared their access to early pieces. The scion of the ultra-elite and an international race car playboy are the furthest from the underground brand's working class image. All of sudden Supreme seemed to have been trading their loyal customers for a big payout from celebrities. There was even a talk about a 9-figure buyout from Louis Vuitton, but all of that speculation regarding the NY brand selling out has been slightly relieved by the release of the Supreme MetroCard.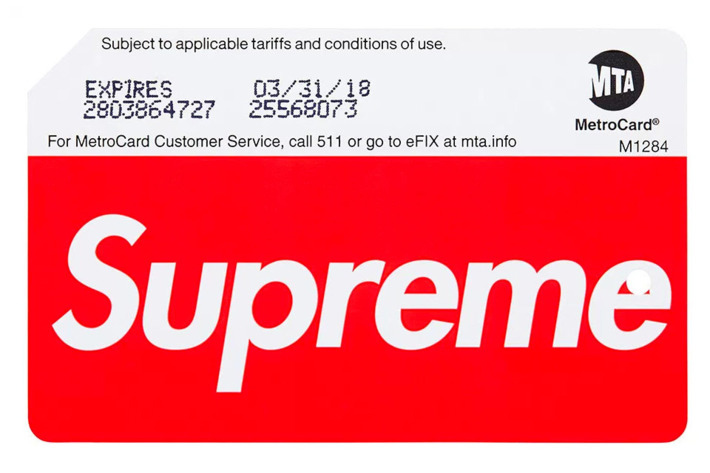 For starters, the MetroCard is actually one of the more affordable accessories from Supreme. The pricing is a vote for the proletariat, and then it became accessible outside of the swanky SoHo location. The $5.50 two-swipe MetroCards with the Supreme box logo were found in a number of subway stops, and within a matter of hours, lines for the cards began forming at all available locations, like the Broadway-Lafayette stop in front of the store, to Marcy Ave in Williamsburg.
cops boutta shut down the supreme  metrocard lineup lmfaoooo
?:@offtheglas  pic.twitter.com/SVEEpTkV9d

— Where To Cop (@WhereToCop) February 21, 2017
#hbouthere: Line for the Supreme x @MTA MetroCard at 14 Street – Union Square ? pic.twitter.com/w6RsWhro5R

— HYPEBEAST (@HYPEBEAST) February 20, 2017
Tongue-in-cheek self-awareness about its own hype aside (resellers are listing the card for up to $5000 on eBay, and some people have bought over 100 cards), this may seem like a marketing snafu like the infamous Brick, but it firmly shows how Supreme's collection outside of their collaborations continues to be for their fans. There is no bigger cosign than from the MTA. Everyone in New York rides the subway. It is a institution unlike any other, the best representation of the people, and exhibits all parts of city life. The janitor riding to Atlantic could be standing next to a multi-million dollar securities trader with a host of Japanese travelers. Some people have their own thoughts on the collab though:
People are spending $75 dollars just because the Metrocard says "Supreme"? I'm ashamed to be a New Yorker today.

— Joel (@JoelMetsNY) February 20, 2017
As Soon As You Pull A Supreme Metrocard At Broadway Junction pic.twitter.com/q11RiaZ01V

— Lil Wifi (@VanRidd) February 20, 2017
Without releasing a single press release, Supreme fans were able to differentiate between a collaboration for another brand versus the regular season. At the end of the day, it is business as usual for Supreme as the brand continues to do what it did in 1996–what it wants.
The MetroCards were just restocked this morning. Pick them up at Broadway-Lafayette, 125th Street 2/3, Queens Plaza, Marcy Ave, Atlantic Ave, Prince Street, Spring Street, and Union Square. Maybe not though, 'cause this guy bought 130 of them:
***