In his TED talk "How Sampling Transformed Music," Mark Ronson discusses how sampling is a way of inserting yourself into a song's narrative to continue its story. Because he's a master storyteller, DOOM is not only a legendary emcee, but a respected producer, sampling everything from Brazilian jazz-funk to '80s cartoons to poet Charles Bukowski, never assaulting you with their placement. As you listen, it feels like he's realizing that song's purpose by inserting it into another track, and uses its meaning to complete each song's story. In light of The Hundreds' upcoming collaboration with rap's reigning super villain, I've put together a list of DOOM samples that highlight his sampling ability. Some are old, others are more recent, but they all feel like they were meant to be there. Tell us your favorites in the comments.
[We were deliberately vague and left out sampled song titles to let you readers have a little easter egg hunt among yourselves.]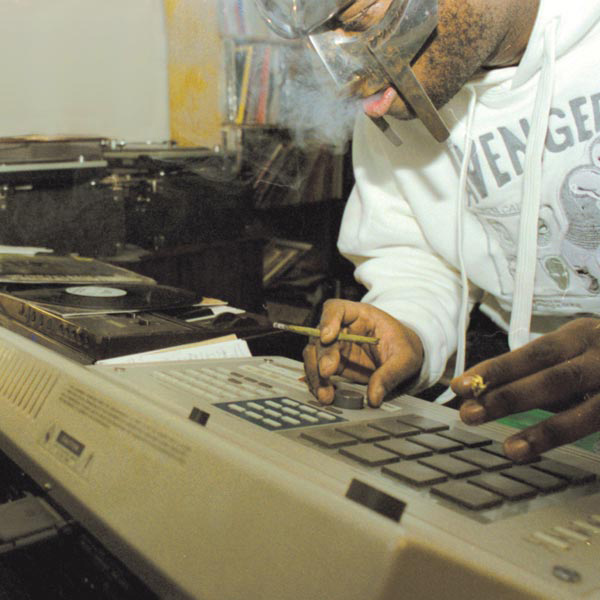 MF DOOM "Gas Drawls"
The guitar strumming and light keyboard notes DOOM takes from a '70s era classic jazz rock band to add to the warm feel of this track off 1999's Operation Doomsday. When the strumming begins, it gives you a feeling comparable to opening your blinds on a sunny morning. It's fresh and full of opportunity. "Gas Drawls" also sounded very "clean" to me when I first heard it and I couldn't figure out the reason. After a little digging, I found out this sample was taken from the band's 1977 album that won a Grammy for its engineering. DOOM transferred the original song's clean sound into his reworking, and when he says, "I saw you in hell with them gas drawls," it mirrors the original track's lyrics "I saw you in Rudy's/You were very high."
MF DOOM "Dead Bent"
While "Gas Drawls" is a track that's obviously light and uplifting—at least from a production standpoint—"Dead Bent" is more nuanced in its sampling. It samples strings and horns from the Black Moses of Soul's 1969 improvisational cover of Dionne Warwick's "Walk On By." There's much raw material to pull from in the original 12-minute track, but DOOM chose to extract the strings and speed them up to match the pace of his drums. I say it's more nuanced than "Gas Drawls" because it pairs exciting drums with ominous strings, creating a juxtaposition of elation and paranoia. The way he loops the sample makes the listener feel a sense of impending danger—it took all my willpower not to say 'doom' there. That fits with DOOM's stories on "Dead Bent" too, since his verses are about problems growing out of control: women buzzing his gate, fraudulent folks, and TV news designed to fool you. That last one seems more pertinent than ever.
Ghostface Killah and DOOM "Angels"
DOOM seems to have an affinity for classical production—particularly string sequences—and "Angels" is further evidence of that. For this one, he enlists Ghostface Killah on the mic over the relaxed production. The main elements of this beat are a direct sampling of a Japanese composer's work on the anime series Space Warrior Baldios. The original composer became famous for scoring anime series and video games in the '80s—he scored parts of Wizardry if you're old enough to remember that. The Super Villain didn't doctor this sample too much, just speeding up the elements from the original track and rapping along with Wu-Tang's resident "painter". This is sampling at its rawest. (I would have completed this piece sooner if I hadn't paused to indulge in some '80s anime.)
MF DOOM "Kon Karne"
My love for Sade required me to include this track. DOOM has sampled Sade on multiple occasions, but "Kon Karne" is his best execution. The soft piano keys he pulls from about halfway through covers the track in a somber mist that mirrors DOOM's subject matter. The song is dedicated to DJ Subroc, his younger brother who tragically was killed in a car accident in the early '90s. In it, DOOM talks about what love is to him, how that relates to his brother, and uses his vivid imagery to extrapolate. Sampling 101: draw out an aspect of a song's production to elicit a similar reaction in your reinterpretation. In this case, DOOM doesn't mix conflicting elements like on "Dead Bent," but keeps "Kon Karne" in the vein of the original.
King Geedorah "Anti-Matter"
DOOM is fond of expressing himself through creative personas and Take Me to Your Leader was the moment he channeled King Geedorah, his play on a popular Godzilla villain. "Anti-Matter" channels the spirit of the protest song it samples and uses its blues guitar licks to talk about DOOM's street activities with his elusive friend Mr. Fantastik (who was also on "Rapp Snitch Knishes" off Mm.. Food). The original song by the '70s soul group asks the listener, "How can a color determine whether you're wrong or right?" DOOM doesn't choose to explore this question in his lyrics, instead letting the rebellious spirit of the original lie beneath the surface, as both he and Mr. Fantastik interpolate the beginning lines of the sampled song during the chorus.
Joey Bada$$ "Amethyst Rockstar"
Joey Bada$$ has made a name for himself among people who are disheartened by the current state of hip-hop, so it makes sense he would collaborate with a producer who's keeping "classic" genre sounds alive. "Amethyst Rockstar" could have easily been released in 1993 instead of 2013 with its methodical hi-hats and crisp drums. For this track, DOOM throws us headfirst into the sea of Brazilian jazz-funk by sampling Azymuth, a group that pioneered that sound in the '70s. They're still touring to this day and just released an album last year. It's not a complex sample—a few amplified keyboard notes—but DOOM adds more depth by cutting it in a surprising way. If you're like me, you'll find Azymuth's music pleasant and you'll be itching for more.
DOOM "Cellz"
DOOM has a reputation for his intellect and he flexes his brain on "Cellz" from his villainous 2009 album Born Like This. The first couple minutes consist of a recording of American poet Charles Bukowski reading his poem "Dinosauria, We." If you've never read Bukowski, "Dinosauria, We" is a nice introduction (the words "born like this" from the poem obviously directly influenced the title of DOOM's album—). You see his command of words—since the meter is about as consistent as a White House press release—and his dystopian themes. After Bukowski's warnings about famine, war, and apocalyptic cataclysm, DOOM unleashes a lyrical firestorm that I'm pretty sure was originally printed in The Book of Revelation. Chapter 23 if I remember correctly, but don't quote me. He even chopped out some parts from the original Bukowski reading, which feel more relevant than ever:
Born like this, into this
As the chalk faces smile, as Mrs. Death laughs
As political landscapes dissolve
As the oily fish spit out their oily prey
We are born like this, into this
Into hospitals that are too expensive that it is cheaper to die
Into lawyers who charged so much that it is cheaper to plead guilty
Into a country where the jails are full and the madhouses closed
Into a place where the masses elevate fools into rich heroes

DOOM later calls out listeners who might be missing the point: "Metal Face Finster playing with the dirty money/Sinister, don't know what he saying but the words be funny."
DOOM "Gazzillion Ear"
It's no question that Dilla was one of the best samplers to ever grace an MPC. "Gazzillion Ear" is DOOM's way of paying homage to the producer, while asserting his place in the sampling tradition that lives on after Dilla's untimely passing. If you analyze it closely, this first track off Born Like This utilizes a meta-sample, since Dilla's original track samples the main theme from a late '70s classic prison drama film. Legendary Italian producer Giorgio Moroder laid those exotic synth patterns, as well as producing the music for the rest of the film. Seeing the depth of this rabbit hole gives us an idea of how music evolves over time—it's a narrative. Synth keys that were first pressed in 1978 made their way into the mind of a young producer who had a knack for flipping samples. He turns it into a ghoulish track by adding drums, and then another sample-curator comes along a few years after its release and spits fire over it. "Gazzillion Ear" is a sonic reminder that music, like everything else, is constantly in a state of flux.
***