"Music is the thing that keeps my whole world together," Nite Jewel's Ramona Gonzalez tells me over smoothies last week. "It makes me feel good. It makes me feel like life is worth being a part of."
When I arrive at Café Gratitude on Larchmont to discuss Ramona's upcoming album that drops tomorrow, June 10, Liquid Cool—her first project as Nite Jewel since 2012—she's already at the bar examining a menu. She's petite, with short black hair, wearing a floral shirt and sunglasses. "Sorry, I'm not going to take my sunglasses off," Ramona announces after our initial greetings, "because I didn't get any sleep last night." She explains that she's stressed about working on the music video for "Kiss The Screen," my favorite song on the upcoming album. "I'm fighting with the director," she expounds. "He likes shots that look good—but I don't look good."
By the time I'm finished nodding, Ramona has jumped on to another topic. She speaks quickly and articulately, showcasing her Ivy League education (Ramona briefly attended Columbia's Barnard College before dropping out and moving to LA), and with a punchy vigor surprising for someone so small.
I soon learn that Nite Jewel's four year hiatus is due to tension with her former label Secretly Canadian (to which The War on Drugs, Major Lazer, and Anohni are signed). She was sending them loads of music (Ramona wrote three entire albums that are currently on the backburner), but the label was adamant about big production and seemed to have reservations that the music wasn't sufficiently poppy. "They were critiquing me before I had time to find my footing," she tells me. Beyond being a "toxic process," Ramona wasn't reaping financial rewards, and she finally decided it was time to leave.
Music video for "Kiss the Screen" off Nite Jewel's new album Liquid Cool.
Ramona compares her experience with Secretly Canadian with her stint in the Ivy League: "It's easy to get trapped into thinking: this is an Ivy League so I will get something good out of it." But after Ramona left Barnard and transferred to Occidental, she realized that she didn't need the status and prestige associated with Columbia to get a good education. Ramona feels similarly about Secretly Canadian: "If you're a smart human being, you don't need the hand of 25 bros to assist you."
Not to say that leaving the label was easy. Ramona tells me it triggered feelings of—"who am I if I'm not a musician on a label?" Throughout this identity crisis, Ramona wrote lots of music and did ample soul-searching. To support herself, she toured frequently and sold a song to Grand Theft Auto, "Nowhere to Go," that she says "paid for [her] life for a while."
But, it wasn't until she got a job outside of the music industry that she realized why she wanted to make music again. As a manager at the restaurant Alma, Ramona didn't have to constantly pack up and leave town to tour to support herself. Finally, she had the time to focus on Liquid Cool. What's more, the job allowed her to realize what her world would look like without music.
I tell Ramona that it's nice to have something to contrast with your passion to realize how important it is to you. She agrees.
"I'm always toying with the idea of going back to school," she says. "Because when I was at school, I was on fire with my music. Every day I would get home and be like 'I'm not going to work on my paper' and instead I'm going to do music for an hour." I understand this as well, as it has been in boring offices that I've done my best writing—getting a thrill off of doing what I wanted as opposed to what I was supposed to be doing. It's for this very reason that Ramona studied philosophy, and not music, in college, explaining her reservation that studying music would trap her psychologically: "It's important to me to be really open when I'm making music—to not have any ideas about what I should be doing."
"I've never not valued the concept of time… And wasting it is so absurd."
Most people associate creative types with procrastination, an assumption I've always found misguided and offensive. Ramona is here to fight the stereotype.
"I work on music super-fast," she tells me. "I will write a song in an hour and move on. I'm not the type of person who needs to sit around in the studio and lounge and drink coffee for hours to get in the mood."
Just when I'm prepared to launch into how much I can't stand wasting time, Ramona takes the words out of my mouth: "I don't waste time. I've never not valued the concept of time. Time is the thing that you have [that] is the most valuable. And wasting it is so absurd." Ramona attributes her respect for time to growing up in a working class family.
"If you work fast. Then you're done fast. And then you can get drunk." Church, my queen.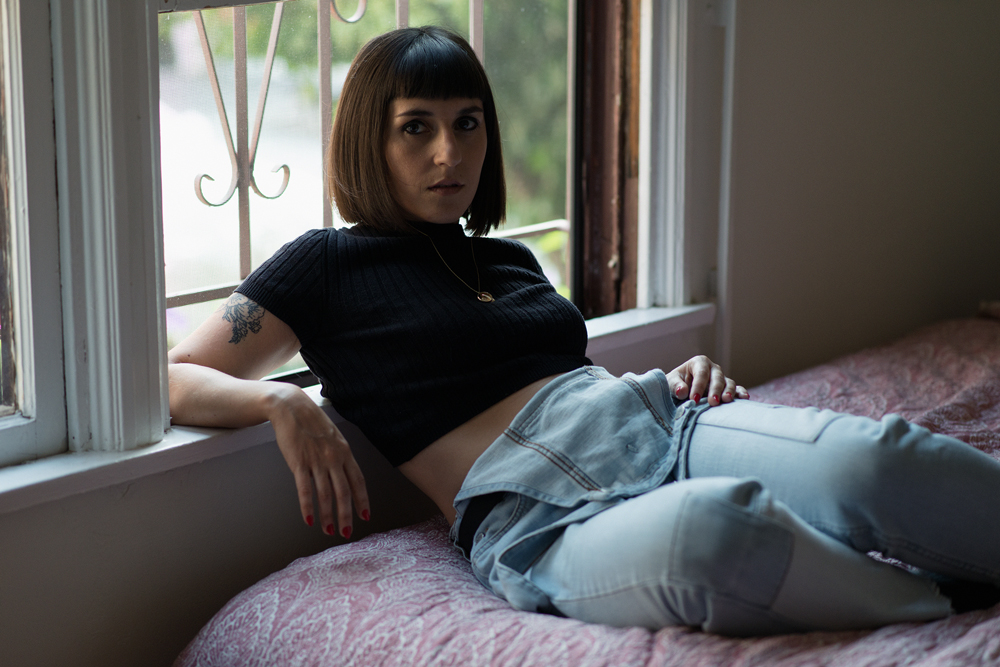 It's this efficiency that led E-40's son, rapper Droop-E, to commend Ramona's work-ethic during the recording of her Euphoria EP with him, causing Ramona to laugh, saying: "This is nothing—we basically just got around and got stoned for most of this session." It also likely played a role in establishing her own record label, Gloriette Records, in 2008 while at Occidental, a fact she drops casually. 90% of Nite Jewel's catalogue, she tells me, is on Gloriette, and as are several Ariel Pink reissues.
It was actually Ramona's obsession with Ariel that first led her from New York to Los Angeles. When I ask most artists who they're fans of, they tell me "no one," they tell me they're fans of themselves. As a creator and a fangirl myself, I was charmed by Ramona's shameless worship of the avant-garde pop savant. And the most inspirational part of the story is that Ramona made it happen. She's that type of girl. She sees something she wants, she works (efficiently), and she gets it.
When Ramona first moved to LA, she was in an "internet-less band" called Young & Natural with her friend Oscar Vardy and now-husband Cole M. Grief-Neill, in which Ramona played bass and sang. She was hanging out in Echo Park with her bandmates when Matt Fishbeck from Holy Shit! (which Ariel was also in) spotted Oscar.
"We were sitting in a café in weird thrift store clothes," she explains. "Back when no one 'cool' was hanging out in Echo Park." Matt saw the "group of us ruffians sitting there" and started chatting. They all clicked and soon started attending events and making music together. Through Matt, Ramona met Ariel, and experimental pop cohorts Julia Holter and John Maus. She describes this period as a "key moment" in her development as a musician—the group all "making art on [their] own terms."
"Boo Hoo," the first single off Liquid Cool.
This same independent spirit is what Ramona wants her music to evoke. When I ask how she envisions Nite Jewel being consumed, she has an immediate and highly specific answer ready: "At an underground, but stylish club—small and dark. It's late at night, and the DJ is playing really good music—both old and new stuff—soulful music. A Nite Jewel track comes on almost at the end of the night. And people are really moved by it. Everyone is really drunk and tired, but this is the song that keeps everyone going for five more minutes."
"It's not the climax," she says, "but sort of the mini-climax." She goes on to say that "Kiss the Screen" is more of a climactic song—one she could see on an '80s teen movie soundtrack like Pretty in Pink. The dreamier songs she could envision on a road trip.
As wish finish our "I Am Incredible" smoothies (kale, coconut milk, hemp seeds, almond butter, maca, banana, vanilla bean), I steer the conversation back to "Kiss the Screen," which I am currently listening to on repeat.
"It was inspired by a friend of mine," she tells me. Ramona's friend had just gotten out of a serious relationship and decided to create a Tinder page. But instead of her own photo, she used a drawing; instead of her own name, a moniker, inspiring Ramona to ask her friend: "What are you getting out of this exactly?" This notion speaks to a larger theme in all of Ramona's work, and Liquid Cool in particular: "I have these desires, and I'm expressing them, but only to my phone. I can't get them out into the world." Fittingly, the song's hook proclaims: "and when I take you out with me / you're just a handheld fantasy."
"Does your friend know that the song is about her?" I ask.
Ramona nods. "She's so bold. She's not ashamed."
I tell Ramona that all of my fiction is inspired by my friends.
"I write about my friends a lot," she says, expounding that her friends are "crazy," "beautiful," "little geniuses"—"smart, beautiful women coming up against a really strange world."
In her characteristic rapid-fire speech, Ramona goes on to tell me about a particular friend who continues to appear in her music. "She invents these relationships in her head with people," Ramona says. "She won't even have met a person yet and she'll invent a really complex relationship between them, but nothing has actually really happened." I nod again, because don't we all have this friend, slash have elements of this friend in ourselves?
"She's always asking: 'was it a sign?'" Ramona continues about her friend, referencing the title of the second track on Liquid Cool. (The same friend inspired her 2009 album Good Evening's "What Did He Say"—a record Pitchfork described as "miniscule and precious").
"What Did He Say" off Nite Jewel's critically acclaimed 2009 album Good Evening.
According to its press release, Liquid Cool "explores the theme of aloneness in a crowded and disconnected world." When I ask Ramona to expand, she tells me that the album asks a question lingering in all her music: "how can you be around so much stimulation and at the same time feel so alone?" She clarifies that she doesn't mean alone in negative way, because "aloneness can be great." Ramona just finds it an interesting paradox.
I tell her the notion reminds me of the 2013 Spike Jonez film, Her, in which Joaquin Phoenix's character falls in love with a computer voiced by Scarlett Johansson.
Ramona agrees. She says Her reminded her of Japan. "40% of Japanese women have little interest in sex," she says. "One of the many symptoms of technology is a lack of intimacy." I suddenly remember feeling depressed while watching Her, seeing myself in this man who stares at screens all day ("Kiss the Screen"), impervious to the beautiful settings surrounding him, the only viable object of his love: a computer.
"I'm an intimate and passionate person, being an artist," Ramona continues. "My songs deal with a desire for intimacy, but coming up against a vacant space."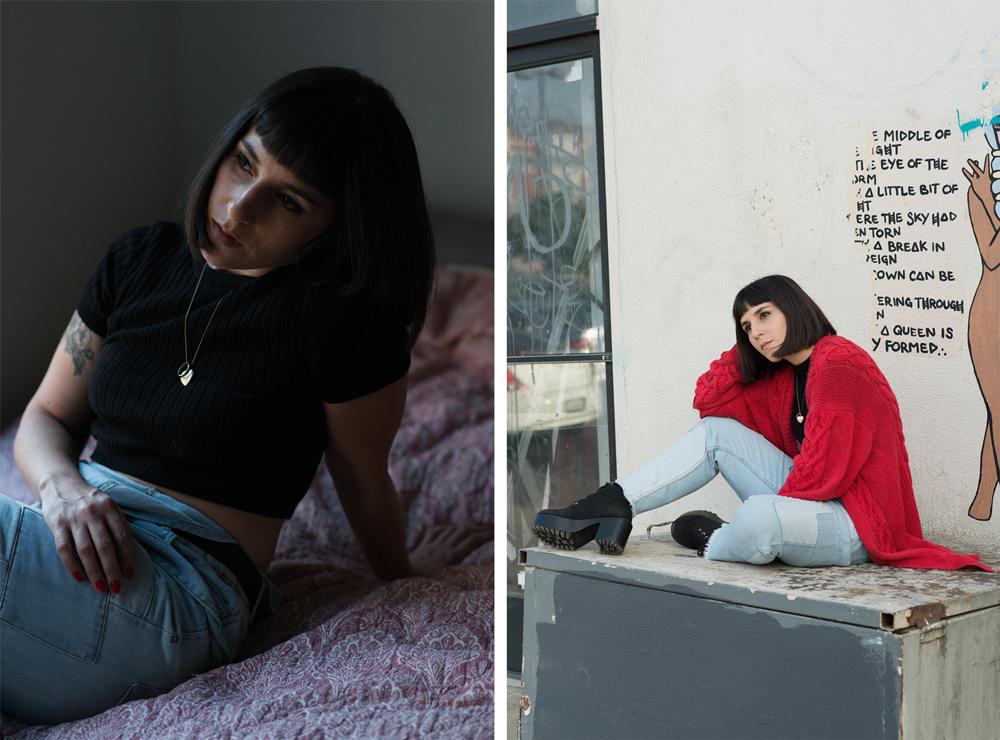 I tell Ramona that despite these dark themes, Liquid Cool sounds brighter than her previous albums, which remind me of driving through downtown LA late at night—basically, the soundtrack to the movie, Drive. (Nite Jewel was briefly signed to Italians Do It Better, the label to which Drive soundtrack contributors Chromatics and Desire are also signed.) I ask about Liquid Cool's sonic shift.
"I was just really excited to be making music again in this way—writing and producing on my own," Ramona says, referencing Nite Jewel's four-year hiatus. "Even though my themes are, like, critiquing the outside world, my music has a sound of joy." She continues that she enjoys dichotomies in music, such as coupling joyous songs with dark themes. It reminds me of her aforementioned paradox: to be alone in a hyper-connected world.
"My songs deal with a desire for intimacy, but coming up against a vacant space."
I ask Ramona what genre of music she makes. She says that when she first started, she was considered to be an originator of "chillwave," a term coined by Hipster Runoff in 2010, which Slant Magazine described as: "faded soundscapes, dreamy lyrical reflections, and warm, anachronous instrumentation meant to invoke the analog glow of late-'70s/early-'80s slow jams." At the time, Ramona "despised" the nomination, considering it to be a genre created by "the media to lump a bunch of shit together that didn't really relate." But today, six years later, Ramona is happy being associated with bands like Washed Out and Toro Y Moi.
She tells me she's also been described as "left field pop," which resonates with her: "I do feel like I'm coming out of left field a lot with my music."
"I'm like an outsider trying to make inside music," she says, pausing for maybe the first time since we sat down.
"But not trying too hard."
***
Liquid Cool drops tomorrow, June 10 via Gloriette Records—get it on nitejewel.com.
Follow Nite Jewel on Instagram @nitejewel, Facebook, and Twitter @nitejewel.
Stay on top of her music via Soundcloud. Photos by Nathanael Turner.