While there will always be a need for the shopping mall, the retail landscape is slowly deteriorating. Kids spend more time on Instagram and Snapchat than they do at the local mall. Social media has taken the social experience out of buying. This has led to a strange shift that streetwear seems to have always understood. Take PacSun for example—here is a nationwide chain that is currently trading for pennies on the NYSE, conversely the introduction of a Supreme online shop in 2010 did little to deter fans from camping in long lines at the Los Angeles and New York store. These two stores obviously sell very different things, but a bit of introspection does show how streetwear's resourcefulness lends itself to wanting and adapting to the changes of the buying public. Streetwear can give private equity firms a lesson in the retail space.
Streetwear and the Pop-Up Shop
"Hey, homie. You think I can take a couple of racks in that corner over there?" Obtaining a lease for a physical location is a huge commitment. And a legally binding contract with a corporation for three years isn't an undertaking most small brands would like to assume, however, asking the big homie for a favor only requires a tall PBR and a handshake. It may not actually be that easy, but even a few legal documents and a cashier check between friends is infinitely less troublesome than the hurdles you'll come across when dealing with a leasing agent, paying the contractor for the build out, and waiting for a city inspector. Here are a few small brands that inspired the likes of Louis Vuitton (Murakami at MoCA) and Lacoste (Coachella 2012).
10.Deep x Hall of Fame – This little pop-up shop in 2010 epitomizes the homie helping the homie attitude. Before Fairfax was the streetwear mecca it was now, Hall of Fame was one of six, maybe seven streetwear stores on the street. Hall of Fame was selling their hats in their large open space, but seeing as how snap-backs and fitteds took up so little space, the 2nd floor was wide open. Sometimes it was spare cardboard boxes, other times it was a rack of tees, but for a few weeks, it was transformed. 10.Deep came from New York to make that upper level their home. Their holiday line for 2010 was showcased in style with a beautifully created build-out. It wasn't just a couple of racks. 10.Deep went to town with the decor, and it was the perfect opportunity for Hall of Fame to share some nice retail space.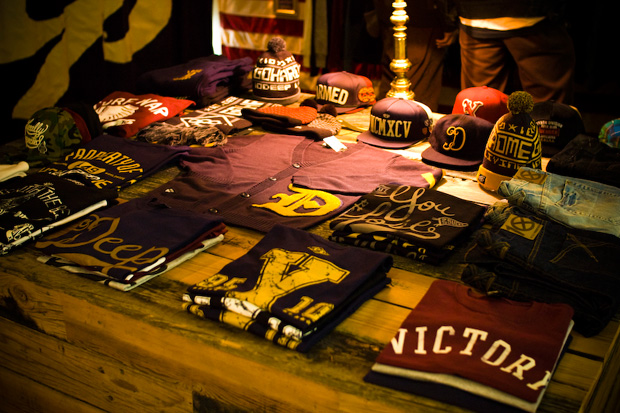 Photo: Hypebeast.com
Nike x HUF – Keith Hufangel and his relationship with Nike went to another level in 2006. While most skate brands were keen on one exclusive, Nike offered HUF four exclusive sneakers and were well-equipped for the lines. Nike finally embraced this idea of camping out for sneakers, and with HUF's integrity in skate and streetwear, the Nike brand jacked that thunder by opening a pop-up shop. The exclusive Hufquake line wasn't just some sneaker—it was a way for Nike to give HUF and sneaker fans an experience. Nike and HUF went all out and placed earthquake print across the shop windows, threw a big party, and waited for the crowds to arrive. This isn't the typical pop-up shop that streetwear brands are used to, but it did prove that these quick and fast stores had value.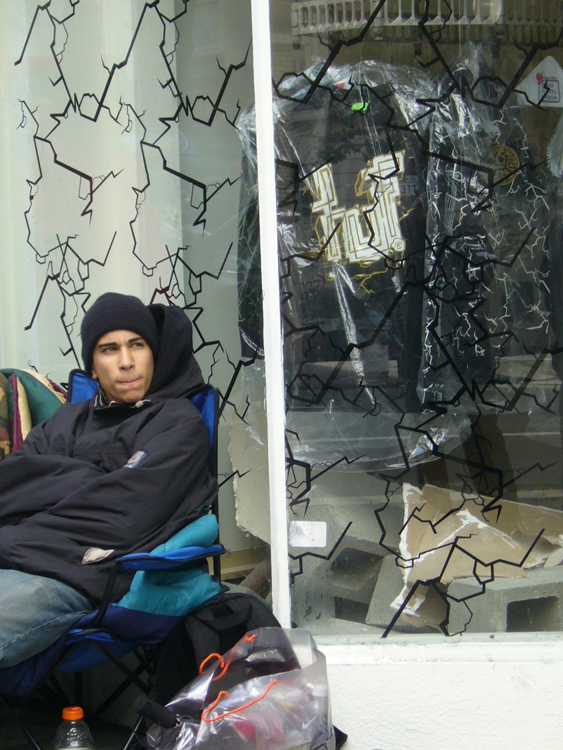 Photo: Lucas_Mast
Brick and Mortar Doesn't have to actually require Bricks nor Mortar
The shopping experience isn't always about one brand selling a product to the consumer. A lot of the time, the brand just wants an opportunity to connect with their customer. And when the goal is more about communication and less about sales, then the pressure of having a physical store isn't even part of the equation. Let Johnny Cupcakes and Benny Gold prove they don't want your money. At least not all of it.
F.I.L. Indigo Camping Trailer – Hiroki Nakamura of visvim doesn't just look like a hippie, he really repped that life. In 2014, Hiroki took his visvim collection on the road and debuted "The Traveling Trailer" pop-up store. Attached to a vintage station wagon was a 15-foot tin trailer curated with Hiroki's favorite items. Besides selling their wares, it was a way for the brand to connect with their fans. It was literally a traveling garage sale until you flipped over the sales tag and realized the nice Japanese man was selling a denim kimono for a $1000 and moccasin sneakers for $500. While most balked at the price, there were those who got to really understand the message of the visvim brand, and for a select few, that price tag was justified.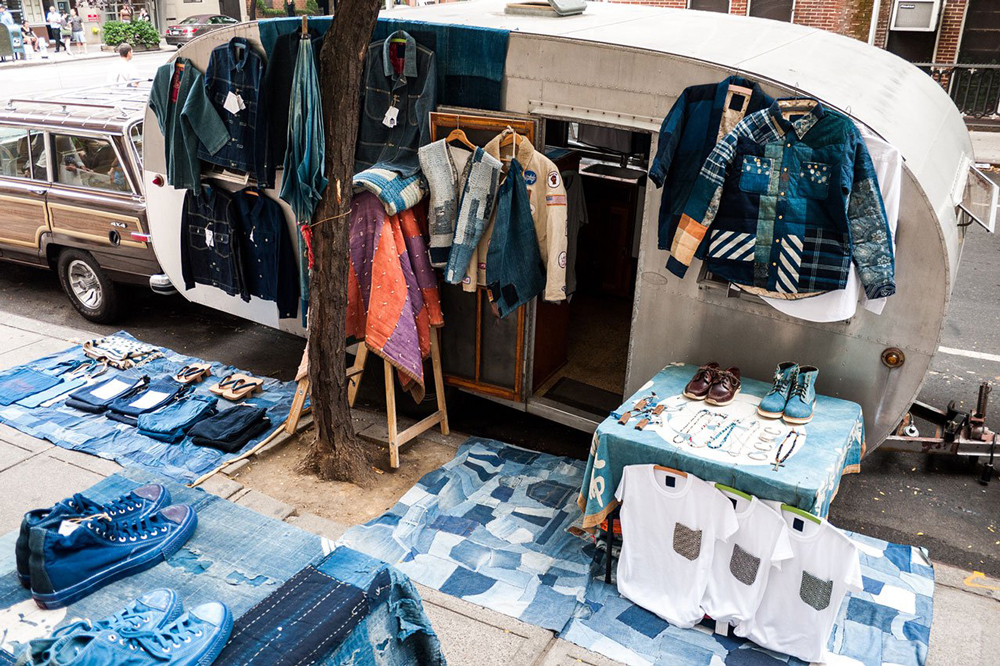 Photo: pinterest.com
Parra x Stones Throw – Before Parra was sold in museums and found in Jay Z's office, the Dutchman was a tried-and-true street artist. And like most street artists, money was tight, and it was time to get creative. In 2009, Parra teamed up with the famous Stones Throw crew and launched a campaign that relied on an old rickety ice cream truck. This mobile pop-up shop drove through Melrose, cruised around Silverlake, and made its way from Little Tokyo to Venice. For a few days, the truck turned heads and gave Parra an opportunity to share his art, muse on his inspirations, and make fans into friends.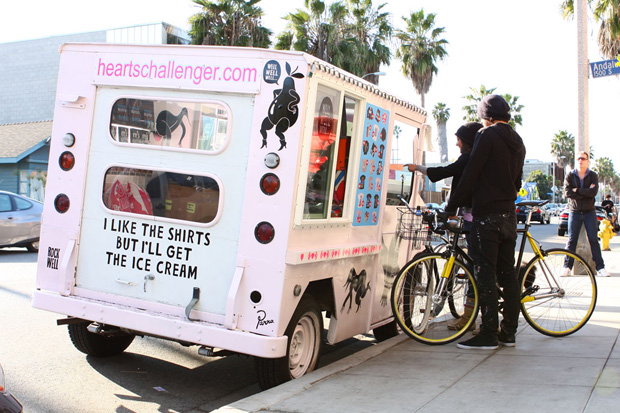 Photo: styleengine.com
The Showroom
Streetwear can give two fucks about selling a single graphic T-shirt in that beautifully crafted WonderWall designed store, because a retail presence on Sunset, Fairfax, or La Brea isn't about money. It's a statement: "We out here." The Hundreds and RSVP Gallery are some of the stores that laid the groundwork for premium brands like Bonobos, Aether and J.Crew.
The Hundreds – With flagship stores in some of the nicest real estate in big time cities, The Hundreds can write a book on vertical integration. While the old way of business involved wholesalers and distributors, The Hundreds is aware of the importance to do it they damn selves. The sales in each store may or may not justify the rent every month, but the retail space isn't meant to just sell clothes. The retail store was a message. At first it said, "We're here," but it has since evolved to mean more. The retail space is well-thought out, inspired by Bobby Hundreds' obsession with time, designed by respected peers in the industry, and is the perfect backdrop for the clothes. The space is meant to educate fans and create a canvas for the clothes to shine. The gallery approach means that sales come second to talking to fans and showing off the latest collaboration—growing the brand.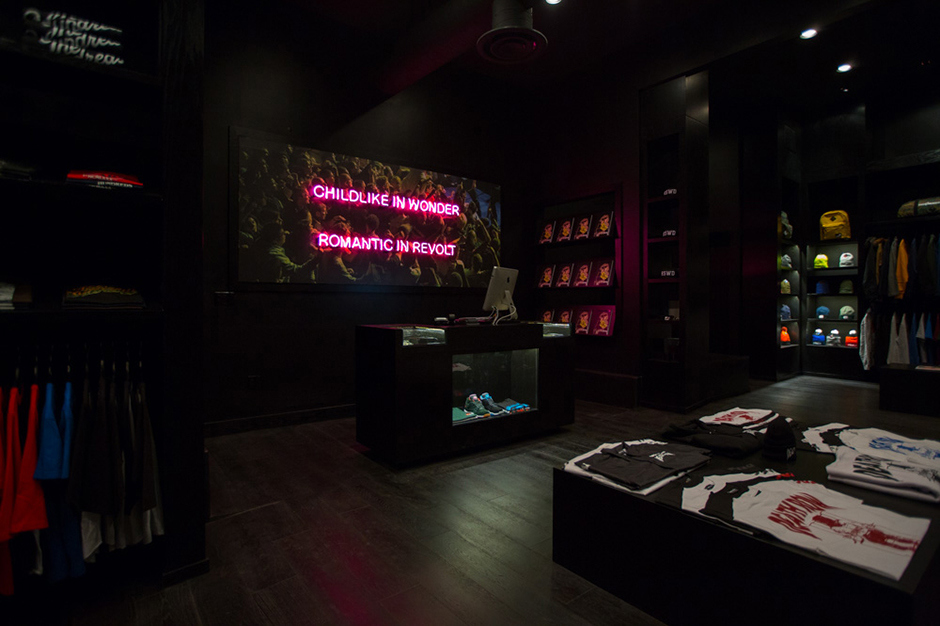 RSVP Gallery – Wide open space and constant changes season-after-season allows RSVP Gallery to be more than just another store. One of the first stores to take this store-as-a-gallery concept seriously is Chicago's RSVP, and it has paid off in spades. Their approach of elevating apparel as art has opened doors for RSVP Gallery. Some of the most coveted brands had their start here. From Pyrex to Off White, RSVP Gallery knew about it first and became a destination for athletes, musical acts, and celebrities. And, with Kanye, Virgil, and Lebron as fans, the consumer comes easy.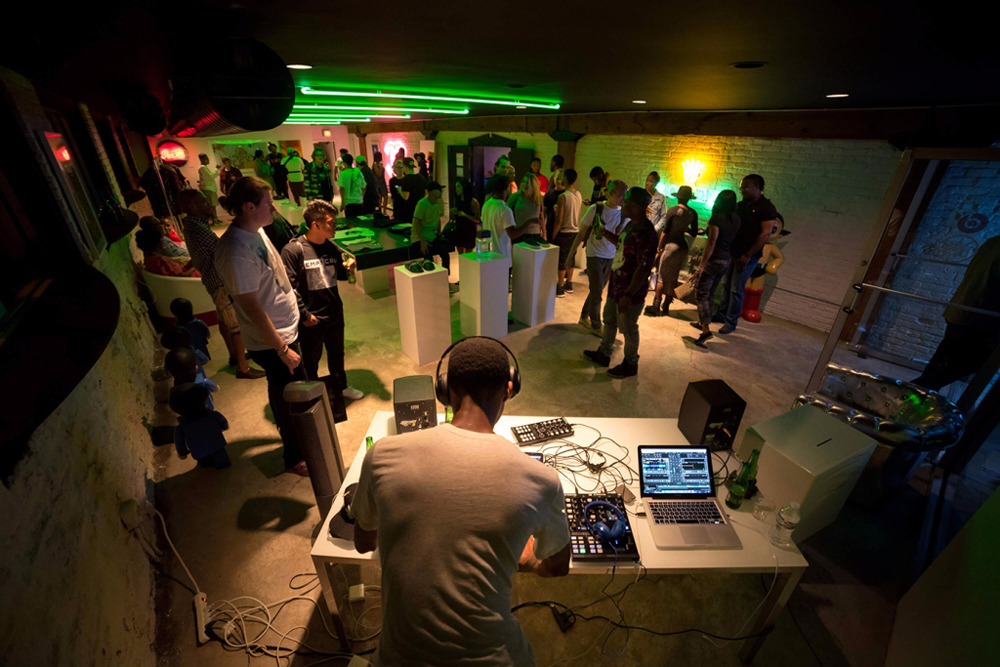 Photo: Hypebeast.com