One of my favorite musical memories of 2015 took place in Shakopee, Minnesota, of all places. It was a cloudy, muddy, rain-filled day at Soundset Festival in Canterbury Park, where I witnessed some of rap's greatest—but also its most distinct—artists grace the same stage. Where else could you find a West Coast legend (Ice Cube), an underground favorite (Atmosphere), and one of the new era's mainstream leaders (J. Cole), all on the same bill, going back-to-back-to-back like that?
Sure, music festivals like Coachella and Glastonbury feature MCs in sporadic doses, but there was something different about this experience. Where rap can sometimes feel like the seasoning to a rock dish, hip-hop was the entire meal at Soundset. There were breakdancing competitions, graffiti installations, and every style of rap you could want: from Dessa's poetic stylings to Big Sean's hit-heavy bounce. And for all of those differences, it worked as a giant melting pot of rhymes. As Rhymesayers and Soundset's Social Media Manager Sarah Dope puts it, "there's absolutely nothing wrong" with other festivals where rap is an aside, "but for huge hip-hop heads, this is where they want to go."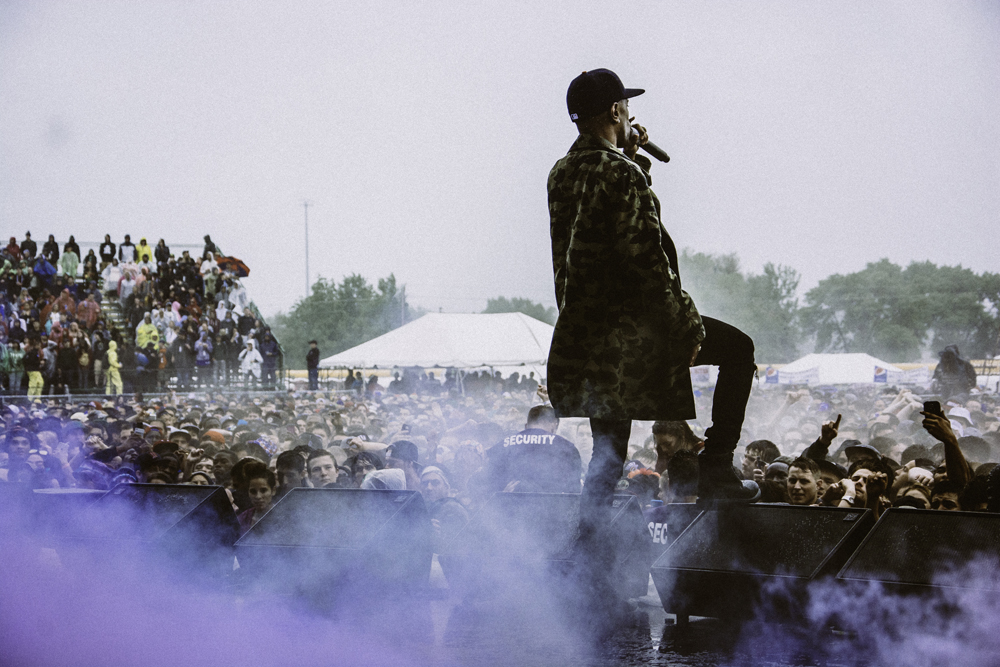 Big Sean
This year, Soundset once again plans to serve precisely what those hardcore rap fans are hungry for, on an even bigger plate. They've moved from Shakopee to the Minneapolis State Fairgrounds where Future, Atmosphere, A$AP Rocky, and The Roots are slated to co-headline this Sunday, May 29. Clearly, that goal of unity within rap continues to shine. "It's important to show all sides of hip-hop," explains Rhymesayers Entertainment's General Manager Jason "J-Bird" Cook, who's also curating the festival. "I've always liked the idea of showing all the different sides of hip-hop in one day."
Want some examples of how they plan on doing that? Just take a look at New York rappers A$AP Rocky and Aesop Rock, who might come from the same state, with similar sounding names, but have music that is vastly different. Still, they're on the same bill at Soundset. Another Rock, Top Dawg Entertainment's Jay Rock, also has a different brand of hip-hop, one inspired by Watts, California, where he was born and raised. And he's on the lineup, too.
Last year, after performing at the festival, Logic released a song that was inspired by Atmosphere's Slug. His verse on the track might as well be Soundset's annual mission statement:
"So much division, my vision is faded," he raps on the Slug and Killer Mike-assisted "Tree of Life." "We all from the same tree, but you leaves degraded / Judging the different branches in music that elevated / Just 'cause it's further from the roots don't mean that you should hate it / 'Cause there's a time and place for everything that's been created."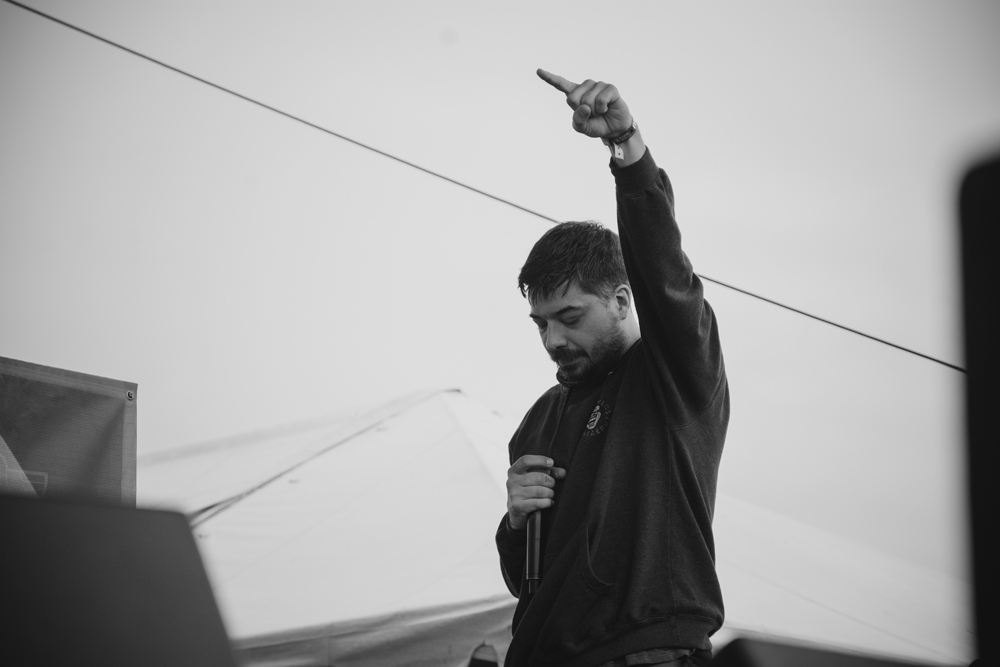 Aesop Rock
A More Open Mind
Part of what made Soundset so special last year was a blending of cultures. Fans of all races stood together, rain-soaked, but united. I heard them recite Slug's lyrics about his late father on "Yesterday," and then J. Cole's rhymes about his loving mother on "Apparently." Fans who may have come to the event thinking Cole and Atmos were far too different to rock the same stage, likely left with a different perspective: a more open mind.
Sarah understands Soundset's ability to open minds firsthand. She uses the example of an act who performed last year that she wasn't a fan of prior: "When he played Soundset, I had the opportunity to watch him because I was there and now, I'm like, 'That guy puts on a great live show.' I can appreciate that, at the very least. If you're a fan and you've already paid for a ticket, why wouldn't you check somebody out? They might surprise you. It also helps get rid of assumptions people make about certain artists."
That's also why Soundset packs its lineup with rappers from different eras. This year, for example, veterans like The Roots, Common, and Pharoahe Monch are performing alongside newcomers Anderson .Paak & The Free Nationals, and A-F-R-O.
"It's important to keep a balanced lineup," Cook says. "You have to include not only the new artists, but the legends who paved the way... Some of the younger fans of Soundset get the opportunity to see these legends live, and maybe a dad who grew up in the '80s or '90s has the opportunity to see younger acts that his kid keeps telling him about. You do see parents just having a good time with their kids at Soundset and it's a beautiful thing. Something for everybody."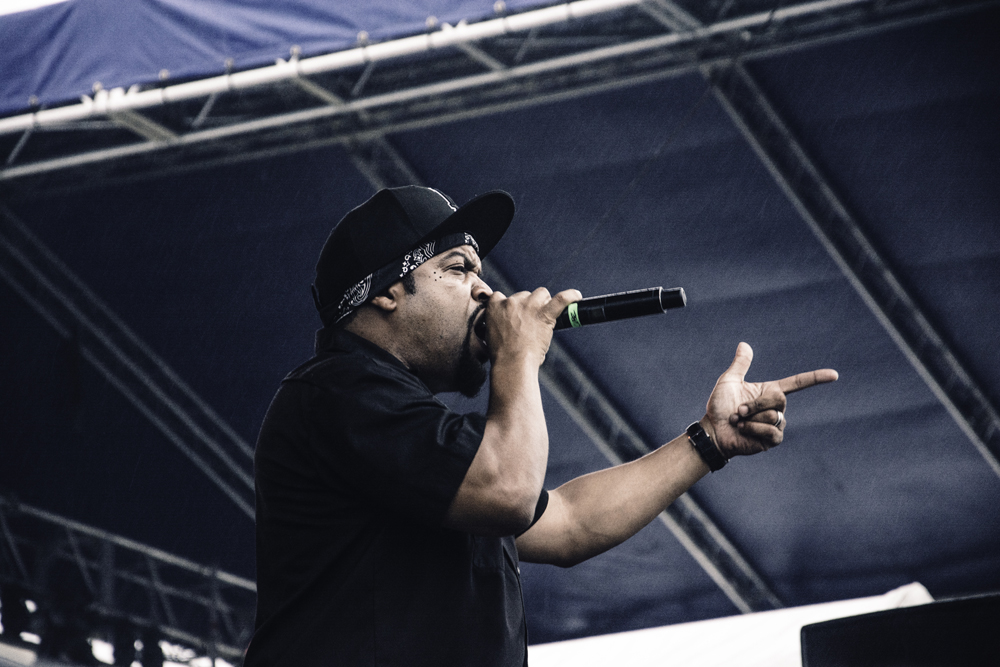 Ice Cube 
That includes women, of course. And this year, the ladies will also be represented by MCs like Reverie, Lizzo, Noname, and Lexii Alijai onstage, just to name a few. "These different types of artists performing together in one day really shows how much the genre continues to be so diverse and stronger than ever," Cook adds. And from what I've seen, he's right. It's like one big annual and inclusive hip-hop family reunion.
While watching Cole's closing set last year, for example, just as he was rapping about his mom, I stumbled upon an older woman with two teens. The lady had a bag draped around her body as shelter from the rain. Her kids stood beside her, watching Jermaine spit. And while being present was enough of to nab a "Dope Mom Award," something else struck me about this moment: she was smiling. There was true joy there. As Cook explained, it's all part of a plan to entertain every hip-hop fan, no matter the age.
A Year Dedicated to a One Day Celebration of Hip-Hop
There was something else that was striking about Soundset last year. Backstage, organizers were rolling around in golf carts. Employees with walkie-talkies were walking briskly from one muddy area to another, Rhymesayers rain jackets and hoodies on as rain fell from the cloud-covered sky. Fans didn't get to see all of this, but it was clear that a ton of hard work was going down behind-the-scenes to make sure that it all went smoothly. What fans also often overlook is that the hard work doesn't start the day of the show.
The 2016 edition of Soundset, for instance, has taken even longer than a year, according to Cook. "A year," he says, "dedicated to a one day celebration of hip-hop." And as an integral organizer, Cook understands this lengthy process almost better than anyone. He says the work simply "never ends."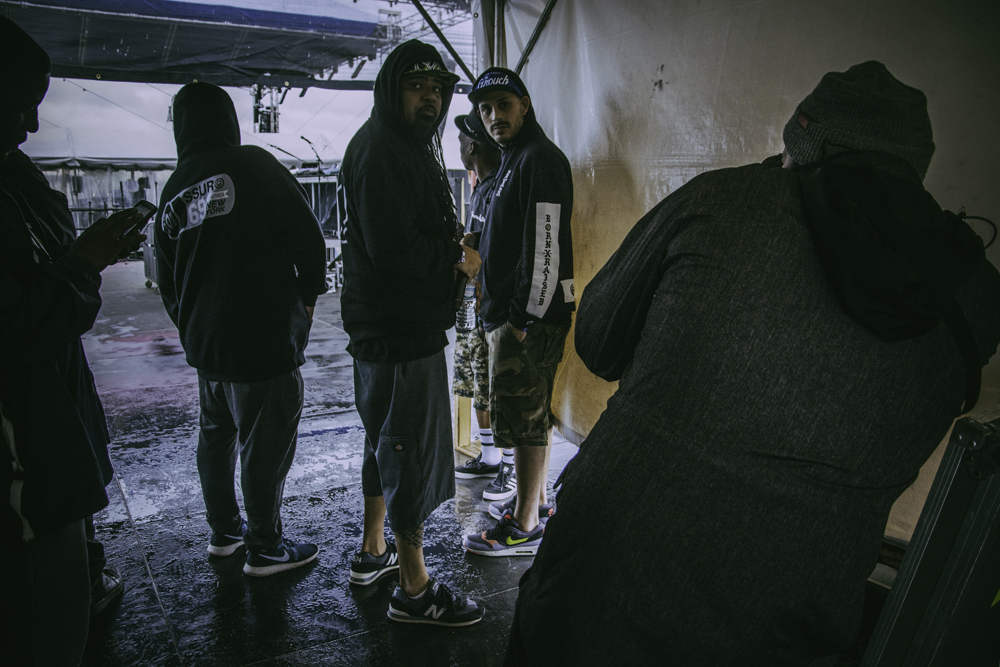 Dilated Peoples
Throughout the year, Cook gathers potential Soundset acts. He scouts them live and online, through YouTube, through Soundcloud, looking for standouts. Rhymesayers staff and artists also offer up their opinions. "You always have to have your ears open for suggestions from anyone and everyone," he says. "We always try to stay ahead in getting artists early and at the right time. For instance, we booked Kendrick Lamar, Wiz Khalifa, Macklemore, and Chance The Rapper very early on in their careers."
When he's scouting, he's usually looking for "the live element" as a "top factor." From there, he meets with agents and managers to discuss upcoming plans. The team debates artists for weeks on end, hoping to book every Soundset act "by the end of the year prior," he says, "which unfortunately has never happened."
From there, organizers work on making sure the show flows smoothly, which might seem easy, until you realize what a daunting task that actually is. To put it in context, Cook explains that "it's like putting together a Hip-Hop puzzle." Why? "It's not just who to book, but where they play in the lineup, and getting the timing right is crucial," he adds. "We have four stages and it has to play out right beginning to end across the board. It's like a DJ putting together four hip-hop mixtapes that all play together in sync for nine hours."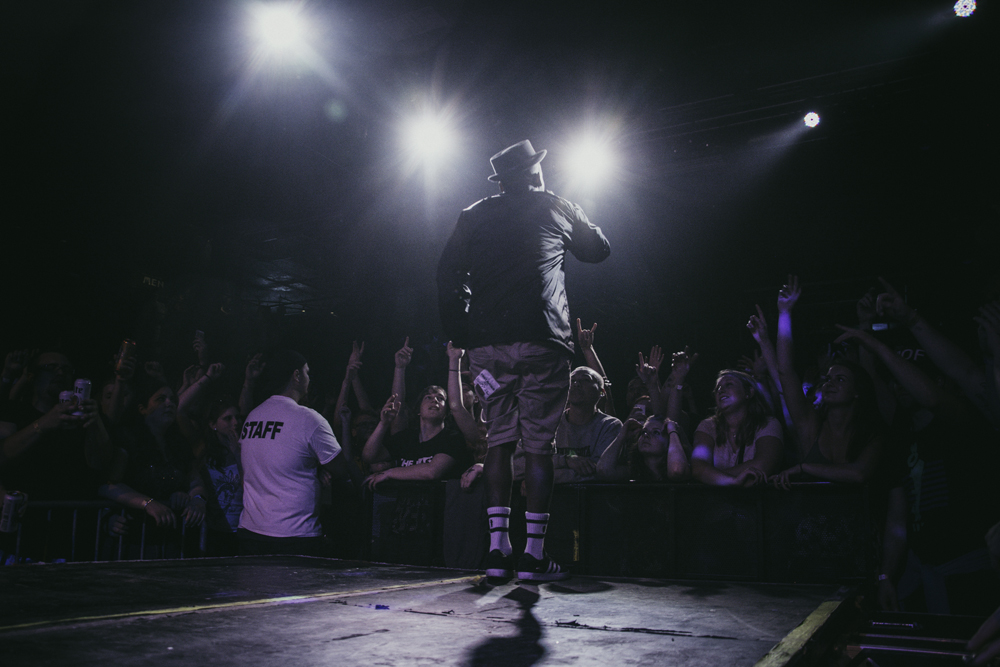 Fashawn
Sarah knows the importance of these teams because she manages one of them: the Social Media Squad. "There's so many different parts to that," she continues. Each year, Soundset has live social media screens surrounding the main stages and Sarah's in charge of keeping those updated.
She also runs a team of photographers, drone operators, and videographers, who document the entire festival's happenings and on-site activities, like skate ramps and live paintings. "In the past couple of years, we usually brought in a guest Instagrammer. In the past, we had Evidence. Last year, we had Van Styles," she explains. "This year, we have not announced him yet, but if it goes through, I'm really excited."
From all the footage the Soundset team shoots ends up in an annual "wrap-up" video that thanks fans for attending. It's that sense of fan appreciation that has helped Soundset build a solid base of supporters in Minnesota. That's likely why they've sold out the past few festivals and why they had to move to an even larger venue this year. It's the same ethos that has helped Rhymesayers, the label that organizes the event, remain influential for more than two decades with independent hip-hop.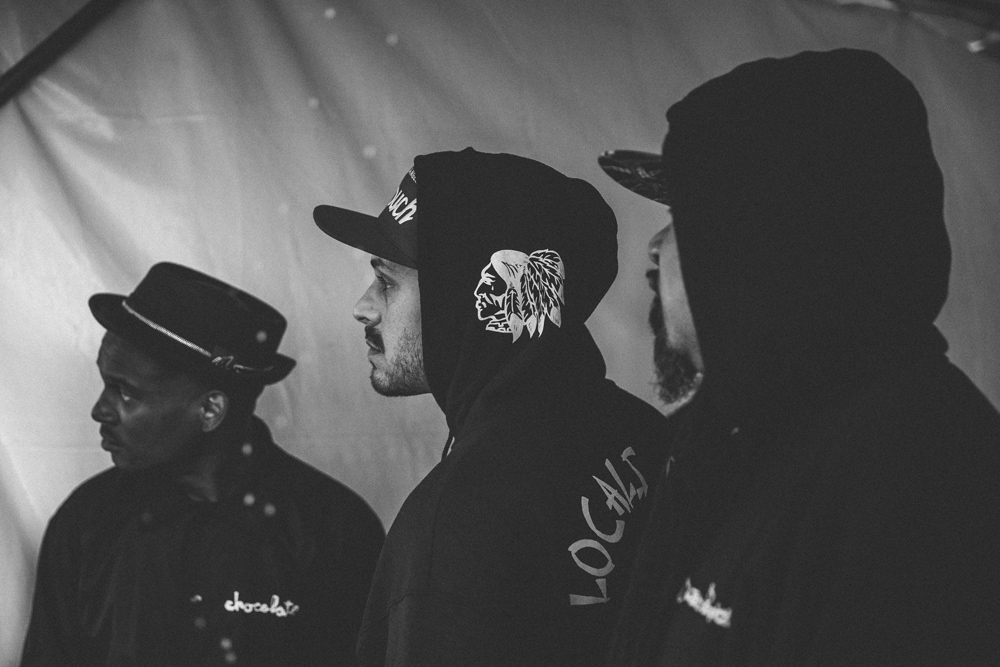 Dilated Peoples last year, shot by Van Styles. See the rest in our coverage of the event last year.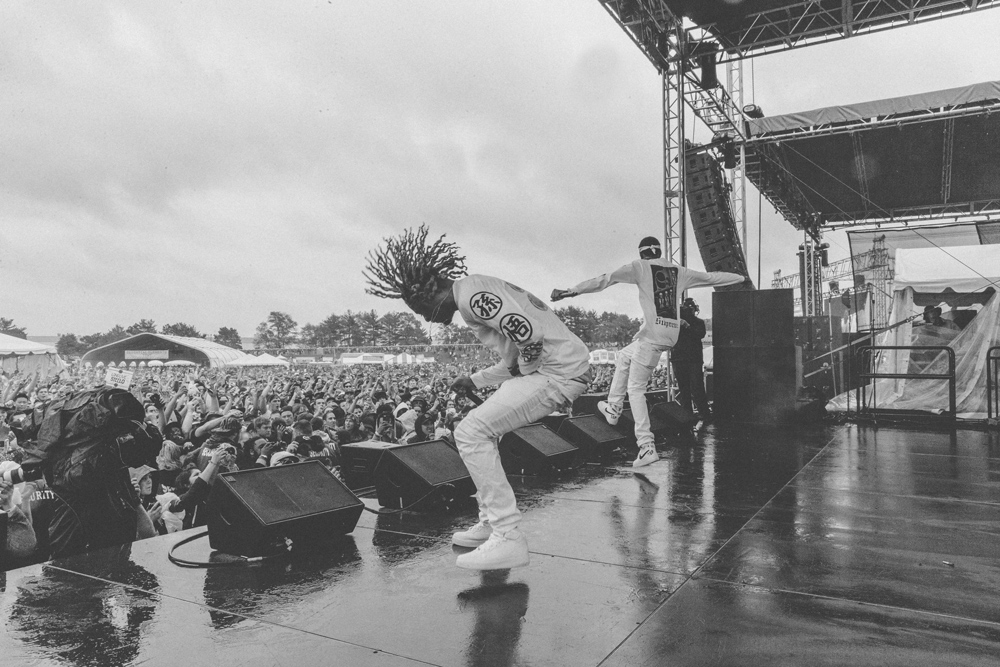 Photo by Van Styles.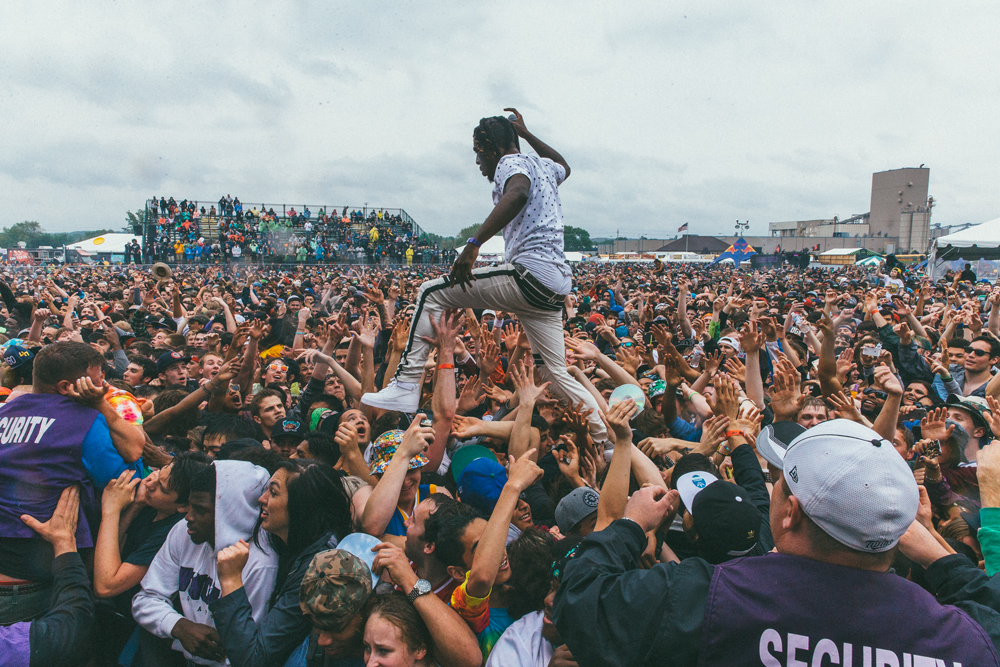 Photo by Van Styles.
Fans First
Sarah's excited because photography's her passion too [Ed. note: most photos in this article were taken by her]. At every Soundset, even while running the social media show, she tries to sneak a few photos in. Last year, for instance, she got to do just that when an unexpected moment took place.
During Yelawolf's set, the Shady Records MC grabbed a stool and looked into the Shakopee crowd. "I'm gonna throw this motherfucker," he said. "Somebody sit on top of that motherfucker and crowdsurf. It's gonna happen. Don't let security fuck this up."
"At that point," Sarah says she dashed towards the stage with her camera in-hand. "It must've been funny for other people to watch, but I'm a pretty petite person, so all of a sudden you see this little Asian girl booking it from production, running through the mud and going to the side of the main stage to get this shot, but I got it."
Cook has felt that same thrill in other situations. "We're all fans first," he explains, recalling the time they booked De La Soul or when he had to call DJ Jazzy Jay on the phone. "I still bug out sometimes thinking about it."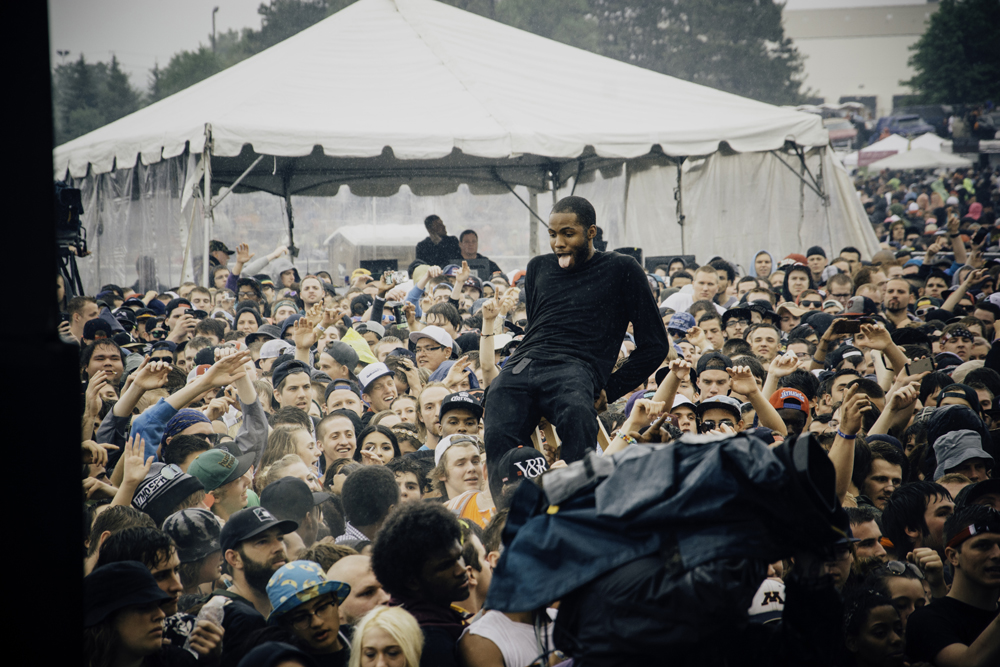 That passion is exactly what helped Soundset get its start, back in the 1990s, before it took on this festival format in 2008. "It was basically a weekly Rhymesayers live event hosting DJs, rappers, and b-boys," Cook explains, reflecting on how far they've come.
Sure, Soundset's come a long way, but hip-hop has traveled even further. In the early '80s, hip-hop was considered a fad by those outside of its inner circle. In his 1998 book, Hip Hop America, author and rap historian Nelson George speaks to this fact. "No one from the old school knew where hip-hop would go and all were surprised, pleasantly and otherwise, by how it evolved," he wrote. "When I first experienced hip-hop, I was living in a drug-scarred, working-class part of Brooklyn, and believe me, I had no idea I'd still care about it decades later."
Eighteen years later, hip-hop is still evolving and now, it has a festival to showcase that growth. Cook is proud of that. "How great is it to be able to bring together a community for an all day hip-hop festival all these years later," he says, "when so many people said the culture and music would never last?"
 ***
Buy tickets for this Sunday's Soundset: soundsetfestival.com. Follow Soundset on Twitter @soundset, Facebook, and Instagram @soundset.
rhymesayers.com. Follow Rhymesayers on Twitter @rhymesayers, Facebook, and Instagram @rhymesayers