What can you expect to see when you come out to a Villain Park show?
According to the West Los Angeles hip-hop trio: "ONE HUNDRED BOMBS. JUST SOME RAW, UNAPOLOGETIC SHIT." The crew, described by Bonafide Magazine as "youthful" and "infectious," are making waves with their authentic sound. "We causing an industry shakedown," they told us, adding that they're "out here representing the realisms of music and supporting the original hidden culture the lost people haven't found." This attitude and the music sound right up our alley, which is why we're stoked to be hosting Villain Park at this Friday's Spitset—our free music installment open to anyone and everyone, as long as you're 21+ (RSVP HERE).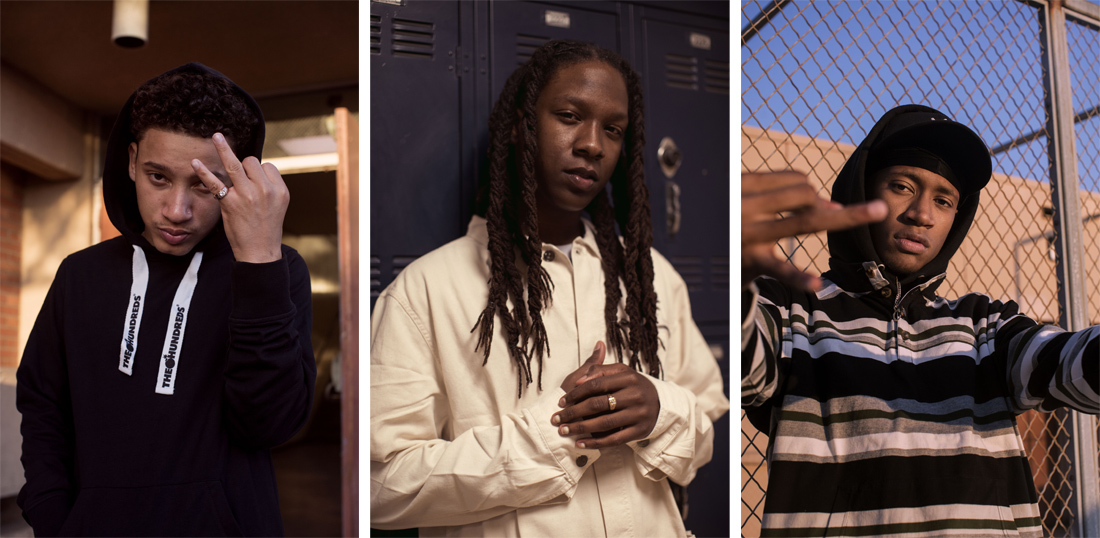 Left to right: Bunge, Smoke, and DJ Coly Cole
We caught up with Villain Park—made up of emcees Bunge and Smoke and DJ Coly Cole—in our Q&A below to get a feel for their music, learn about their future projects, and get hyped for their Friday show. Meanwhile, photographer Robb Klassen went to meet up with the boys and their crew in Culver City for a photo shoot at Hamilton High.
THE HUNDREDS: You guys started out as a group of four and are now a trio. Did it shift your sound? What about your dynamic?
VILLAIN PARK: The sound didn't change at all. If anything, it progressed.
To a listener who's never heard of you guys, how would you describe your music?
Extinct. The industry is a box and people try hard to be outside of it while we step on it.
A lot of people describe your sound as being very '90s hip-hop. What and who are your main influences? Where do you turn to for inspiration?
What we do is our own natural style. We don't try to sound or be like anybody. What you hear and feel comes straight from the soul. Some of our main influences are Outkast, Tha Dogg Pound, the whole Dr. Dre collective, Three 6 Mafia, Ice Cube, 50 Cent, DJ Quik, etc. Can't forget the real oldies—Parliament Funkadelic, Marvin Gaye, The Isley Brothers, James Brown, Roy Ayers... you know, that real shit people like to call old.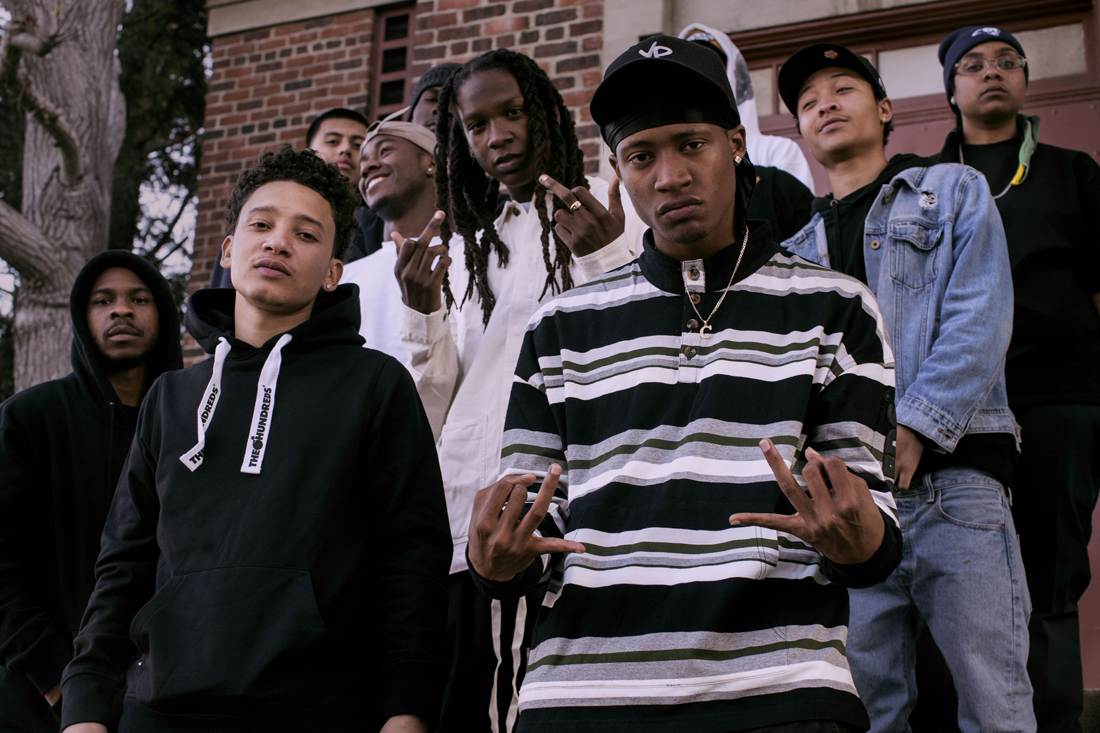 Tell us about where you guys hail from. Does it influence your vibe/sound?
We all met each other at Robertson Park in West LA but all reside in different cities throughout Los Angeles. The streets will either make you or break you out here. Everybody is a product of their environment but it's up to you on what product you gone push. Everybody has had the option to bang, shoot, rob, and kill. But the option we chose is what we're doing right now.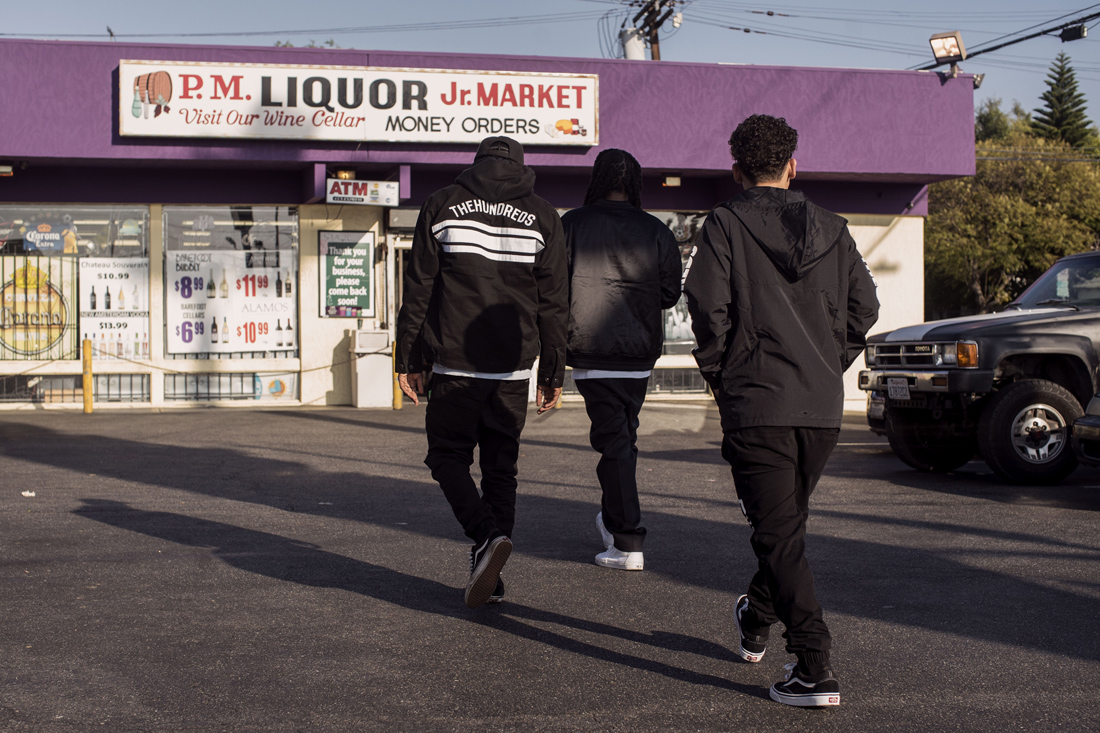 How do you guys feel about performing? What's your favorite part? Do you have a pre-performance ritual?
We always pray before we hit the stage. Our favorite part is not giving a fuck and having a good time with the crowd. You never know what to expect at a Villain Park show.
When folks come out to see Villain Park this Friday, what can they expect from your performance? What is the energy like?
ONE HUNDRED BOMBS. JUST SOME RAW, UNAPOLOGETIC SHIT.
What's in the future for Villain Park? Tell us about any and all projects we should expect from you guys.
We have a musical series on the way and that will be the alley oop to the upcoming album. Until then, you can expect more shows, movies, and eight ball shit.
What are a few things you guys think Villain Park is trying to represent to the world (LA, etc.)
Try? [Laughs] We causing an industry shakedown. We don't try; when we put our mind to it, we make it happen. We out here representing the realisms of music and supporting the original hidden culture the lost people haven't found.
***
RSVP for this Friday's free show featuring Villain Park and Compton's on-the-rise star Buddy at THEHUNDREDS.COM/SPITSET.
Photos by Robb Klassen. Villain Park is wearing The Hundreds Spring 2018.
Follow Villain Park at @villainparkla and follow the guys at @bungevp, @smokedoutvillain, and @djcolycole.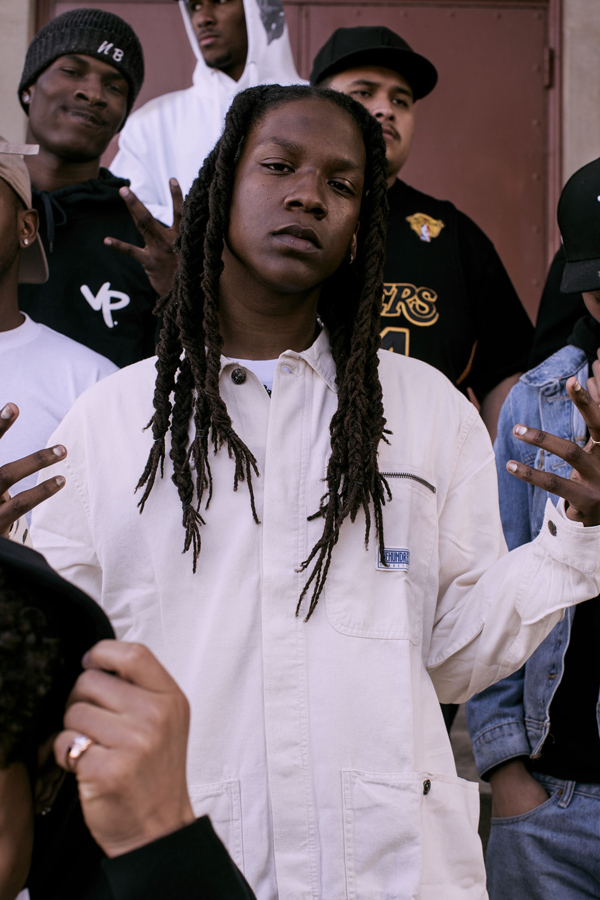 Smoke.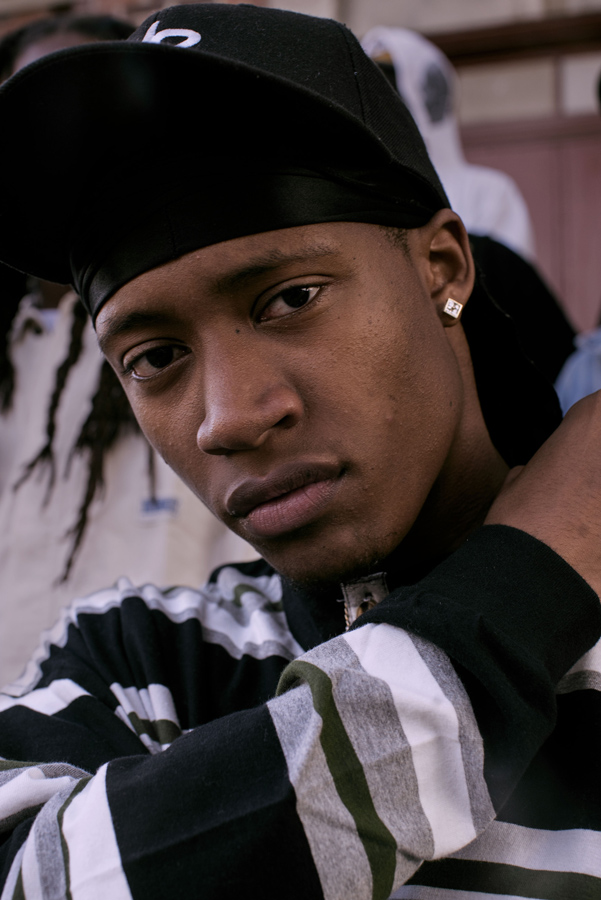 DJ Coly Cole.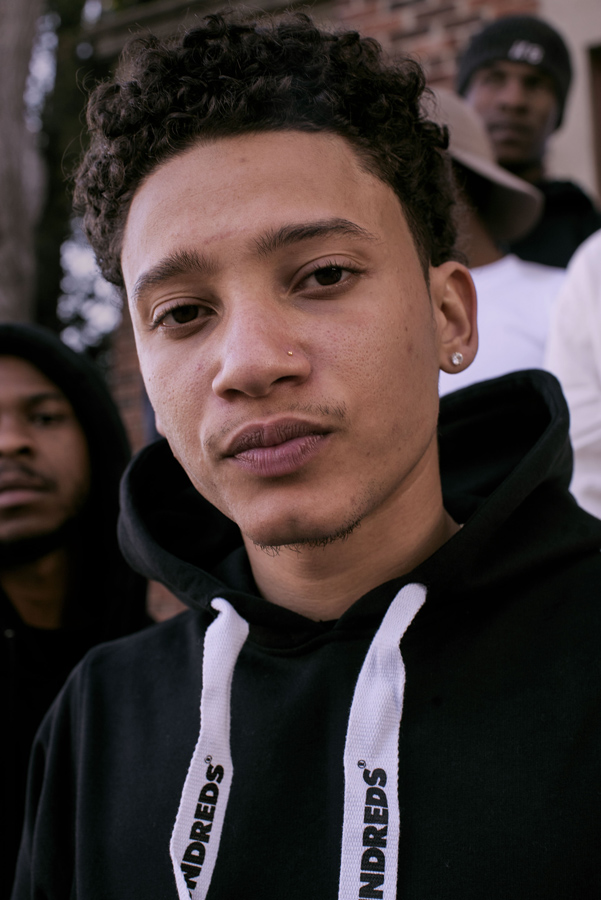 Bunge.