Please allow me to introduce myself. Born and raised in Detroit – 80's baby.  I'm a self-taught photographer shooting portraits/music/culture/advertising for various clients from Bloomberg & ESPN to Chrysler & Adidas. I'm not a DJ, but I've DJ'd in 6 countries on the Cold Steel tour. I lived with Kid Rock for a summer and shot a book. I'm also Eminem's personal photographer and he's taken me around the world with him many times.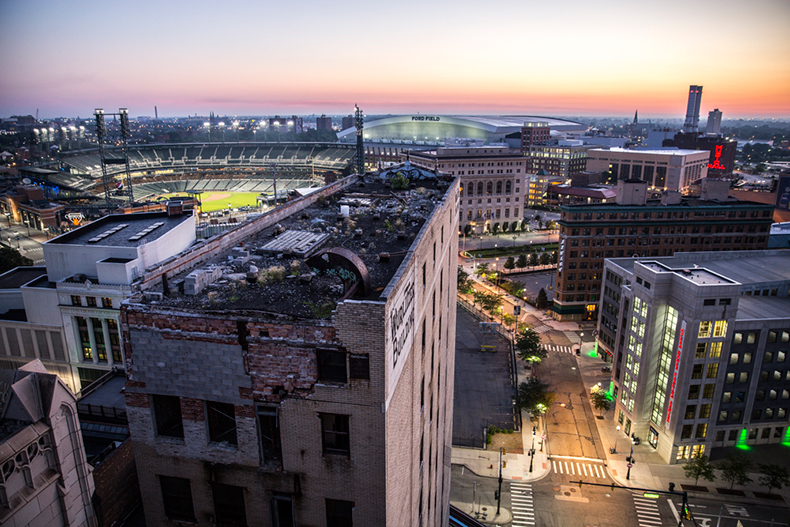 I shot this image standing on the rooftop of the Metropolitan Building around 5am after I scaled a wall and found an open window on the 2nd floor. After navigating through the 15 story maze with a flashlight – word to LFTY – I found this sketchy ladder which took me to the roof. I kicked it up there for a while, enjoyed the sunrise and shot some photos. Some people climb mountains, we climb buildings. Just another day in Detroit.
I thought this image was a perfect visual to welcome you into my world. It represents everything about what Detroit is. The crumbling Wurlitzer Building in the foreground was once home to the largest music store in the entire world. Detroit aka Motown has crazy music history, and this was the spot that made the famous Wurlitzer pianos, organs, jukeboxes, etc. Wurlitzer left in the 70's and it's been vacant since. Literally a few streets away, is the newly built Ford Field football stadium, where the Lions continue to lose games & Comerica Park, home to the Detroit Tigers. Detroit's population was about 2 million in the 1950's, and now it's less than 700,000. Ever seen Mad Max? Half of the city is vacant and abandoned, while the other half is new and thriving. Shit, tell me another city that has hosted a Superbowl where you can also buy a house for $500? It is not only one of the most inspiring places for me, but Detroit literally made me. My hustle, my work ethic, my drive, and taught me to not take shit from anybody. Detroit gave me passion to create and my camera has allowed me to travel all over the world. At the end of the day, no matter where I am, I will always call the Motor City my home.
I'm looking forward to sharing my sometimes exciting, sometimes mundane life with all of you. Hit my email (talk@jeremydeputat.com) with any questions/comments/suggestions/hate mail or just plain dumb shit and I'll try to respond via this platform that Luis & Bobby blessed me with. Peace.