We live in a modern era of music where artists, even in the mainstream realm, struggle for the financial stability and wealth of before, lost to a generation that primarily consumes culture for free via the Internet. So it's always interesting and oftentimes applause-worthy to see the direction in which our celebrities branch out to establish their net worth. Particularly in hip-hop, a genre with some of the highest profit margins left within a dying music industry – and yet with the majority of its artists completely invested in a pact with the devil, better known as the 360 deal – it's noteworthy to see a rapper creatively finesse a living out of their celebrity status in light of such a negative business relationship.
L.A.'s Thank You God Always, better known to us as Tyga, is a perfect example of this. Embroiled in major label drama with Cash Money Records over royalties he's stated he has yet to see off of the more than 9 million records he's sold, it's remarkable to see the 25-year-old musician who made the Forbes list last year continue to keep his head up and further establish himself as a mogul. With a successful apparel line (Last King), watch line, an upcoming show on MTV, real estate ventures, and now recent team team up with iconic shoe brand L.A. Gear to release his own footwear line, it's clear business has always been on his mind. As he told us this Tuesday at the grand release for his Liquid Gold collaboration with L.A. Gear at the Sheikh store on Hollywood Blvd, "I just always put back in. If I'm doing shows and I make money from touring, I always reinvest it in myself and a lot of people are scared to do that. I just really reinvested in things that I believed in like the Last King – the brand. I paid money out of my own pocket to do the store and stuff. But it's all good because it's something that I'm trying to build long term."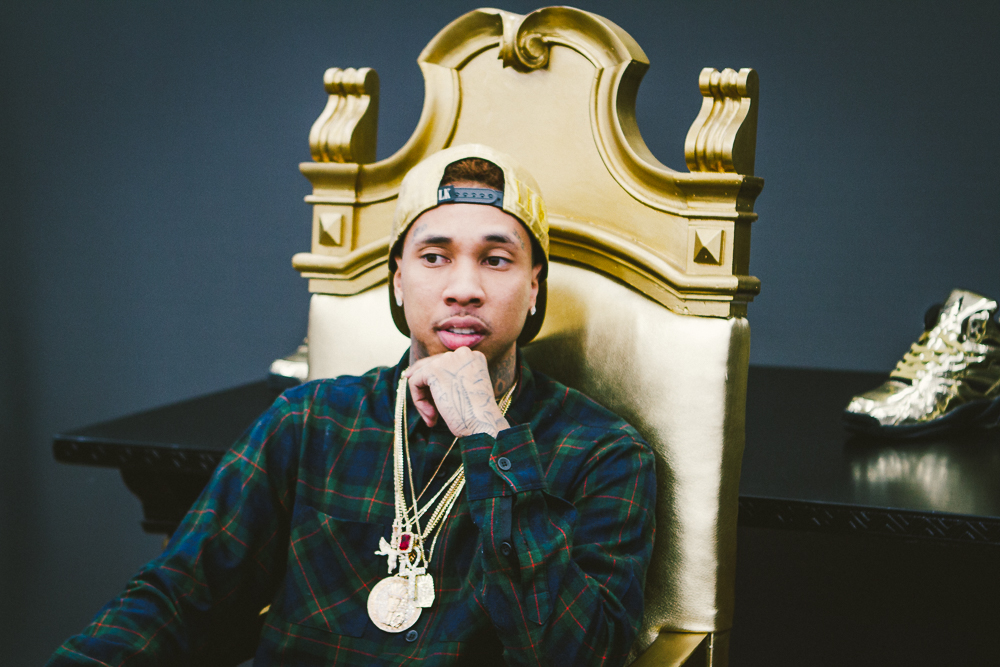 "IF I'M DOING SHOWS AND I MAKE MONEY FROM TOURING, I ALWAYS REINVEST IT IN MYSELF AND A LOT OF PEOPLE ARE SCARED TO DO THAT."
With Liquid Gold, a limited release sneaker (there's only 500 reported made) retailing at $120 available exclusively at Shiekh Shoes, we find the rapper particularly paying homage to the vintage L.A. Lights silhouette which was big in the West Coast in the '80s and '90s and marked a definitive moment in the young artist's childhood. When asked about his opportunity to partner up with the historic footwear brand, he stated, "I think it's good because I wanted to do something that really represented where I grew up in LA. L.A. Gear is the perfect brand, because back in the day, they really represented shoe culture. They really represented the culture. So I just wanted to bring it back."  The relaunched limited edition shoe with the classic lights at the heel and a black outsole comes in the solid metallic gold that best represents its connection with Tyga. "Gold represents a lot and it's a really empowering color. It represents life, so whenever people see gold they always know I'm behind it."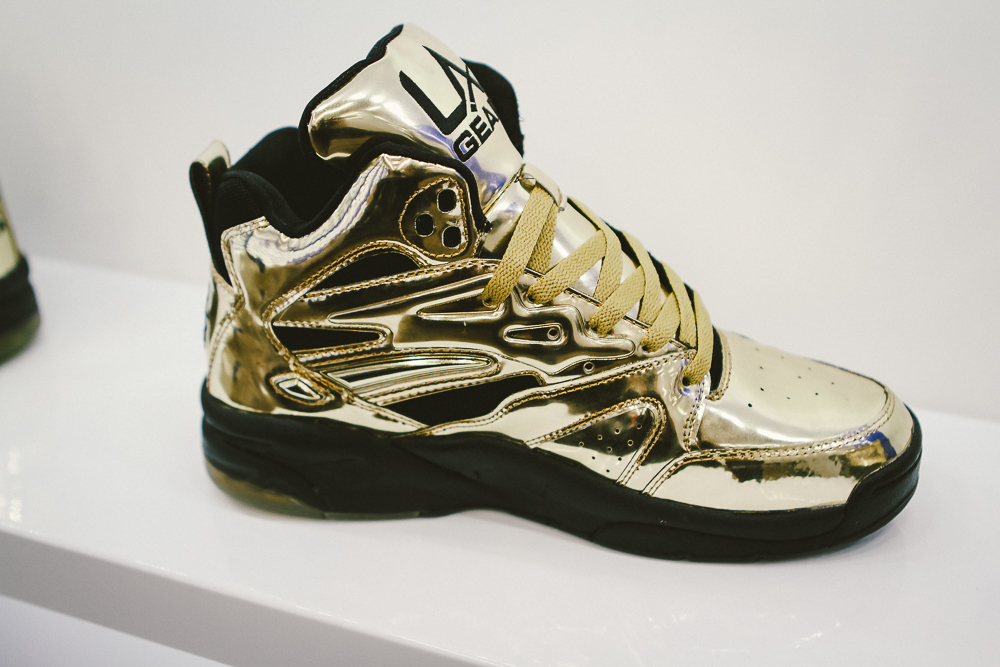 The shoe is the first of the 4 upcoming shoe lines Tyga has joined forces with L.A. Gear this year to design. Celebrities such as Karrueche Tran and Christina Milian, along with hundreds of fans showed up at the Shiekh flagship store and waited outside for hours at the release party to get the chance to meet the Rack City star and have him sign their own pair of the Liquid Gold L.A. Lights shoe.