Track-A-Demia is an ongoing music series that uses popular and underground tracks to explore the nature of current news headlines and buzz. It's an informal crash course on viewing the world through song. 
As U.S. Election Day 2016 quickly gallops around the corner and onto center stage it's very difficult to picture the elephant and mule of the not-so-respective Republican and Democratic parties unaccompanied by other circus animals. Seriously, Barnum and Bailey themselves couldn't have put together a grander spectacle of cartwheels, shenanigans, and shock value. In one corner lies a candidate who's foul mouth and publicly racist and misogynistic sentiments run deeper than his capitalist pockets. On the other side, a millionaire former First Lady who's political experience and pro-feminist charm attempt to disarm citizens from critically thinking about her and her husband's past decisions to further the systematic oppression of minorities in America via the deceptive politics of community policing, a continued war on drugs, and super-predator rhetoric that supported mass incarceration.
Whether you're a believer in the democratic system or a pessimist of politics, the artistic avenue of music, both underground and popular, has always held an egalitarian safe space for free speech. That space has been used by everyone from the original Black Sabbath lead vocals of Ozzy Osbourne to the prose of Queensbridge MC, Nas. They, along with a few others, comprise this introductory Track-A-Demia list dedicated to an American history of politics and politricks.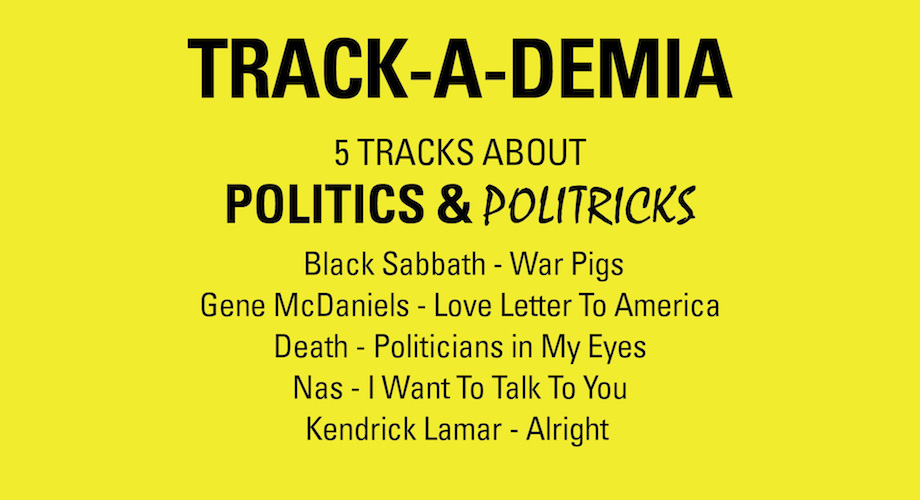 Black Sabbath – "War Pigs" – Paranoid (1970)
The insidious and esoteric history of politics and war runs deep—mind control and blood deep. I'm talking way beyond Illuminati memes and YouTube conspiracy videos. Leave it to the bat-decapitating, self-proclaimed Prince of Darkness, Ozzy Osbourne and band Black Sabbath to vividly portray the bleak, mystic, and sorcery-ridden underbelly of government-driven war machine. The band's song "War Pigs," from sophomore album Paranoid, is a quintessential doomsday cry—complete with slowed-down raid sirens—that flips the ministry of bloodshed on itself. From the tune's opening lines of "Generals gathered in their masses/Just like witches at black masses" to the very end where "Satan laughing, spread his wings..." "War Pigs" is an unapologetic barrage against political and military establishments bent on summoning "Death and hatred to mankind" all while "Poisoning their brainwashed minds." The game of politics, it seems, including American presidential politics, calls for some pretty serious collateral and wagers via the lives of citizens and soldiers. Thus the message is clear from the get: beware the hands that peddle death.
Gene McDaniels – "Love Letter To America" – Outlaw (1970)
American musician Gene McDaniel's musical career paralleled the American backlash to the war, poverty, and discrimination of the 1970s. The chaos and brutality in Vietnam really had a way of tugging at a nation struggling to justify why so many American brothers and sisters were dying for "freedom"—especially when things weren't well kept at home. It was a time of homegrown revolution, both of the body and mind. While Black Panthers and hippies were carrying our their particular concepts of protest and liberation, so was McDaniels in the music industry, a place full of its own racist politics and freedom-crushing contracts. In 1970, McDaniels went full-on rebel with title and concept to release Outlaw. In it he pens "Love Letter To America"; a heart-wrenching ode to a country with great potential for real democracy that has instead settled for coldness and violence. You can't help but to compare his poetic sentiments with 2016's polarizing presidential race that seems to have uncovered the still-festering sores of deep-ridden hatred and divide.
Death – "Politicians In My Eyes" – For The Whole World To See (1974/2009)
Detroit protopunk band Death is almost one of the greatest stories never told. Thankfully, a 2013 documentary about the band's history and music helped proliferate and resurface the group's powerful music. Hailing from the Motor City was no joke in the late 1960s, considering how much of a microcosm of the country Detroit has been historically. The golden years of a booming automotive industry and the soulful sounds of Motown are a far cry from the contrast of 1967 riots to present day recession and much abandonment. It's fair to say that the "D" has survived a kaleidoscope of episodes and political malpractice.
["Politicans in my Eyes" is] rapid, it's adrenaline-inducing, it's controversial, it's real.
Death's tune "Politician In My Eyes" happens to be a very brazen and upfront assault on the contemporary politician's ladder climb, perhaps a reflection on how those in power eventually left the city to fend for itself. The song's fast-paced rock and punk nature is something reminiscent of a cross between Hendrix's "Machine Gun" meets the intensity of Bad Brains. It's rapid, it's adrenaline-inducing, it's controversial, it's real. "Reaching out shaking hands/Making friends and other plans/Some will rise some will fall/Some won't even answer calls" proclaims one of the song's bridges, a sentiment that surely many Americans still echo to this day. It's incredibly difficult to vote for any politician, let alone the lesser of two evils.
Nas – "I Want To Talk To You" – I Am (1999)
No stranger to the sentiments of urban plight and the results of political abandonment is Queensbridge MC, Nas. Renowned as a street poet and rapper's rapper, the lyricist has always been known for using his highly intelligent vernacular and observational insight to paint some of the most prolific pictures in hip-hop. Though his second album I Am is often shadowed or overlooked in comparison to his groundbreaking debut Illmatic, the rapper's sophomore release contains its own collection of gems worth digging for.
"I Want To Talk To You"—though a bit simplistic in its production layout and Nas-crooned chorus—features the MC voicing a political phone call of sorts. In it he addresses the need to converse with everyone from the congressman, governor, and president, to FBI and CIA. He then proceeds to breakdown the oppressed political climate of the ghetto, America's war against minorities, and even the metaphysical and technological war being waged on the people and planet. Considering the global scale and interconnection of everything being done and drained from The Earth, this 1999 apocalyptic vision of the future seems right on target with what's been rolling out since the new millennium. Since the politicians, Democrats or Republicans, haven't been picking up the line, it seems like we're all going to have to answer to the planet very soon.
Kendrick Lamar – "Alright" – To Pimp A Butterfly (2015)
Kendrick's gift, not much unlike some of the best conscious MCs, is his ability to beautifully synthesize the pain and glory of oppressive states.
Kendrick Lamar's To Pimp A Butterfly release was likely the most-talked about hip-hop album of 2015. Many fans and naysayers were unsure about the Compton MC matching the aptitude and success of his debut Good Kid, m.A.A.d. City. Lamar fearlessly upped the ante by surpassing it and then some. From album title to album cover, K Dot's project was a very overt and poetic middle-finger to politics in America. The same politics that inspired his Section 80 mixtape, where the policies of Reaganomics were as crucial as an antagonist as he a protagonist. Kendrick's gift, not much unlike some of the best conscious MCs, is his ability to beautifully synthesize the pain and glory of oppressive states.
In his track "Alright," an almost unofficial theme for the Black Lives Matter movement in America, the MC conjures the spirit of historic black unity and struggle to relinquish centuries of past genocide and more recently, decades of systematic oppression and politics. It's enough to make any youth of color go crazy or down the wrong paths where the traps are set to catch and kill. Kendrick's is a song of mercy, perhaps to all the wrongs in America, but most definitely for those that have been wronged by it. The end of the track silences into a stream of consciousness describing a point of awakening for many like he, who've had to face destruction, turn around and search for ways out. The track either inspires the notion that things will be ultimately be alright or beckons the question of what will we as a people do to awaken and ensure ourselves amidst these trying times.
***