To me, there has always been some sort of mystical vibe surrounding arcades. I grew up in a town that did not offer the slightest form of public video game entertainment, so every time I found one of those big machines with some amazing looking video game running in demo mode, I was mesmerized. But without a local spot to play, I never really got big into arcade gaming. By the time I grew older and took trips up to the city with some cash in my pocket, arcades were a thing of the past. Home consoles really took off and the prices of new arcade cabinets kept rising, which made most arcades decide it was easier to make money with slot machines and other electronic gambling devices. This was the end of the beginning, and within years it was rare to find a video game cabinet anywhere, except for a few vacation parks and one spot near the coast.
Although arcades are often reminded as places for "nerds" who frantically learned the patterns of every enemy to finally master the game and have their name forever listed at the top rank of the high score list – there was a lot more to it. More specifically, a social aspect. Often when you played, you had a crowd, who provided both cheers and trash talk. Or you brought some friends (or made new ones) to play NBA Jam against until the BOOMSHAKALAKA's made your ears ring. People have slowly been gravitating more to this form of entertainment. Playing board games used to be laughed at, and now it's actually becoming a popular way to spend time with friends on a Saturday night. Have some drinks and snacks and play Risk, Settlers of Catan, or Monopoly until you're either tired or drunk, whichever comes first. But since not everyone owns a big table, or feels like staying in all nights, there's a newfound need for places that provide both drinks and challenging entertainment. And this provides a great opportunity for the comeback of the arcade.
A great example of this is Amsterdam's TonTon Club. The venue first opened its doors in September 2013, backed by a successful crowdfunding campaign. This arcade/bar is located is right in the heart of Amsterdam's world famous red-light district – its entrance only a few steps away from the famous windows where prostitutes flaunt their goods to attract costumers. TonTon Club is a great place to hang out: it offers pinball machines, arcade games, air hockey, board games, and even a frikkin' ball pit, alongside a variety of IPA beers and guest chefs who take care of your stomach rumblings. Tokens are a euro a piece, board games are free to play. It's a great play for pre-party boozing, or as a destination spot for the night to challenge your friends in Jenga, Mortal Kombat, air hockey, or, my personal favorite, Sega's Speed Soccer machine from 1992, while you're feasting on pale ales. Good times are pretty much guaranteed.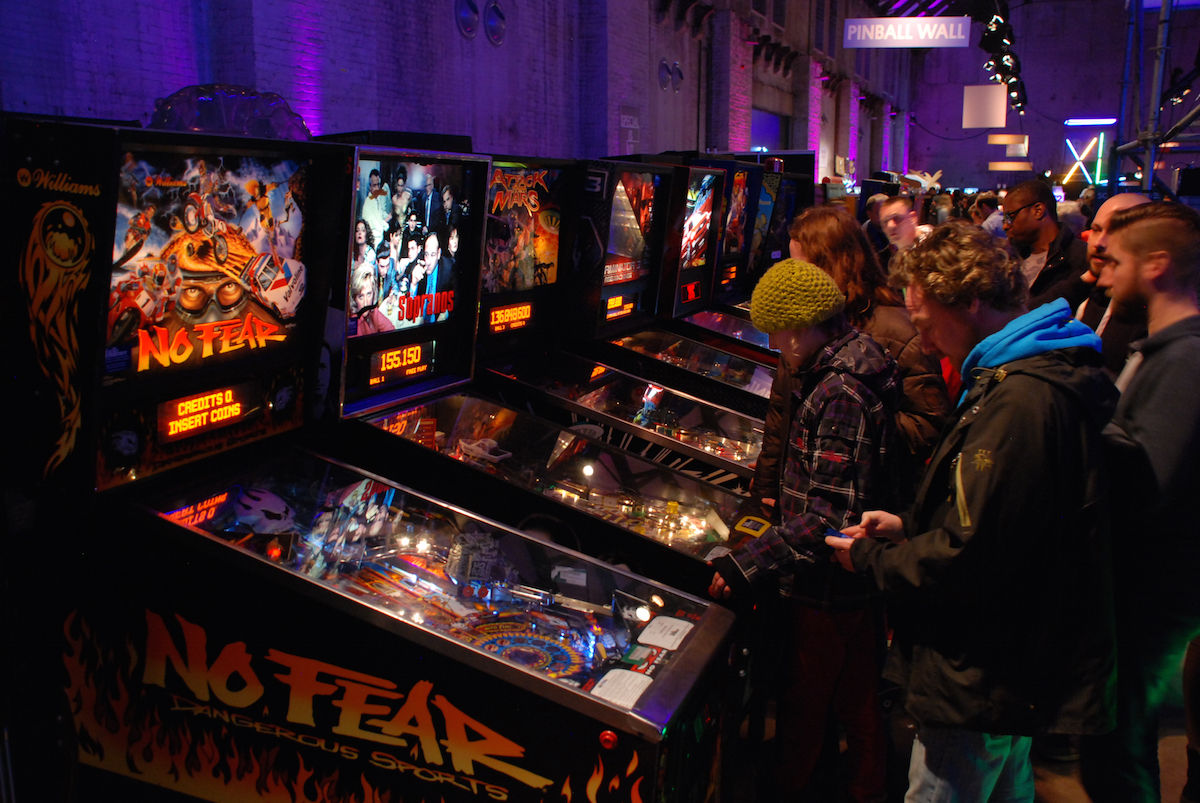 To introduce the comeback of the old fashioned arcade to a larger audience, TonTon Club organized the first ever TonTon Club XL. It's everything they are already doing in their original location, but as a way bigger, weekend-long, pop-up arcade in the Westerpark. The line-up was more than impressive. A great mix between racers (Mario Kart Arcade, Sega Rally, Daytona USA), shooters (Time Crisis 2, Metal Slug 2, House of the Dead 4), classics (Frogger, Galaga, Ms. Pac-man), sports games (NBA Jam, Virtua Tennis, Virtua Striker), and of course, fighters (Street Fighter 4, Marvel vs Capcom, Mortal Kombat 2, Virtua Fighter 2).
The event also featured King of the Couch SNES competitions, five air hockey tables, mega Jenga (which had to be played on a hydraulic platform lift), 360 degree ping pong, a section filled with ticket games (like electronic beer pong, Candy Crush, Flappy Bird and Deal or No Deal) and over 50 different pinball machines, including Lord of the Rings, Metallica, WaterWorld (yes, the Kevin Costner movie), Playboy, and Terminator 2. And of course it isn't a proper arcade without some more eccentric Japanese games like Flip the Table, Pop'n Music, Dance Dance Revolution, and Bishi Bashi. Various local food trucks and pop-up restaurants served the crowd everything from Korean Taco's to gourmet hotdogs, while DJs, and a special jukebox, kept the party going till 3am.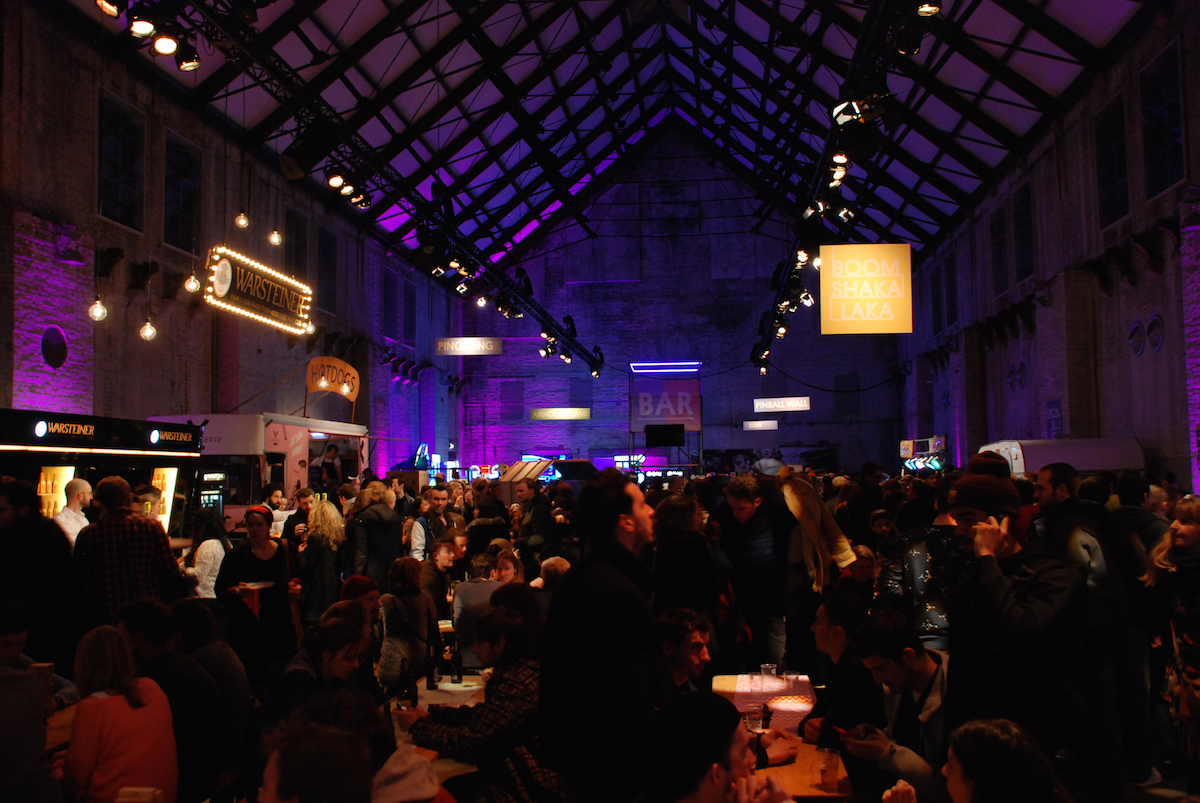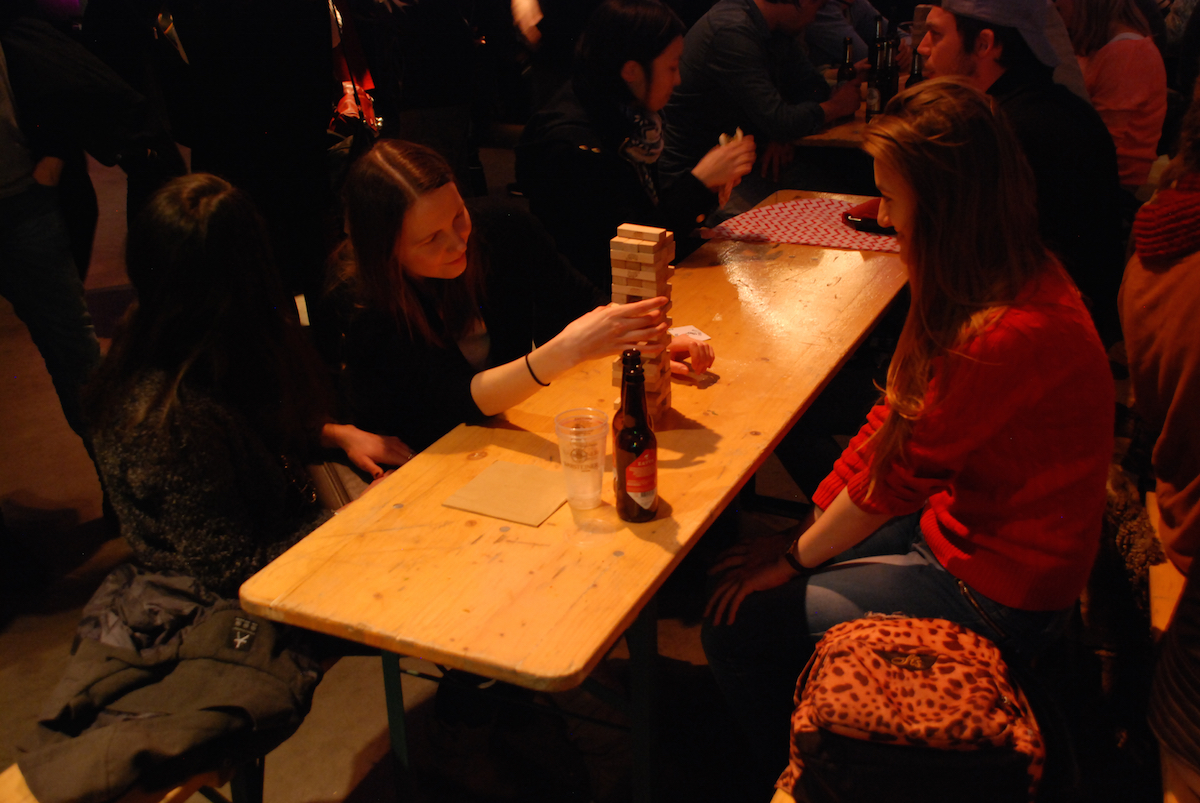 The event drew a large and diverse crowd. Diehard pinball players who were playing the Amsterdam Pinball Open, families with kids chasing tickets for prizes, video game freaks lining up for their favorite cabinet, couples playing air hockey, random people who were visiting the nearby carnival… It's rare to see this mix of people attending the same event, and it was quite clear they were all having a great time. Events like these show that weekend nights can be more than just getting shitfaced in a bar with your friends. You can get shitfaced while fighting your way through digital Springfield in The Simpsons Arcade 4-player mode. And trust me, that's a lot more fun.
If you're ever in Amsterdam, you can visit TonTon Club at Sint Annendwarsstraat 6. More info can be found on their website and Facebook.