Who are the members of 808 Mafia? Ask any rap fan today and you'll likely immediately hear "Southside and TM88." While those two are by far the most commercially successful in the acclaimed production team, there are over twenty members affiliated with the group. They aren't household names yet, but Purps, DY, Fuse 100, Tarentino, and the rest of the global famly, are starting to make a noticeable splash in the sea of trap producers. In light of this, I made a list of the best 808 Mafia tracks not produced by Southside or TM88.
Southside and TM have been busy recruiting talent the last few years and we're starting to see the fruits of their labor. The 808 Mafia siren signaled a new era in trap production, one filled with deep, rapid drum patterns and hi-hats faster than Soulja Boy's Twitter impulse. If the younger Mafia members continue to show promise, that siren could echo for decades.
Note: I included Steve Lean, The Swede, TT, and MP808 on this list too—they are NOT official 808 Mafia members, but are frequent collaborators.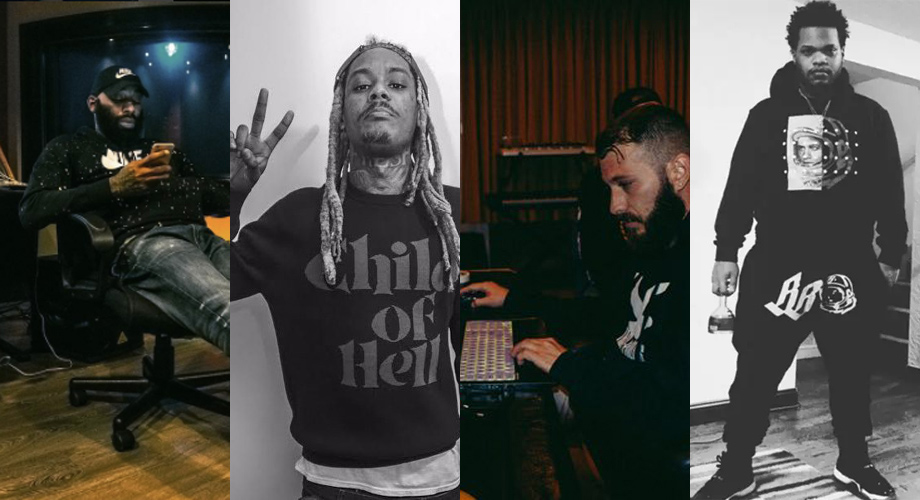 Left to right: Fuse 100, Chris Fresh, Purps, Tarentino
"Bread Winners" Young Thug feat. Young Butta (prod. Fuse 100)
Yes, Fuse 100 did just land a placement on Big Sean's I Decided with "Moves," but "Bread Winners" off I'm Up is better for noting Fuse's production style. While both feature bass strong enough to adjust your equilibrium, "Bread Winners" isn't as dominated by the 808s as "Moves." The track starts with a simple key progression that speeds up before he introduces the drums and claps. He pitches the claps to the trappest degree and staggers them opposite the 808s, which forces Thug to indulge his slimy, street persona over his pop tendencies. Fuse is the VP of 808 Mafia, which means he'll be playing a key role in the group's development going forward. It seems like the Mafia is in good hands.
"March Madness" Future (prod. Tarentino)
It's common for 808 Mafia producers to highlight their rising brothers. "March Madness" was Tarentino's introduction to the world. One of Future's biggest songs to date, coming off the third installment in his famed mixtape run 56 Nights, "March Madness" is an anthem. Tarentino's triumphant production causes Future to be his most braggadocious. It opens with two synth patterns: one drowsy and prominent, while the other is light—the waiting room music of the future. He pulls the floor out when he brings in the bass drums, making "March Madness" one of the best build-ups in recent memory. "Madness" was the only song on 56 Nights that didn't feature Southside's production, and this shows he's willing to let his fellow members shine. This attitude will keep the 808 Mafia safe from complacency and monotony, two infamous killers that have dropped innumerable producers.
"Culture" Migos (prod. DY x Tre Pounds)
From the moment Takeoff screams "Spin off in the coupe typhoon," the production on "Culture" has you bouncing. The background percussion sounds like drums you'd hear on Thai Beat A Go-Go, which reminds me of the climbing feeling that starts a psychedelic trip. It seems Southside shared a few tricks with the younger members, because you can hear his influence, most notably in the hi-hats. They're gently placed over the percussion though, which make them sound lighter than Southside's usual sound. Overall, it's a friendly introduction to the Migos' latest album. The heavier elements aren't overdone, so that you want the drums to kick back in when DY and Tre Pounds decide to drop them. Typically I dissect beats as much as possible, trying to figure out who produced each individual sound. After listening to their other tracks, I know both producers could've made the pounding kicks we hear on "Culture," which makes it harder to single one out. But it doesn't matter. One reason I'm enjoying Culture is because it blurs the lines of creative genesis and champions teamwork. It's only fair that applies here too.
"Black Man" T.I. (prod. MP 808)
I never realized how much we needed a song that puts Autotune Quavo over a gospel sample until I heard "Black Man." Frequent 808 Mafia collaborator (not official member) MP 808 begins the third track on T.I.'s Us or Else: Letter to the System with a steady BPM you might have jogged to in the '90s. After letting that run for a few 8-counts, he brings in weighty 808s that mirror the severity of the rapper's subject. Trap music doesn't typically feature a political message, usually choosing to clean the injustices of the world off with nihilistic codeine showers. "Black Man" is different. It speaks about the constant worry you must have as a black man during any police encounter, but it does so with the flexing mentality of a trapper. When Quavo asks for the reason behind the unequal discrimination, he suggests it might be because of the expensive clothing he wears or the fact that he's in a convertible. It's a subtle way to highlight your wealth while pointing out the groundless assumption that a black man could only acquire that wealth by illegal means.
"All Ass" Migos (prod. Purps)
Purps on the Beat of 808 Mafia has been bubbling for some time now, but his two Culture placements ("All Ass," "Out Yo Way") are his welcome party to the mainstream. Listening to his SoundCloud page gave me an appreciation for his range as a producer and helped me see the distinct influences for "All Ass." Purps clearly draws inspiration from ethereal dance music; just listen to his "Roliery" track. This translates into the background synth that slowly ebbs throughout the instrumental. The bass line for "All Ass" is tame compared to some of his other tracks ("Move Your Face"), but its still got enough thump to get spun at Magic City. These two Culture placements, plus the diversity of his sound should keep the phone calls coming throughout 2017.
"No Me Frontees" Brray ft. Lito Kirino (prod.  Young Martino & Steve Lean)
808 Mafia started in the South but quickly expanded across the globe, recruiting some of the hottest European producers whose sounds translate over to ATL. Steve Lean is a producer based out of Barcelona, who seems to have recently been working with the Mafia. His most recent single "No Me Frontees" features orchestral trap keys and string effects in line with the Southern sound. Though this "epic" sound is beginning to fade out with Metro Boomin and Co., it appears to have a firm grip on the European scene. Steve Lean isn't an exclusively trap hip-hop producer—some of his tracks are better classified as EDM ("Euphoria")—and it's nice to see the wide range of sounds Southside and TM are cultivating for their producer camp. He's been in the studio with Southside recently, so he might be making rounds through trap circles in the coming months.
"The Check" Royce Rizzy x Madeintyo (prod. The Swede x TT)
Since we're already in Europe, let's talk about The Swede, 808 Mafia's frequent collaborator from Scandinavia. It's fascinating to know the music that influenced me in my teen years rippled across the world.Those ripples are now giving back to the culture and that's a beautiful thing. The Swede has been collecting placements with trap artists for the last three years, including Rich Boy and Zoey Dollaz. His most polished song to date is "The Check" and its mix lets you study The Swede's stylistic features. He uses a buzz synth to give the bass drums more depth, while a quiet piano in the distance gives you mild chills. Fellow Mafia collaborator TT joins The Swede on this track so again it's hard to tell who produced what sound. TT's sound is not airy like The Swede, but they share trap tendencies in their hi-hats and kick lines.
"What" Playboi Carti (prod. Chris Fresh)
I'm almost embarrassed I didn't know more about Chris Fresh before I started researching this piece. "What" has close to five million plays on SoundCloud and I never bothered to peep the man behind the boards. Chris Fresh is an Atlanta-based rapper/producer who got his mainstream start producing for Southside's rapper persona Young Sizzle. Since then, the two have worked closely, while at the same time Chris has expanded to work with Lil Yachty, Playboy Carti, and ManManSavage. This song is a quintessential 808 Mafia banger, full of glass-shattering bass, extraterrestrial synth patterns, and that infectious horn that makes your hair stand up. "What" solidifies Chris's place in the Mafia as a banger-cultivator and I'm anxious for the world to hear his next hit.
***