Our official Grammy Whisperer made his award predictions back in December. We're revisiting his list today in anticipation of this Sunday's Grammy Awards.
Let the GRAMMY conversation commence. Considering the full wealth of music that's dropped over the last year, I fully expect for a few industry acts to flourish while others get their egos crushed by a mac truck.
For years we've questioned whether The GRAMMYs have gotten it right. Was it right for Beck to win Album of the Year over Beyoncé? Was it right for Macklemore & Ryan Lewis to take what the world thought was Kendrick Lamar's throne (and then send a terrible choice of texts about it afterwards)? This year, it'll be no different.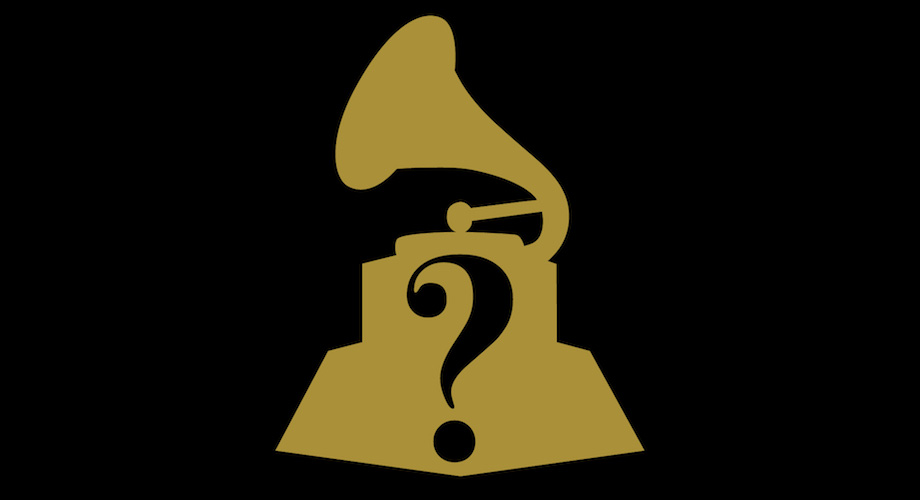 While 2016 has set us back a bit with the deaths of David Bowie, Prince, Muhammad Ali, and Phife Dawg from A Tribe Called Quest and a mind-numbing election, it's presented a wonderful array of music to the world. Chance The Rapper was one of hip-hop's best kept secrets; he was introduced on a grand scale to the world with the release of his album Coloring Book. Young Thug gained notoriety as more than a mumble-mouth MC to an artist with value through his barrage of quality releases. Bryson Tiller happened, and took over the world for a quick second with his slow burning truths. Kanye West, Solange, Drake, Rihanna, Frank Ocean, and Beyoncé attained new creative peaks and it showed in their music.
As the (unofficially official) GRAMMY whisperer, here are a few predictions for what I expect from the nominations.
Chance The Rapper is leading the pack for Best New Artist
In 1998, the first ever hip-hop artist to be nominated for Best New Artist at the GRAMMYs was Sean "Puff Daddy" Combs, a tidbit that only adds to his legend despite how bizarre it sounds now considering hip-hop was introduced to the GRAMMYs almost a decade prior. In the years following, we've seen the phenomenon of 50 Cent get passed by, the inception of Kanye West get snubbed, and the early contributions of Drake, Nicki Minaj, and J. Cole fall upon deaf ears when it came to Best New Artist. Since their respective nominations, all of those artists have exceeded their initial expectations, and have had lengthy careers. The only hip-hop act to walk away with the Best New Artist gramophone has been Macklemore & Ryan Lewis in 2014.

Chance The Rapper feels different. While the independent banner may be working against him in regards to exposure compared to other contenders in the pack, Chance The Rapper feels like the most solid prediction for a nomination and honestly, the best pick for the Best New Artist award. His project Coloring Book has propelled him to a new level of fame and acclaim, but he may still face competition from the chart-topping Chainsmokers, enigmatic Bryson Tiller, Shawn Mendes, Alessia Cara, and country star Maren Morris.
"Hotline Bling" is back from the dead
Last year's GRAMMY conversation featured one of the biggest missteps in recent memory. Drake's "Hotline Bling"—one of the year's top hip hop records—was missing from the nomination ballot. Weeks after the record missing its opportunity at giving Drake his first solo No. 1 (which he would claim later with "One Dance"), it was revealed that his label Cash Money failed to submit the record for nomination. Understandable considering that the record's popularity peaked after the final submission date of September 30th 2015, but the song was released during the eligibility period (October 1st 2014 through September 30th).
What this would normally mean for an artist is that the song would fail to be nominated and "Hotline Bling" would float into a lonely abyss without the GRAMMY-related accolades to match its insane popularity. Fortunately for Drake, he's managed to find a way around this through his Views album.
Not only did the addition of "Hotline Bling" to Views help pad his hefty sum of streams that has rolled past the billion mark, but considering that the song was officially distributed as part of Views in this year's eligibility period—it's now eligible to be nominated for the 59th Annual GRAMMY Awards and word is that it was submitted. This tactic has been used by artists in the past, most recently by Pharrell and John Legend for "Happy" and "All of Me," respectively, which found their live recordings nominated for a GRAMMY after the original recordings were released in an eligibility period prior to the song's breakout popularity. The song has been submitted for Best Rap Song, Best Rap Performance and Best Music Video.
The 'Urban Contemporary' Category will be a heavyweight battle
Frank Ocean may have dodged a missile by pulling himself out of the GRAMMY nomination process this year, because unlike how handily he won in this category in 2013, things won't be so easy in the Urban Contemporary category.
Urban Contemporary is an R&B category regarded for albums that don't possess pure R&B elements, but instead incorporate multiple genres (hip-hop, rock, pop, etc). Essentially it parses the Jazmine Sullivans, Eric Benets, and Anthony Hamiltons from the Keyshia Coles, Chris Browns, and The Weeknds. Since the category's revival four years ago, three of the winners have also been nominated in the Album of the Year category (Frank Ocean, The Weeknd, Pharrell) and this year looks no different.
Without a doubt, Beyoncé's Lemonade and Rihanna's Anti albums are the leading contenders in this category that may also receive an Album of the Year nod. Also expect a nomination from Solange, whose album A Seat At The Table released on the GRAMMYs' cut off date of September 30th and was submitted for nomination. Other possible nominations in this category are Bryson Tiller's platinum-selling debut Trapsoul, Chris Brown's Royalty, Anderson.Paak's Malibu, Usher's Hard II Love, and Ty Dolla $ign's Free TC.
Best Rap Album may see some new faces
It's about time we get some new blood in the rap category, and if there's one thing 2016 has done, it's given us new variety outside of the usual suspects in the GRAMMY's rap rolodex. Kanye West's The Life of Pablo and Drake's Views are sure things when it comes to this categories, with their larger than life success earning them a permanent space in this GRAMMY category with each album.
But new to the fray is Chicago's own Chance The Rapper, who earlier this year urged the Academy to consider streaming-only albums to be eligible for nomination. While the decision to include streaming-only albums was approved (independent of Chance's plea), it now allows his Coloring Book album to become GRAMMY-nominated.
With three spots seemingly locked up, the remaining spots for Best Rap Album could potentially go to unlikely hip-hop successes of the year, Kevin Gates' Islah or G-Eazy's When It's Dark Out—both which produced chart-topping hits and earned platinum plaques. More traditional hip-hop contenders could include ScHoolboy Q's sophomore release Blank Face, 2 Chainz's Collegrove and Mac Miller's conceptual love story The Divine Feminine. Another question that may arise is will the Academy ignore the off-kilter contributions of Future (EVOL), Young Thug (Jeffrey), and Travis Scott (Birds In The Trap Sing McKnight), despite them contributing to other possible nominees.
Aaaand... Album of the Year
By far, the sure-fire pick for a nomination is Adele's 25, the earth-shattering follow up to her previous Album of the Year winner, 21. The album's overall impact in music over the past year cannot be understated, redefining what it means to be a sales juggernaut in a relatively tame climate for music. Right behind Adele as a solid prediction for this category (and who would be the most egregious snub) is Beyoncé's Lemonade. Along with being another chart-topper for Beyoncé, the LP represented the moment where her worldwide presence intersected with artistic merit to create a conceptually-driven, genre-bending album of the year candidate across the board.
Legendary acts may also find their way on the bill. David Bowie's Blackstar could be strongly considered due to its widespread acclaim and the nature of its release days before the innovator's death. Radiohead's A Moon Shaped Pool may be the dark horse if nominated, but the duo are no stranger to the Album of the Year category—previously appearing three times.
The 2017 nominations feels like another opportunity for hip-hop to get on the board. While Kendrick Lamar and Macklemore managed to edge hip-hop into the Album of the Year conversation for the past few years, the stellar releases from this year in the form of Kanye West's The Life of Pablo, Chance The Rapper's Coloring Book, and Drake's Views might keep the talk going. Chance The Rapper would be the most bold nomination by far, but not undeserved. However with the recent statements by Kanye West about Beyoncé and JAY Z, a nomination for The Life of Pablo may be more alluring. Drake's Views has the right combination of influence and chart-topping hits to be considered, and may have the strongest chance of contending out of the three.
Other possible contenders for the Album of the Year category include Bon Iver's 22, A Million, James Blake The Colour in Anything, Rihanna's ANTI, Solange's A Seat At The Table and Bryson Tiller's Trapsoul.
***
llustration by Eddie Viramontes.