Because our London correspondent Tom Winslade (@winslade) is a man of impeccably fire taste, "THE PLAYLIST" is a music series where he'll be sharing 10 eclectic song choices that we all need to be listening to right now-right now.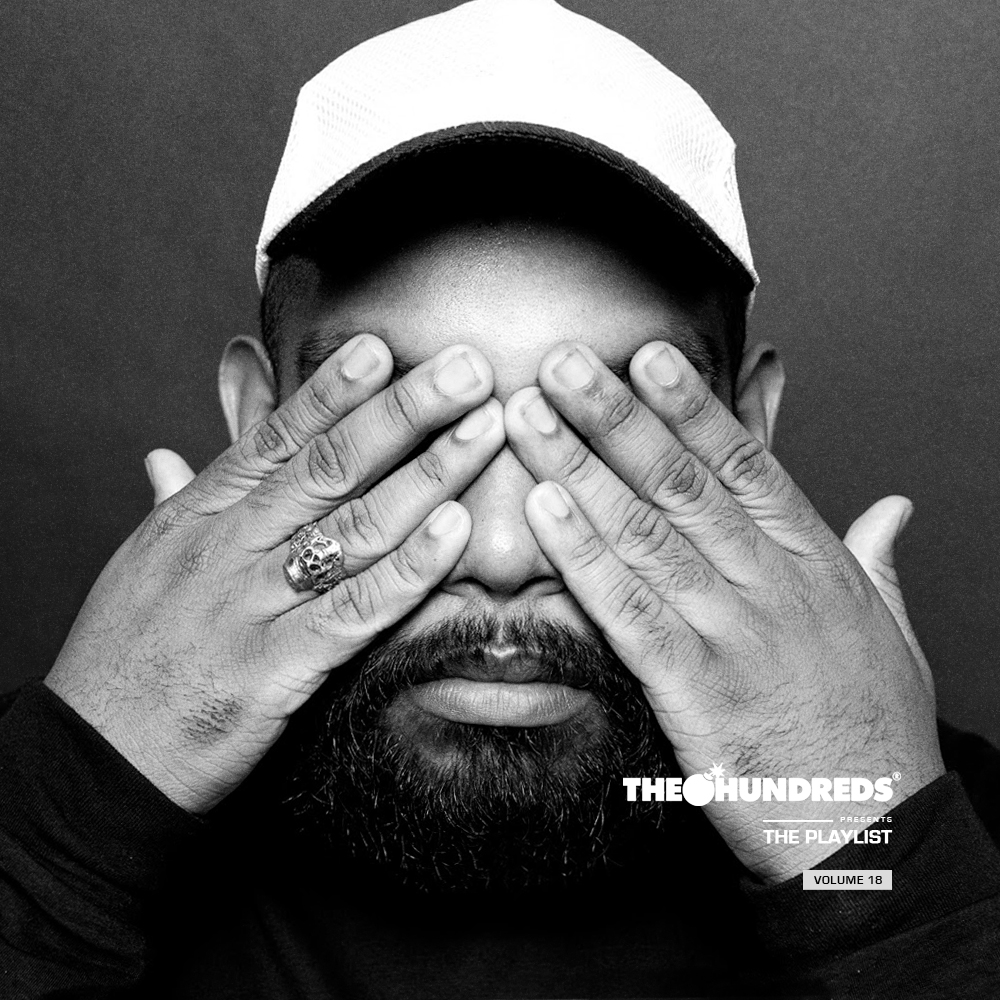 "100k" – Antwon
We need to talk about Antwon. After gradually building his empire within Cali's underground rap circuit, Antwon dropped off his blistering Double Ecstasy EP last month—a project that precedes an untitled LP due out later this year. "100k" is the EP's jewel in the crown, with thumping yet spacey production c/o Lars Stalfors—and now we've been blessed with some equally majestic visuals. In the video, Antwon poses as an enigmatic cult leader, surrounded by his brainwashed followers, a water-cooler full of lean, Ratking's Wiki, and a rack of guns—naturally. Tbh, I think I've just worked out how I'm gonna spend my Summer.
"Move Together" – Somewhere Else ft. Majid Jordan
Somewhere Else is a new group formed by Illangelo and Billy Walsh. To bring you up to speed, Illangelo is a producer out of Toronto and a long-time collaborator of The Weeknd, whilst Billy is a songwriter, stylist, and the creative force behind ready-to-wear label, mr Completely. The pair have teamed up before, most recently with credits on Alicia Key's comeback single, "In Common"—but this new project which debuted on OVO Sound seems poised to take on a life of its own. Oh, and it features Majid Jordan.
"Stranger Things" – Angel Du$t
Here's one for the hardcore kids. Angel Du$t is essentially a supergroup, formed by members of Baltimore's Turnstile and Trapped Under Ice—both of which are highly regarded as two of contemporary hardcore's premier forces. So as you can imagine, when the band dropped off their debut record A.D. back in 2014, the scene lost its fucking mind. AD are set to drop off album #2 entitled Rock The Fuck On Forever on May 20, and if the album title alone isn't enough to win you over, just listen to the saxophone solo on this track. Yes, you read that correctly.
"They Cum They Go" – Tommy Genesis
Tommy Genesis ain't a stranger to The Playlist, so I'm assuming you already know what's good by now. "They Cum They Go" serves as the second single from WV2, the follow up to last Summer's World Vision. From the title, I'm sure you can probably guess what it's about. As always, the production that Tommy rides is symbiotic to her vocal delivery—setting the scene for her to present a tale of melancholic lust, self-awareness, and independence. On TCTG, Tommy's brand of "fetish rap" continues to take on a life of its own—from Vancouver to the world.
"Nobody" – Leisure ft. Goldlink
You guys are familiar with LEISURE, right? To put it simply, they're a multifaceted, music-making clique hailing from Auckland, New Zealand. Not to be confined by genre, the band have dabbled in soulful R&B, indie rock, dream pop, and more – with their aesthetic being defined by a specific feeling, rather than a sound. Their genre is the music that soundtracks lying by the pool, a sun-drenched beach day, a late night road trip or a hazy 3am stint in the club. It's life music. On "Nobody", LEISURE linked with Goldlink during his visit to NZ to create a tropical soundscape filled with '70s romanticism and harmonics. One for the Summer.
"T'd Up" – Russ
Russ is that dude. Again, this is isn't his first feature on The Playlist—due in part to the fact that he's been steady rolling out a new track every week since I can remember. Most impressively, the quality of his output hasn't grown stagnant in that time. More so, he's been improving upon his delivery with every damn release. Vocally, lyrically, musically—it's all going up. On "T'd Up," Russ takes a minute to reflect upon his recent successes and enjoy the fruits of his labour, whilst addressing the pressures of glowing up.
"Intentions" – Jazz Purple
Jazz Purple is a name that you're going to be hearing more of. Hailing from Manchester, we actually caught up with Jazz and his homies in our Grey Collective feature at the back-end of last year. As an extra talented producer and vocalist, Jazz Purple is preparing to release a new body of work very soon, with "Intentions" being the lead cut. I actually had the chance to listen to a bunch of his unreleased material recently and I promise that it's about to get very wavy out here.
"Solange" – DanielOG
As part of London's Neverland Clan, DanielOG has been steadily navigating his way through the capital's rap scene for a minute now. Whilst extending the D.I.Y aesthetic of his crew, Daniel is very much on a path of his own—with a clear vision of what he wants to create. On the hook "I don't like Beyoncé, I prefer Solange," it's evident that he doesn't give a fuck about popular opinion either. While DanielOG is truly on his own wave, his shiny new collab with Lundun's 808INK is essential listening too.
"Sonic – Green Hill Zone (Re-Work)" – CLOCKWORKDJ
I had to throw this one in real quick. There's not much to say except Clockwork snapped on this wild edit of the "Green Hill Zone" theme from Sonic The Hedgehog. Bursting with nostalgia, this will probably end up being my new ringtone—but what I really want to hear is someone rap on this. Real talk, if someone spits fire on this and it doesn't totally suck, I'll 100% feature it on the next edition of The Playlist. That's a promise.
"Timmy's Prayer" – Sampha
Just as I was about to submit this article, I heard whispers that Sampha was about to drop his comeback single any minute. First came a note on Twitter, which read "I've had a lot to process these past couple of years, as we all do, and it's hard to articulate sometimes. I wanted to say thank you to all the people who've shown me so much love and support. I'm looking forward to start sharing my music with you again." —with "Timmy's Prayer" appearing online later in the evening. With it being three years since 2013's Dual EP, lord knows we needed a new dose of that Sampha magic. Welcome back, sir.
***