Paisley can be found on corny kitchen curtains or it can get you shot on the wrong side of Los Angeles. The print is mercurial to say the least, and its ability to mean different things to different people is what gives this pattern a foothold in men's fashion. Whether it is a cowboy's bandana, a pair of socks, or a zip-up hoodie, the print is a testament to longevity. Can you believe it's been around for nearly six centuries? The print is best described as a flower, but depending on your culture during the 15th century, the paisley can resemble a lotus, mango, leech, yin and yang, a dragon, or even a cool cypress pine. For The Hundreds, the print is a piece of history, that little bit of home that is above value.
It's 2004 and outside of Los Angeles and Orange County, The Hundreds were two words often associated with herds of people. A Bathing Ape (BAPE) tried their hand at unorthodox camouflage prints, and the all-over print craze was only starting to take shape. Loud wasn't a part of the menswear lexicon, and paisley was strictly for gangsters and grandpas. Social media wasn't the beast it is now, and words like "tweet," "IG," and "sliding into the dm" might as well be a foreign language. There were a few that knew about streetwear in Japan and Supreme still only had that one spot in New York. Streetwear was in its infancy, and without a fully functional social media it was hard to get your dose of men's fashion.
There was this one place that was the pre-cursor to Hypebeast and Complex. NikeTalk is where you learned about new products, Jordan Retro release schedules, and the illest co.jp colorways. But, it was also the place to get all of your other news, and sneakerheads and streetwear fiends alike skipped the "Jordan" section and partied in "General." This is where a small brand from Los Angeles took root. The Hundreds announced their latest collection on NikeTalk and amid the T-shirts and sweats was something strikingly similar to BAPE's full-zip all-over print hoodies, but it wasn't in fruity colors, didn't require a Japanese proxy, and was less than 3 hundy. The Paisley thread grew exponentially and within a few days, Paisley hoodies were topping $200 and $300 on eBay. The Hundreds had arrived.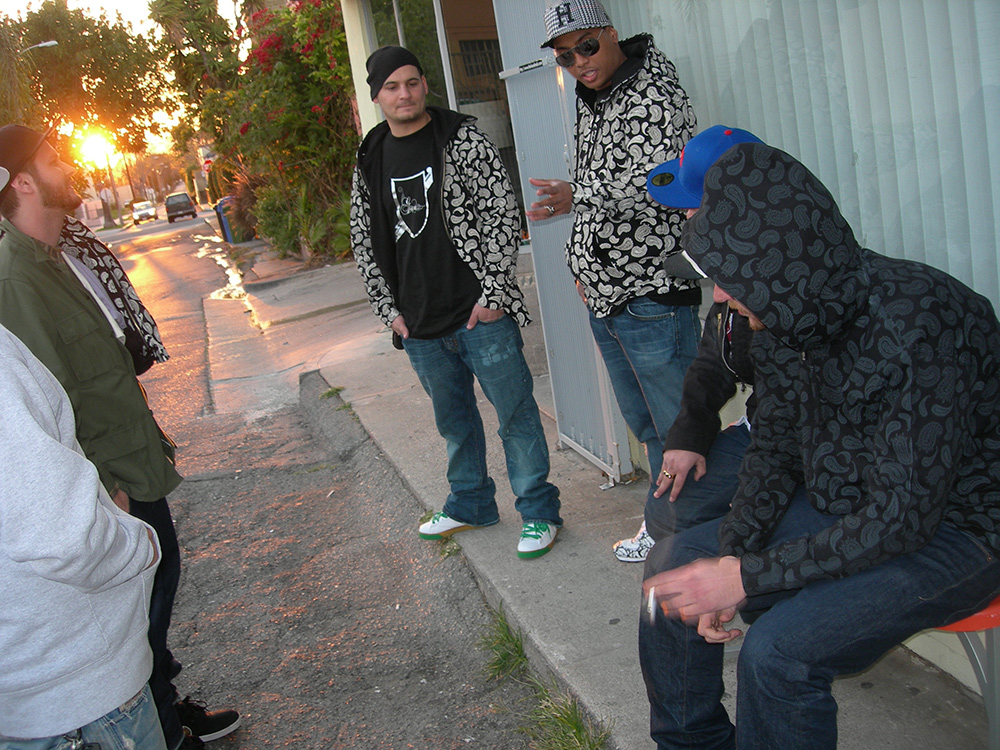 There was the very trill black on black, but the white on black was the most coveted. In a few days, there was even a blog post on how to customize the hoodie with dyes from Jo-Ann or Michaels. Besides being a huge financial windfall, the Paisley zip-up allowed The Hundreds to bet on themselves. One hit product didn't mean lining up pockets—the paisley money was parlayed into the brand's Rosewood retail location and a better equipped website. It's always been Bobby and Ben at the helm, but back then, it also meant the duo were solely responsible for literally copying and pasting HTML code to get the shopping cart to work. The Paisley hoody not only meant a brand new storefront—it meant a legitimate e-commerce online shopping cart and a professional web platform. When you consider the role social media plays in clothing today, then you'll kinda get a small idea of how important these investments were.
"Streetwear might be a dynamic business now, but back then it was a bunch of guys that wanted something different"
The Paisley zip-up really captured the nascent streetwear community that gravitated toward sneakers and referred to Jordan and Nigo as their leaders. It's a far cry from now seeing Undefeated at nationwide chains like Urban Outfitters or HUF being stacked up at your local Zumiez. Like Bobby says in his "The Paisley Story" post, "10 years later, Streetwear is a high-octane business. It's calculated, trends are analyzed, design is orchestrated. It's a big industry now. Big bucks. Streetwear—whatever that means – is powered by celebrities, corporations, and dictated by big-box retailers." Streetwear might be a dynamic business now, but back then it was a bunch of guys that wanted something different from what they were getting overseas.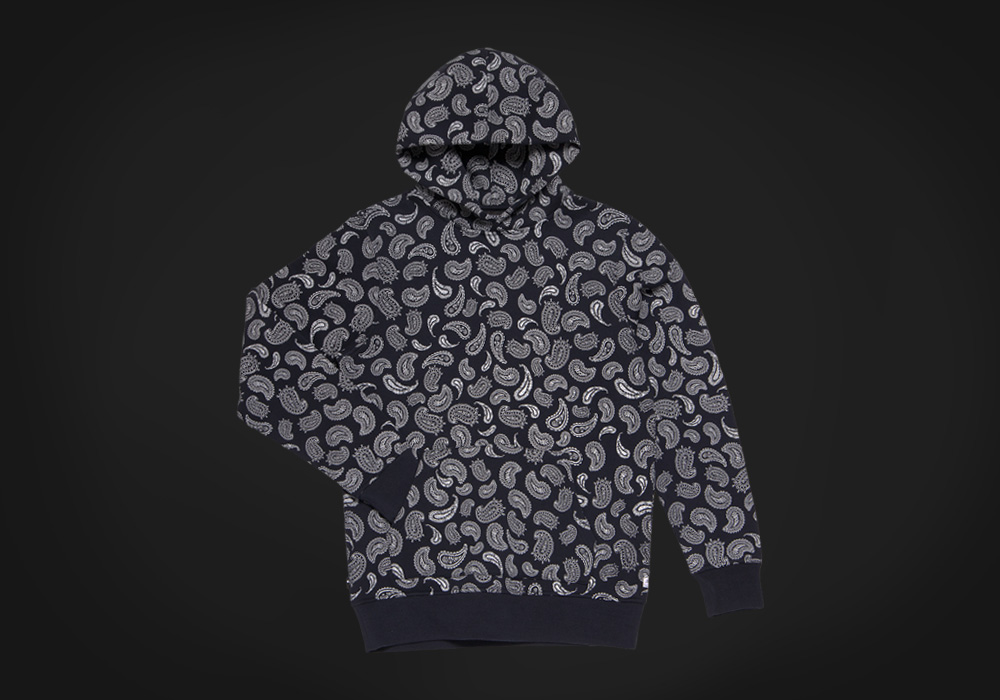 Paisley continued to open doors, with The Hundreds using the print across a constructed T-shirt that rolled out that following Summer of 2005. It was another phenomenal hit, and the all-over print eventually led to the Pins hoodie famously worn by Jay Z, but it was the Paisley zip-up that really set the standard. The print continues to be used sparingly. There was a special collaboration with New Era, and last year, The Hundreds re-released the athletic hoodie featuring the iconic all-over print to mark its ten-year anniversary.
So yeah, paisley is more than just a print for The Hundreds. It has come to mean opportunity, and more importantly, it symbolizes a bond. Paisley means family.
***
With the role paisley has played in the development of the The Hundreds brand, we knew how important it was to honor this polarizing print in our latest project. Look for the familiar pattern in the upcoming The Hundreds X Reebok Classic collaboration. The paisley print is back, and it now lines the interior of the navy nylon shoe.