Because our London correspondent Tom Winslade (@winslade) is a man of impeccably fire taste, "THE PLAYLIST" is a new series where he'll be sharing 10 eclectic song choices that we all need to be listening to right now-right now.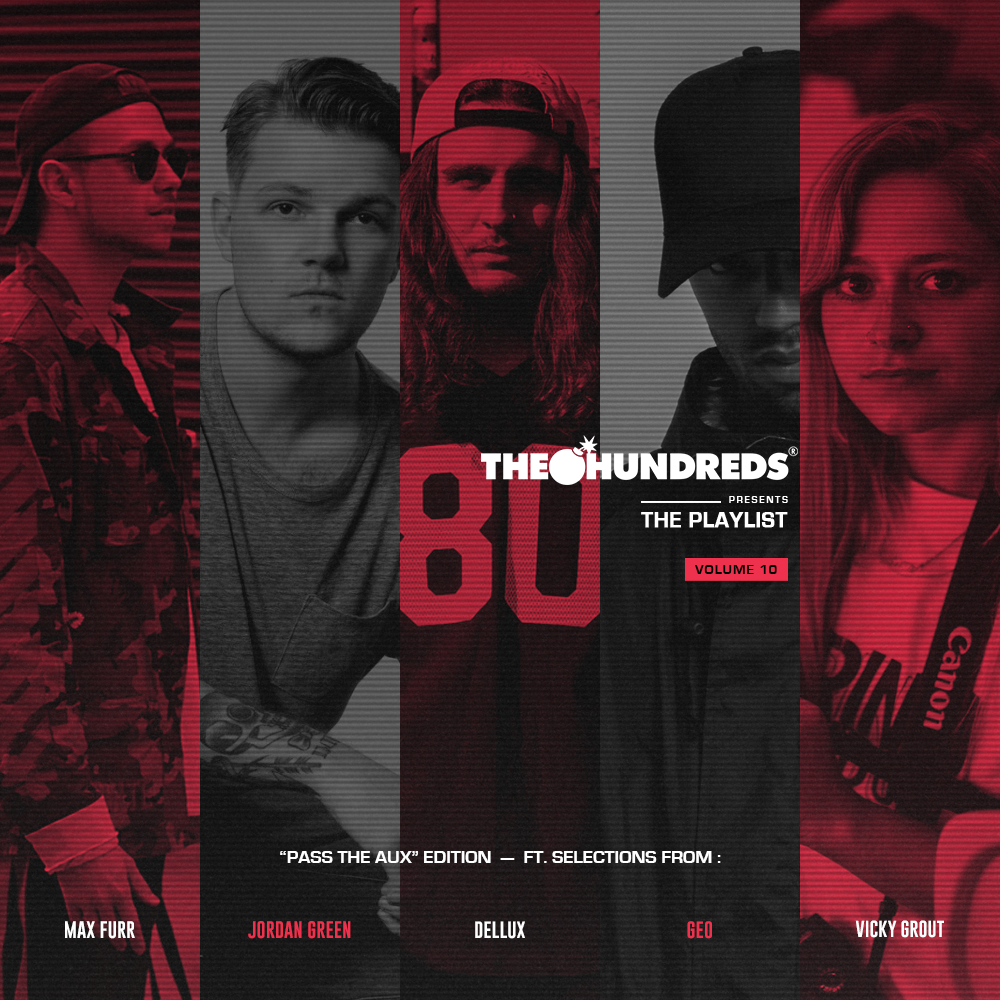 To celebrate making it to Vol. 10 of The Playlist, it was only right I that I unplug my Soundcloud account real quick and pass the AUX cord to the homies to see what they've been listening to recently. As dope as my taste in music is, it's even cooler to see what is making other people dab around their bedroom and/or catch feels on public transport. In an effort to get a broad range of vibes, I hit up 5 different friends for their perspective on what's lit right now.
Welcome to the first-ever "Pass The AUX" edition of The Playlist.
***
Max Furr :: Brand / event director for EJDER, freelance brand consultant and 'kind-of' DJ; Max AKA Medium Rare enjoys long walks on the beach, deep conversations about Twitter beef and Xanax.
"She Lit" – Nafe Smallz
"Been listening to a lot of Nafe Smallz lately, I like the American influence with the British tone, instrumental is dope too, I played it once at Visions and 4 separate people asked me what song it was, it bangs on big speakers."
"So Many Details" – Toro Y Moi
"It's been around for a minute, but I can't stop playing it. Suits every mood and the instrumental is so perfectly layered. I play it on repeat borderline every morning."
Jordan Green :: Jordan holds down the photographic division of our creative collective, Prevalence. When he's not shooting killer editorials with me, he's most likely found brewing a cup of Yorkshire Tea or binge-watching The X-Files, again.
"The Light" – Jordan Rakei
"I found this guy Jordan Rakei through a buddy of mine who is a producer over in the States. We were swapping a bunch of new music we've heard and been vibin' recently. This instantly gave me the good feels as soon as I heard it."
"Believe (Cher Refix)" – MNEK
"Big fan of MNEK, a super young vocalist and producer from South London. When I saw that he uploaded this cover of Cher's 'Believe', it was everything I hoped and more haha. It takes me back to when my mum would listen to Cher religiously for a good part of my childhood, and seeing MNEK putting his British garage vibes on it totally works for me."
Dellux :: Yung beat gawd Dellux is the not-so-secret weapon behind Welsh rap collective, Astroid Boys. Aside from having majestic hair, Dell's best known for his borderline neurotic musical abilities, producing some of the most gully sounds I've ever heard.
"Close2u" – Louie Lastic
"So I see Louie Lastic as a perfect blend of this new soulection esque hip hop and that rolling 120bpm house funk shit that i'm in love with. For me, a tune is broke down into a few simple things; Initial vibe, musicality, how it's sounds sonically and if you can move/dance to it. this tune ticks all boxes for me, especially because i'm a sucker for chopped, short, sexy-ass vocal cuts.
If the tune makes your body want to move no matter where you are it's a winner in my eyes, every tune has to have its own skank."
"Furnace" – Murlo
"My g Murlo makes some next level shit. Originally a massive fan of his tracks he did with Novelist, I then dug a bit deeper into this guy and he got his own vibe, his own sound, and he knows about keeping that UK flavour alive in his tracks (which I am also conscious of doing in my own music).
For me, there really is nothing better than that UK pace of music, it's different to anywhere else. It's hard to explain, it's just like a movement but put into music. Like Juke music to Chicago, it has its own stamp and its own dance moves. I rate Murlo for being conscious of his sound and not slipping from it."
GEO :: Creative director, designer & curator of vibes — GEO is always on the grind, as we discussed a few months back. In 2016, GEO will be taking a break from pushing pixels to focus on our newly formed DJ crew, Sensational-Boyz.
"Apostle" – King David
"This track hits home as it's very relatable and coming from London it resonates, with the dope beat that's raspy as hell."
"Standard" – Stormzy
"Something bouncy from Stormzy. I love the reference to the old JME track with the 'Standard' sample."
Vicky Grout :: As one of the UK's hardest-working young creatives, Vicky has been shutting down the photography scene in London this year; from fashion editorials, to live music & portraiture. Please believe she's still got time to point gun fingers at the rave, though.
"Naila" – AJ Tracey
"I was dying to hear someone jump on this Zeph Ellis beat after hearing it on LOTM7, so I was gassed when I heard one of my favourites in the scene had done so (outdoing Kano's version, in my opinion). Tunes like 'Naila' and 'Spirit Bomb' are making AJ Tracey a bit of a problem."
"Hunter" – Murlo
"Taken off Murlo's most recent release Odyssey, 'Hunter' is definitely the most vibey. With influences from garage and dancehall, this track is one of the reasons why we love Murlo so much. It's dancey, it's grimey, yet it can't be pinned to just one genre."
BONUS ROUND – Because my hand was forced…
The idea was that I'd put this edition of The Playlist in full control of the homies, or at least it was until Black Friday came along and fucked me up. To take the attention away from absurd mass consumption and overbearing materialism of the occasion, two of contemporary hip hop's most prolific MC's dropped severe energy over each other's beats and ultimately stole the show.
From the West, King Kendrick came through and shelled down over J. Cole's 'A Tale of Two Citiez', whilst Jermaine returned the vibes on K.Dot's 'Alright' instrumental. Forget the George Foreman grill that you copped for 10% off, the true heat comes courtesy of these two future rap legends.
"Black Friday" – Kendrick Lamar
"Black Friday" – J.Cole
::