In early April, an inconspicuous Sprinter van pulled up to the Mikey Likes It ice cream shop in the East Village neighborhood of New York City. Out jumped several secret service officers, eyeing the intimate space for any imminent threats. With the coast clear, a woman, stern-faced and standing tall, robed in a royal blue blazer and matching pants suit, stepped into the popular parlor. The woman, Presidential hopeful Hillary Clinton, was there to try Mikey Cole's "Victory Mac Daddy"—a flavor he had personally concocted for Mrs. Clinton—and follow up on a promise she had made to Cole months before.
"She said, 'I told ya I was coming by,'" Cole recalls with a grin on his face. The two first met at the Jacob Javits center during one of Mrs. Clinton's rallies. Clinton mentioned Cole in one of her speeches regarding her proposed prison reform policies and featured the former felon on her campaign's website.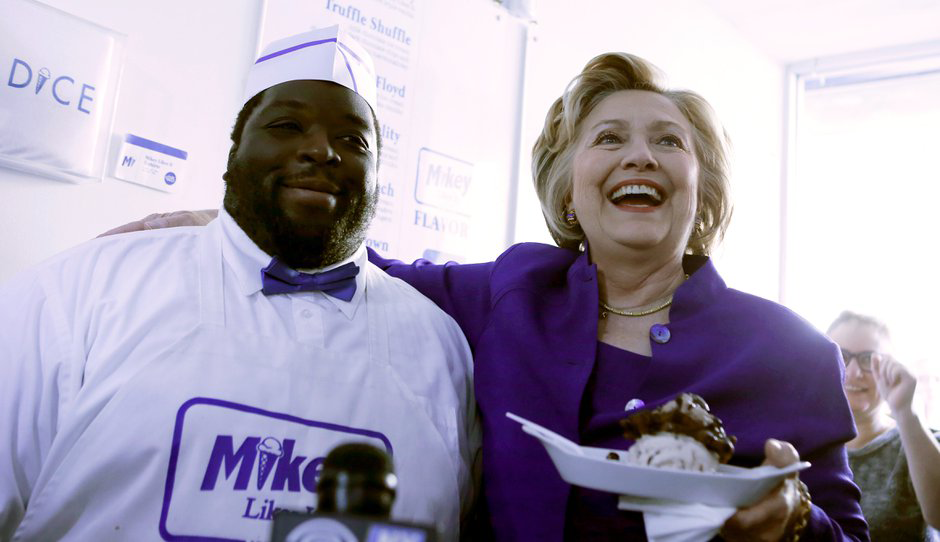 photo: mikeylikesiticecream.com
Since Cole, 37, who recently finished his eight year probation term, following a six month stint at Rikers Correctional Facility, successfully turned his life around with his business, Clinton cited Cole as a model of the possibilities for the 650,000 plus inmates released from prison each year.
Though the shout out was monumental for Mikey, he didn't imagine she'd actually "pass by."
"When she showed up, that was second to none," he says.
In front of hundreds of ogling spectators—toting cell phones in their hands—there she was, inside of the now-standing room only space, chomping on a fresh double chocolate waffle, complete with crushed Oreo cookies, chocolate chips, mini chocolate marshmallows, a scoop of milk chocolate ice cream, chocolate whipped cream, and a chocolate-covered strawberry.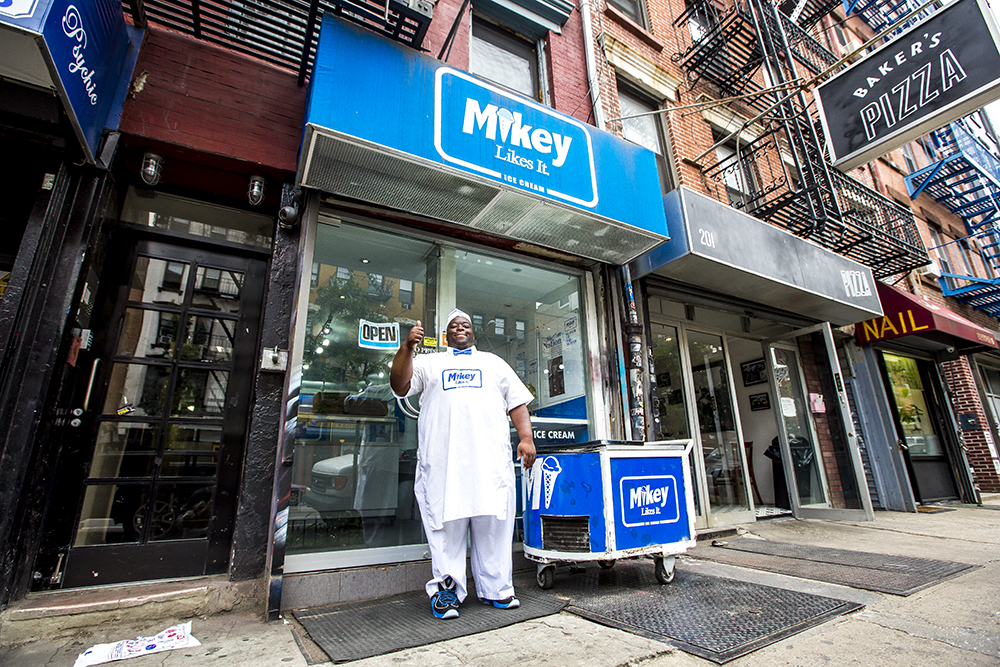 "My whole thing is, here's someone who intertwined our culture to theirs," Cole says. "Not 'cause she had to because she wanted to, she didn't have to include us. But when someone does that, it makes you think, 'Wow, someone heard me.' That's a pat on the back, it's acknowledgment. When someone of a status of Hilary does that, it makes you say, 'Oh God, I have a chance here to touch someone else.'"
He remembers their dialogue vividly. "Our main conversation was about [how] we don't tell people we're going to do something and not do it," Cole recalls. "A regular person, that's how we all live our lives. So, her communicating with the community was translated by her coming down and keeping her word… Everybody always asks what are you going to do for me? For me, it's not what are you going to do for me—what are you going to do for us, as urban people, [an] urban community? If she says she's going to do something, give her a chance. When I started, that's all I asked for."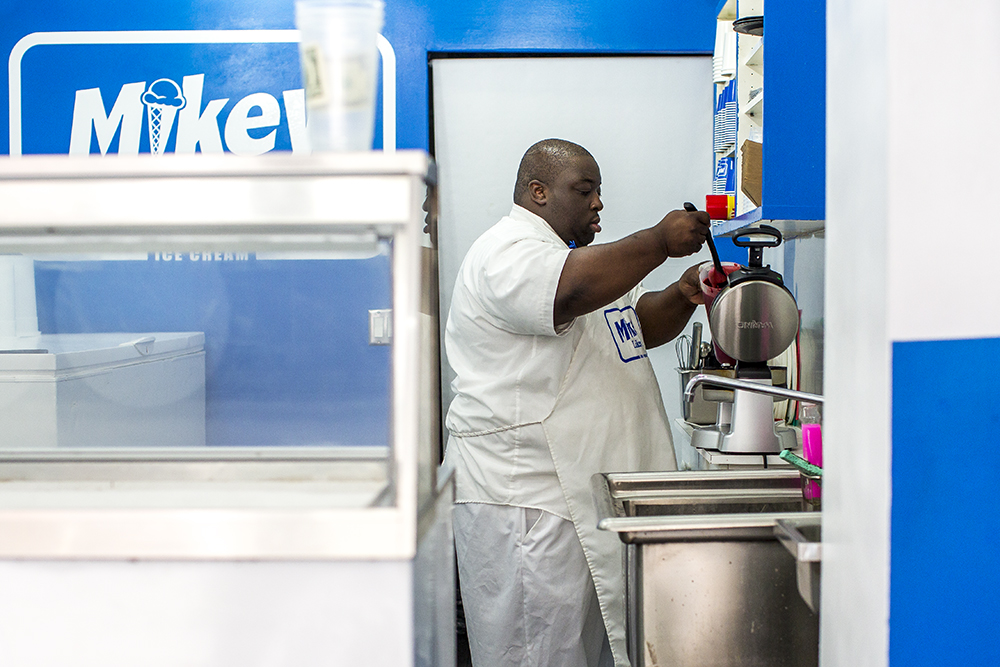 Cole appeared disappointed that his mother wasn't there to witness Mrs. Clinton's surprise visit, however he seemed satisfied that "the community saw it." Thinking back to his modest beginnings, before the pop-culture adorned storefront on Avenue A, Cole remembers being broke and serving ice-cream from his push cart, which still stands in front of his shop. Prior to that, he took orders and sold the frozen dessert out of his house.
Michael "Mikey" Cole grew up two blocks from his ice-cream shop in the Stuyvesant Town projects. I lived through a magical time in New York," he says, referring to the '80s and '90s. "The neighborhood was a lot different."
Michael "Mikey" Cole grew up two blocks from his ice-cream shop in the Stuyvesant Town projects.
As a kid, Cole says he always loved ice cream, but two experiences specifically stick out to him.
"Woolworth was in Union Square," he says, reminiscing fondly on what sparked what would soon become the "Daddy Mac." "My mom was like 'I gotta find something to do to leave you where I can go shopping.' At Woolworth, you could buy ice cream and waffles. So, my mom was like, here's $5."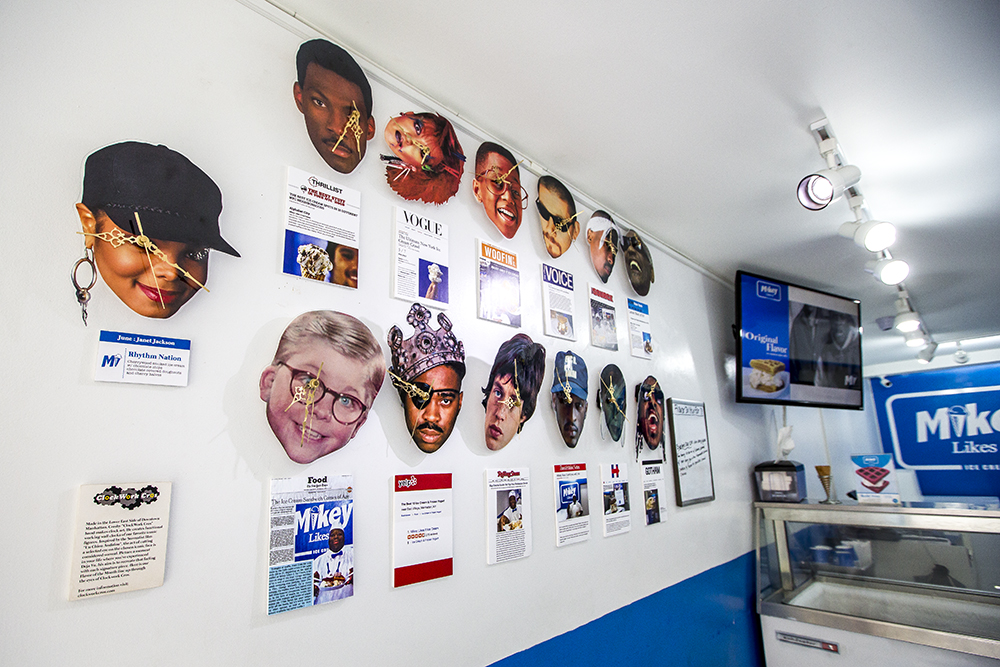 The other inspiration came from an elder ice-cream man that would serve Cole and his friends in the Stuyvesant Town buildings between 20th and 14th street. "He wore a black shirt with a tie, and he'd serve us toasted almonds and strawberry shortcake. I'd save up $1.50 and go spend it. That's how my whole system of the cart started up and he's one of the reasons why I put this together."
After peddling marijuana in his neighborhood for some years, Cole was arrested for the intent to distribute the illegal substance. Upon his release, he knew he had to reinvent himself.
"If anything, I got to change myself"
"I was noticing in the movie Notorious there was a line when he passed, that said, 'We can't change the world, unless we change ourselves.' So, if anything, I got to change myself," Cole says. "I listened to [Biggie's] 'Sky's the Limit,' same hustle, different channel."
It began with a venture in sneakers—Cole knew that, if anything, he had to be his own boss. So he opened the doors of SoleFood, a sneaker shop. "I'm a streetwear retail mind. I used to own SoleFood in Tribeca. That's where my mind is always at, being a creative person." SoleFood eventually folded after two years, and Cole was left to find a new solution.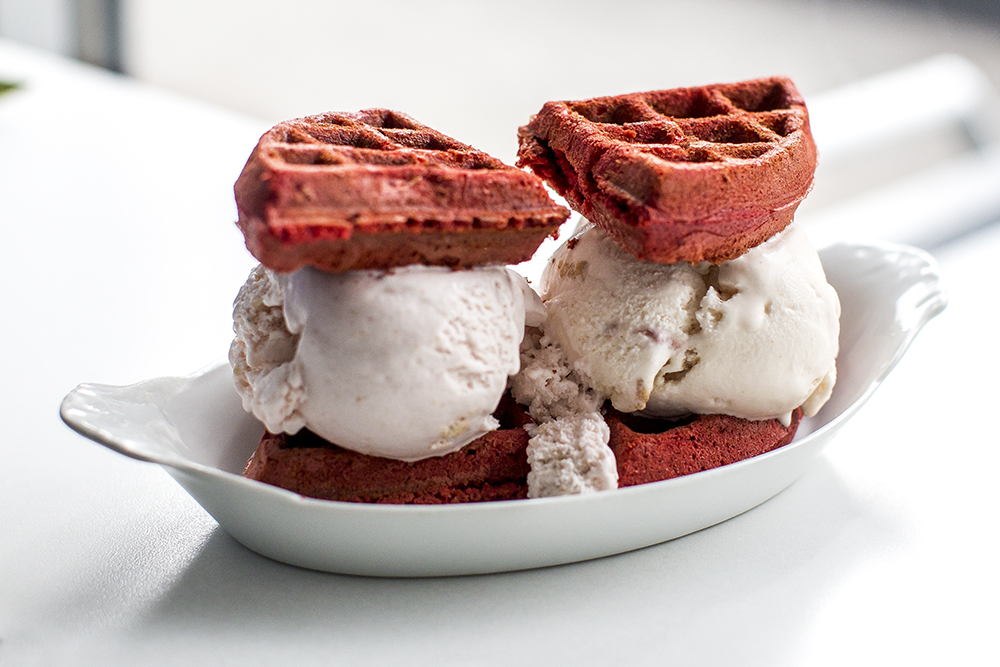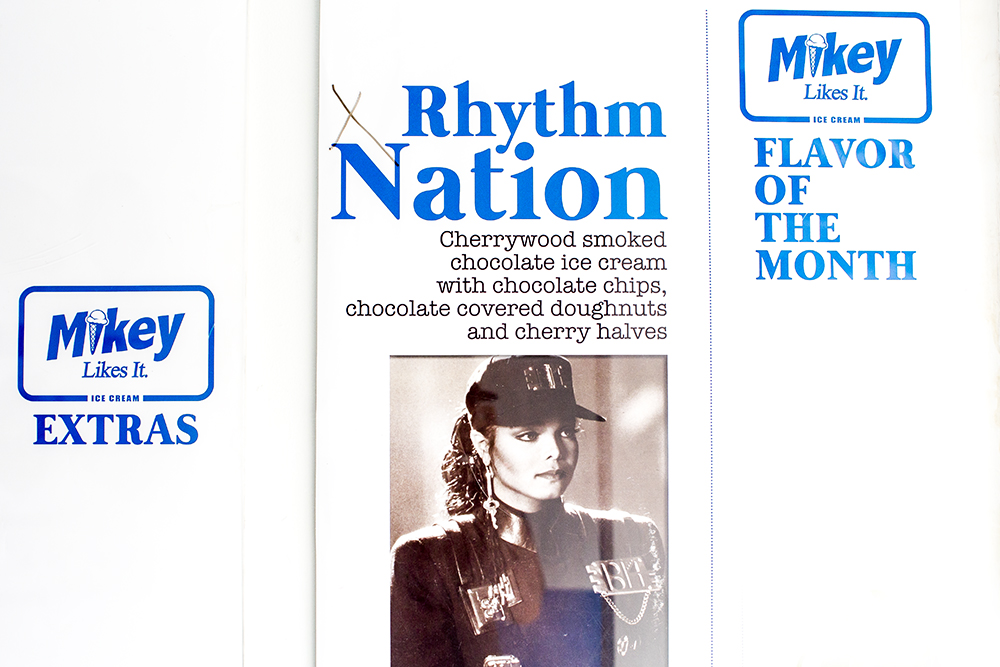 When his aunt passed away, Cole found a cookbook containing a recipe for vanilla ice cream. With a whisk, a fork, his family's formula, and a hip-hop oriented niche, Cole began to experiment and lay down the foundation for what would soon become "Mikey Likes It." "I just took the same angle in a way to ice cream. This is more centralized. I'm focused on the era of nostalgia. This [referring to the store's interior] is just from our era, '80s and '90s, we grew up watching [The] A-Team, Knight Rider, and stuff like that."
"I just know this is my calling"
Cole's decadent ice cream began to take off. People in his building would stop by for a taste, and word began to spread about his unique, frozen creations. To help finance his dream, Cole entered a contest sponsored by Defy Ventures, a non-profit seeking to improve the lives of ex-convicts by developing business skills. He won, but there were complications with the funding that was promised to him. Regardless, Cole found his way despite the setbacks and opened Mikey Likes It.
"I don't know where this is going to take us, I just know this is my calling," he recalls. "I can't sell sneakers no more, so here I am working on different flavors."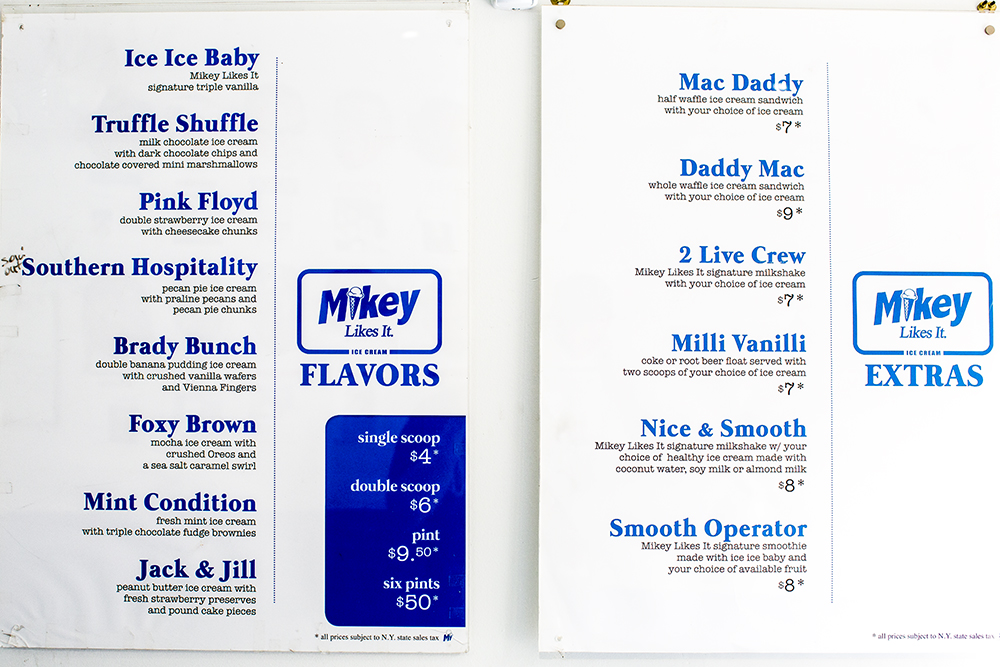 In addition to the custom flavor Cole created for Mrs. Clinton, he regularly serves artisanal creations such as the "Pink Floyd" (double strawberry ice cream with cheesecake chunks), the "Smooth Operator" (Mikey's signature smoothie made with Ice Ice Baby—a triple vanilla flavor—and a choice of fruit), and the "Mint Condition" (fresh mint ice cream with triple chocolate fudge brownies).
Each flavor is aptly titled, like the… Future-inspired "Dirty Sprite" (grape soda ice cream float with sprite)
A slew of Cole's fruitful hip-hop partnerships have turned into intoxicating, themed options, as well. Each flavor is aptly titled, like the "Merry Jane's Addiction" (pistachio ice cream with toasted pistachio pieces and chunks of baklava, 7-10 mg of cannabidiol per serving in collaboration with Snoop Dogg's Merry Jane cannabis company), the Future-inspired "Dirty Sprite" (grape soda ice cream float with sprite) and Kanye's "I'mma Let You Finish" (white chocolate ice cream with chocolate covered marshmallows and teddy grahams) that was served at the Yeezy pop-up shop in NYC. Mikey even serves sneaker drop-influenced flavors, like the Raekwon x Packer x Diadora "Purple Tape" release.
None have been more rewarding than the "D'USSE de Leche" which infuses Jay Z's cognac and vanilla ice cream.
photo: mikeylikesitnyc.tumblr.com
"I see [Jay] all the time," Cole shrugs. "We actually do a lot of private events for him as well, and it's awesome to be with someone of that status in their moment. Precious moments of his life, he invites us to come and serve ice-cream for. It's a blessing; all we want to do is create more moments."
In the future, Cole plans to open ice-cream shops in Los Angeles, Atlanta, and Miami. When asked about the flavors he's yet to release, Cole points to his cell phone, saying "We keep them all in here... There's other people who might do what we do. But our connection to the hip-hop world separates us. Not just the flavor and the taste, but our connection to the [hip-hop] culture itself." It's a sweet moment.
***
MIKEY LIKES IT ICE CREAM
199 AVENUE A, NEW YORK 10009
mikeylikesiticecream.com. Follow the shop on Instagram @MikeyLikesItIceCream. Uncredited photos above by SDJ.
Mikey Likes It made an exclusive flavor to celebrate The Hundreds' recent Wildfire short film and "Flag" logo release. Bobby Hundreds and Ben Hundreds will be at the shop this Thursday to celebrate the launch. Swing by for free samples of "WILDFIRE" (passion fruit ice cream with red velvet cookies & a ghost pepper chocolate swirl) for the first 100 customers.