The Hundreds X Reebok Classic "Zodiac" Ventilators are available now at all four shop locations (THLA, THNY, THSF, THSM), select retailers, and in the Online Shop.
In honor of this year's 25th anniversary of the Reebok Ventilator, California streetwear brand The Hundreds revisits its Reebok Classic partnership with two different Zodiac-inspired colorways.
A nod to Bobby Hundreds and Ben Hundreds' zodiac signs, the The Hundreds X Reebok Classic Ventilator pack interprets the signs of Aries and Taurus while staying true to The Hundreds' trademark attitude. The pack highlights the brand's founders' respective aesthetics, with Ben favoring a standout color to Bobby's preferred understated black.
The pack's fresh white rendition reflects Ben's Taurus roots, specifically the white "Cretan Bull," from which the zodiac sign takes its Latin name. The clean base is given a Californian update with teal and baby blue overlays, with bright accents of orange and yellow, paying homage to the Hundreds' origins and Los Angeles' laid-back surf culture.
Lookbook shot by Miami-based artist John Spannos (@vilonious).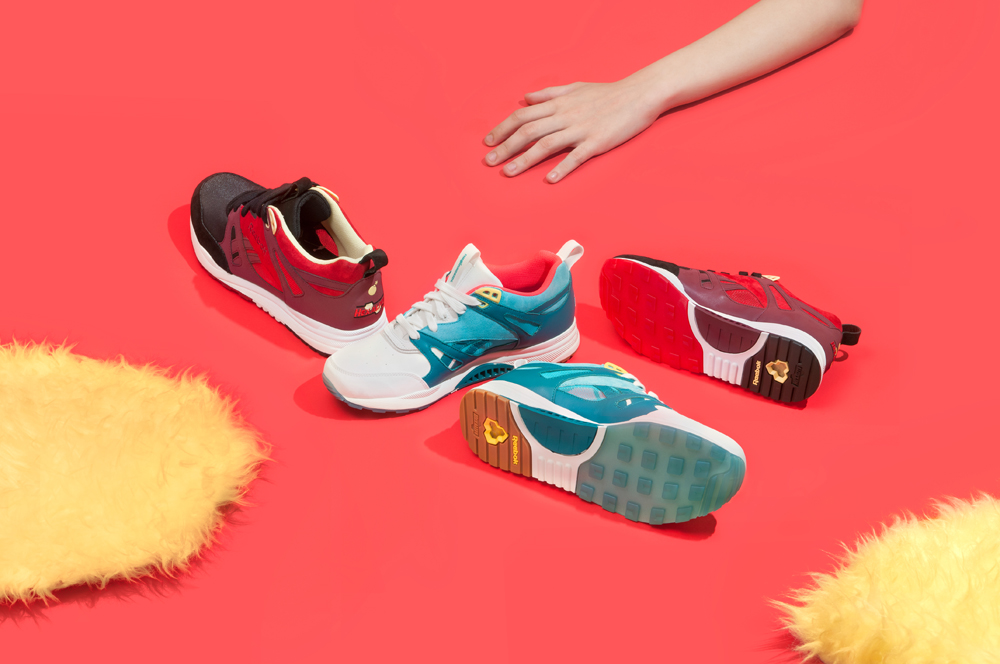 Bobby's Aries release takes a different direction, thanks to the sign's Latin origins as a ram, a cardinal fire symbol. The sleek black upper combines with burgundy and blazing red overlays to reflect a burning ember, while deeper Greek mythology is represented by the sneaker's gold-colored sockliner—a unique symbol of the winged ram with Golden Fleece that was sacrificed to the god Poseidon to become the constellation Aries.
Each pair features premium pig suede, full-grain leather, and breathable mesh panels for ultimate comfort, while reflective 3M panels eye-catchingly bring the zodiac stories to life. Shot by Miami-based photographer/artist John Spannos in his signature style, the campaign's lookbook uses vivid, flat color backdrops with contrasting textures to hero the sneakers' striking designs.
Retailing at $119.99/€125, the Reebok Classic x The Hundreds Ventilator pack launches on August 1st at The Hundreds stores and online as well as at select retailers globally.