We're excited to announce our first collaboration with PF Flyers, available in our Online Shop and flagship locations, pfflyers.com, and at select retailers February 18. Like all great collaborations, the partnership between The Hundreds and PF Flyers was founded on friendship and mutual respect. Although Bobby Hundreds was introduced to PF Flyers through the classic '90s film, The Sandlot, it was friend, mentor, and PF Brand Ambassador Alyasha Owerka-Moore's involvement with the brand that strengthened Bobby's respect. "In my professional career, my love and fascination with PF Flyers has been stirred by ambassador and educator Alyasha Owerka-Moore. He's the one who has really instilled an appreciation for the product, and the PF legacy," says Bobby Hundreds.
Inspired by the spirit of Vietnam War veterans returning to the States and PF's history of providing standard issue shoes for the US Army in the '50s and '60s, The Hundreds X PF Flyers Rambler is a wearable classic with a lux military feel. The shoe is constructed and lined with premium canvas and features a full grain leather toe cap and heel strap, as well as The Hundreds' "Solid Bomb" branding and "Bar" logo.
***
Our collaborative ad below is a nod to vintage PF Flyers advertisements featuring the "Run Faster, Jump Higher!" slogan. We updated it with The Hundreds' irreverent attitude (see the "Stompin Sole" and "Kickin' Sole") and our Spring 2016 collection's military theme.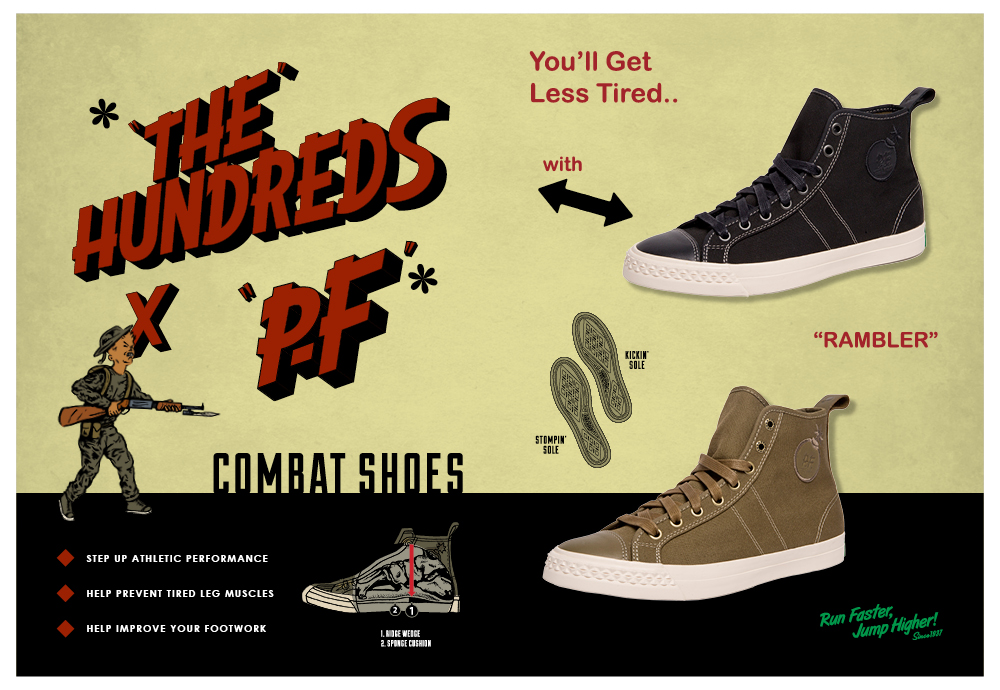 And for some vintage ad inspiration, here's a PF Flyers original featuring Johnny Quest and Race Bannon. How cool is that PF Magic Ring?
And don't forget the "magic wedge." The chick-a-boo song at the end will be stuck in your head for the rest of the day: