We're proud to present our second collaboration with Jim Davis's iconic lasagna-loving cat, Garfield: The Hundreds X Garfield. The collaboration will be available exclusively at The Hundreds Los Angeles, select retailers (full stockist list at end of post!), and our US and UK Online Shops.
Illustrator Jim Davis debuted the first Garfield comic strip in June of 1978, featuring a sarcastic fat cat and its clumsy, kindhearted owner Jon Arbuckle. It quickly became the fastest growing comic strip ever, today holding the Guiness World Record of "The Most Widely Syndicated Comic Strip in the World." Garfield proved so successful that Davis created Paws, Inc., in 1981 to manage its worldwide rights, and the orange tabby soon appeared in television cartoons, movies, video games, and across a wide assortment of merchandise. This year, the enduring cat celebrates its 40th year.
"Garfield taught me how to draw cartoons and I swore that one day I'd make a living off of my art the way Jim Davis did." -The Hundreds' co-founder Bobby Kim.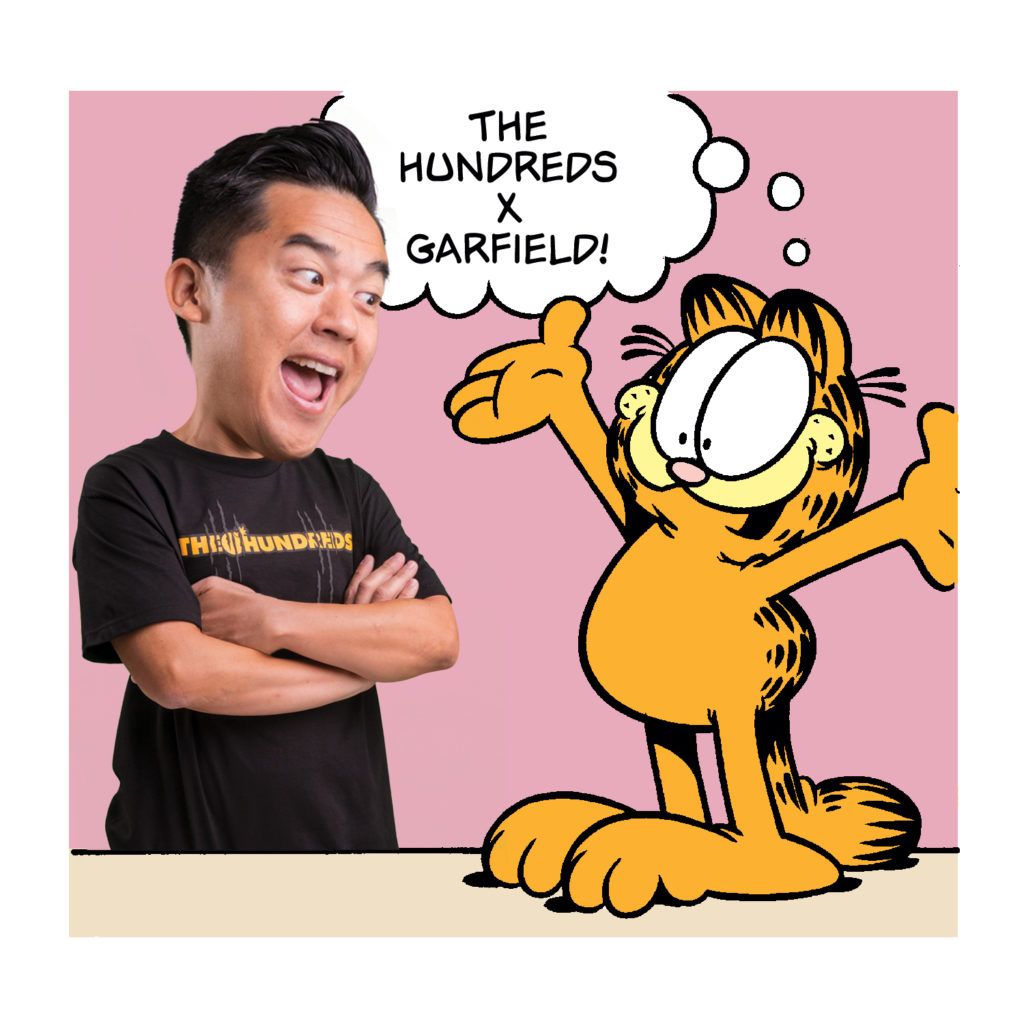 In 2010, The Hundreds and Garfield partnered for the first time in a milestone collaboration. Eight years later, Garfield returns now in celebration of The Hundreds' 15-year Anniversary. This time, we drew inspiration from our original collaboration, as well as the '90s rendition of Garfield and friends. The collection features T-shirts, hoodies, an embroidered denim jacket, an allover print pajama set, headwear, a trash can, coaster set, plush toy, stickers, and pins.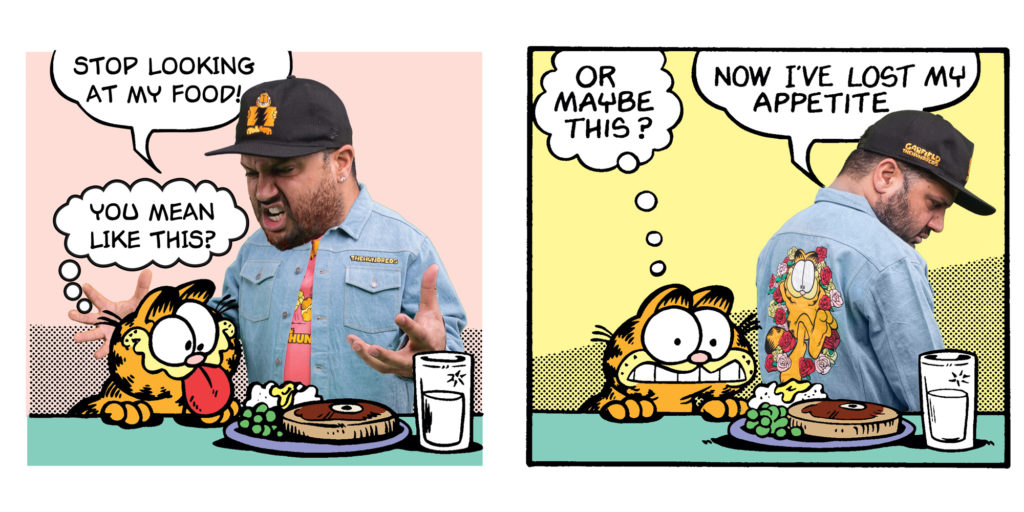 About that lookbook…
"Basically Bobby had the idea to put the The Hundreds home team IN the garfield comics. Robb [Klassen] set up a green screen and a few props and asked everyone to act our their parts. I went in and photoshopped everyone in and exaggerated different parts of the body like, head, hands and feet. It was really fun to see my co-workers all 'cartooned' out and I had a lot of laughs through out the whole process." -Phil Lumbang, Graphic Designer
Photographer: Robb Klassen
Models: Bobby Kim, Ben Shenassafar, Phil Lumbang, David Rivera, Alina Nguyen, Eddie Viramontes, Josh Gipson, Dillon Jones, Jasmine Ortega, Katie Huston, Percival Pacadaljen, Alexander Spit, Jay Caparoso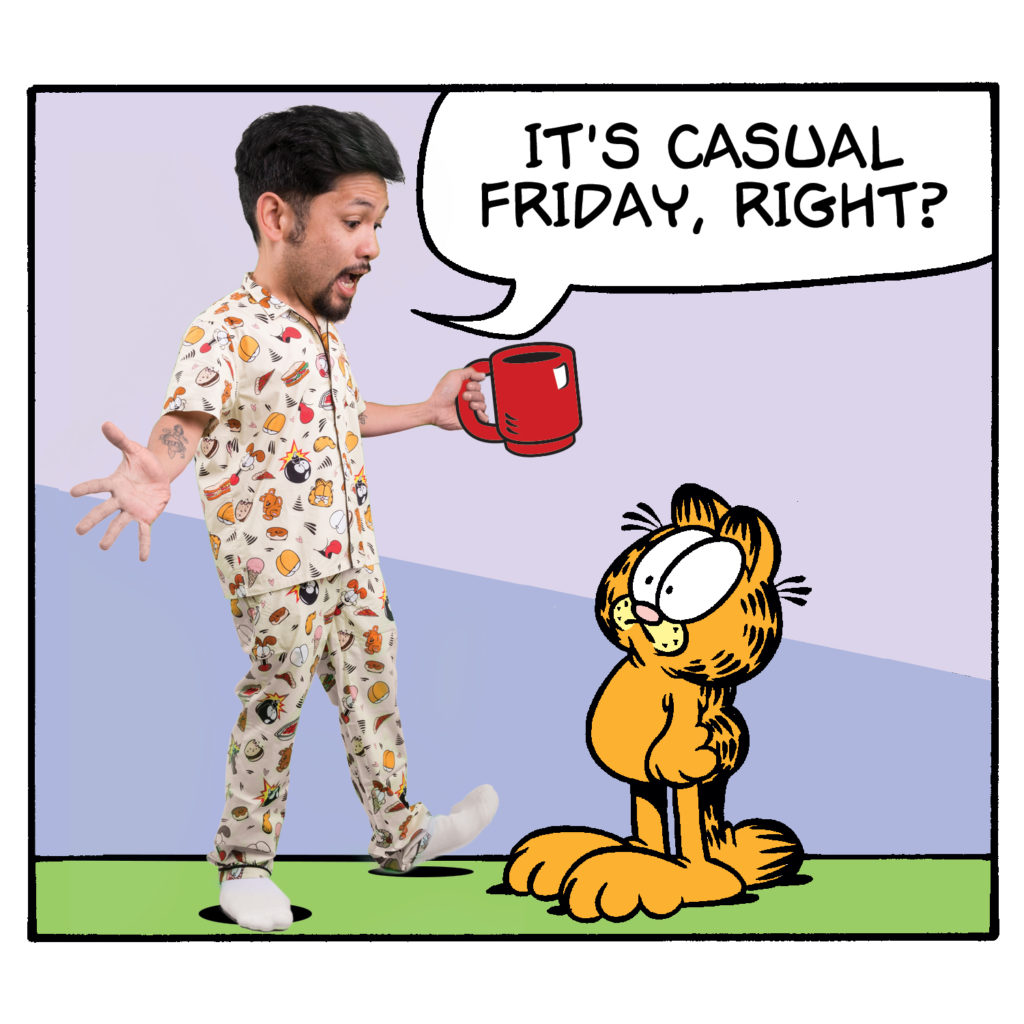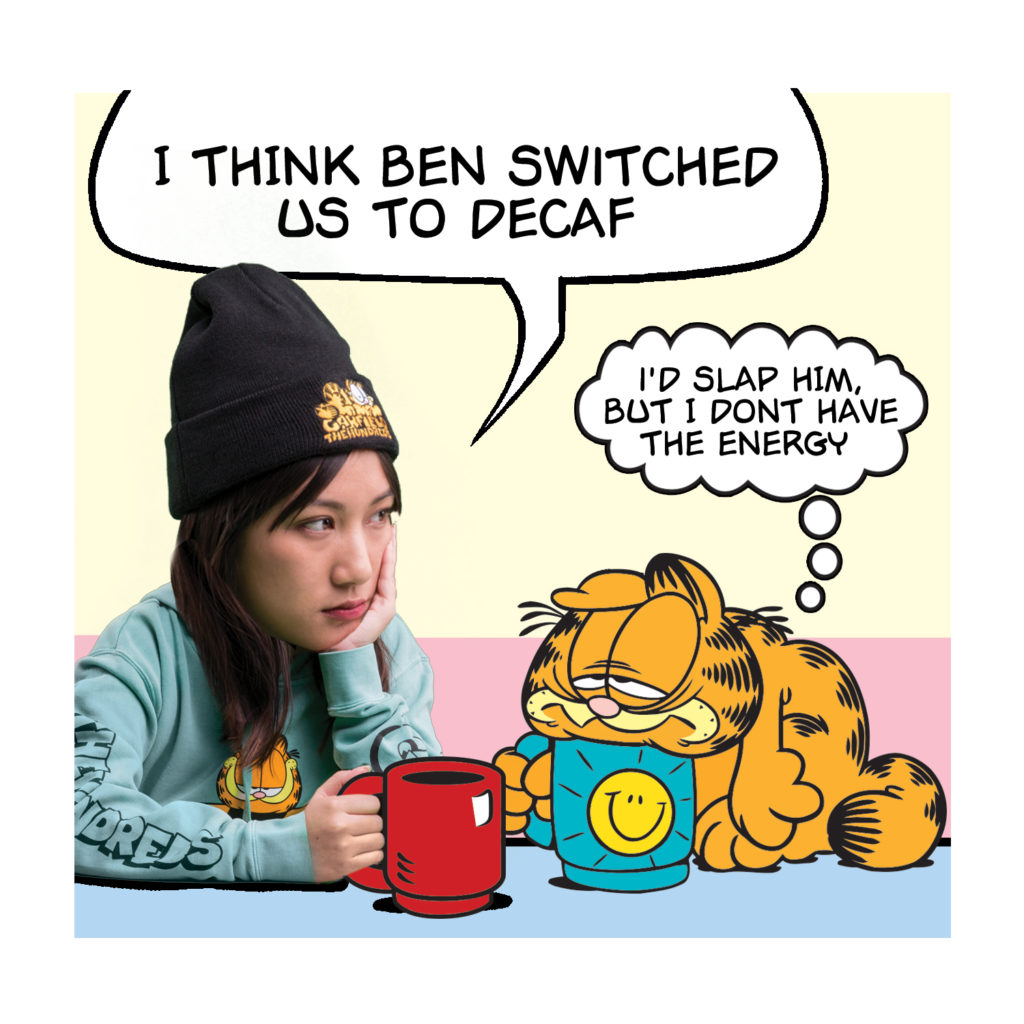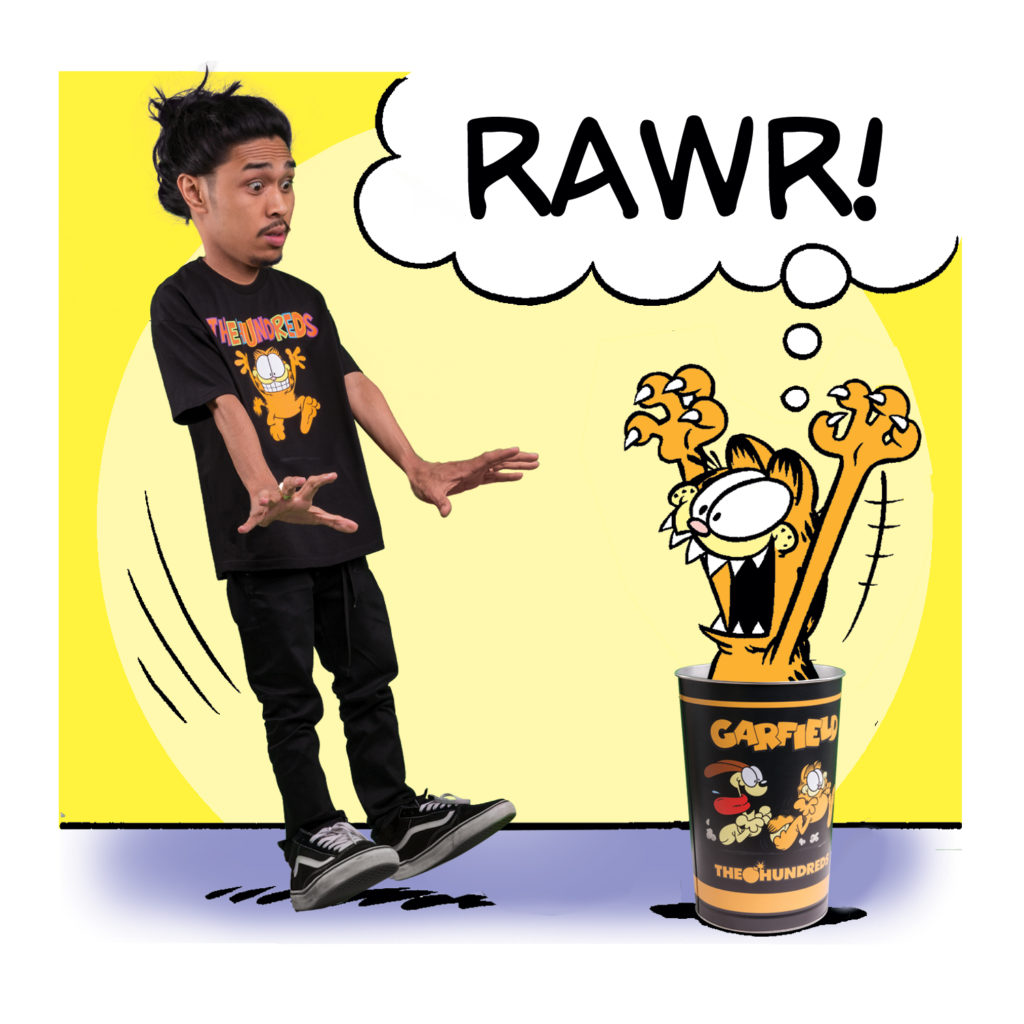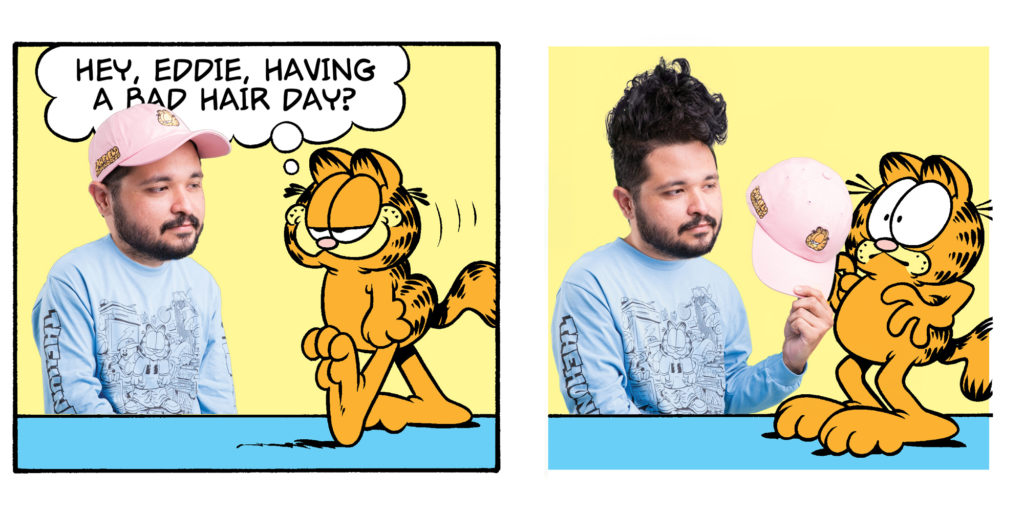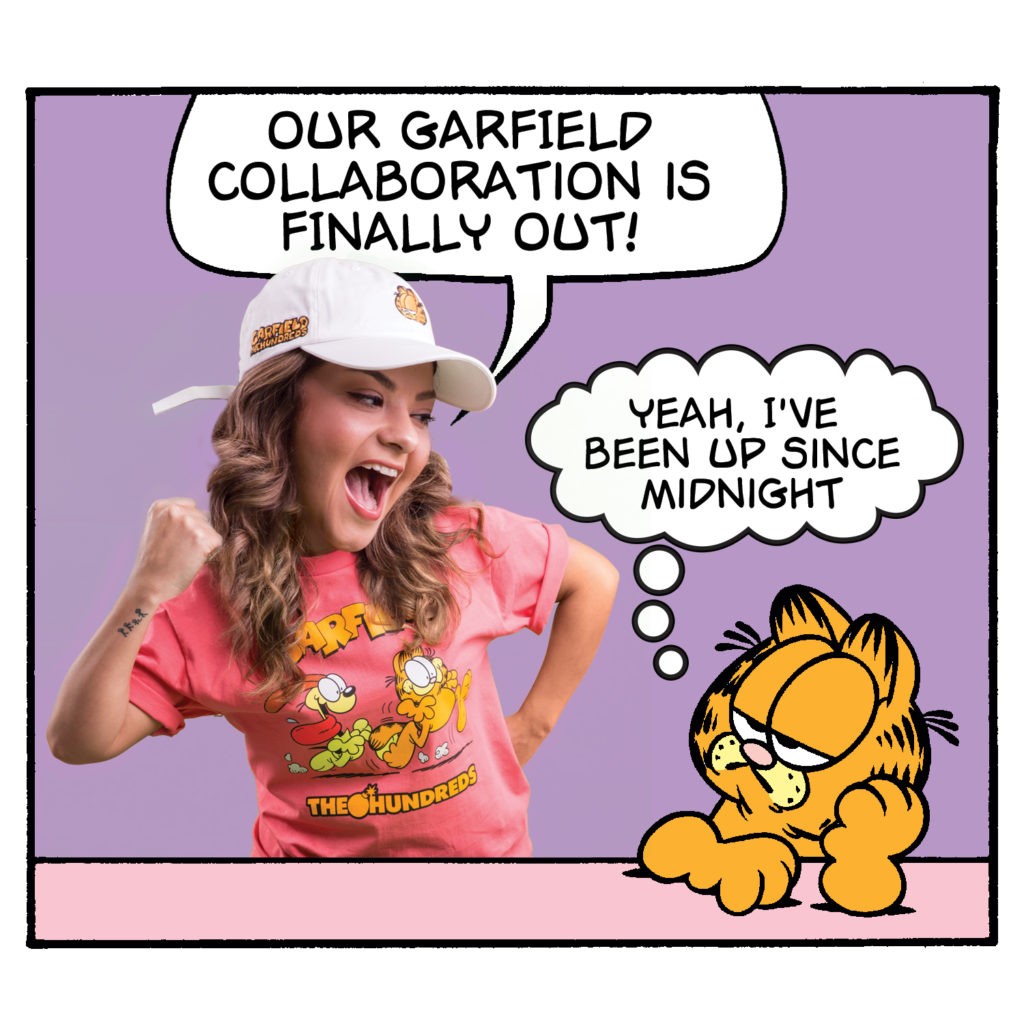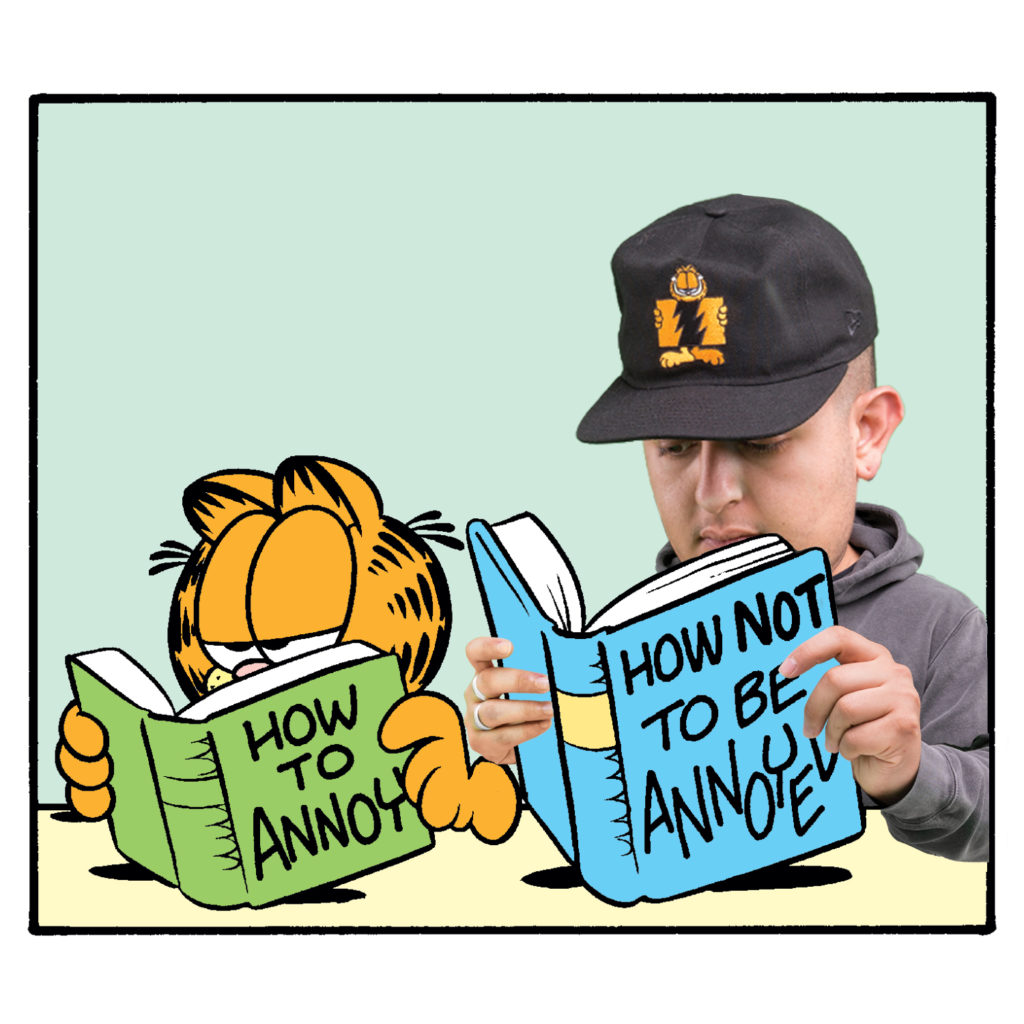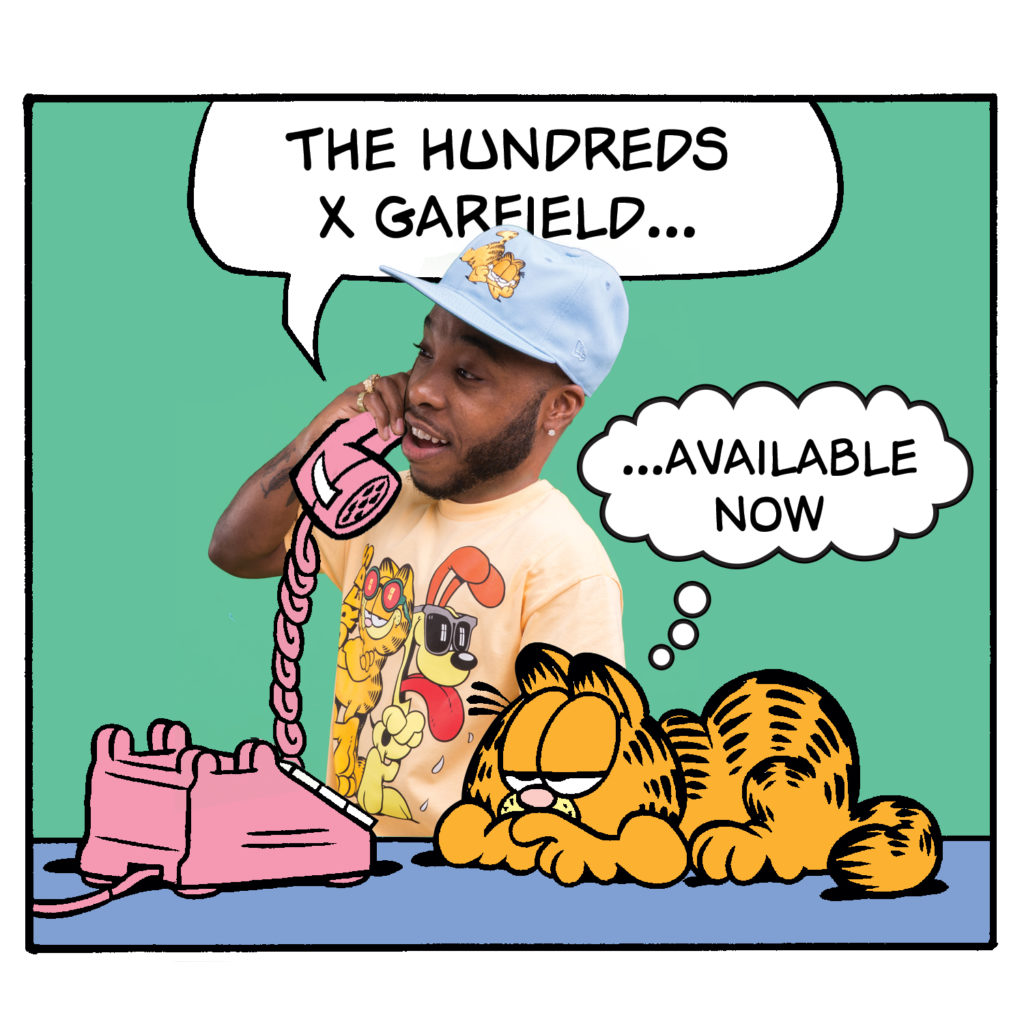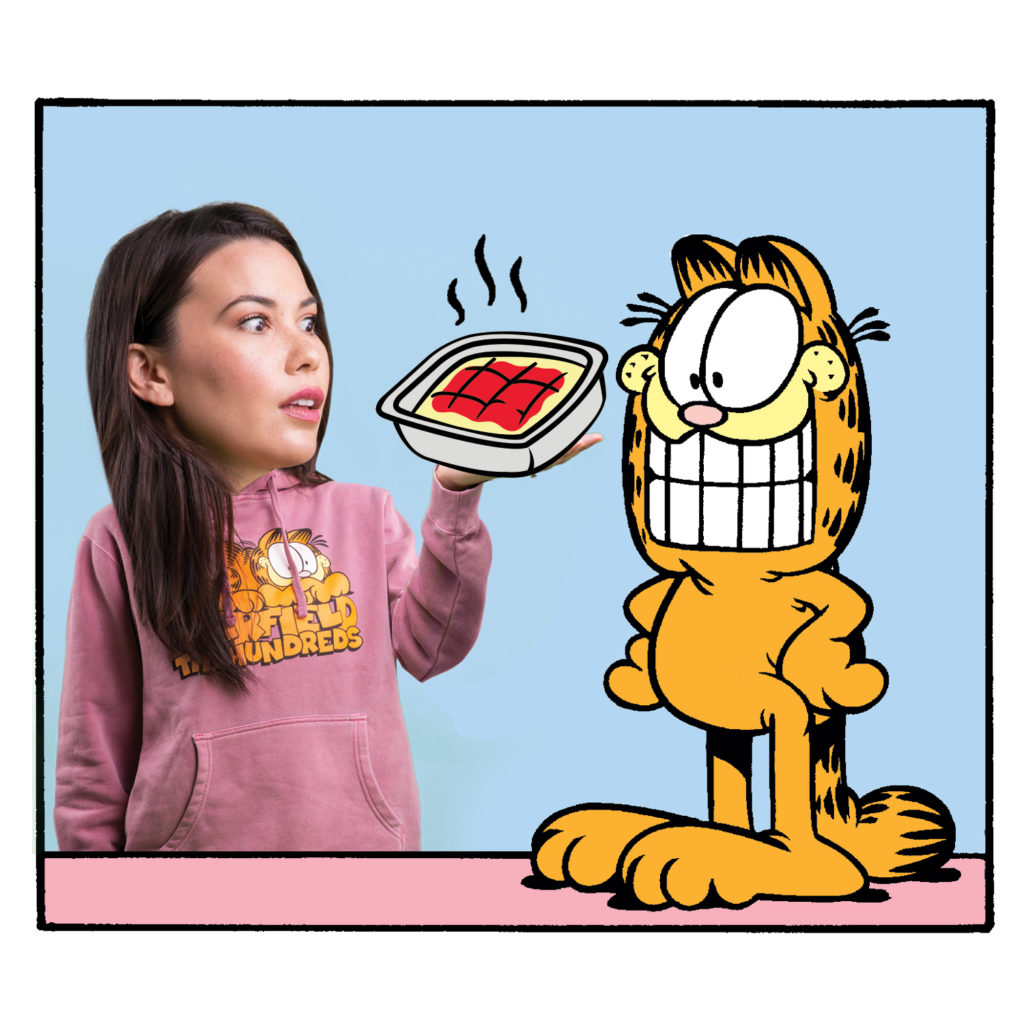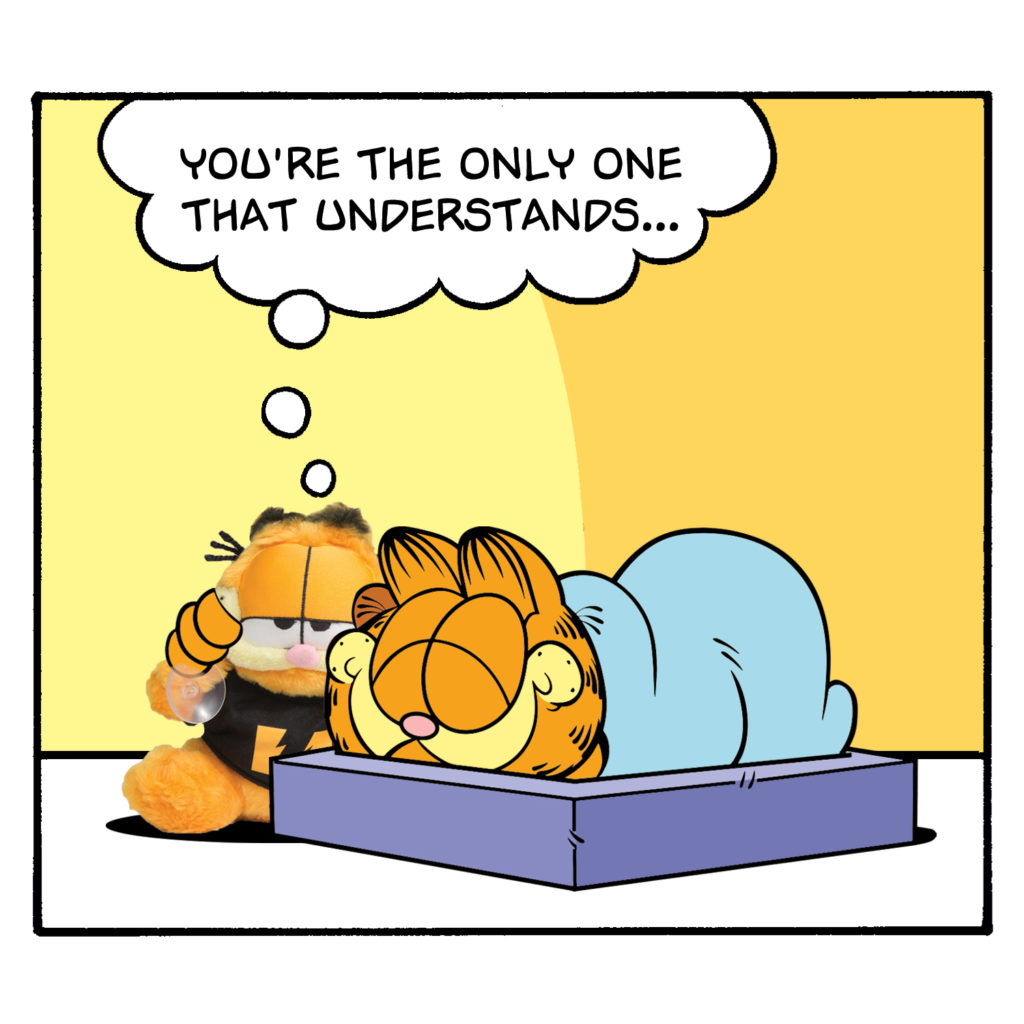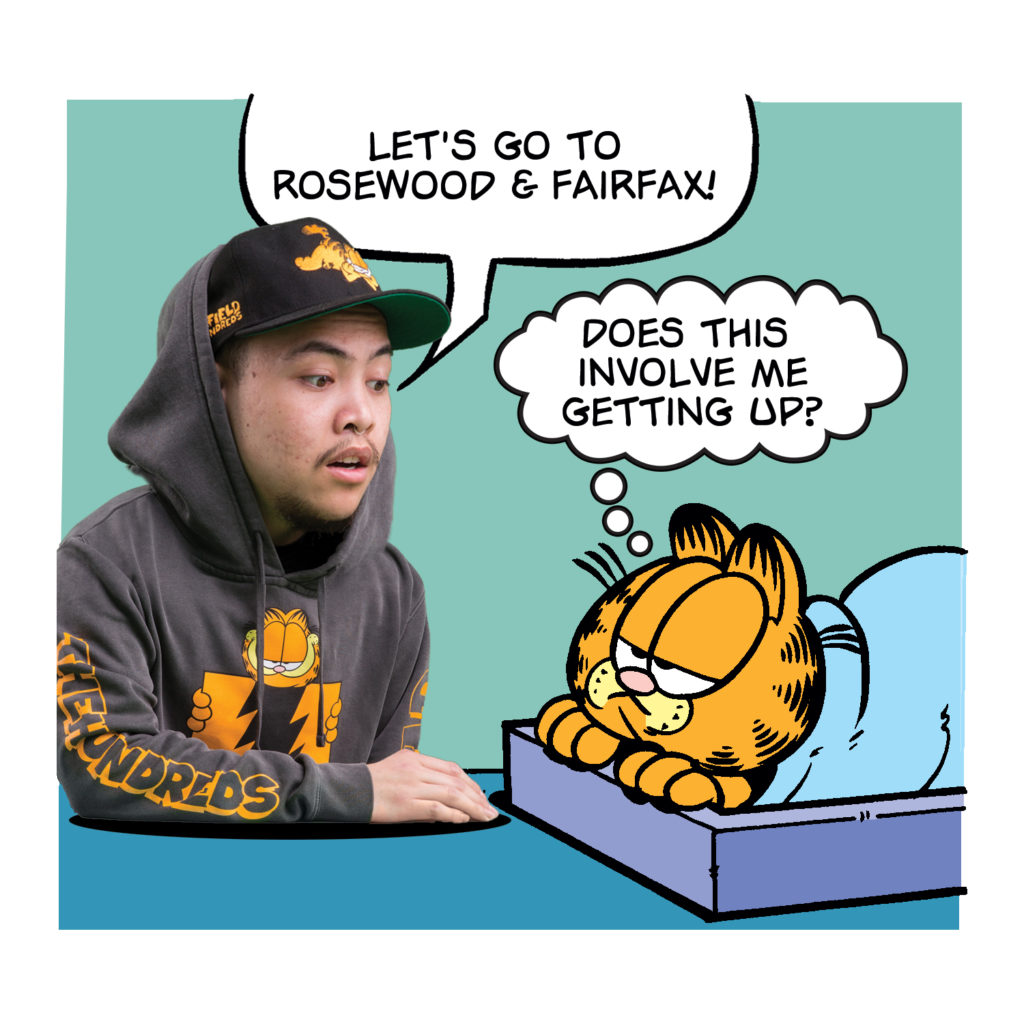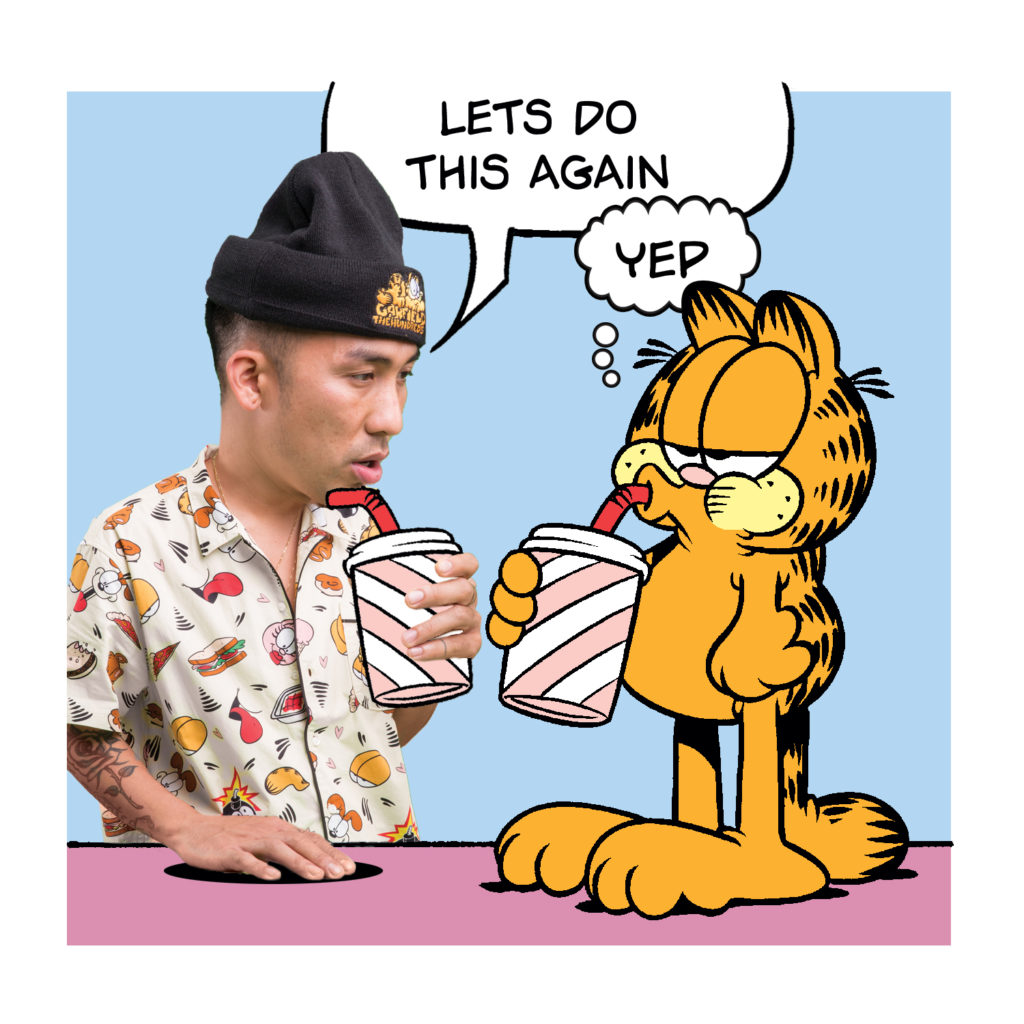 HERE'S WHERE TO BUY THE HUNDREDS X GARFIELD:
| | | |
| --- | --- | --- |
| Company | Location | Webstore |
| WEST COAST | | |
| ASW Distribution | Portland,OR | https://shop.ccs.com |
| Attic 2 Zoo | Buena Park, CA | https://attic2zoo.com |
| Bespoke Cut N Sew | Rancho Cucamonga.CA | https://shopbspk.com |
| Billion Creation | Chula Vista,CA | https://www.billioncreation.com |
| Boarders – Arcadia | Arcadia, CA | https://boardersla.com |
| Boarders – Glendale | Glendale, CA | https://boardersla.com |
| Boarders – Montebello | Montebello, CA | https://boardersla.com |
| Boarders – Northridge | Northridge, CA | https://boardersla.com |
| Boarders – Topanga | Topanga, CA | https://boardersla.com |
| Boarders – West Covina | West Covina, CA | https://boardersla.com |
| Compound Gallery | Portland, OR | https://compoundgallery.com |
| Creative Soul | Ontario, CA | |
| Crown Boardshop | Corona, CA | http://shopcrownapparel.com |
| Eden Wear | Phoenix,AZ | |
| Family Sports | La Mirada, CA | http://legendsboardshop.bigcartel.com |
| Kings | Montclair, CA | https://www.shopatkings.com |
| Kore Skate Shop | San Bernardino, CA | |
| Legends – Downey | Downey, CA | http://legendsboardshop.bigcartel.com |
| Millenium Shoes | Los Angeles, CA | http://www.millenniumshoes.com |
| New Star Activewear | Sylmar, CA | https://newstaractive.com |
| Passport | San Luis Obispo, CA | https://shoppassport.com |
| Revolution SD | National City, CA | |
| RVRND Boutique | Lompoc, CA | http://www.rvrnd.co |
| Eminent Skate | Santa Rosa, CA | |
| X4 Sports | San Bernardino, CA | |
| Xtreme – Culver City | Culver City, CA | https://xbusa.com |
| Xtreme – Lakewood | Lakewood,CA | https://xbusa.com |
| Xtreme – Santa Ana | Santa Ana, CA | https://xbusa.com |
| Xtreme – Los Angeles | Santa Ana, CA | https://xbusa.com |
| Active Ride Shop | Select Locations | www.activerideshop.com |
| EAST COAST | | |
| AWOL | Boston, MA / Lowell, MA | www.shopawol.com |
| BLACKLIST | Lawrenceburg, IN | http://www.blacklistboardshop.com/ |
| BLADES | New York, NY | http://www.blades.com/ |
| Burn Rubber | Detroit, MI | https://burnrubbersneakers.com/ |
| Burn Rubber- Tampa / The Greater Goods | Tampa, FL | https://burnrubbertampa.com/ |
| CARDI | Norfolk, VA | https://www.shopcardi.com/ |
| Clockwork SkateShop | Macon, GA / Savannah, GA | https://www.instagram.com/clockworkskateshop/?hl=en |
| FOSTER | Metairie, LA | https://www.shopfoster.com/ |
| FRESH RAGS | Pinellas Park, FL | https://freshragsfl.com/ |
| FRS (For Rent Shoes) | Baltimore, MD | https://www.frsbmore.com/ |
| HALFTIME/E-CAP CITY | Teaneck, NJ | http://www.ecapcity.com/ |
| HOMEBASE610 | Bethelhem, PA | http://homebase610-612268.shoplightspeed.com/ |
| KPG ENTERPRISES/ NEXUS | Norfolk, VA | |
| MODA 3 | Milwaukee, WI | https://www.moda3.com/ |
| MOMS SWEET SHOP | Kitty Hawk, NC | https://sweetstuffinside.com/ |
| Neckbreakerz | Charlotte, NC | |
| NOOKS | Lorain, OH | |
| NOUVEAU | New Orleans, LA | https://shopnouveau.com/ |
| ONENESS | Lexington, KY | https://www.oneness287.com/ |
| PERSONA | Lowell, MA | http://blog.shop-persona.com/ |
| POLITICS – LAFAYETTE | New Orleans, LA | https://sneakerpolitics.com/ |
| PS & QS | Philadelphia, PA | https://psandqs.com/ |
| SHOE GALLERY | Miami, FL | https://shoegallerymiami.com/ |
| SNEAKER JUNKIES THAYER | Providence, RI | https://sneakerjunkiesusa.com/ |
| SNEAKER ROOM | Jersey City, NJ | https://www.snkrroom.com/ |
| SOLE CLASSICS | Columbus, OH | https://soleclassics.com/ |
| SOLE FLY | Miami, FL | https://www.solefly.com/ |
| SOLE LOUNGE | Houson, TX | http://soleloungehou.com/ |
| THE EDITION BOUTIQUE | Miami, FL | http://theeditionboutique.com/ |
| THE RESTAURANT FASHION BISTRO | Detroit, MI | |
| THREADS ON CARSON | Pittsburgh, PA | https://www.threadsoncarson.com/ |
| TRAVEL SKATESHOP | Roselle Park, NJ | https://www.travelskateshop.com/ |
| VINNIES STYLES | Brooklyn, NY | https://vinnies.nyc/ |
| WISH ATL | Atlanta, GA | https://wishatl.com/ |
| INTERNATIONAL | | |
| Attitude Inc | Colchester, England | https://www.attitudeinc.co.uk/ |
| Beatsworkin | Barnstaple, England | http://www.bwskateshop.com/ |
| Grafficks | Chester, England | https://grafficks.co.uk/ |
| Main Source | Norwich, England | https://main-source.co.uk/ |
| Natterjacks | Kingston, England | https://www.natterjacks.com/ |
| Penloe | Truro, England | https://www.penloe.com/ |
| Remix | Blackburn, England | https://www.remixcasuals.co.uk/ |
| Route One | All Locations | https://www.routeone.co.uk/ |
| Urban Industry | All Locations | https://www.urbanindustry.co.uk/ |
| The Chimpstore | Online | https://www.thechimpstore.com/ |
| | | |
| Jing – G | Tel Aviv-Yafo, Israel | https://www.jin-g.co.il/ |
| | | |
| HOPES | Taipei, Taiwan | http://hopesonline.com/ |
| RINGO21 | Taipei, Taiwan | https://www.instagram.com/ringo21_/ |
| | | |
| CROOZ SHOPHOUSE | Jakarta Selatan, Indonesia | www.croozcloth.com |
| THE GOODS DEPT. | Jakarta Selatan, Indonesia | http://thegoodsdept.com/ |
| THE WORMHOLE | West Java, Indonesia | http://www.wormholestore.com/ |
| SBS | Bali, Indonesia | https://www.instagram.com/sbs_bali/ |
| ETAKS | Daerah Khusus Ibukota Jakarta, Indonesia | https://www.instagram.com/etaks.store/?hl=en |
| | | |
| SUP-CLOTHING | Singapore | http://www.supclothing.com/ |
| | | |
| I-SCREAMZ | BKK, Thailand | http://www.iscreamz.com/ |
| | | |
| THE NINES | BGC, Philippines | https://thenines.ph/ |
| | | |
| Black Swan | Korea | http://qvo.co.kr/ |
| | | |
| Urban | Norway | https://urban.no/en/ |
| | | |
| Major Drop | Mid Valley ,Selangor, Malaysia | https://www.majordrop.com/ |
| Major Drop | Sunway Pyramid, Selangor, Malaysia | https://www.majordrop.com/ |
| Showroom | Selangor, Malaysia | http://showroom.com.my/ |
| The Cap City | Selangor, Malaysia | http://www.thecapcity.com/ |
| | | |
| Street Kings | Kiulap, Brunei | |
| | | |
| | | |
| Salarium | Belarus, Minsk, Gurskogo street 37 | http://salarium.by/ |
| Nineline | Russia, Moscow, Novodmitrovskaya street 1 build 5 | https://ninelinestore.ru/ |
| Sneaker Street | Russia, Yekaterinburg, 8 Marta street, 46, TC "Greenwich" | http://sneaker-street.ru/ |
| KIXBOX Metropolis | 125171, Russia, Moscow, Leningradskoe shosse, 16A, bld. 4, METROLIS Shopping Centre , 3rd floor | https://www.kixbox.ru/ |
| KIXBOX Tsvetnoy | 127051, Russia. Moscow, Tsvetnoy blvd, 15, TSVETNOY Department Store, 2nd floor | https://www.kixbox.ru/ |
| KIXBOX Galereya | 191040, Russia, St. Petersburg, Ligovskiy prospekt, 30A, Galereya Shopping Centre, 3rd floor | https://www.kixbox.ru/ |
| | | |
| BIG WEST | Umeda, Osaka | http://www.hepfive.jp/shop/5490 |
| Feelin' | Osaka | http://www.feelin-osaka.com |
| NAQSHTRAQSE | Fujisawa, Kanagawa | |
| Wedge | Kushiro, Hokkaido | http://www.50910.jp/shop/detail.php?shop=3217 |
| | | |
| Caliroots | Stockholm, Sweden | https://caliroots.com/ |
| Caliroots | Gothenburg, Sweden | https://caliroots.com/ |
| Hollywood | Stockholm, Sweden | https://www.hollywood.eu/ |
| Hollywood | Gothenburg, Sweden | https://www.hollywood.eu/ |
| | | |
| Snipes | Germany, All Locations | https://www.snipes.com/ |
| Kickz | Berlin, Hamburg, Munich, Schweinfurt, Stuttgart, Shweinfurt | https://www.kickz.com/de/ |
| Wind | Saarbruecken, Germany | http://www.wind-sport.de/ |