Off the success of The Hundreds STREET MEET, we announced EAT MEET last summer, a private dinner and celebration of The Hundreds' community through social gathering and delicious food. It's an opportunity to break bread with Ben, Bobby, and the rest of the The Hundreds family at one of our favorite restaurants in the city.
Our second-ever EAT MEET will be hosted by our good friends at The Oinkster (Hollywood) on Tuesday, April 14th, starting promptly at 8pm to 11PM. Admission is $36 and includes a 3-course prix fixe with dessert, featuring the return of The Oinkster's The Hundreds X Tapatio creation, the Sloppy Tio (remember?).
Each ticket is available only for purchase in the Online Shop HERE, and covers the 3-course dinner, dessert, exclusive The Hundreds Eat Meet T-shirt, The Hundreds Spring/Summer 2015 Magazine, and a custom tote bag. Alcohol will be cash and carry. Tickets are limited to 100 and are on sale now.
*Vegetarian options available.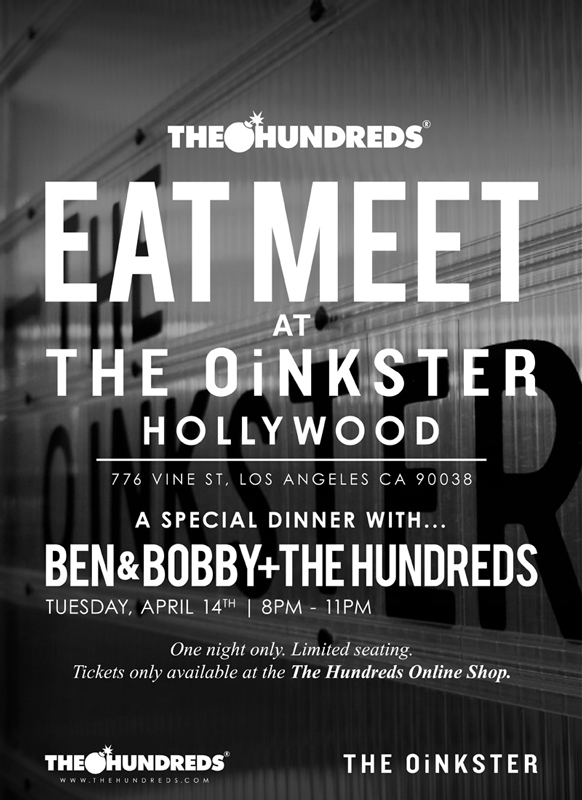 ::
Check out what the inaugural Eat Meet looked like at Vietnamese restaurant East Borough Culver City below and see the rest of the recap here: