The recipe for Odyssey's Texas Toast is unique mix of good times, old friends, good riding, new friends, and parties all coming together in Austin, Texas, for a weekend of bmx mayhem. The essence of Texas Toast is somewhat simple – it's an event that brings the bmx community together. Yes, there might be other events with more spectators, or more TV cameras, or more prize money, but as far as actual bmxers go, Toast is the pinnacle. In just its fourth year, Texas Toast has become more of a festival than a bmx contest with events and parties spread out all over Austin for 4 days.
As soon as I landed in Austin, in pretty typical bmx fashion, we headed straight to a party. Empire BMX hosted the first Toast pre-party and there couldn't be a better way to start the long weekend. Everyone is pretty mellow catching up with old friends and new friends from all over the world.
The Burro Truck selling special themed grilled cheese sandwiches named after their favorite bmxers.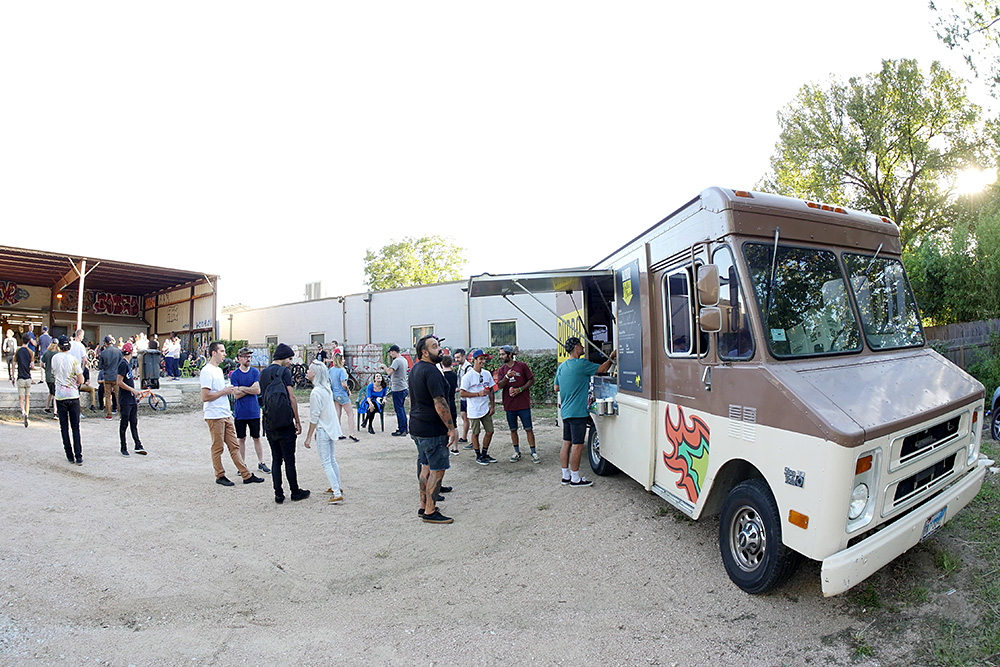 And of course there was free beer, causing high school kegger flashbacks.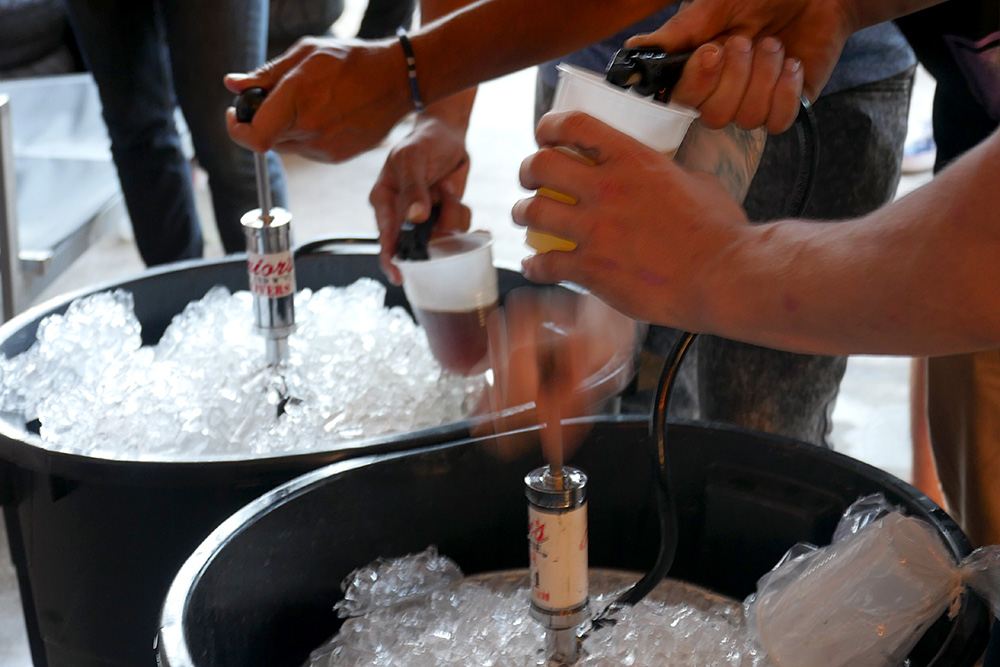 Leaving early enough to delay the looming blur, we headed for some food and cheap Lone Stars before the Bone Deth pre-party started at the Scoots Inn. Again, the party starts off pretty mellow, but with a name like Bone Deth, you know they have something planned. The moment the Slime Wrestlers came out, chaos swept through the crowd. The scene was so crazy that even standing on a table I couldn't see past the frenzy of animals losing their minds.
Luckily, my press credentials – and by credentials I mean I had a camera and have known the hosts for years – allowed me onto the stage where I witnessed the carnage.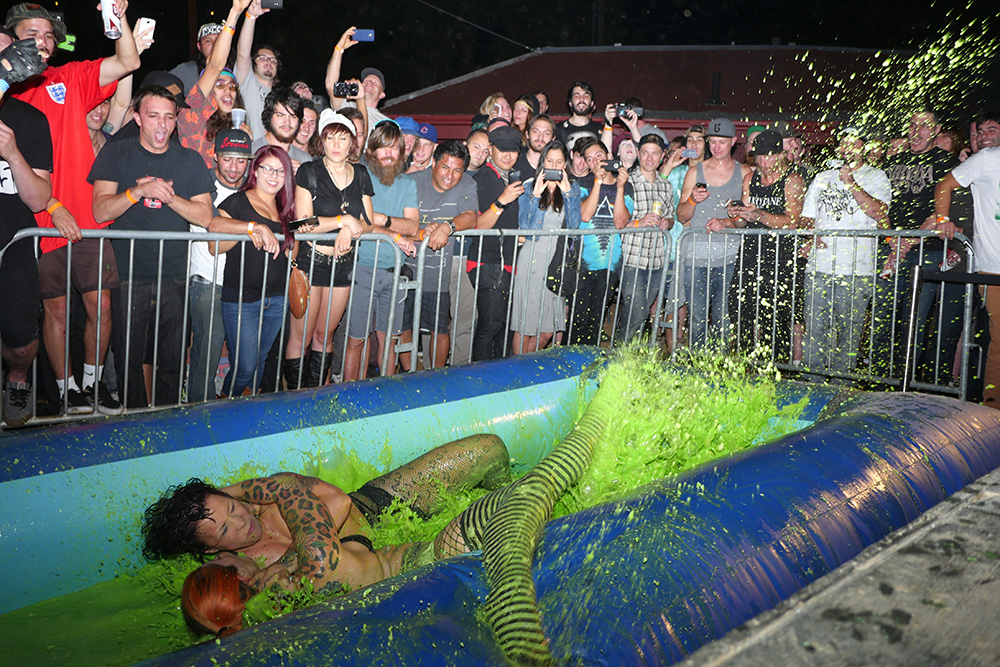 My mind was having a hard time processing what I was seeing. It's like roller derby, meets the WWE, mixed with Ghostbusters, and of course a little Suicide Girls thrown in. I can't really decide what to think; I feel amused, confused, offended, and awe all at once. Quickly, the energy of the crowd and a few Pearls – Texas's answer to Coors Light, only cheaper – took over and I began to think this might be the most amazing thing I've ever seen. Words and pictures can really only give you a glimpse into how wild this scene was.
JBUNAYE is the crowd favorite and winner, although I'm still unsure what the official rules are.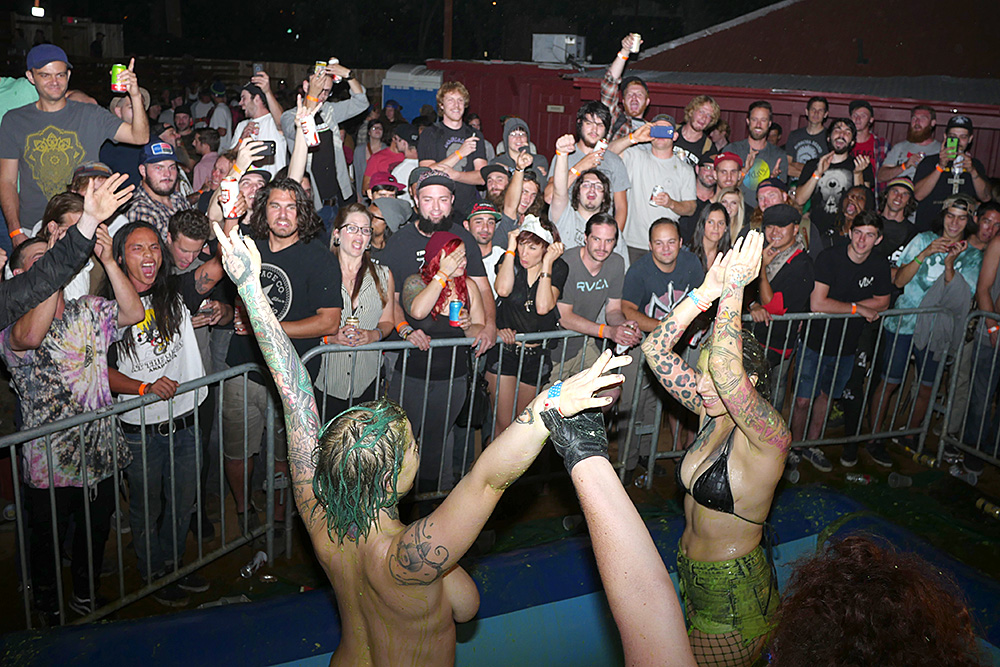 After the show, half the crowd headed to Shakespeare's Pub, typically a local favorite. The night must have been "Thirsty Thursdays" because the place was packed with college kids hanging out in rooms with a vibe I can only describe as a 3rd tier club only found in college towns. Bmxers as a whole are notoriously not fans of electronic/club music, so they stuck to the mellow sections hanging out in small groups. Slowly, messages from those still at the Scoots Inn started coming through. Cryptic tales of security guards, drinks thrown, police arrests, and sleeper holds made me feel like maybe this 3rd Tier club vibe ain't so bad.
Waking up with slime-splattered camera gear, clothes, and shoes, we cleaned up and got ready to head to Day 1 of Texas Toast. The slime came off the camera and lenses pretty easy, but the shoes and clothes weren't so lucky. My shirt became a workout shirt, my pants were finished, and even after a cleaning, I couldn't get all the slime off my Vans Half Cabs.
With more people arriving throughout the day, Toast started with practice and a few less serious but still fun events. Credence has quickly become pretty prolific in the trail community, so the whip out More Cow Bell contest they sponsored made perfect sense. The goal was for the riders to go extremely high and kick the bike sideways enough to ring a cowbell by buzzing their back tire. This proved easier for some and harder for others, leading to a few decent slams, but overall it was a good time.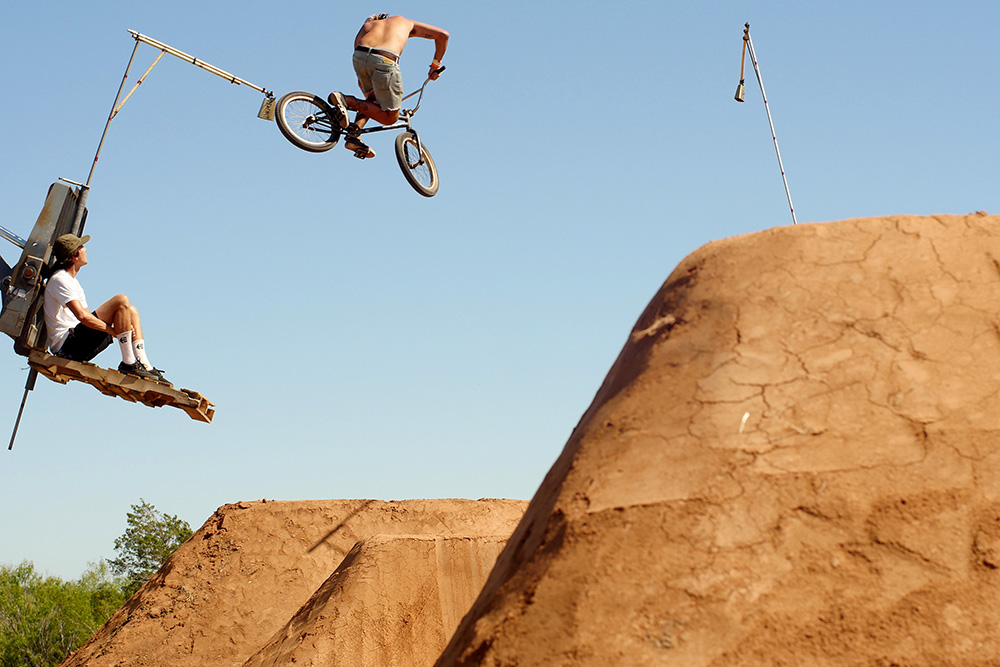 Shadow and Cult's Trey Jones ring the cow bell as contest creator Clint Reynolds watches the fruits of his labor. 
The Mike Tag Memorial Ledge Jam was not only a great concept – it was executed perfectly. Two years ago, the already legendary Mike Tag passed away from Lymphoma. It was extremely sad to lose one of our brothers so young, especially in such a terrible way. Mike was known for beasting through the driest, roughest ledges, so having riders send it on a rough brick ledge seems like the perfect tribute. With lots of wild tricks going down, the whole scene was pretty rad. I'm most impressed by the variety of tricks Trey Jones manages to pull off, all without pegs.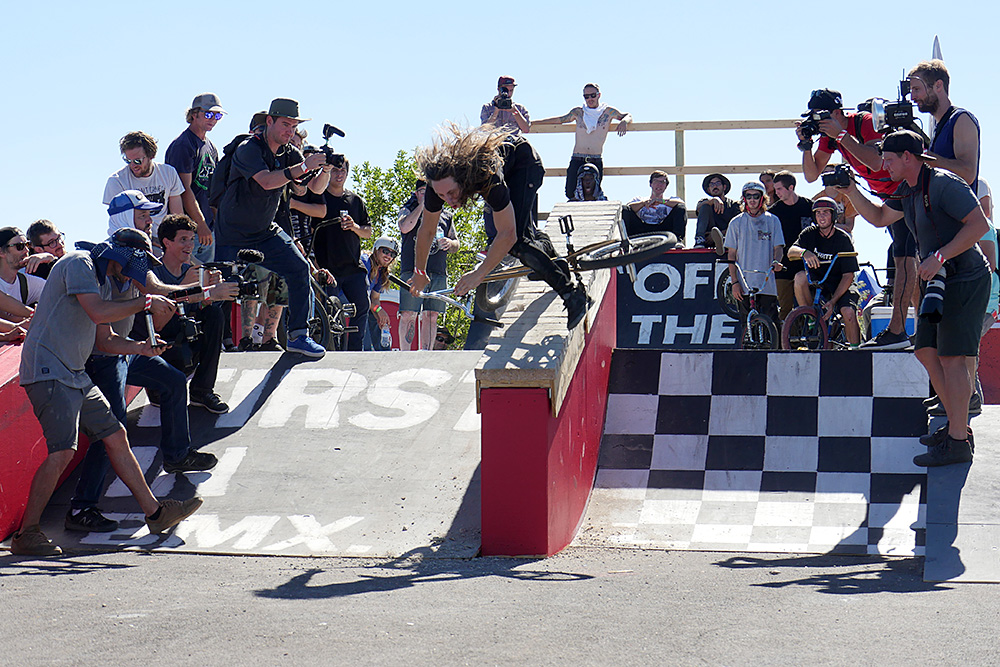 One of the dangers of grinding bricks: A chunk of brick got blasted out on an ill-fated hanger tooth attempt while the biggest names in bmx media in the world knock elbows for the best angle.
Friday night, the partiers headed out to get at it while the tamer or still hung headed over to House Skate Park for possibly the most crowded session ever.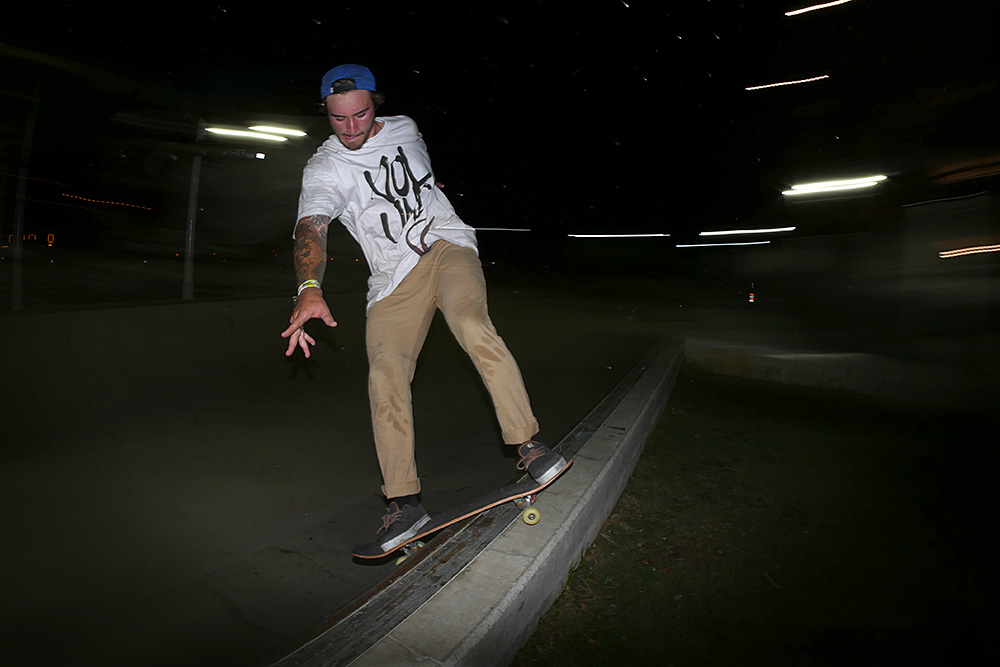 Volume Bike's Broc Raiford, who would go on to make street finals, took a break from his bike to session some board slides.
Without the skate skills to keep him busy Shadow's Mark Burnett kept it bmx, tossing his bars down the triple set. Packing light means not bringing real flashes and apparently the combination of my flash, camera, fisheye, and being in the dirt produced an interesting effect. Normally I'd fix this, but considering how hot it was, I'm sure no one would have minded a little snow in Austin.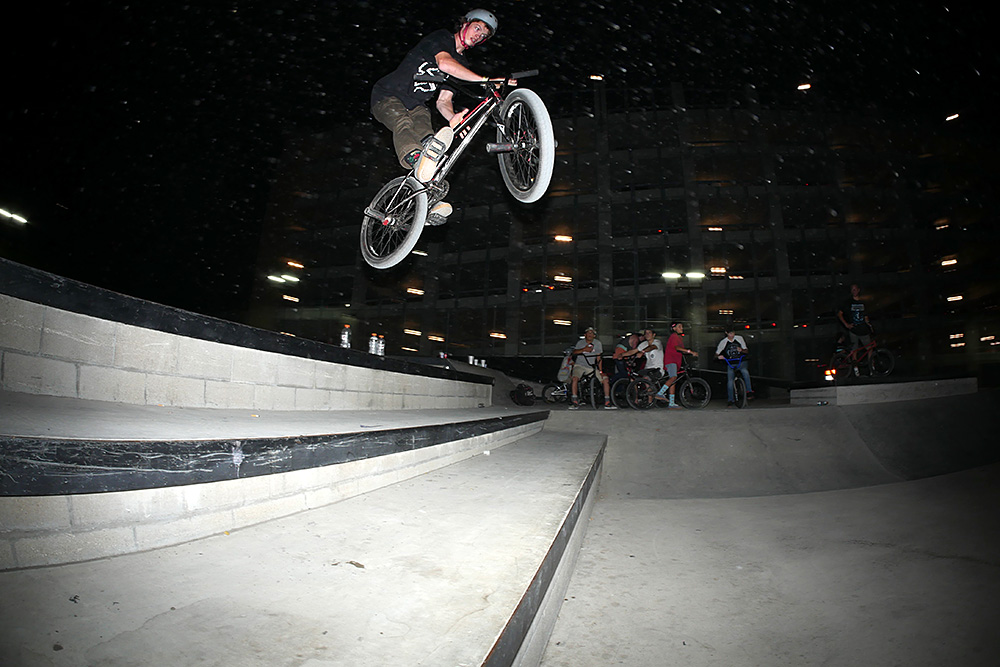 At this point, the events of the actual weekend kind of started to blur together. Overall, I can say it was extremely hot, lots of amazing riding was going on, and for the hardcores, a lot of day drinking. One of the advantages to having an event 30 minutes outside of Austin in what's essentially just a field is just about anything goes. For the next 2 days, anywhere you looked, you could see the wilder of the bunch drinking beer, handing out free beer, or talking about free beer while the rest of us were debating the excessive amount of ice Juiceland was using in their otherwise amazing $4 juices.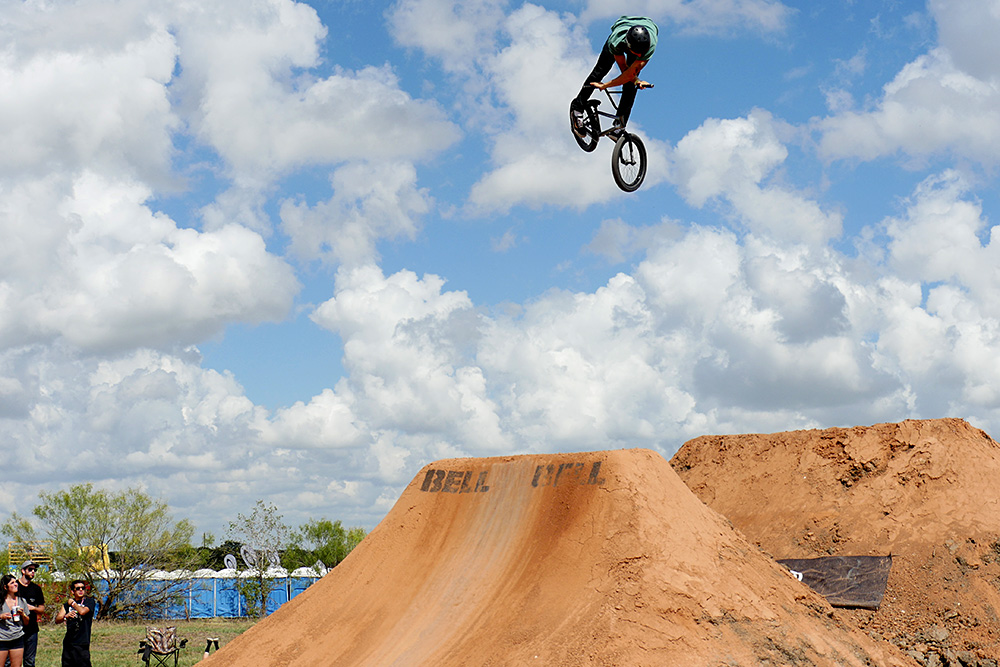 I'm pretty sure this is Verde's Matt Priest making me jealous with a perfect 360 x-up.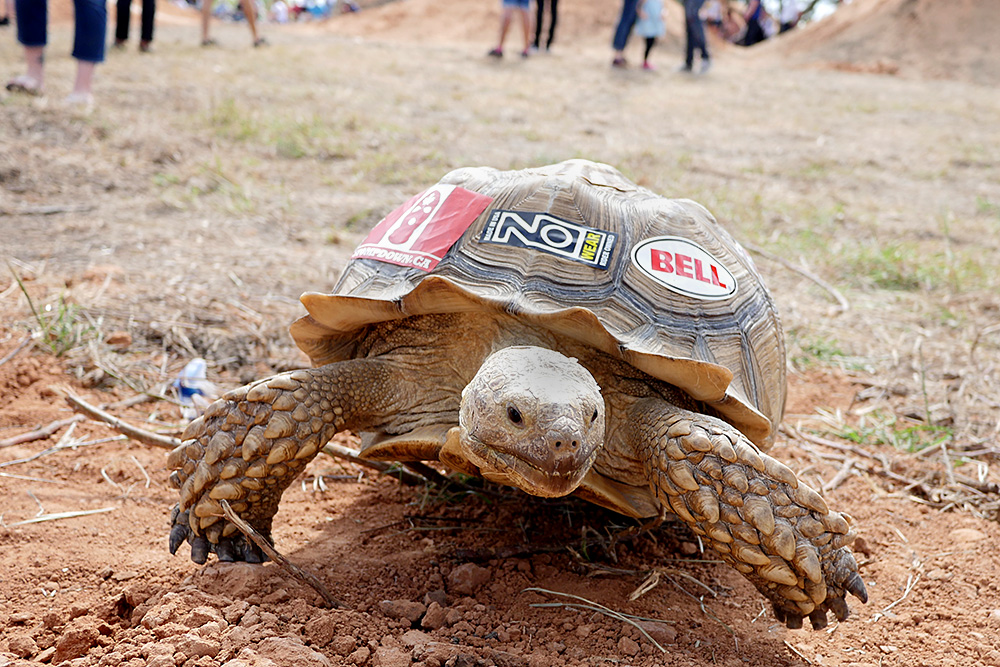 Things like random stickered up turtles roaming around with no owner in sight help keep Toast weird.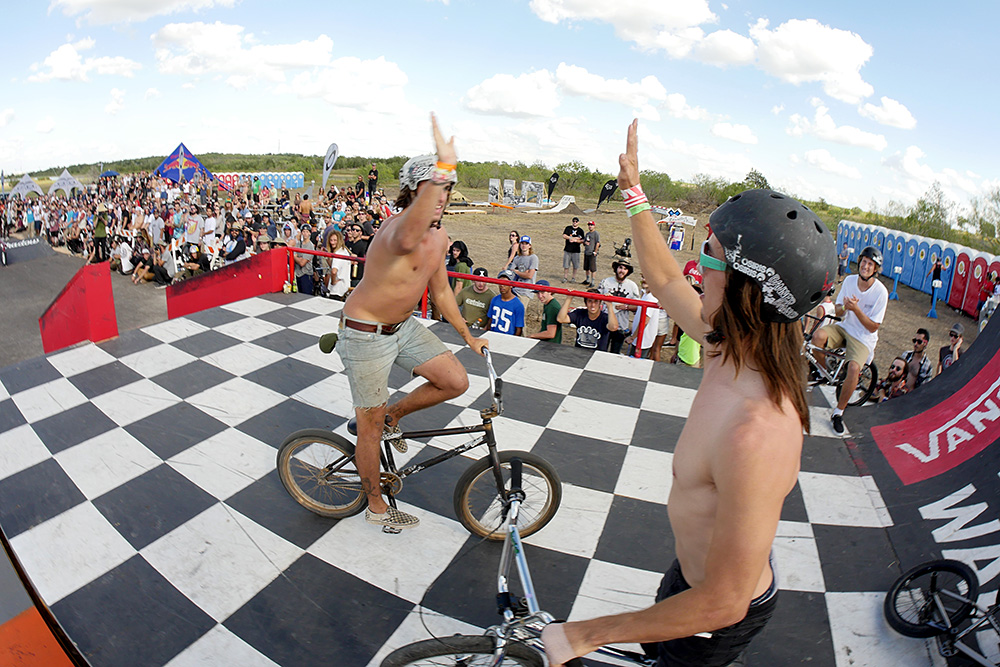 During Street (park), qualifying Trey Jones tags in Colt Fake to finish his run. Colt proceeded to do 3 of the gnarliest stunts in a row all done to perfection. Everyone in attendance lost it.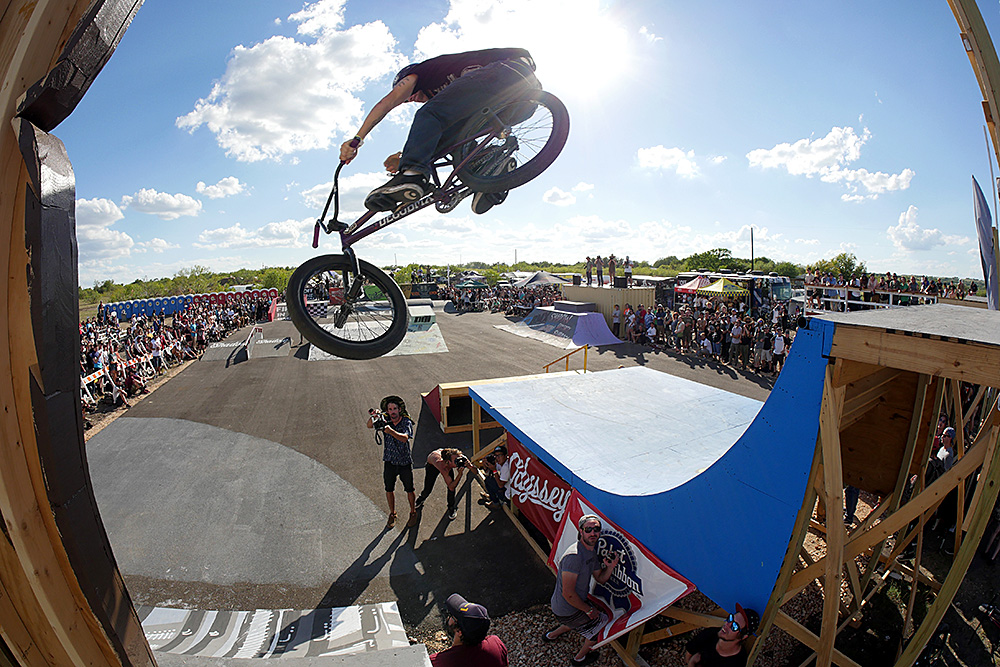 Deco's Matt Closson didn't make finals, but he still got some unique like this tbog transfer. Before he even got to do the gap tbog, he had to transfer through an Oakley banner to get to it in the first place.
Saturday night was Darryl Nau's party. I was excited but a bit scarred because if there's one thing the world knows about Darryl, it's that he knows how to party. A few classic bmx videos played as the crowds started gathering. The place was packed by the time Darryl brought Fit Bike Co.'s Shitty AKA Shawn Mcintosh on stage. I assumed Shitty was going to talk about Holy Fit – the video that's about to play – when a beat drop[ed and a freestyle rap show kicked off. I was sure the rest of the crowd was as surprised as myself.
To my delight, Shitty's freestyle skills were pretty entertaining and everyone seemed to be having a good time. The rap show included cameos from Mike Hoder and Edwin Delarosa.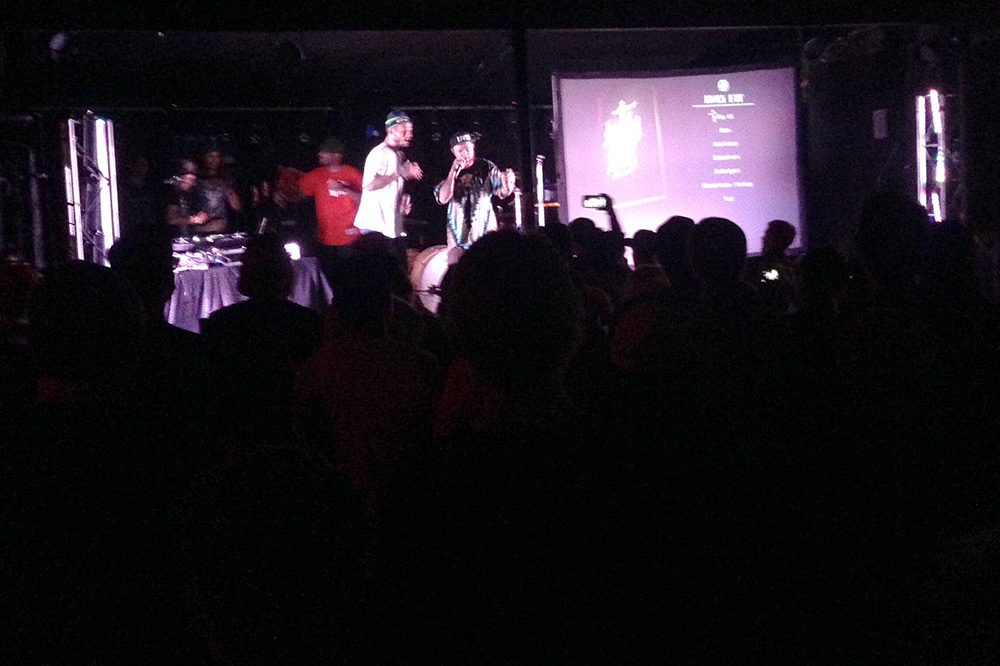 By the time Holy Fit was about to go on, the place was at capacity and people were forced to sneak in. Now off stage, Edwin came by to say what's up to Ryan Jordan and myself. Right away, Edwin apologized for selling a sweatshirt that Ryan let him borrow in England over 5 years ago. When Ryan found out Edwin got $60 for it, he said he probably would have sold it too.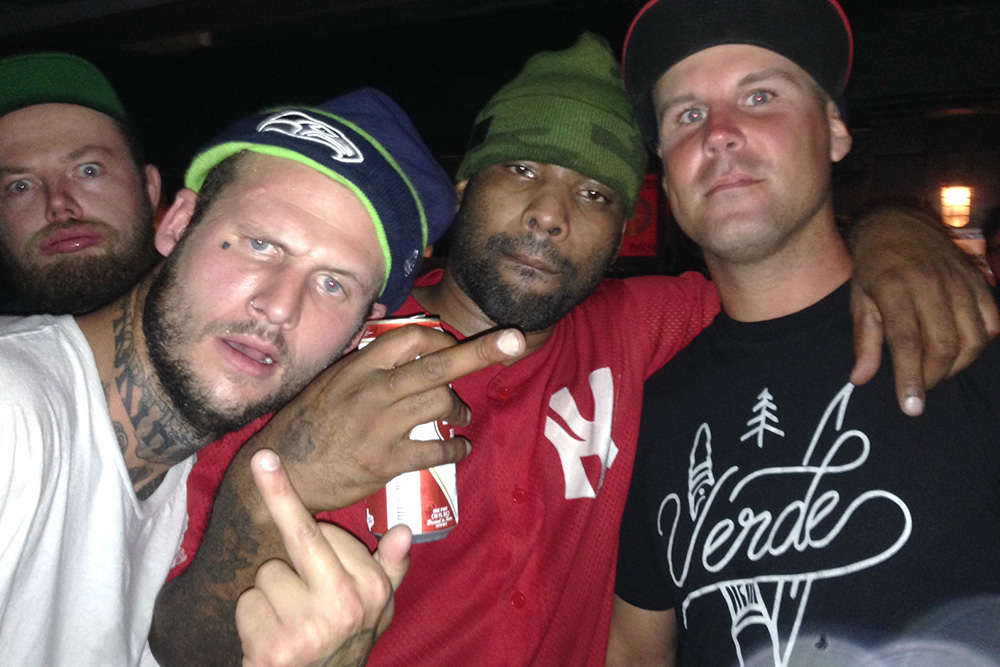 The rap trio: Shitty, Mike Hoder, and Edwin with Ryan Jordan, all some of the best street riders in bmx.
We again headed to Shakespeare's, but it was 1am, there was a line, and they were charging to get in, so we headed to Jackalope. Jackalope is typically a fairly heavy rock bar, but they too have been forced to switch things up to attract that college demographic. While I'm not opposed to EDM like many bmxers, I do find it concerning that college kids' musical taste seems to be a perfectly terrible medium of not-new and not-too-old dance music. It appears that their version of "current or popular music" is anything catchy that came out between 2 and 6 years ago. Either way, what seems like just a few drinks later had me "waking up" after sleeping for maybe an hour.
It was hot again Sunday, but a bit more cloud cover helped lift both riders and those who partook last night recover. Dirt finals started and it was as impressive as I thought it would be.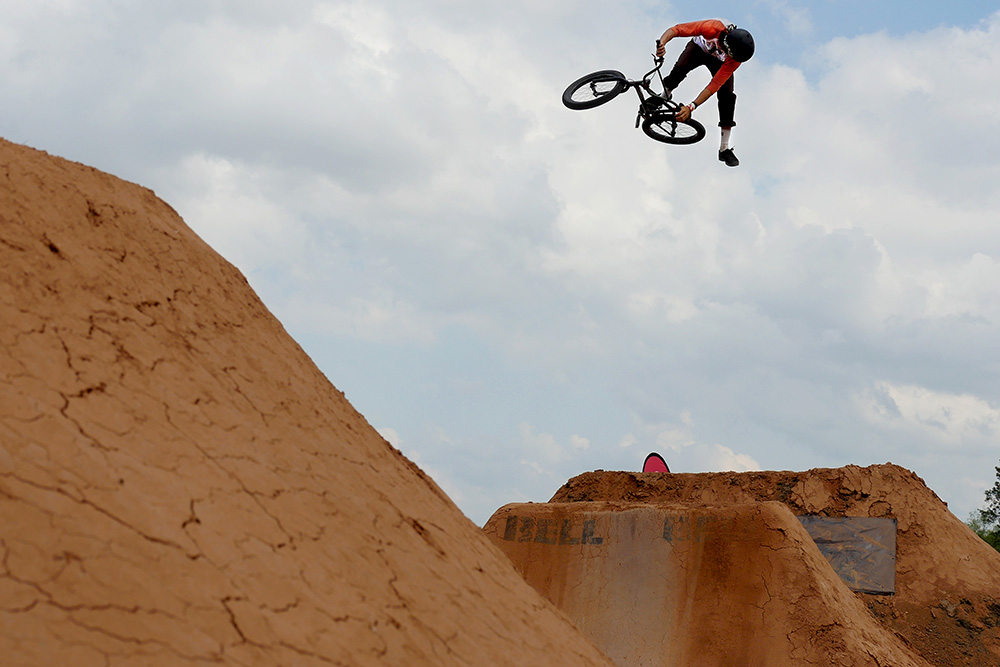 Credence's Clint Reynolds may have got wadded up in his finals run but he killed it up till that point with smoothing style moves like this Big 360 moto on every jump.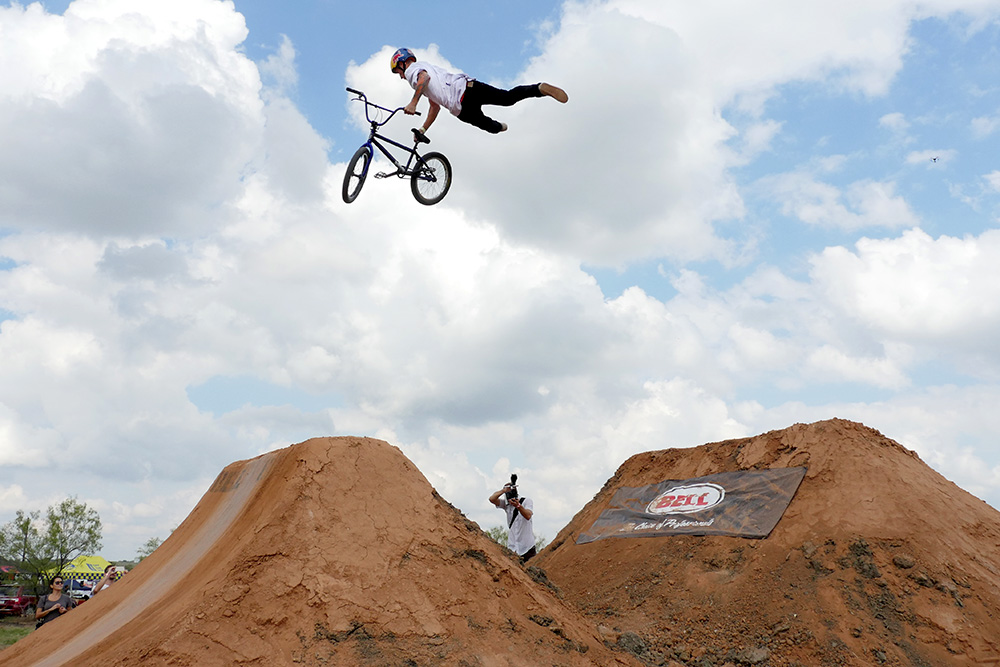 Anthony Napolitan killed it all weekend and made the podium by finishing a great run with this 360 Indian air.
The contest wrapped up with Street (park) finals and again the level of riding was insane. Texas's own Morgan Wade probably claimed some of the scariest moments of the event, missing this fufanu on the back rail sending his bike over the rail and his body tumbling down the ramp. Not fazed, Morgan got up and tried again until the railing broke. Luckily I have this shot of him pulling it in qualifying: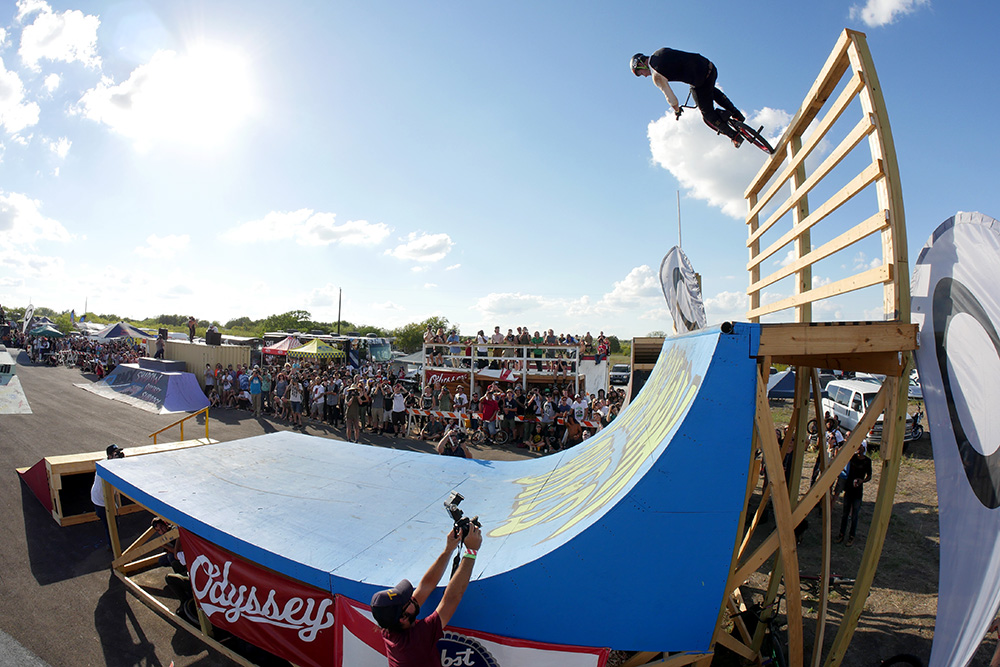 Greg Illingworth came all the way from South Africa for Toast. I love watching Greg ride, he keeps it basic and fun by going fast as hell resulting in blasting 8 foot airs out of a sketchy satellite dish.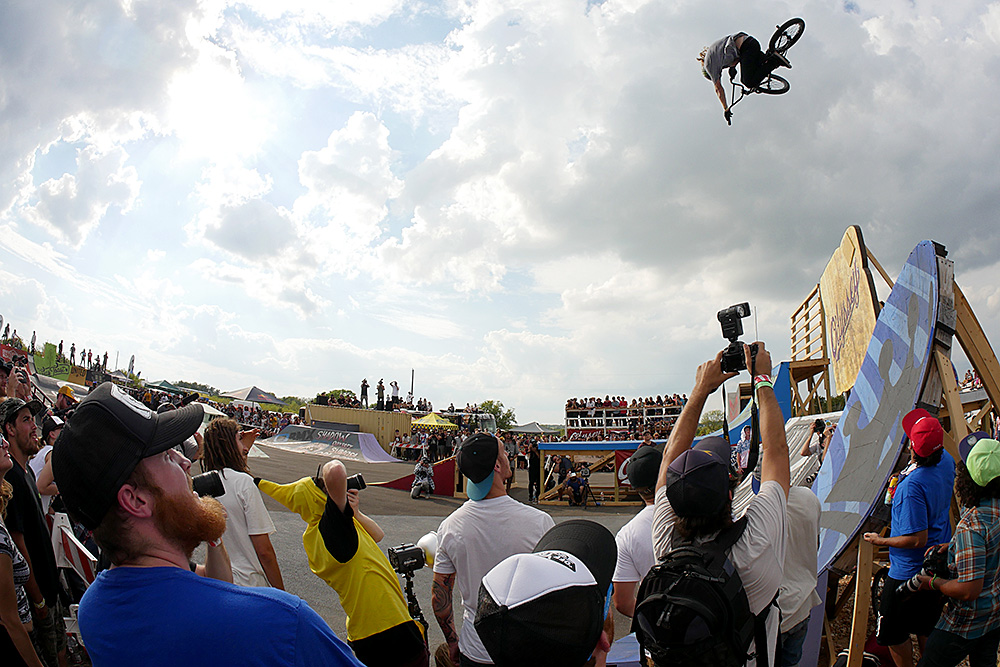 After the contest, I drove straight to Houston to catch a flight to Japan the next morning. Sure enough, on my drive, the photos from the Nora Cup Awards started flooding my Instagram feed. I felt like I was missing out until flashbacks of previous miserable hungover 14 hour flights came in so vividly, my body and smarter parts of my brain were relieved for sparing them this time.
Now 2 days later, I'm getting off the plane in Tokyo and look down at the my Half Cabs with remnants of green slime still splattered on them and smile to myself. Texas Toast was amazing and I can only wonder what this next adventure will bring.