It is good to know you have friends looking out for you in life. My case in point is the time Young Corey put me up on a model by the name of Nikki Howard. We had reached out via text to each other after getting linked up by Corey, and both agreed it would be awesome to shoot together. Unfortunately, like most things in my life, scheduling put it off for a bit. I was fortunate enough to reconnect with the brunette beauty and we finally set up a day for a Test Shoot. Since I have a new studio, I thought it would be great to have her come by and see what we could produce. Now if you are already a fan of her work, then you probably might guess we got some pretty good stuff. But aside from her stunning looks, she is actually a really cool and down-to-earth person. With an outgoing sense of humor that could hang with the guys, it made the shoot that much more fun. So scroll below for some of our shots as well as a interview to find out more about her.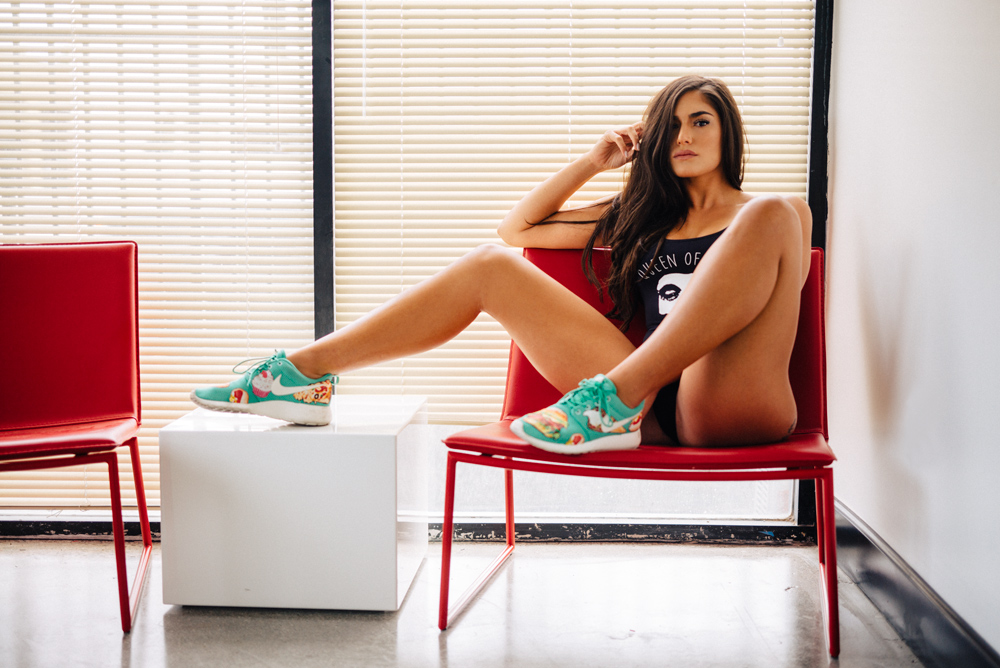 Okay, Nikki, let's get started with your age?
23.
What about your ethnicity?
I'm Russian, Turkish, and Polish.
Where were you born?
New York.
I knew there was a reason I liked you. Where do you currently live?
I live in beautiful Venice Beach, California.
Lucky! Can you give us some of your likes in life?
Food, cartoons (South Park, Archer, Bobs Burgers, Family Guy, Beavis and Butthead to name a few), funny things, sweat pants, pre workout, making people laugh, coffee, nice people, fitness, food again…
Solid list. What about dislikes?
Mean people, calories, dead batteries, Monopoly.
What do you want to be when you grow up?
Important.
Good answer. Do you have any influences?
Wayne Campbell, The Dude, and my mom. She's the shit.
Do you have a favorite food?
Bread and Cake.
Carb life. Do you have a favorite place you have traveled to?
Kingston, Jamaica.
That would probably be mine too. Now name a place you want to visit before you die.
Greece.
What is your current employment?
Model/Actress.
Do you have a favorite type of music?
'90s teenage angst music.
Smells like teen spirit. What is the weirdest thing to ever happen to you?
A few weeks ago, a drunk homeless man crawled into my bed… That was pretty weird.
That's random. What do you love about modeling?
Meeting rad people and creating art!
Are you ever without tan lines?
Nope, I think I was born with them. I'm always at the beach.
Good to know. What was the story behind your shoes from this set?
I saw them online and had to have them, so I searched for 2 hours online and finally tracked down the kid who makes them. I waited about 5 months for them (so worth it).
Any last words?
The dude abides.