Editor's note // It's Throwback Thursday, so we're revisiting an editorial favorite: Alec Banks's much-shared ode to the The Dodgers' longtime broadcaster, Vin Scully, published previously on October 8, 2015. Seeing as our low-key hero is embarking on his last season as the voice for the Los Angeles Dodgers, we figured it was obligatory to revisit all the reasons why Vin Scully is a goddamn American legend. 
I wanted to know what Vin had to say at that moment. It may seem like an odd choice to pine for a baseball announcer's viewpoint following the events of September 11, 2001, but Dodgers broadcaster Vin Scully was the closet thing I had to speaking directly to God himself.
It was six days after the tragic events. The Dodgers had been in the midst of a road trip, and returned to Chavez Ravine to take on their Southern California neighbors, the San Diego Padres.
After addressing the television viewers with his buttery smooth voice like he normally does, Scully began:
"All of us have experienced a litany of emotions—whether it would be shock, disbelief, and horror—followed by grief, mourning, and anger. All of us have indeed lost a lot. We've lost thousands of lives. We have lost some of our self-confidence. We have lost some of our freedom. And certainly, we have lost our way of life. The President of the United States has said that it is time to go back to work. And so, despite a heavy heart, baseball gets up out of the dirt, brushes itself off, and will follow his command, hoping in some small way to inspire the nation to do the same. All of the ballplayers in the major leagues are wearing the American flag. Out of patriotism? Yes. Out of love of country? Yes. But moreso out of duty and courage—and to pronounce a national firmness of 'will.' God bless us in our efforts. And God bless America."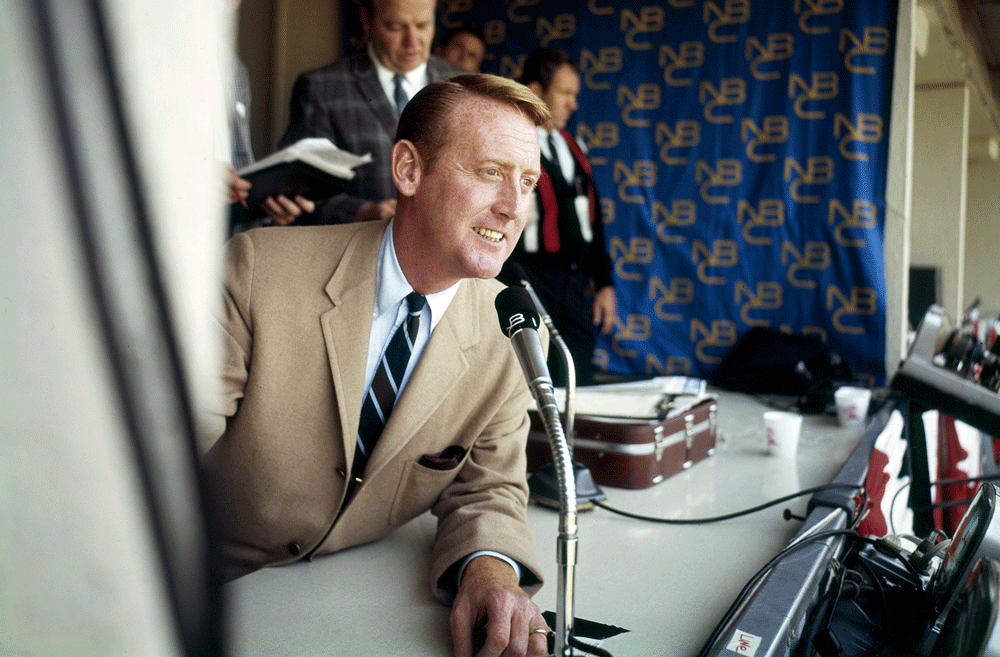 Photo: awfulannouncing.com
I'd be lying if I said that Scully's words immediately eased the hurt and confusion that I was feeling as an 18-year-old after the horrific terrorist attack on the country. But it did signal an attempt at "moving onward and upward." Some would argue that's the power of baseball. I'd argue that the power of Vin Scully.
When Scully announced that he would be returning to the Dodgers broadcast booth for an astounding 67th season, he did it with the help of Magic Johnson and Jimmy Kimmel. Although the latter makes his living as a talk show host, Kimmel chose to make the announcement without words—perhaps as subtle homage that no one does it better than Vin.
When Scully acknowledged it on air, he remarked, "God willing." I thought to myself, 'God must be one lucky guy to get to listen in on Vin Scully's prayers every night.'
Vin Scully cut his teeth as a broadcaster while attending Fordham University, following a two-year stint in the United States Navy.
Red Barber, the sports director of the CBS Radio Network and voice of the Brooklyn Dodgers, was initially impressed by his college football coverage—specifically a November 1949 University of Maryland versus Boston University football game played at Fenway Park in Boston. As legend has it, Scully called the game from the frigid stadium roof.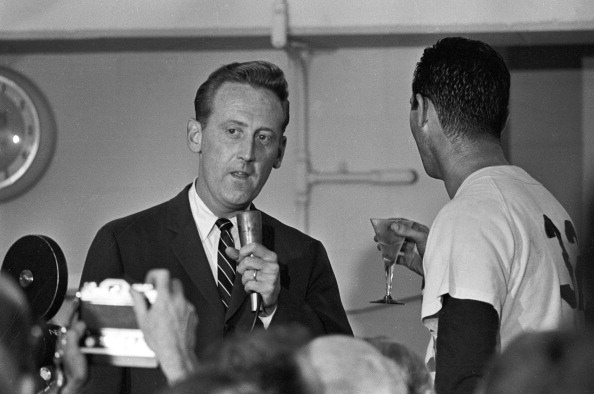 Photo: insidesocal.com
According to The Los Angeles Times, "Scully, of course, looked forward to the assignment after working all summer in a studio in Washington, but his mind wasn't entirely focused on football. Also that day, his alma mater would be playing at Boston College, with a postgame dance to follow. So, even though it was mid-November in New England, Scully left his coat, hat, and gloves in his hotel room, preferring to be unencumbered when he got to the dance."
"It was cold," Scully said, "but I thought—naively, dumbly—'I'm going to be working for a network; I'll have a big booth.' I'm looking for a booth, and there is no booth," Scully says. "There's an engineer with a card table and his little dials for volume, a microphone, and about 50 yards of cable. That's it."
Despite the inclement weather, Scully never complained. He just did his job and others took notice.
In his autobiography, Rhubarb in the Catbird Seat, Barber recalled, "Vin did a sound job, even though it was bitterly cold and he had to work with a hand mike on the exposed roof. The wind even blew his papers away, but he didn't complain."
Two months later, after Ernie Harwell left the Dodgers' broadcasting team to go to work for the New York Giants, Barber again remembered the redhead who hadn't made a fuss.
Barber wrote in his autobiography, "I always had the dream of taking an untutored kid who showed some promise and of putting him on the air for what he was, a neophyte learning the trade. Scully was a perfect choice. He was a green pea, but he was a very appealing young green pea. It was obvious he had something on the ball; you didn't know precisely what it was, but he had it."
Scully initially shared the Brooklyn Dodgers booth with Barber and Connie Desmond. Three-and-a-half years later—when he was just 25 years old—he became the youngest broadcaster to ever call a World Series game. That record still stands today.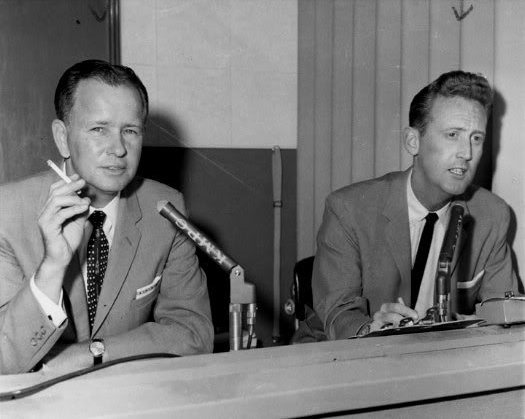 Photo: bullpenbrian.com
By 1955, Scully was the Dodgers primary announcer. Two years later, the franchise made the pilgrimage west, leaving behind the sounds of rattling trains for the motor-filled chatter from Cadillacs and Buicks speeding through Los Angeles's desert climate towards the Memorial Coliseum where they would play until they had a more permanent home.
In 1962, the Dodgers found that permanent home in Chavez Ravine in the Elysian Park area. Prior to their arrival, the City of Los Angeles had acquired the land using eminent domain with funds from the Federal Housing Act of 1949.
Those that were immediately struck with baseball fever were often seen carrying transistor radios while attending a game. Many speculated this was due to the fact that the Los Angeles Memorial Coliseum was so massive that it was hard to follow balls and strikes. With a more suitable venue for baseball, the tradition continued. People were hooked on Vin Scully. This led to a unique problem.
As Sports Illustrated noted, "Scully was an instant success, and his hold on his near and remote audiences became extraordinary. The thousands of transistor radios in the stadium add up to substantial volume, and Scully, sitting in the broadcasting booth, can hear his voice coming back at him from the crowd around him. The engineers have to keep close watch on field microphones (the ones designed to pick up the background noise of the crowd) to screen out the feedback. Scully says, "I tell you one thing, it keeps you on your toes. When you know that just about everybody in that ball park is listening to you describe a play that they're watching, you'd better call it right. You can't get lazy and catch up with a pitch that you've missed. You can't fake a play that you've called wrong. I guess the thing I'm proudest of is the fact that in six seasons, I have never gotten a letter from a fan who had seen a game at the ball park and listened to it at the same time on a transistor telling me that I'd been wrong on a play. I've gotten a few letters telling me to go soak my head, but none that said I described a play inaccurately."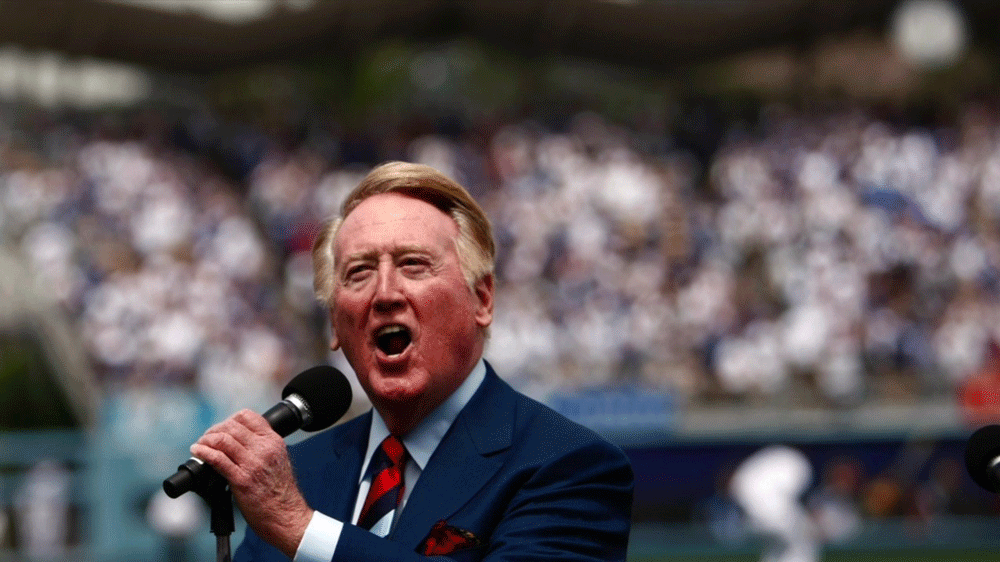 Photo: nytimes.com
On one particularly dull afternoon, Scully noticed that one of the umpires, Frank Secory, was celebrating his birthday that day. Since it was Secory's birthday—and because Scully knew people were listening to him on the radio—he decided to energize those in attendance.
"Let's have some fun. As soon as the inning is over I'll count to three, and on three everybody yell, 'Happy birthday, Frank!,'" Scully instructed his listeners. The inning ended. Scully said, "Ready? One, two, three!" And the crowd roared, "HAPPY BIRTHDAY, FRANK!"
Don't ask how Scully knows these things. He just does. He's as well-versed in the name of player's pets as he is in calling ball and strikes. He'll tell World War II stories about operation Overlord, the largest air, land, and sea operation undertaken. He'll tell stories about the time a player was attacked by a wolf. And inevitably, he will give you goosebumps listening to baseball lore about greats like Satchel Page. For every fish story he gives you, he always manages to bring it back to baseball.
Although Scully has an ease about him, his life hasn't been one smooth ride from Brooklyn to Los Angeles. In 1972, his wife of 15 years and the mother of his three children, Joan Crawford (no relation to the actress), died of an accidental medical overdose. Despite his grieving, Scully continued to come in to work, and it was through the Dodgers that he met Sandra Hunt, who was working for the team as an executive assistant. After a nine-month courtship, the two married in 1973 and remain a partnership to this day.
Scully faced an additional tragedy when his eldest son, Michael, died in a helicopter accident while working for the ARCO Transportation Company and inspecting oil pipelines for leaks near Fort Tejon, California in the immediate aftermath of the Northridge earthquake in January 1994. Through it all, Scully always returned to his baseball sanctuary. Perhaps Scully needs us like we need him.
Over the course of his legendary career, Vin Scully has called 20 no-hitters and three perfect games—including Don Larsen's perfect game in Game 5 of the 1956 World Series when he was only 28. He was there to call Hank Aaron's legendary 715th home run—unafraid of the racial implications of the moment—saying, "A black man is get­ting a stand­ing ova­tion in the Deep South for break­ing a re­cord of an all-time base­ball idol. And it is a great mo­ment for all of us."
Some people argue that baseball isn't for them. While America's pastime charges toward the post season and many choose to instead focus on football, Scully said it best:
"Football is to baseball as blackjack is to bridge. One is the quick jolt. The other the deliberate, slow-paced game of skill, but never was a sport more ideally suited to television than baseball. It's all there in front of you. It's theater, really. The star is the spotlight on the mound, the supporting cast fanned out around him, the mathematical precision of the game moving with the kind of inevitability of Greek tragedy. With the Greek chorus in the bleachers!"
If baseball is in fact a Greek tragedy like he says it is, Vin Scully is the knife. He cuts deep... straight through to the heart.
***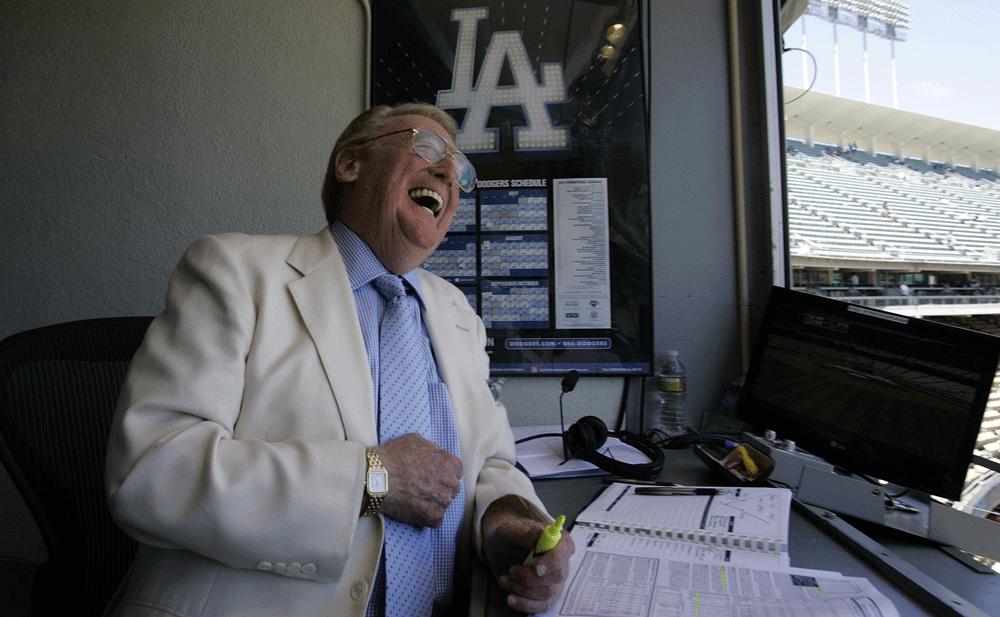 Photo: dailytitan.com