On the night after Phife's passing, music paid its tribute through celebration—meshing and mixing genres of grime, hip-hop, and electronic inside LA's The Echo. The lineup for Red Bull Sound Select's show, curated by Spaceland, was Kauf, Lizzo, and Stormzy—all individually unique, yet collectively representative of the raw and now in music. To capture the ruggedness and gully of a record is difficult when recording aims for perfection. But on that Wednesday, the stage stripped away any means of that, leaving music and the artist exposed to vulnerably connect with its showgoers. Progression was the theme of the night, as waves of spirit and conversation transcended to a pent up energy that surged from the overflowing crowd to the command of its performers.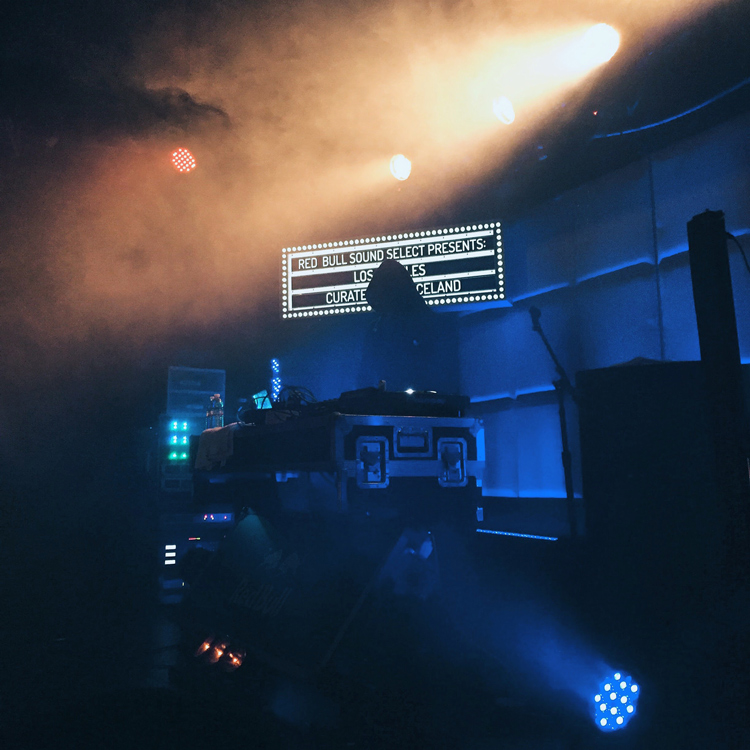 As an opening act, Kauf's electronic waves were the perfect starter for the night, with songs that consistently built and filled our lungs as we held our breath for its climax. On the verge of amplification and waiting flowed vocals with a steady drum beat that felt reminiscent of late night drives. From plucked keyboard bass lines that plateaued into a groove where Kauf sang and chanted in lulled lyrics that invited the crowd to sing along, Kauf's records were a mere reflection of their recordings.
Between each artist, A Tribe Called Quest and echoing verses of Phife Dawg were in rotation, making it harder to excuse yourself for moments at the patio to smoke a blunt or make a break for the bathroom. People wanted to remember, and people wanted to connect back to the times of the first ATCQ song they heard or their favorite Midnight Marauders record. In retrospect, it felt as if "Bonita Applebum" was purposely played right before Lizzo.
Where the stage can sometimes eat up a woman's sound and aesthetic, Lizzo took the platform and rode it to the ground with the same formation as Beyonce and trillness of Missy. Her range—from her sense of command, coolness, body-positive crew, and sexiness—jolted the audience with every move, crescendo, and string of lyrics that spoke about body-shaming, sex, and just keeping it real. With hard-hitting production, sleek transitions, a synchronicity of movement with her dancers, Lizzo and DJ Sophia Eris charged the stage with bangers, vocal chops, hip-swaying beats, and lyrical power. She took the audience into a musical narrative of eclectic sounds, reiterating that her songs are conversations with hypnotizing hooks about cookies, phones, and reaffirmations of "I KILT IT."
A Tribe Called Quest's "Scenario" played and faded out. Nobody budged. No lines for the restroom. People held their Swishers. Everyone was at standstill, earnestly waiting for the next act, carrying an energy that was waiting to implode by the time Stormzy hit the stage. I found myself in constant struggle to weave through the fan-driven crowd to discover a perfect crevice beside stage left and its stairs, close enough to be blinded by flashes of the Energy Crew and catch the sweat of grime's master of ceremony.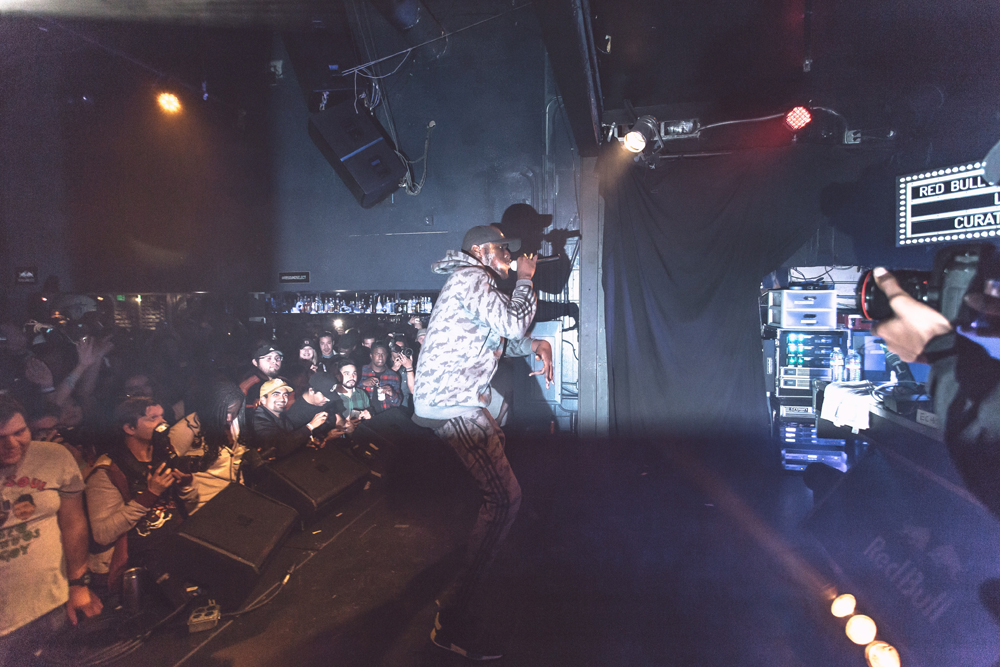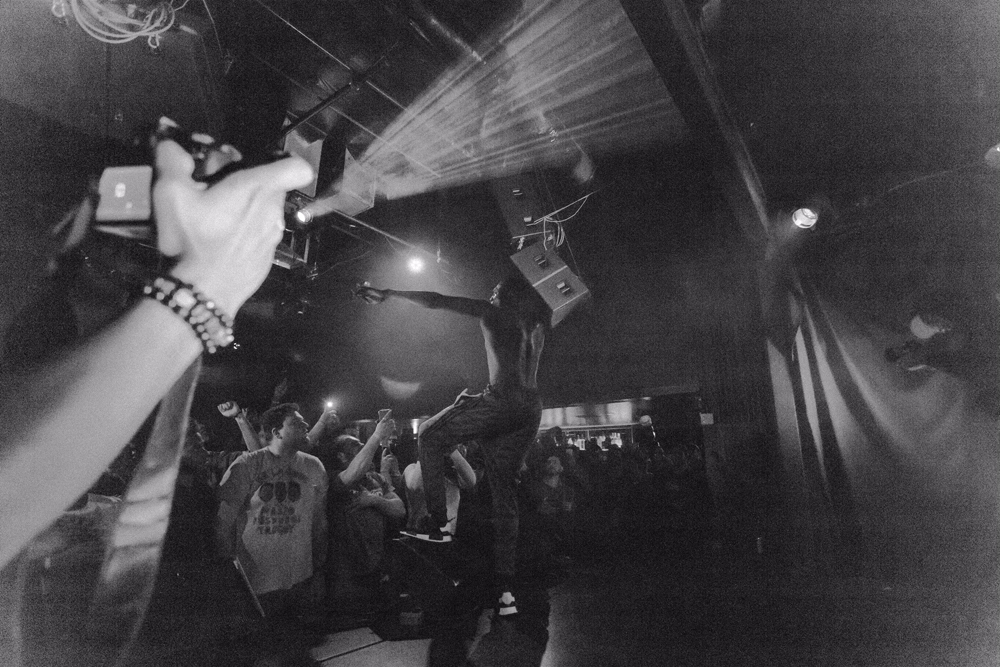 Now, on a premier world tour and first time performing in LA, Stormzy laid down the significance of underground culture and what it looks like unaltered by popular media. In perhaps its purest form before becoming universalized, Americanized, or liquidated by trending sounds, the City of Angels witnessed grime and Stormzy, unbiased and raw, catching tailwind of a man's echo, derivative of hip-hop and punk with elements of UK garage, drum and bass, jungle, dancehall, in an explicitly dynamic way that voices discomfort. Stormzy knew that what you give is what you get, and the result of this was hyped reactions and an obsessive sense of documentation from the audience, call and response, and peeled layers of a customized adidas tracksuit slowly being stripped away once drenched with sweat. Entering the overseas court humble, nervous, and without high promises, Stormzy came to deliver in hopes to win over fans.
The only altered state of Stormzy's performance came from his wardrobe and his recent sponsorship by adidas, still arguably representative of connecting original hip-hop and advocacy roots. In the promotional video for this adidas collaboration, infamous Japanese designer Nigo stated the significance of aligning with Stormzy for his "fundamental essence of hip-hop," witnessing something raw and pure in his videos and music. How does bringing originality or freshness in wardrobe affect the aesthetic of music that is underlyingly aggressive? Does Stormzy represent himself solely and strongly separated from others who have become sponsored before him like Run DMC and Pharrell? Whether or not marketing the three stripes positively or negatively affected Stormzy, call it fate to see him in threads strongly affiliated with hip-hop—on a night respecting a fallen hip-hop pioneer—for his first LA show. Meshing histories, music, and cultures, Stormzy represented greater than just grime and UK rappers, paving a way for a new dawn of music that was birthed overseas.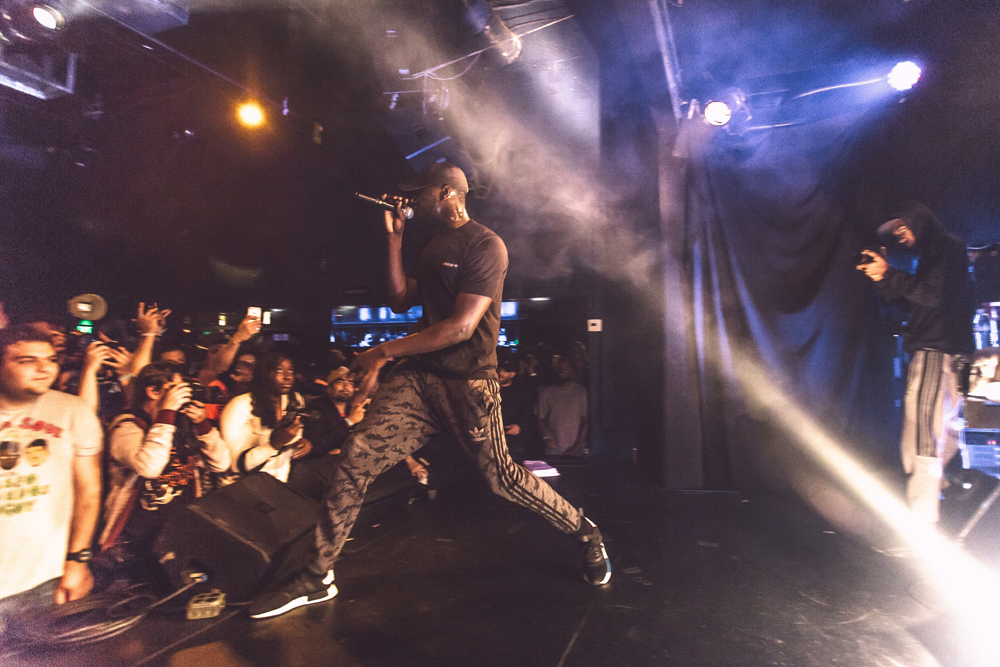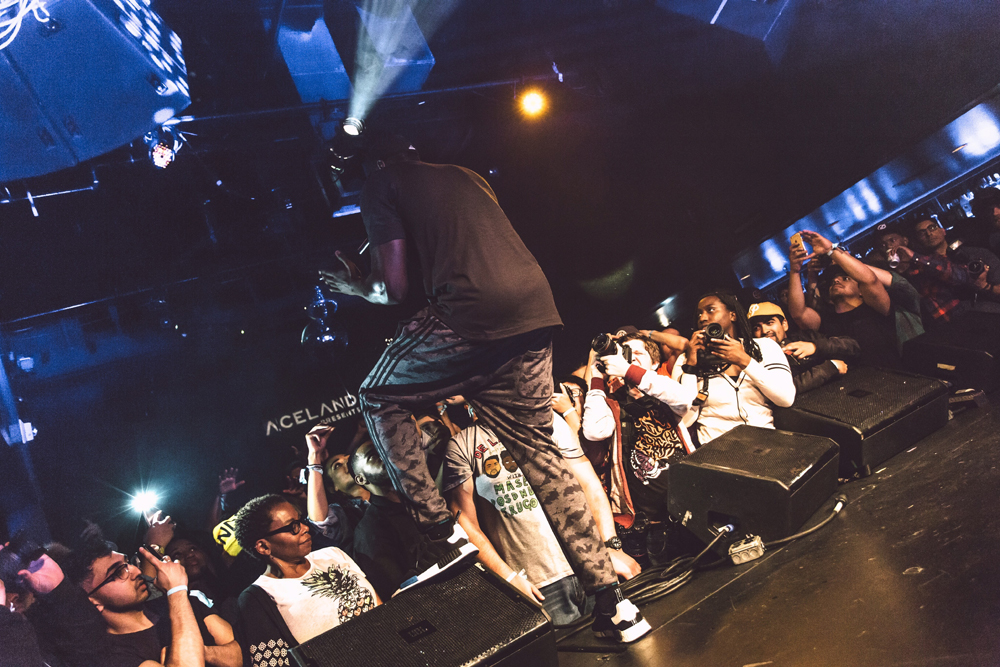 There was something very OG with the energy between Stormzy and DJ TiiNY, just an emcee and his deejay. DJ TiiNY kept the momentum and was in sync with Stormzy, every record drop rehearsed but still raw. It didn't take much time for the crowd to be completely taken over, hanging by every lyric in "Know Me From," you'd think he was a veteran and not a newcomer in Los Angeles. People only cared about holding the perfect view. The girl next to me was wedged between two pillars, stuck as her back was turned away from Stormzy, and seemed to seek relief with each transition, desperate to match face and movement to song. A girl to the right was unwilling to budge or even bargain her vape for a sip of my friend's drink. The selfishness of the crowd to capture a photo or video locked in the intensity of Stormzy, flaring when they heard the familiarity in his remix of The Game and Drake's "100" in "10 Minutes." But as "Fester Skank" and "#WICKEDSKENGMAN" dropped, he was invested in giving that real grime sound. As he started to ad-lib between between each song, "#ENERGYCREW" or "Where's my sing-a-long crew?," Stormzy was beginning to strip down to just his pants. The girl beside me was free and I crouched and sat by the stairs as cups spilled, flashes flickered, and camera straps came trapping down.
By the time the crowd was singing "La La La" and each hypeman word echoed in "Shut Up," he was shirtless, exposed, and dripping in sweat, matching the truth of his lyrics—music and presentation as one. The barriers between speech or lingo that we may not understand as Americans were momentarily squandered as the crowd assimilated to be accepted by Stormzy and relate to his stories just as much. It was a site of harmony for a mere minute—Stormzy caught a glance and breath as the crowd knew his lyrics at every line. The adidas was off, passed hopelessly to be wrung out by security. Undistracted by the meaning of grime or hip-hop, glitz and glamour, YouTube personalities, sponsorships, or where Stormzy was at, we were all stripped down from it all, and back to the music.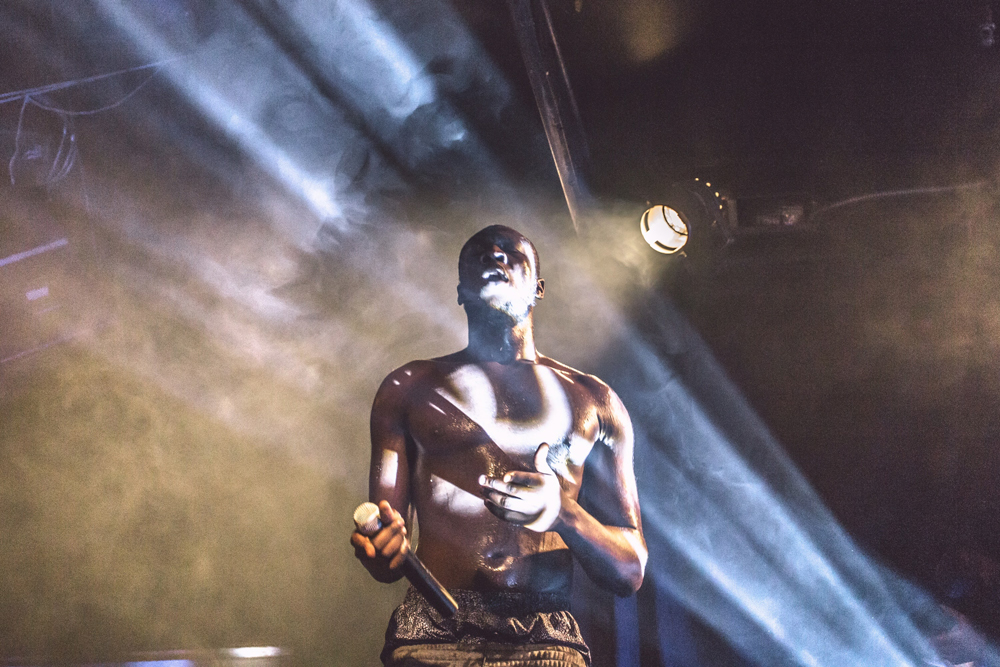 ***
Listen to Stormzy via Soundcloud and follow him on Twitter (@stormzy1). Photos by Jason Biri.