There would be no C.L. Smooth without Pete Rock, no Guru without Premo, and definitely no Future without DJ Esco. When it comes to a song, the producer or rapper debate is very much like the chicken or the egg — who came first? While both are important in the creation of a bomb omelette, the producer is the main ingredient that you don't necessarily see, but taste loud and clear. "On The Beat" is a monthly column where we get to know the enigmatic figures behind the beats to your favorite songs.
This installment of On The Beat is a special one for many reasons. The series is meant to showcase producers who aren't necessarily in your personal heavy rotation, but well deserve to be. Even more so, the series is meant to highlight producers from all over the world who are transcending the boundaries of their city and country and creating a sound that is reaching (or capable of reaching) international audiences. So this time, I'm happy to say we ventured outside of hip-hop and the great North American continent, into a territory less discovered: Africa. Specifically, Lagos, Nigeria. We had the opportunity to speak with a young and ambitious producer who is already "famous" in his city, but is just starting to make waves overseas: 23-year-old Ayoola Agboola, aka KIDDOMINANT. At such a young age, KIDDOMINANT has already worked with some of Nigeria's biggest recording artists: Davido (who was The Fader's cover story last month), Wizkid (who's hit "Ojuelegba" was remixed by Drake and Skepta), Timaya, and Orezi to name a few. If you don't know who these people are, they're essentially Nigerian music royalty.
It's safe to say that afrobeats are starting to make their way to listeners in the UK and U.S., and people are welcoming these sounds with open ears. In KIDDOMINANT's case, it's not difficult to reach listeners when you have your hand in some of the biggest records in Nigeria. He first got major recognition for his collaboration with Nigerian superstar Orezi, on the hit song, "Rihanna," which was nominated for the best reggae dancehall song in all of Africa. Albeit constructed of complex rhythms, KIDDOMINANT's sound is so naturally danceable, uplifting and straight up fun to listen to. With elements of house, hip-hop, dancehall, and reggae being noticeable stylistically, it's a mystery how his music isn't heard at clubs and festivals around the world. "My main mission is to be the biggest producer in Africa," he says, "There's nothing that can stop me. I don't see my music stopping in Africa. I see it taking over the world."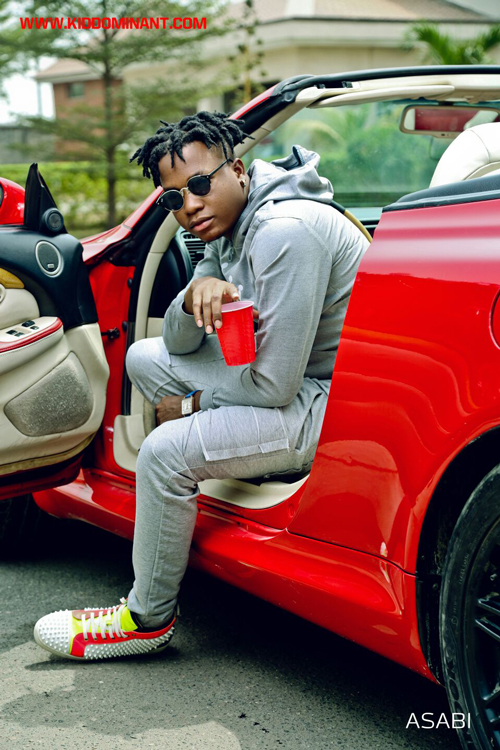 We chatted over Google Hangout with the beaming producer who was cozied up at his home studio in Lagos, with a giant keyboard next to him, sporting a black t-shirt with a thick red line slashed over the word "THEY." Perhaps a testament to his work ethic and determination to not let "they" get in the way of his dreams. "I'm a big dreamer, I dream big, I dream with no boundaries, no barriers", he says with a tone of sincere awareness. And so he should be: many of his dreams have already become a reality thus far, and he doesn't plan on stopping.
2015 was a great year for the young producer. He produced a spew of records off of Orezi's The Ghen Ghen Album, notably the infectious hit "Ogede" (which means "banana"—not the kind of banana you eat, if you catch my drift). He's currently working on Davido's secondary offering, The Baddest, which already has a single that reached number 1: "Dodo." When asked about 2016 he said, "I'm not just going to work with Nigerian artists. I'm going to be working with artists from different parts of Africa, the UK and the U.S."—looks like he's well underway on his plot to take over the world, and we're in for the ride.
Davido's hit, "The Money," produced by KIDDOMINANT.
ZEEMUFFIN: You were born and raised in Nigeria, and still based there. What was it like growing up in Lagos?
KIDDDOMINANT: Growing up in Nigeria, it's not all easy here. You have to go through, like, different circles of life altogether in one. It all helps the music and helps your knowledge about life when you're creating music. Growing up in Nigeria is not like growing up in the states [laughs]. But, you know, our music, our lifestyle, is what makes our music.
And what kind of lifestyle is that?
A different type of lifestyle. There is a lifestyle of when you're just trying to come up and there's a lifestyle of when you're blown up. I'm the lifestyle of the famous one [laughs].
Not bad for 23. So how did music become a part of your life?
Music has always been a part of me since I [was] growing up, like since birth. I grew up in a musical family, my dad could play pretty much [any] instrument. I remember trying to find my way with the keyboard, trying to make something when I was a little boy. I used to play drums. I grew up more on the creative part of everything. I used to paint, draw. I used to do all of that.
 "GROWING UP IN NIGERIA, IT'S NOT ALL EASY HERE. YOU HAVE TO GO THROUGH, LIKE, DIFFERENT CIRCLES OF LIFE ALTOGETHER IN ONE."
Did your parents want you to finish school?
I finished school last year. It was quite hard mixing school and music. But I had switch two schools to just make it easier. My parents wanted it. Myself, I wanted it because you know at the same time music, it can be switched up, things change. And in the future, I might just want to do something that is not music [and] do something new. Or go to into politics, because there's money [in politics] [laughs].
When did you start producing music?
I started off as a DJ. I used to DJ when I was 14 for my family parties and I was in a boarding school. In my school, you had posts for people who do the music and entertainment part of the school. They call it the "social group" of the school. I was always in the social group. When I [went] to my final year in high school, I was the head of the social group, I was the social prefect. So to be the social prefect, you have to be a good dancer, you have to be able to sing, you have to be a DJ, you have to just be able to make the school entertained—you understand. I was the choreographer of the school. Dance competitions were part of school, so I used to teach everybody the moves [laughs].
KIDDOMINANT-produced Orezi track "Rihanna" from 2013.
I had a group of three boys, me and two of my friends. One was from the UK, we were called "Triple 3." We used to create music. We would have a boom box with instrumentals and all of that knowledge just mixed. One of my friends, Olumide, he told me about this application called Fruity Loops, like, "Yo, you need to check this application out and make music and beats out of it." I was like, "Okay cool, cool," and went on vacation and tried it out. And when I came back, I was addicted to it. I had sleepless nights trying to make music and make beats. I had a passion for making music when I was about 16, 17. When I was about 19, I hooked up with this guy called Orezi, [a] popular afrobeats musician in Nigeria. At that point he was coming up, he was known by the youth. So we hooked up and made that song "Rihanna." That was like my first major song. It was big in all of Africa.
That's incredible. Such a short amount of time from learning how to produce to producing a big hit. Did you have any mentors coming up?
Zero. I'm completely, totally, 100 percent self-taught.
Okay, so no mentor. Who were your some of your biggest influences?
When I started making music, my biggest influence was Timbaland. Everybody knew me, they used to call me Timbaland in school. Because we would get into arguments in school [and] I would be like, "I don't want to hear anything else, just Timbaland is the best" [laughs]. I liked his sounds, the uniqueness. Timbaland is a major person who had an impact on my choice of sound of music. Apart from Timbaland, I'm a huge fan of Polow Da Don. His sound [is] very close to Timbaland's sound.
"ONE OF MY FRIENDS, OLUMIDE, HE TOLD ME ABOUT THIS APPLICATION CALLED FRUITY LOOPS"
Do you work on your productions by yourself as well? Or are you more collaborative?
[Laughs] Almost 100 percent of all my works out are my thoughts and products with no input from anybody. I've only collaborated with another producer once in my entire career. I would love to collaborate with more producers that are outside the afrobeats scene in the future. I think new monsters can come out of such collaborations.
So then how did you link with Davido?
After I produced "Rihanna," it was so big. I had a friend called Danogog, he's signed to Davido's label [HKN Music]. Danogog and I were supposed to work on this song and we met and Davido was there when we met. This is about 3 years ago. [Danogog said] "This is KIDDOMINANT, the kid who produced Rihanna," and [Davido] said, "Wow that song is mad." At that point, Davido was trying to sign Orezi. Everything was just moving together. We couldn't work at that time, so after 2 years, which is like last year, we met [in] February last year. He's like, "What's up, I need new sounds if you have stuff we can work on let's work." So it just happened. We did "Dodo." So after "Dodo," we dropped it in September, we did "The Money." I made the beat for "The Money" when I was in South Africa. I was inspired by the atmosphere: you know everything was so smooth and calm and we linked up and thought, "This would be good for Davido," [and] he made the song. So Davido and I have been working since then on the album that is coming out at the end of the year. It's definitely going to be bigger than "The Money."
"Dodo," 2015
Do you want to expand the type of music you make?
I've tried making different sounds in music. I've made grime, hip-hop beats. Actually I started off making hip-hop beats before I moved into afrobeats proper. So the thing is, for me, I can make any kind of music, I [would] love for the world to listen to afrobeats. I focus more on afrobeats and pushing more of afrobeats.
At some point in my career when I was a DJ/producer, I saw how people reacted when I dropped the afrobeats songs. I wanted people to react to my songs like that [laughs]. So I felt I had to start focusing on producing what the local audience really [wanted]. People love hip-hop here, but not as much as they love afrobeats. If I'm making grime beats, I'm trying to promote beats from London. I have to make afrobeats as famous as I can to promote my country.
"MY SOUND IS WHAT I CALL 'THE NEW AGE AFROBEATS'… IT'S CREATING OUR INDIGENOUS SOUND WITH AN INTERNATIONAL AUDIENCE IN MIND."
It seems like the music scene in Nigeria is pretty competitive in the sense that everyone wants to sound different and reach a wider audience. What about your style makes you different from other afrobeats producers?
The thing about my style is the depth and uniqueness I give them. Personally, I don't like when things are [makes air quotes] "normal," "mediocre," or "average," and it reflects in my music. My sound is what I call the "new age afrobeats," and I'm glad the people agree to that. It's creating our indigenous sound with an international audience in mind.
Do you think that now artists reach out to you for YOUR sound or do you make a sound specifically for an artist?
I give different sounds to different artists. I try not to make something similar to what I've done in the past. You can tell from my works when you listen. There are many ways I can pull out [a] hit record from nothing. So in most cases I create a new sound for a new artist and make sure it works for them. That's what I love to do.
Zeemuffin's mix of must-listen KIDDOMINANT-produced tracks.
Describe your process when starting a beat. How is it different from when you first started?
When I first started, I had something like a fomula I worked with: bass-kick-snare-synths, etc. But that was years ago [laughs]. Now, I create anything from anything. I got to understand it's not rocket science, it's music. New vibes lead to new results. No rules, just believe in your vibe and know how to apply your skill.
Where do you find your inspiration? Is it from finding samples, going to a place? Talking to someone?
I'm mostly inspired by places. Not the places exactly—by the feeling I get from these places. I love to travel a lot. The sights and sounds, the smell of a new environment I'm visiting for the first time inspires me so much. But bottom line is, anything inspires me.
Who else do you want to work with?
I think I've worked with the artists I want to work with. But actually I want to work with the new artists coming up buzzing up everywhere. There's Kiss Daniel, there's Lil Kesh.
What's your advice to someone who wants to be as prolific and international as you?
Fear nothing. Just go for what you dream of. There's nothing that's impossible, [you] just have to work. Just have to keep working and keep believing in what you believe in, you understand. Don't stop at all, just keep going. Just let them know, KIDOMMINANT is coming for the world! [Laughs]
***
Follow KIDDOMINANT on Twitter @kiddominant and on Instagram @kiddominant.