"Grime is becoming a lot more accessible with people like Stormzy and Skepta making more easily digestible grime music, through like [Skepta's song] 'Shutdown' and that sort of thing," Jelacee says, on a Skype call from London, "but then it still has the like aggression that grime already naturally had."
Jelacee is one half of the British producer duo Stööki Sound, along with DJ Lukey. Individually, they've been making music since they were around 13-years-old (Jelacee is 23 and Lukey is 27), when they started experimenting with grime, dubstep, and garage hip-hop beats. Eventually, the two met at Jelacee's cousin's birthday party. One of the first songs they made together as Stööki Sound was "Ball So Hard," a collaboration with fellow British producer Hucci, a sonically hollow track that is driven by sparse, repetitive hi-hats and snares and a lone vocal sampling. The song currently has 5.25M plays on Soundcloud and was covered by Complex and Hypetrak in the states. "It got coined as UK trap," Jelacee adds.
"When we [joined] as Stööki Sound, it was kind of like a whole melting pot of those different genres coming together," Lukey says.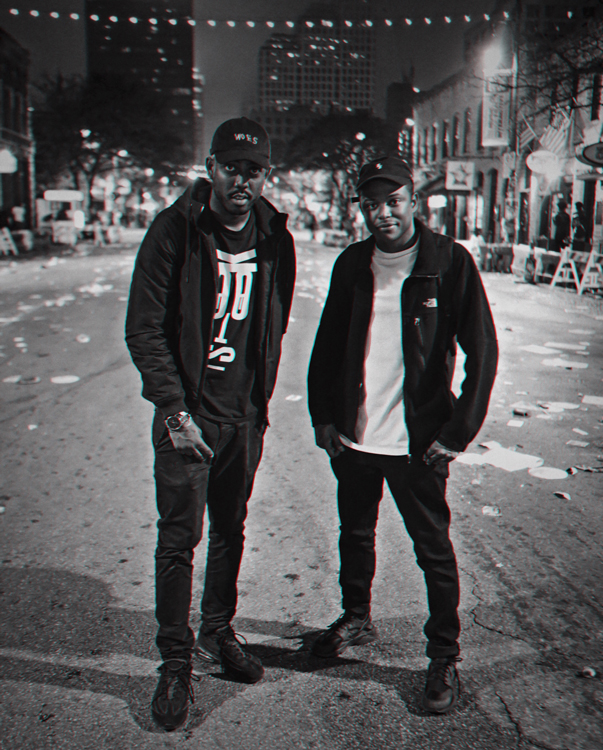 The duo's music project is actually expansion of the Stööki lifestyle brand that Lukey created, later joining with Jelacee to branch off and create Stööki Sound. As a collective, they make clothes and jewelry, do art installations, throw events, and make music. "Our events always contain a mixture of like the Stööki elements: Sound, vision, and play, which translates to music, art, and fashion," says Lukey.
Both producers grew up on grime; Jelacee is from East London, the neighborhood where grime originated in the early 2000s, while Lukey grew up in different parts of London, though he now resides in the East as well. In 2013, they released their first project together Gold Trap, and since then, have been developing their sound. Their forthcoming EP, untitled for now, is slated for a 2016 release. But from the beginning, their aim has been to bridge sonic gaps and take grime global: "[With our] new project, our fans are going to [see] the musical influences of trap, grime, and UK genres mixed with US genres. It can be accessible to everyone; it's something that works really naturally together," explains Lukey.
Read the interview below to learn more about about the history of grime and why US rappers' endorsements of grime are so crucial.
TARA MAHADEVAN: How would you describe grime music to a novice?
JELACEE: Well grime's moved forward in the past like couple years—it's a bit more digestible for people outside of the UK to like understand it a little bit more. We infuse a bunch of grime as well as like US trap elements [in our sound], which make it a bit more easier for the US to digest. We also like make a few edits; we made an edit for Stormzy the other day, which had his track "Know Me From," which is like a grime beat called "Ninja" by a guy called Z Dot, and we put it over the Panda instrumental by Desiigner.
People in the US really fucked with it heavy, so it was more like people understand the UK rap a bit more now. It's more the beats that they still find hard to understand, because they're very different compared to like hip-hop beats. Although in the UK, a lot of grime nowadays sounds more like trap, say Section Boyz and a couple of other people. The beats are just generally darker—it surrounds like the 140-170 bpm, which is where trap is at as well, so it mixes quite well together.
Grime is definitely darker and more aggressive than a lot of US rap—and not to be reductive, but the production sounds more electronic than rap in some ways.
DJ LUKEY: I get what you're saying because like when grime first emerged, it was more like electronically produced. Some of the beats were made on Playstation software so it will always have that element to it. But yeah, it's that mixture of like, it's got the bass and it's percussive, hip-hop, and beats together. But it's quite harsh and aggressive like you said. Grime originated in London, that's why the emceeing starts often quite, like, fast. Now it's developing, [and] more accessible to a broader audience.
So grime is considered a culture like how hip-hop is considered a culture.
JELACEE: A lot of people used to say that grime music was way too aggressive cuz it came out in like the early 2000s, probably like 2001 and it developed from like UK garage, and had elements of two-step garage and drum and bass and stuff like that. Wiley pioneered it—Wiley, Dizzee Rascal, those guys. And it was like all about pirate radio stations, like Rinse FM and DejaVu and a bunch of radio stations. The style originally sounded a bit more garage-y but then it had like aggressive like lyrics on top of it. And then it kinda just like developed further and further.
We had Boy in The Corner, which was like Dizzee Rascal's album, which is probably like one of the best grime albums that was ever made—that was in 2003, 2004. Got Mercury [Music] Prize and P. Diddy said that was like one of his favorite albums that he's ever heard. We've been around but like recently it just grew more and more, [with] the cosigns from like Drake and Kanye and a couple other people, A$AP [Mob]—all of those guys getting involved really pushed the sound to like further heights. So it's just naturally growing more and more. It's still quite a young genre if you think about it—it's only been like 14 years. It's still finding its way through the music industry.
"[Grime's] still quite a young genre if you think about it—it's only been like 14 years. It's still finding its way through the music industry."
Drake's cosign is huge.
JELACEE: That's what really helped it come to the forefront. Cuz [grime's] been there for a very long time, but it just needed that one person to say, "Yo, listen to this."
When you perform, do you DJ a set of your own music or of other people's music?
JELACEE: We do a mixture of both. We obviously have our production but we're also actual DJs, so we make sure that our sets are like tastemaker sets. So even if it's other people's music, it ties in with our sound. We like to bring a lot of UK music over: UK trap, UK grime music, then mix that with rap, trap music, and a bunch of other producers. Quite like a darker sound, bringing UK vibes to our shows. Then we have a lot of performance-based stuff and we brought out quite a few rappers.
What interests you about bringing UK grime and US rap together?
JELACEE: I've seen that there's too much of a gap between the markets, in regards to like a lot of the people in the US don't really listen to UK music for whatever reason. And they talk about how they don't fit really well together, and there's a reason why there's like, not more UK underground artists that are in the States, who are touring the world and not playing [UK music].
We want to cultivate that scene and like push forward those boundaries of not having to do what everyone thinks that you need to do to be able to like do your own thing, and just like get people to enjoy it. There's a lot of people that we play to that have never heard the sound that we play, at all before. They love it. There's obviously like a demand for it, but the way that the music industry is, is kinda like what you fed is what you listen to. So we wanna do our bit to help push through other sounds, not necessarily constantly hearing the same thing.
"Any kind of music that's come out of the UK is always like a darker vibe. A lot of Americans always ask me how do you get that sound? I don't know how to explain it, you just have to be in London."
It's easy for rappers to convey their feelings to their listeners. As producers, how do help your listener feel what you're feeling?
JELACEE: More by, like, the kind of sounds that we use and the way that we use them. UK production is naturally darker sounds—we've always been like garage music, drum and bass music. Any kind of music that's come out of the UK is always like a darker vibe. A lot of Americans always ask me how do you get that sound? I don't know how to explain it, you just have to be in London. But I guess like if you know our music, we've always had a different vibe. Because a lot of "trap" music that is made nowadays is very electronic, very EDM-y. We try to keep that like real vibe that you get from the old school trap, and mix that with the same vibe that grime gives you as well. Grime has a very like screw face culture, where when you listen to it, you like screw up your face and you just head bop to the music and get hype.
I know a lot of music these days is very calculated and it sounds the same. But that's what makes a producer, a good producer. Somebody who can convey the emotions that they were feeling at the time through the sound. Same thing with like rappers: With a rapper, you know what they're saying because of the lyrics—and if you listen to a foreign rapper, like a French rapper or something like that, you can still tell what they're feeling because of the way that they say the words, even if you don't understand what they're saying. So we like take that concept and make music using that; you don't actually have to hear words.
***
Follow Stööki Sound on Soundcloud and Twitter @stookisound. The boys will be playing Exchange in Los Angeles this weekend with Hermitude and KRNE. Find out more about their show here.