We're proud to announce the release of The Hundreds Spring 2016 RFN collection, a small limited edition capsule of T-shirts, available at The Hundreds' flagship locations, select retailers, and in the Online Shop today, March 31st. Designed by Bobby Hundreds and our Senior Art Director, artist Dave Kinsey, the RFN collection is a result of our need to go from concept to finished piece as quickly as possible. Because of this, RFN is the best representation of where Bobby's design sensibilities are for T-shirts this Spring.
"CORNER STORE" T-shirt :: black, cream, and mint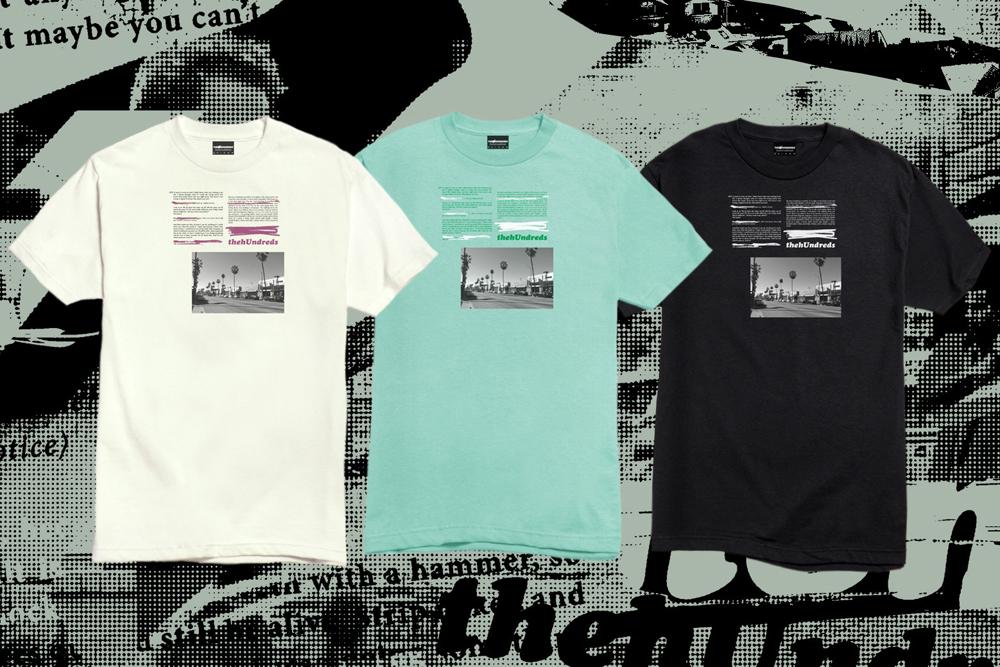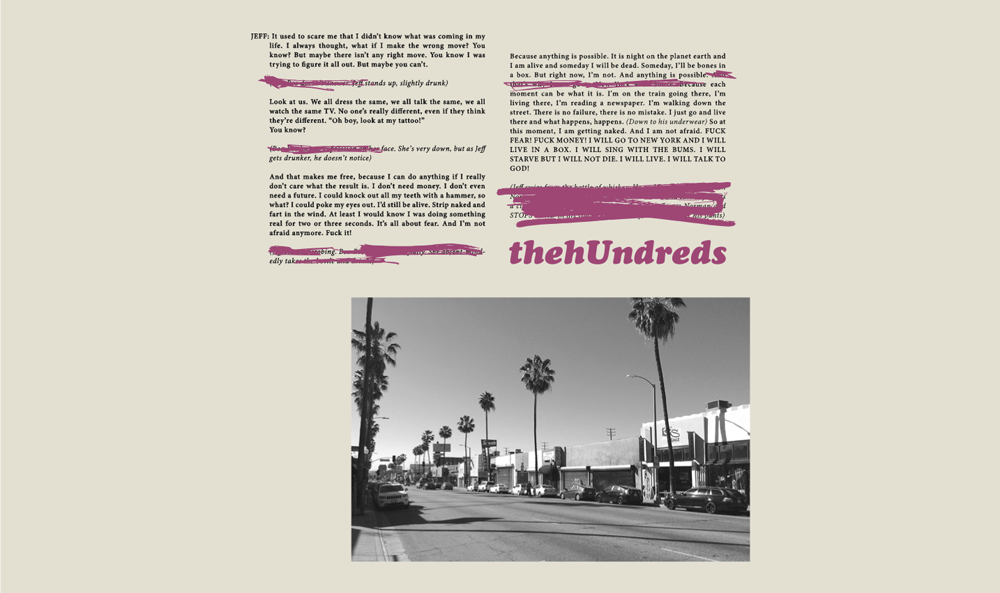 BOBBY HUNDREDS: Maybe this comes as a surprise, but I studied acting in college. My default audition material was a monologue from Eric Bogosian's play, Suburbia. In the rant, Jeff – a displaced teenager, angsty and confused – cries out to the universe in defiance. He sees through the cool guy posturing and shallow counterculture. It's a passage that rings loud and clear when I stand on the corner of Fairfax and Rosewood. There are those in Streetwear who chase trends and thrive on insecurity. Then, there are the Jeff's, who fight back, move against the grain, and choose for themselves.
"ESSENTIALS" T-shirt :: black, banana, and harbor blue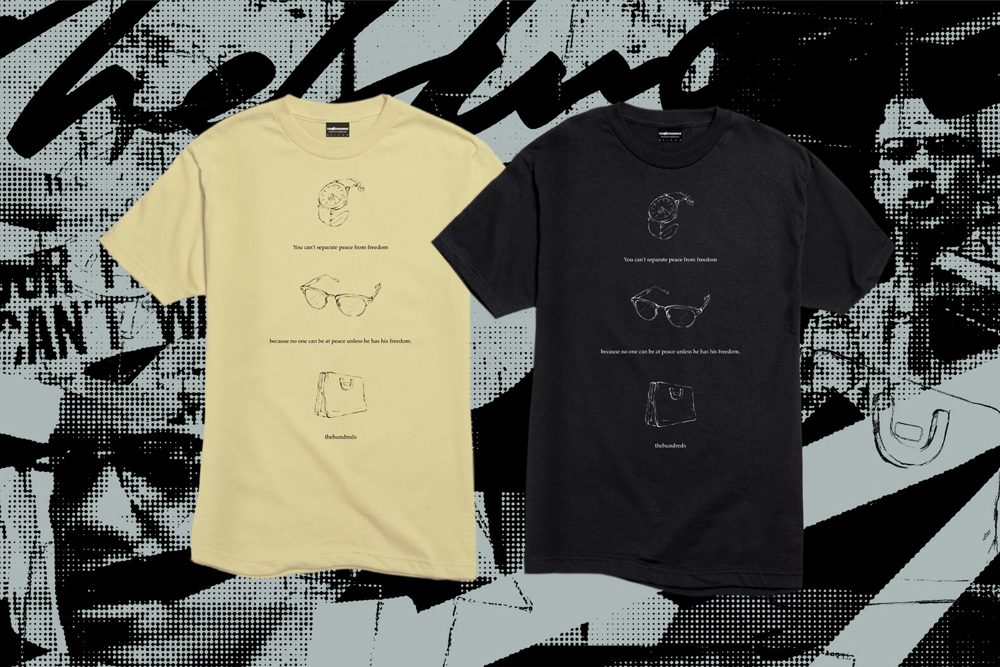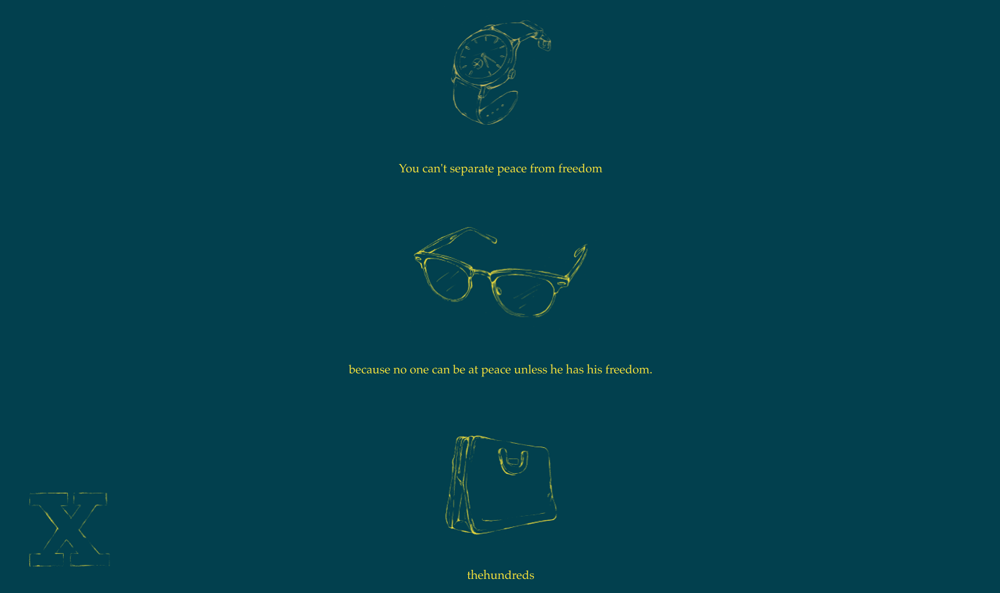 BOBBY HUNDREDS: In Malcolm X's autobiography, he points out three essential items in his life, the only things he needs. "I was preparing for what my life was about to become. Because those are three things I've used more than anything else. My eyeglasses correct the astigmatism that I got from all the reading in prison. I travel so much now that my wife keeps alternate suitcases packed so that, when necessary, I can just grab one. And you won't find anybody more time-conscious than I am. I live by my watch, keeping appointments. Even when I'm using my car, I drive by my watch, not my speedometer. Time is more important to me than distance." So, its not exactly about the material essentials, it's about what they represent: Reading and learning. Traveling. Responsibility, professionalism, and courtesy.
"SHORTSTOP" T-shirt :: black, cream, and harbor blue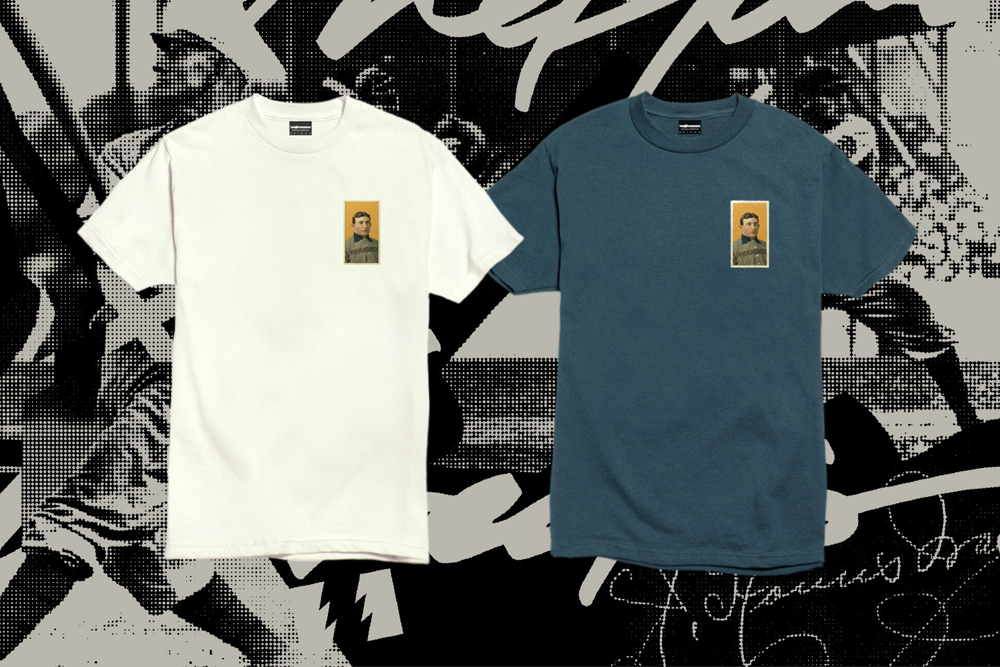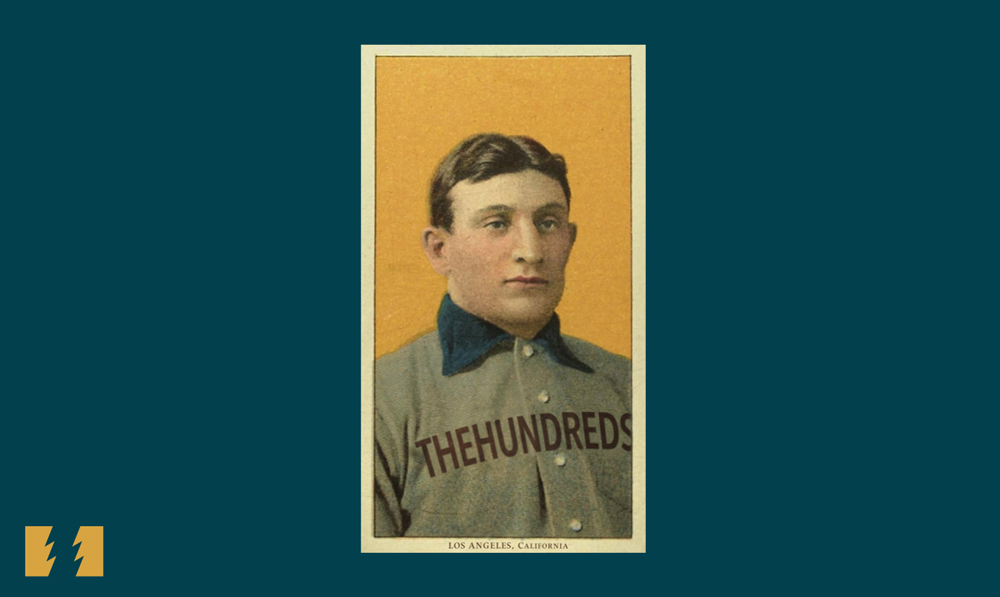 BOBBY HUNDREDS: In the early 20th Century, professional baseball player Honus Wagner was one of the greatest to ever play. But, when the American Tobacco Company debuted his baseball card, he blocked it on grounds that he didn't want to promote smoking to children. There were only 50-200 T206 Honus Wagner baseball cards distributed. Over the years, the card has become famous for having been bought and sold by Wayne Gretzky. Most recently, Arizona Diamondbacks' Ken Kendrick bought an Honus Wagner for near $3 Million, further solidifying its reputation as the most valuable baseball card in history.
"WINO" T-shirt :: black, cardinal, and military green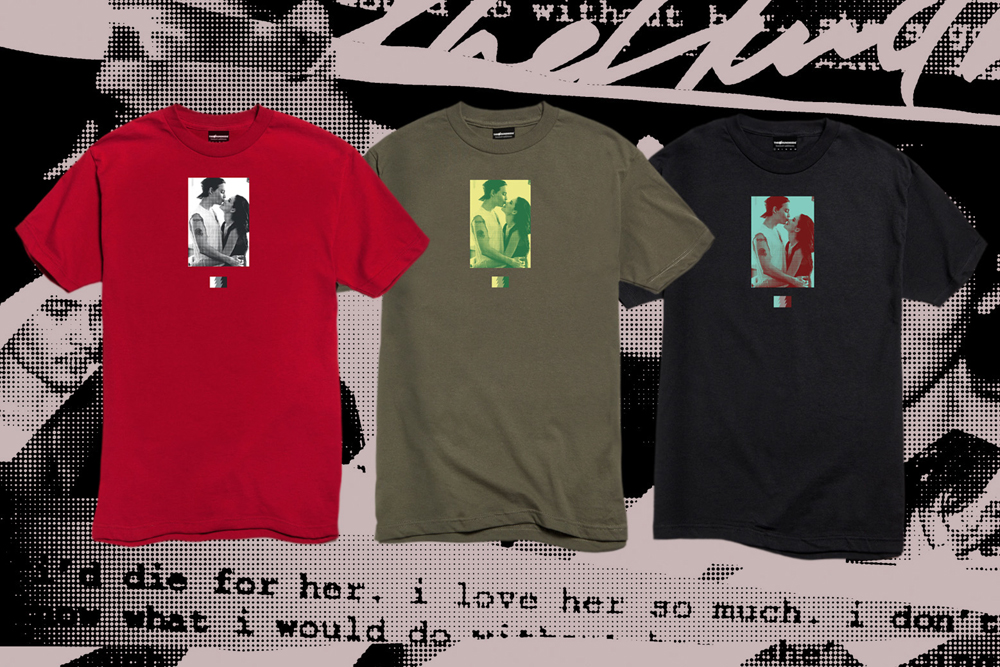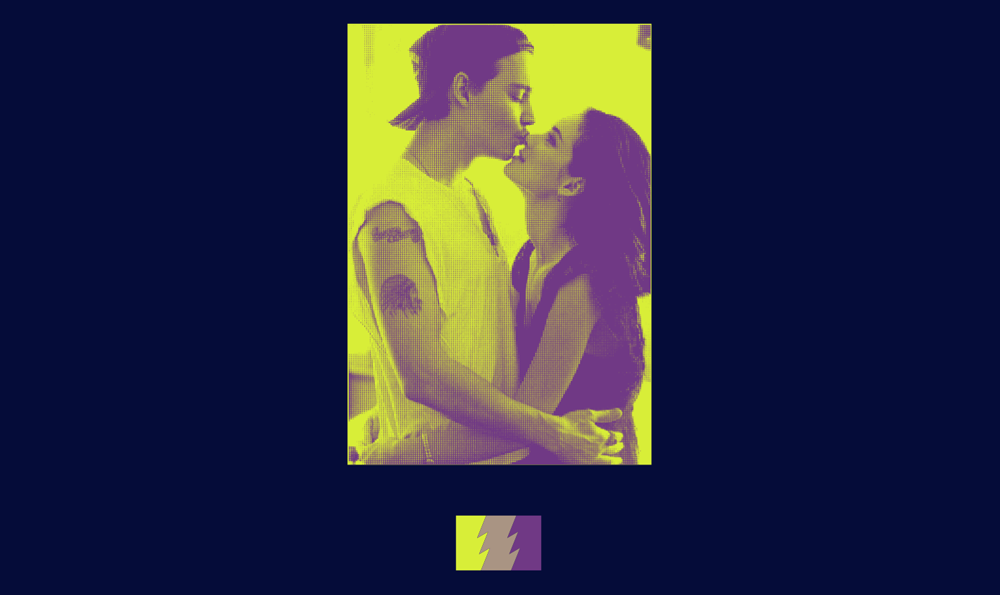 BOBBY HUNDREDS: The '90s are back. Well, they WERE back. But, their folkloric romances live on forever. Johnny Depp and Winona Ryder encapsulated the era's mystery, dysfunction, and testing of boundaries. They were a match made in Tim Burton heaven
"WITHIN YOU" T-shirt :: black, cardinal, and white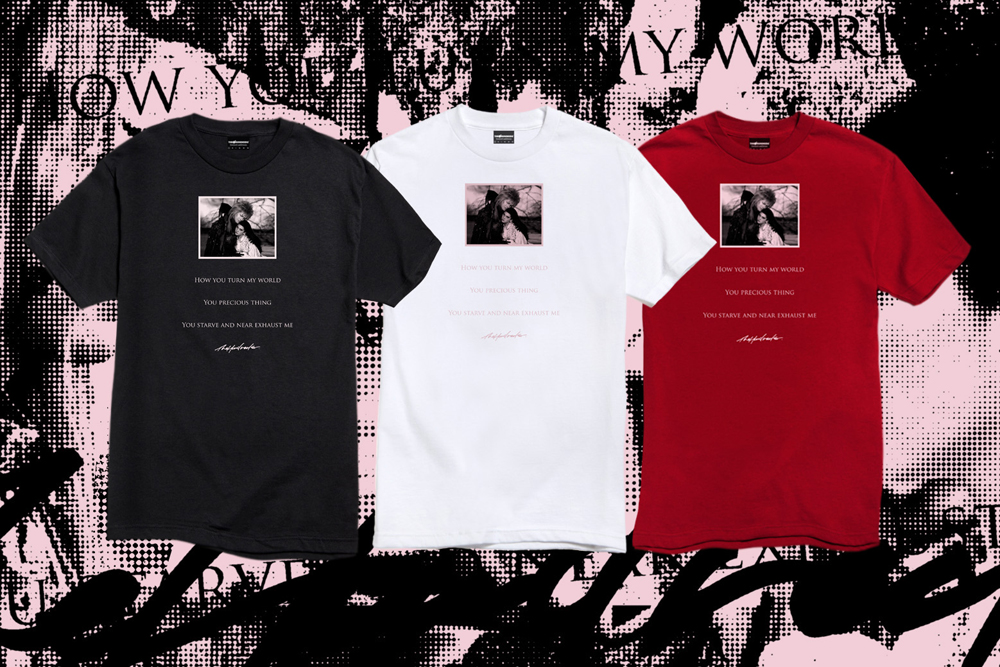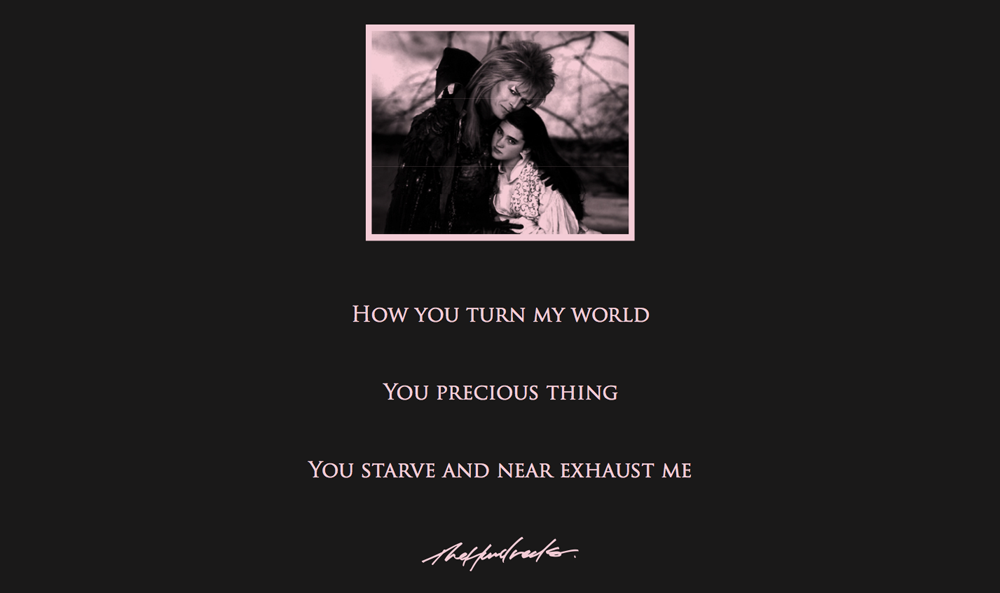 BOBBY HUNDREDS: Rest in peace to the late David Bowie. I first learned of the artist via the 1986 fantasy film Labyrinth, which also introduced me to the one and only—my favorite actress / person ever—Jennifer Connelly.
***